Today, I fell in love with the sights and sounds of Madrid, Spain.
We had a free walking tour of the city from Sandemans. We have toured withSandemans in several cities around the world (Dublin, London, and Barcelona). Unfortunately, our Madrid guide was not quite up to their high standards.  At least not the one we had. Our guide was a bit of a self-proclaimed comedian, and in the interest of telling a funny story, he twisted quite a few historical facts.
Despite the less than perfect guide, the sites around Madrid were interesting, and the price was right. Although in this case, "free" actually means tipping in an amount you believe the tour is worth. We learned from our guide in Munich guide that each Sandemans guide has to pay for each participant in their group. So, even though we left our tour early, and didn't love our guide, we still offered a tip to cover our expense to him.
We toured a bit on our own for the remainder of the day. We had already been to the Prado Art Museum and seen the street performers at Plaza Del Sol. However, there is no shortage of great sites in Madrid.  Starting at the center, here are some of my favorite  Madrid photos:
Sarah is pointing to the spot on the road which represents the center of Madrid and the center of Spain.  All street numbers start from this point:
A fire dancer in the Plaza Santa Ana, where we had dinner our first night.
The girls and I in front of the Royal Palace.
This bear eating from a fruit tree is considered a classic symbol of Madrid, and is located in Plaza del Sol: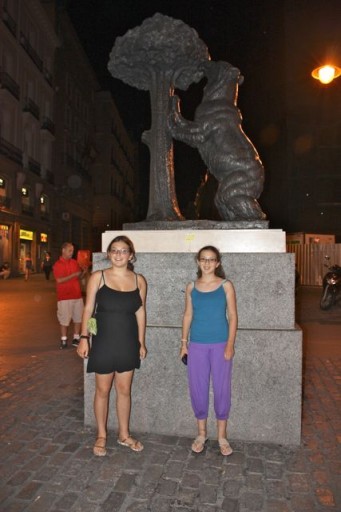 What would a Spanish city be without a Cathedral?  This one is absolutely lovely. In the foreground stands a bit of the remaining old stone city wall.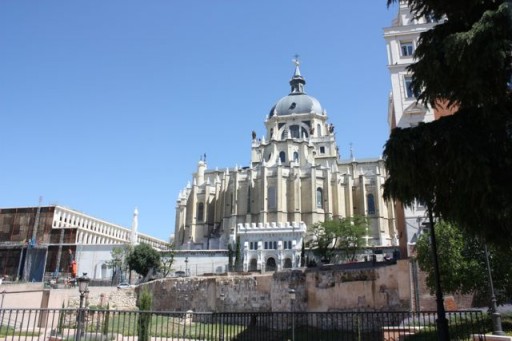 Kids and bubbles.  I don't know if you can see the giant bubbles here in Plaza Mayor: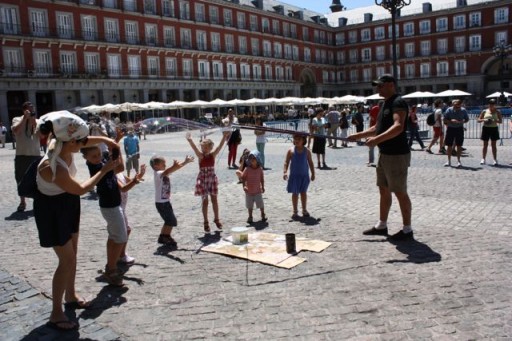 Madrid Travel Tips:
Travel light if you are going to stay centrally located like we did.  We were at Victoria4 Hotel in Madrid, a great choice for location.  The downside if you are driving, is that the public car park is several blocks away and you cannot pull up in front of the hotel.  So, traveling light makes it easy to carry your bags the few blocks.  Once parked, we didn't use the car until we left Madrid.  We could walk anywhere we wanted to go.
If you use a public carpark, remember to ask if the hotel has a discount.  We paid for the parking at the hotel.
We carried Lonely Planet Spain as we traveled through the country.
Have you been to Madrid? What were your highlights?
Albom Family Travel Counter: We are nearing the end of the fourth month of our 250-day overseas adventure. We are currently traveling through Spain for two weeks between two home exchange houses – the first in Catalunya, the second in Galicia. Our key travel stops are in Spain are Saragosa, Madrid, Segovia, Toledo, Cordoba, Granada, and Vigo. In Portugal, we will visit Evora, Sintra, Obidos, and Alcobaca.
All photos on this page © Rhonda Albom 2012
Seven ridiculously simple tips that WILL improve your photos
Whether you shoot with a phone or a DSLR, let me share my secrets.
Subscribe to Albom Adventure's Travel Tips newsletter and download our free ebook: Take Better Travel Photos By Rhonda Albom