Billed as one of the world's most spectacular road trips, the Great Ocean Road runs from Torquay to Allansford along the southern coast of Australia in the state of Victoria. Despite its name and impressive coastal views, much of the drive is inland through temperate rainforest, offering wildlife spotting opportunities. Unlike many of the long stretches of Australian roads, the Great Ocean Road self-drive should be savoured, drank slowly like a fine wine.
We took two days, stopping to see each of the Great Ocean Road highlights below. If you don't have a car, don't worry, take a day tour from Melbourne (see below).
Key Stops: Great Ocean Road Victoria Australia
This site contains affiliate links to products and/or services. We may receive a commission for purchases made through these links at no additional cost to you.
Day 1: Torquay to Apollo Bay
Bells Beach (Australia's Famous Surf Beach)
Easter weekend brings the world's best surfers to Bells Beach for the annual Rip Curl Pro. However, on the calm day that we visited it was difficult to imagine that this is one of Australia's most famous surf beaches. The annual surf event has been held here since 1961, converting to a professional competition in 1973.
Bells Beach was the first stop on our Great Ocean Road self-drive adventure. From the car park, we had two options: Bells or Winkipop Beach (another of the popular Great Ocean Road beaches).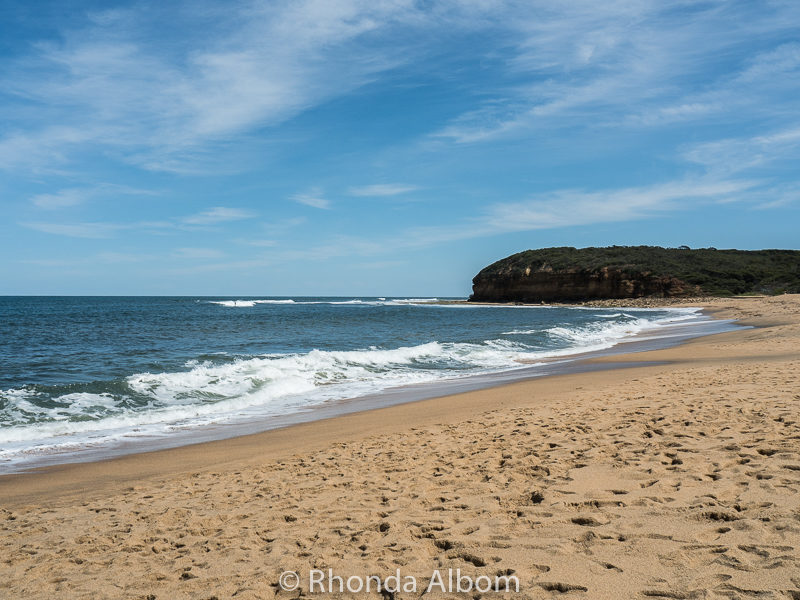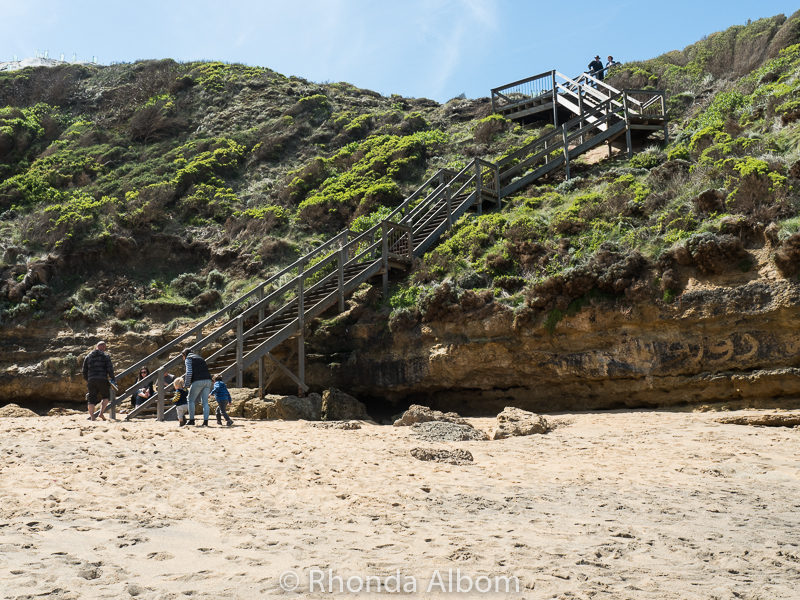 Views From the Boardwalk at Point Addis Marine Reserve
The short boardwalk at Point Addis leads to expansive views of the Point Addis Marine Reserve. This protected reserve covers 4,600 hectares of ocean and extends from Bells Beach to the town of Anglesea.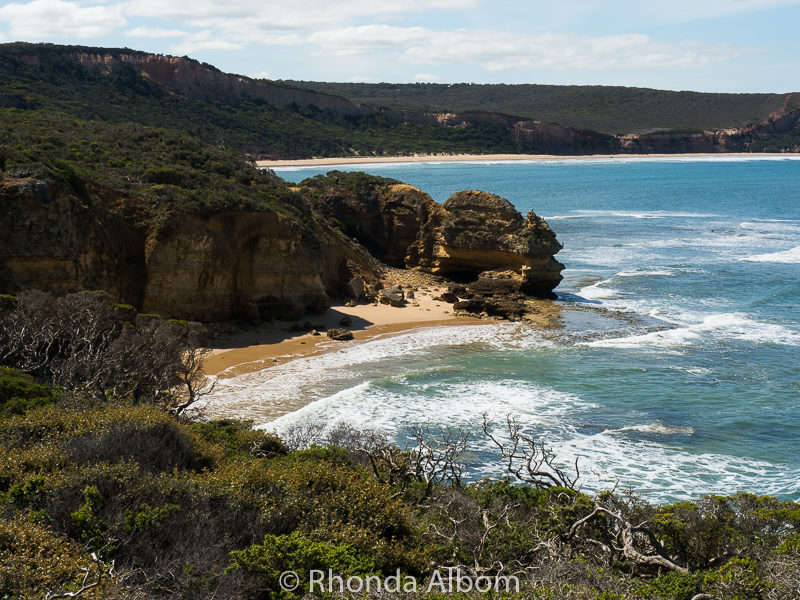 Split Point Lighthouse
There is something romantic and quaint about a lighthouse, and the one at Split Point was no exception. It was built in 1891 in an area originally called Eagles Nest Point.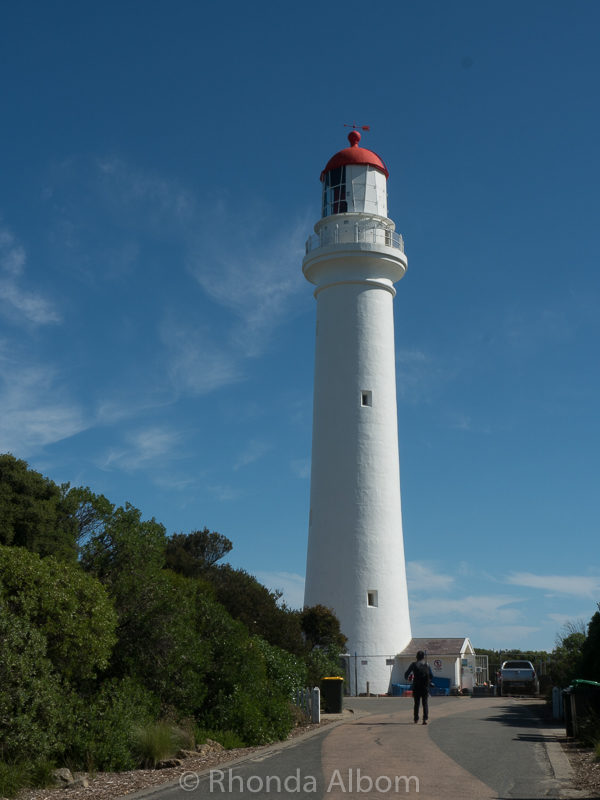 Memorial Arch at Eastern View
Possibly the most important, yet probably the most obscure fact about the Great Ocean Road is that it is the world's largest war memorial. It was built between 1919 and 1932 by returned soldiers to honour their fallen comrades. The Memorial Arch at Eastern View is a tribute to the soldiers who constructed the road.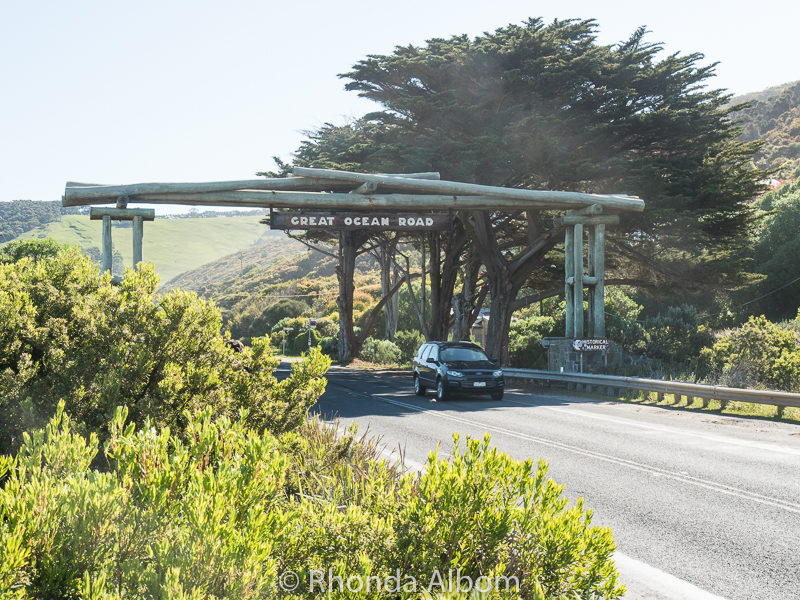 Lorne Australia: Erskine Falls and Teddy's Lookout
There are two must-see stops in Lorne, Erskine Falls and Teddy's Lookout. Lorne, an artist community, is a popular place to stop for the night.
While Erskine Falls can be seen from the lookout point, walking the 200+ steps to reach the bottom is well worth the effort. The power of the water cascading 30 metres over one of the Otway's highest points can't really be appreciated from the top. I used a tripod to create the flowing water effect in the image below.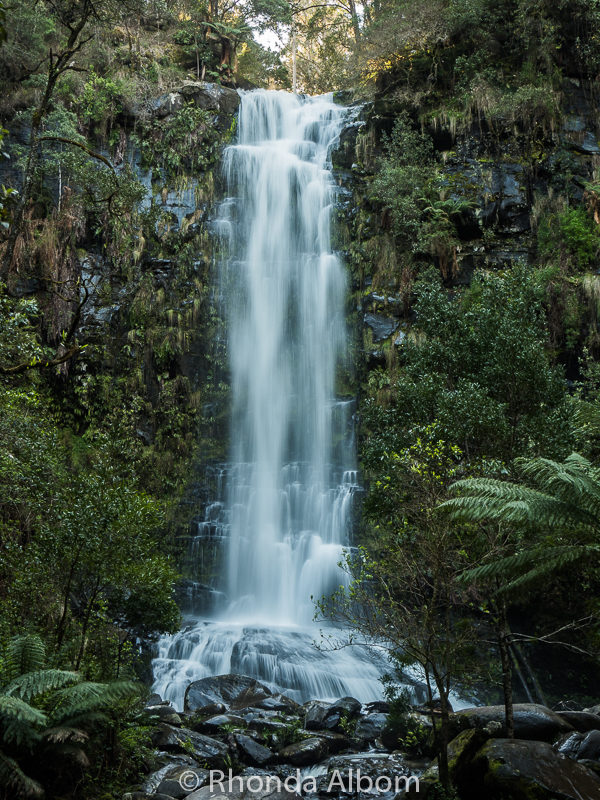 Read next: How to Photograph Waterfalls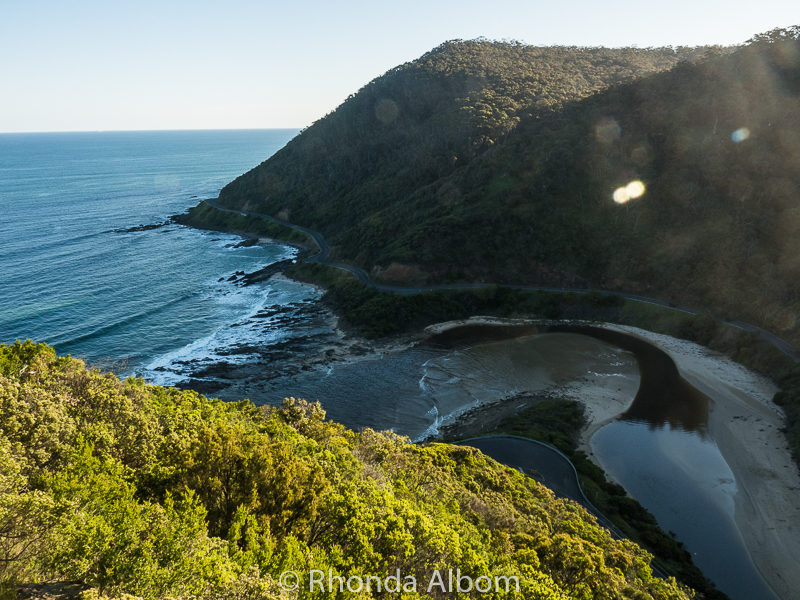 Sunset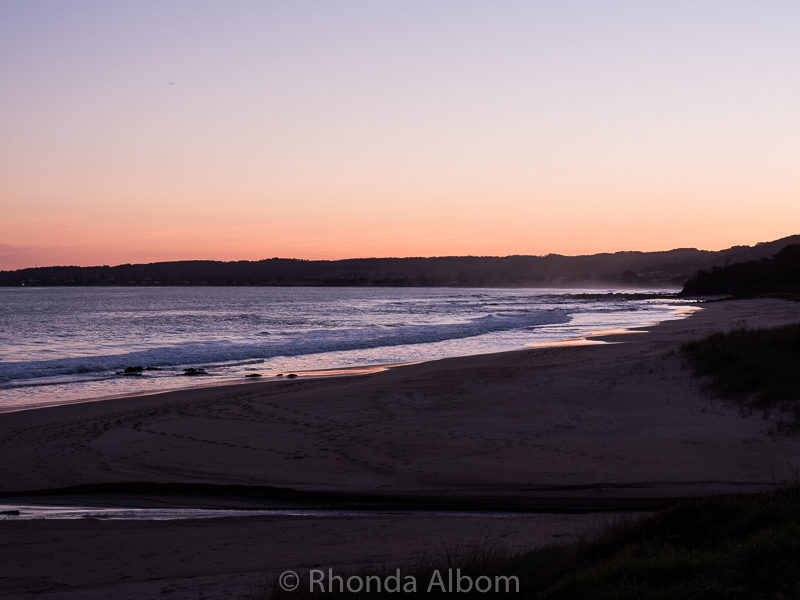 Great Ocean Road Accommodation
We opted to stay in Apollo Bay. If you are travelling in winter, you can fairly easily take the gamble that you will find accommodation wherever you find yourself at sunset. However, in peak season you will probably fail if you try this. There are several great options ranging from resorts to hostels. We highly recommend booking ahead if you are travelling the great ocean road in spring, summer, autumn, or during Australia school holidays. We check prices and availability at Booking.com
Day 2: From Apollo Bay to Point Fairy
If my photos from the first day of our Great Ocean Road self-drive adventure didn't inspire you to hop on a flight to Australia, perhaps the next portion of our journey will. Day two took us from Apollo Bay to Point Fairy, just beyond Allansford, the end of the Great Ocean Road.
Maits Rest Rainforest in Great Otway National Park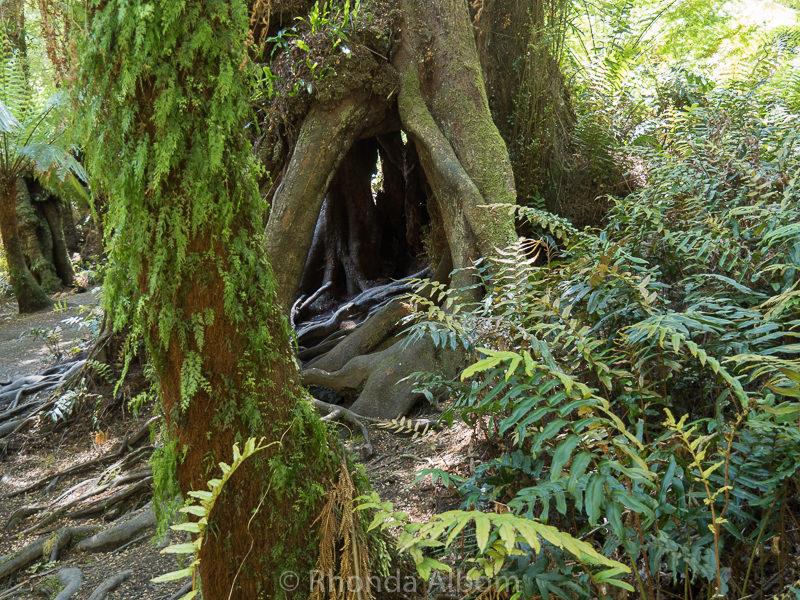 Wild Koala spotted from the road to Cape Otway Lightstation
Wild koalas live in the eucalyptus forest lining the sideroad from the Great Ocean Road to the Otway Lightstation. As Jeff drove, I kept my eyes peeled on the trees. They are not easy to spot, but so exciting to see when we were successful. In total, we were able to spot five wild koalas on this portion of the drive, all from a distance.
TIP: Bring binoculars. It makes the search for the koalas much easier.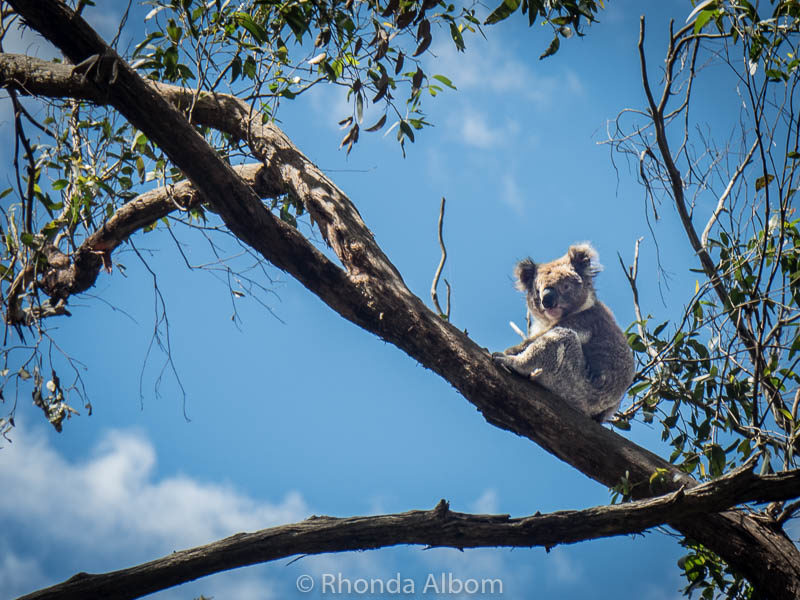 Read Next: Kangaroo, Koala, Platypus and Other Australian Animals
The Twelve Apostles in Australia
Twelve Apostles in Port Campbell National Park are a quite impressive collection of limestone stacks rising from the sea. They are the most famous site on the journey, however, they were not our favourite. Once called the "Sow and Piglets," some say the name was changed to increase tourism. I guess it works. This was by far the most crowded destination we came to along the Great Ocean Road.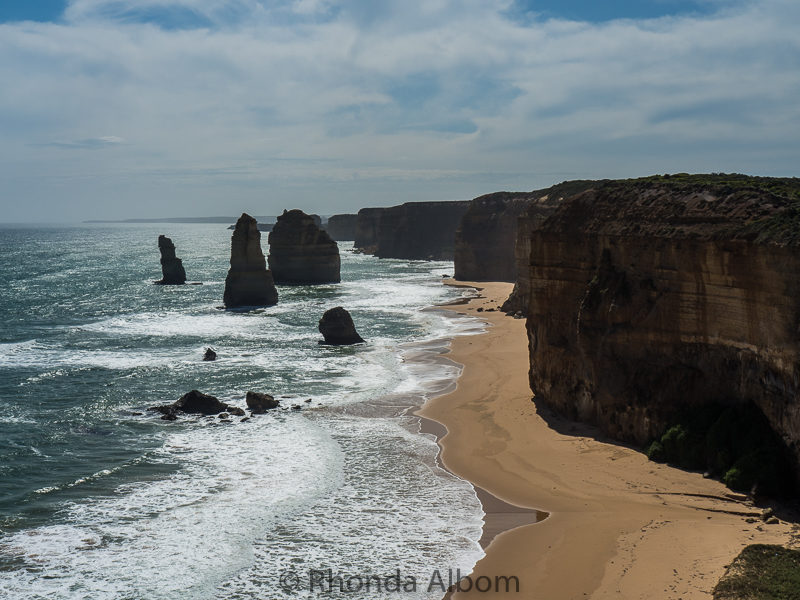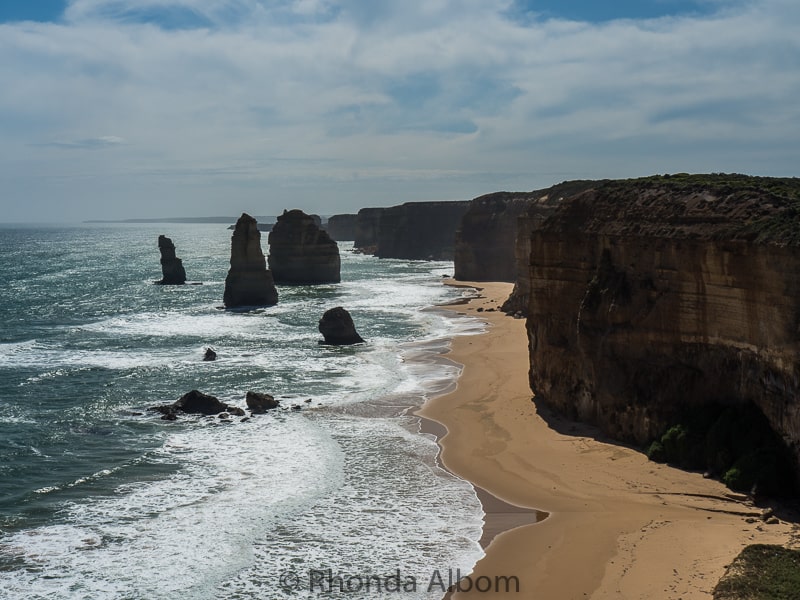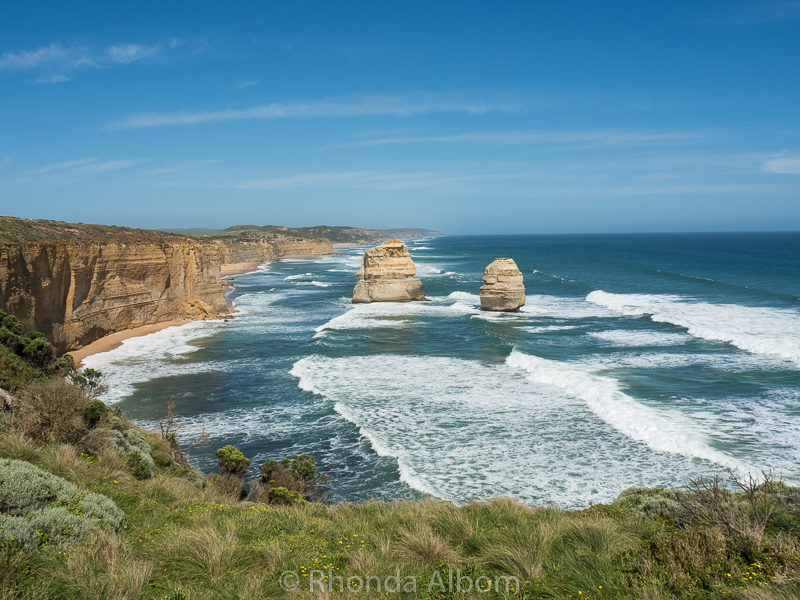 Loch Ard Gorge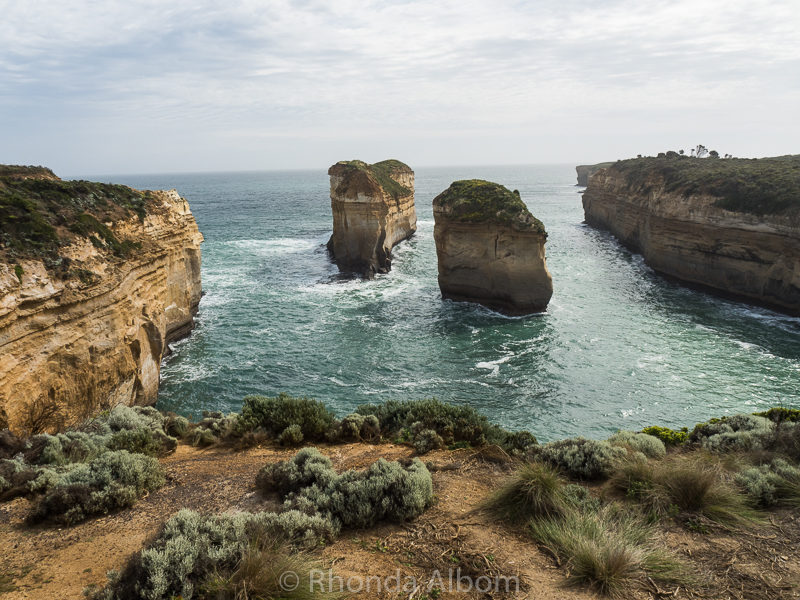 The Loch Ard Gorge was named after the clipper ship Loch Ard that ran aground at a nearby island in 1878.

Razorback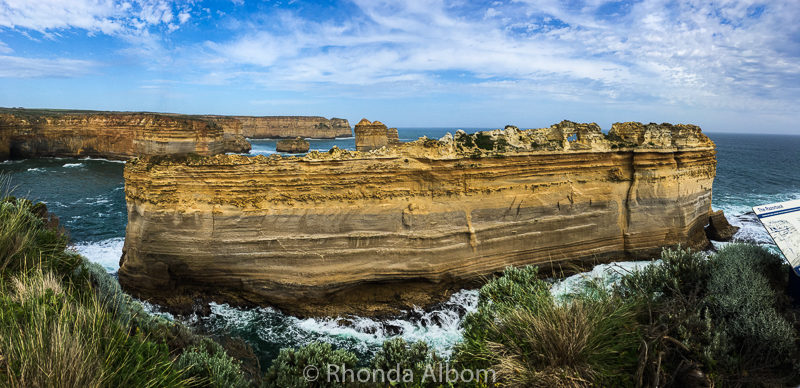 It was impossible to capture the true magnitude of the Razorback. According to the signage, the sharp edges and bumps along the back are caused by wind-blown spray. It was one of my favourite stops on our Great Ocean Road self-drive.
The Arch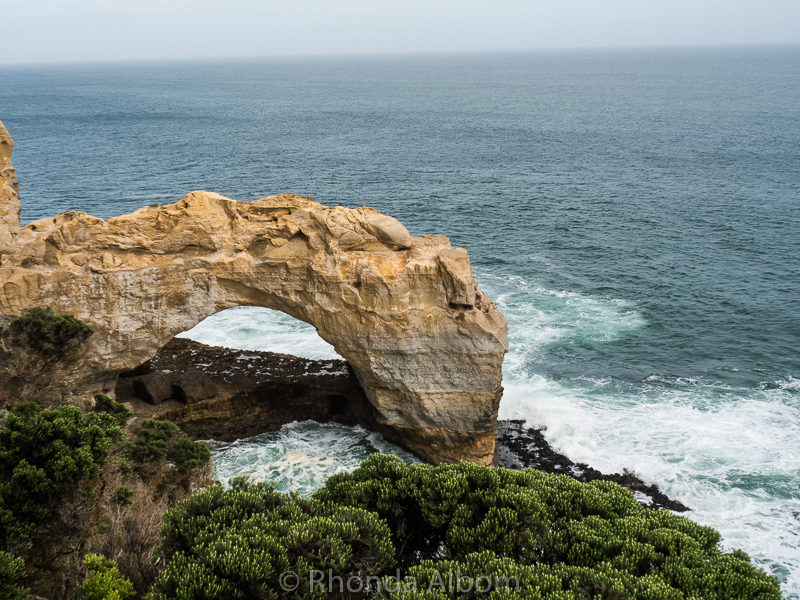 The Grotto
The viewing platform is a 350-metre walk from the car park, but the real magic of the Grotto is seen from down at sea level. There is a labyrinth of stairs and walk paths to bring you there. The Grotto is a sinkhole (although completely different from the sinkhole we saw in Oman). Once at the bottom, it was my favourite of the rock formations we saw on the day.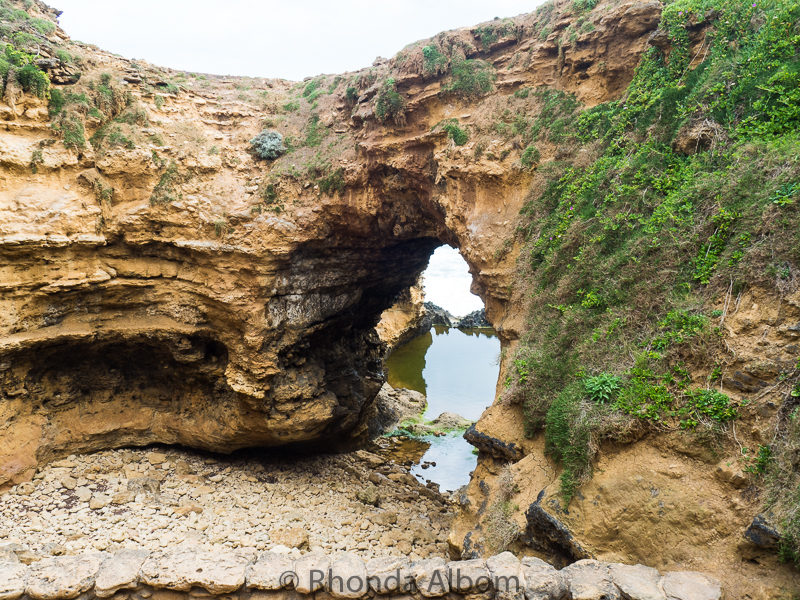 We went beyond Allansford, the westbound end of the Great Ocean Road to the charming fishing village of Point Fairy. We spent the night nearby in a converted old convent. From there we turned inland to the Grampian Mountains. Then we completed the loop heading back to Melbourne after a quick tour of an insane asylum.
Read Next: The Grampians to Melbourne: Kangaroos, Skinks, Waterfalls and More
Where is the Great Ocean Road in Australia?
Great Ocean Walk – One of the Great Walks of Australia
If you are into hiking and outdoor adventure, perhaps you should try the 7-day, 104 kilometres Great Ocean Walk. Walking 10 to 15 km per day and sleeping in hike-in campsites, you will travel from Apollo Bay to the Glenample Homestead (near the 12 Apostles, Victoria). The walk meanders through the Otway National Park along high cliff tops and sandy beaches.
Do it yourself, or go with a guide. For an even bigger, yet more luxurious adventure, check out this guided Great Ocean Road Walk including eco-luxe lodging and meals. You'll walk from Apollo Bay to Cape Otway Lightstation in only four days and be rewarded with a helicopter ride over the 12 Apostles, Australia at the end of the tour. Check the itinerary and availability of the 4-Day Twelve Apostles Walk
Practical Tips on the Great Ocean Road Self Drive
As a straight drive, one could travel from Torquay to Allansford in about two hours, but you will miss some of the best scenery in Australia. Our advice, don't try to do a Great Ocean Road day trip. Instead, stay at least one night. There is a full range of options in the area. Check prices at Booking.com.
Stop often and be prepared to walk. We easily walked 10-15K steps each day.
Bring insect repellent. Lots of it.
Bring a light jacket, the weather is very changeable.
Take a Tour from Melbourne
Want it all, but don't have a car? Then this is the tour for you. You will travel by coach along the Great Ocean Road, with headsets to aid in hearing the live guide.
Key stops include coastal towns of Apollo Bay (lunch and beach walk stop) and Port Campbell. Plus visit landmarks of The Twelve Apostles, Island Arch, Razorback, and Loch Ard Gorge, as well as the Otway National Park. There is an optional helicopter ride over the Ship Wreck Coast. Check availability of The Great Ocean Road Adventure Day Tour from Melbourne
Booking tips for your Australia travel planning
Some links on this page can save you up to 70%. We earn from qualifying purchases through partnerships or affiliate programmes.
Flights: We use Skyscanner to find all the available flight options at the best prices.

Rental Car: We always use RentalCars.com, a rental car search engine with no hidden costs. For campervans (and larger cars), note that Spaceships Rentals Aus offers free one-way drop-off.

Accommodations: We use Tripadvisor to find all levels of accommodations in most Australian cities.

Activity Discounts: We use Bookme.com.au to find discounts on entry tickets and tours in Australia.

Travel Insurance: We purchase insurance that covers medical and travel emergencies when we head overseas. We start with World Nomads.

Packing Tips: Get a free copy of our packing light checklist when you sign up for our mailing list. (We pack light, yet have everything we need.)

**Find more money-saving resources on our Travel Resources page.
Please share
If you enjoyed this Great Ocean Road itinerary, please share it on social media including Pinterest:

What's your favourite spot along the Great Ocean Road?