At 57 stories, the three towers of Singapore's Marina Bay Sands Hotel support the world's largest infinity pool, bars, restaurants, and a cantilevered viewing platform. Architecturally attractive, it's an engineering wonder, and the most expensive hotel we have ever stayed in.
Risking spoiling the conclusion of this Marina Bay Sands review, I will tell you, in a word, YES. I believe Marina Bay Sands hotel is worth the money.
Read on to find out all the reasons why we think Marina Bay Sands is worth it.
Our Marina Bay Sands review
Staying here, I ticked off a bucket list item. For me, it was worth every penny. We opted for a city view between floors 19 and 39. The lobby is a masterpiece, and the rooms are enchanting.
Our premier king room
Entering our premier king room, the floor-to-ceiling windows captivated my attention, offering spectacular views both day and night. Our choice of a city view was a good one. Singapore city stretched out before our eyes, and our view even included the famous Merlion.
I knew instantly that the table near the windows would win out over the desk as my spot for writing.
The room was larger than I expected and was accented with anything we might need, from bedside lights and USB ports to a well-stocked minibar. They even went the extra mile and gifted to us a tempting double slice of chocolate anniversary cake.
Draped in a down comforter and pillows, our king bed was the perfect combination of firmness and exquisite luxury. As I suspected, sleep came easily on both nights.
And then there is the bathroom. Larger than mine at home, the shower alone was bigger than the bathroom of the ship we had just disembarked.
Be inspired . . .
Marina Bay Sands pool
My expectations were high. Yet, like everything here, the Marina Bay Sands pool exceeded my wildest fantasy. At 150 metres in length, it is the world's largest infinity pool. And the view from the 57th floor is beyond breathtaking.
I was pleased to discover there are enough deck chairs for everyone, and of course, pool towels are plentiful. While some loungers are shaded, those at the pool's edge stand in ankle-deep water.
Across the pool, the water dropped off into an abyss. If you didn't understand the term "infinity pool" before this moment, there would be no question now.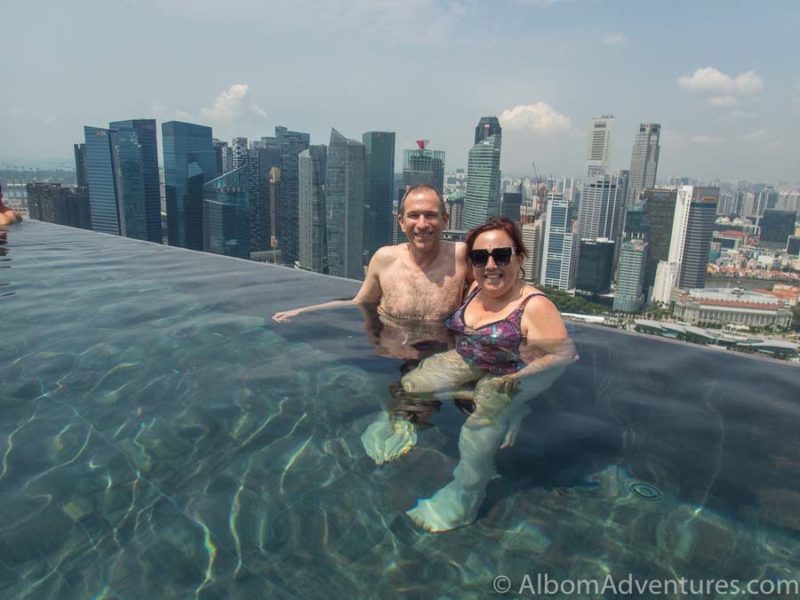 A combination of the hot and humid Singapore weather, and the inviting water temperature, it didn't take long for me to deposit my towel and robe on an empty bench and glide into the pool.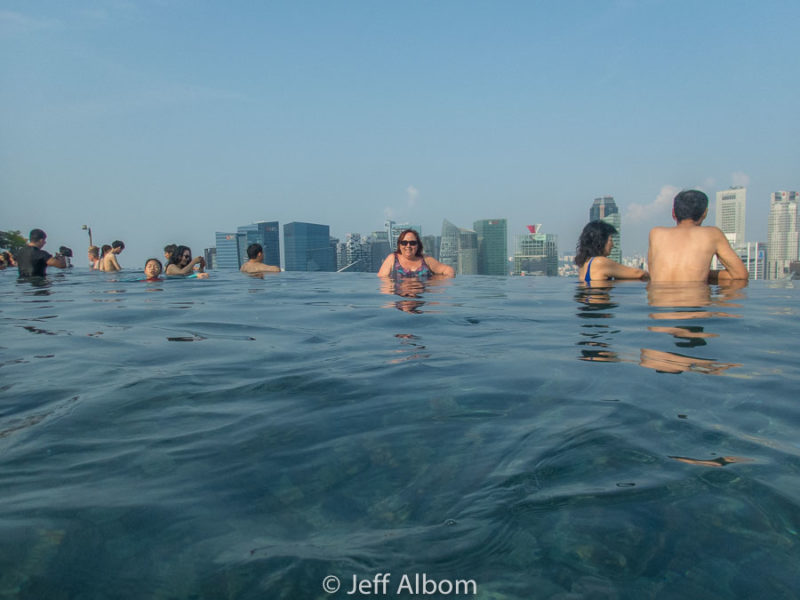 ⇒ Reserve your room at Marina Bay Sands
Frequently asked questions about the Marina Bay Sands swimming pool
What is the Marina Bay Sands infinity pool entrance fee?
Probably the most common questions asked and the one that fosters the greatest disappointment. The pool is only available for hotel guests, and for us, it is included in our room rate.
When is the best time to use the infinity pool?
The least crowded time to visit the pool is between 10.30 am and 3 pm. That is because check-out is at 11 am, and check-in starts at 3 pm. If you are staying more than one night, this gives you a unique time opportunity.
Is the Marina Bay Sands infinity pool safe?
Don't be stupid for a selfie. Sitting on the outer edge of the pool will have the lifeguard's whistle blow before you can hit the shutter release. I am not sure what would happen on a second offence, but Singapore does have some pretty rigid laws.
In reality, and spoiling the infinity illusion a bit, there is actually a safety ledge, making it impossible to accidentally fall off.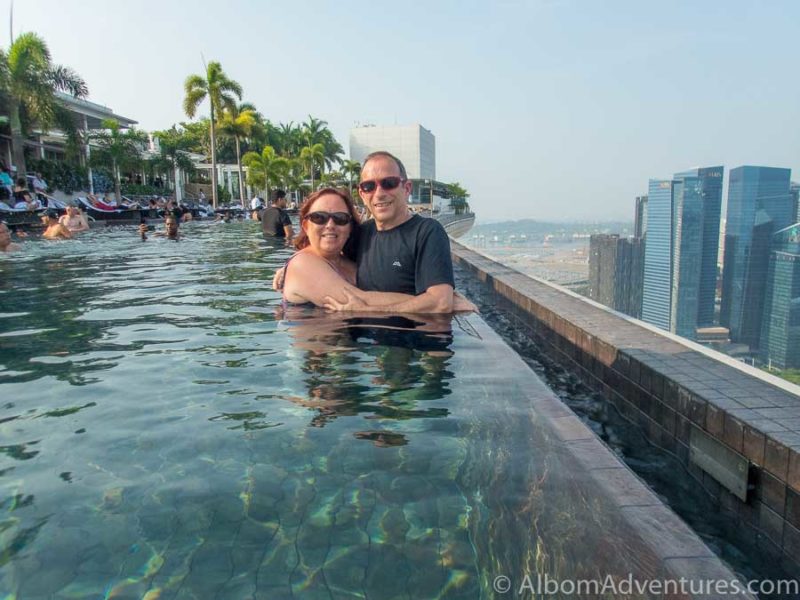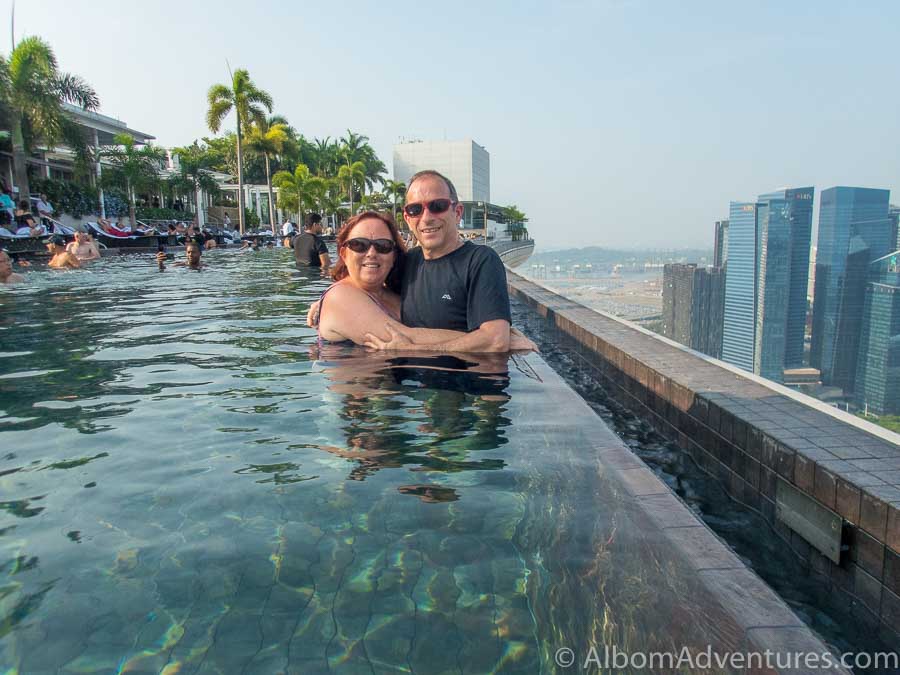 What to bring for a stay at Marina Bay Sands
Singapore is tropical, just 110 km (70 miles) off the equator. While there is a dry and wet season, it generally rains all year, just less in the dry season.
We pack light, and as a result, we use virtually the same list for every trip. For Marina Bay Sands, we needed swimwear and smart casual for some of the restaurants. Both of these are already on our list.
Get a free copy of our packing list when you sign up for our newsletter.
Marina Bay Sands dining options
With over 80 restaurants in the Marina Bay Sands complex, there is something for everyone. The five that stand out to us: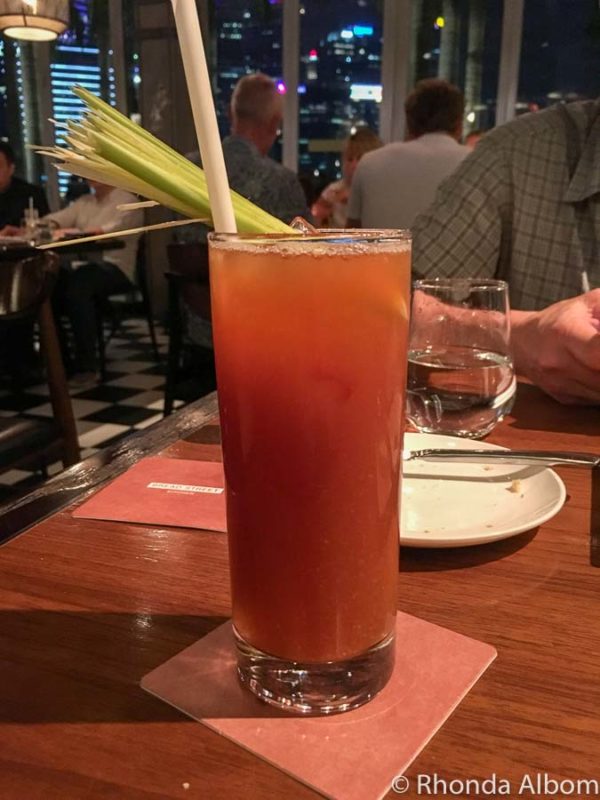 Bread Street Kitchen by Gordon Ramsay:
This celebrity chef restaurant on the waterfront (in the mall) was a big hit for Jeff and I. Not only was the food delicious, but they also had specialty menus for both gluten-free and dairy-free, so I had lots of choices.
Marina Bay Sands bar poolside:
With food and drinks served poolside, there was really no reason to leave.
Cé La Vi Restaurant and SkyBar:
Located on the 57th floor, alongside the infinity pool, Cé La Vi offers non-hotel guests an opportunity to get up to the top without either paying an entrance fee (SkyPark) or being a guest. It's a bit expensive, but you are paying for the view.
Spago Bar and Lounge:
Another bar and restaurant option on the 57th floor available to the public.
Renku Bar and Lounge:
A lobby bar that we found to be the perfect spot to relax and have a cup of iced coffee, although they are more famous for cocktails.
Marina Bay Sands shops
Complimenting the shopping options in the hotel itself, The Shoppes at Marina Bay Sands is an upscale mall featuring 170 luxury and premium brand stores. The mall is connected to the hotel via a tunnel, or you can walk outdoors to cross the street.
If it is what you want, there is no shortage of Marina Bay Sands shopping opportunities, even a shopping concierge service to do your pre-shopping for you.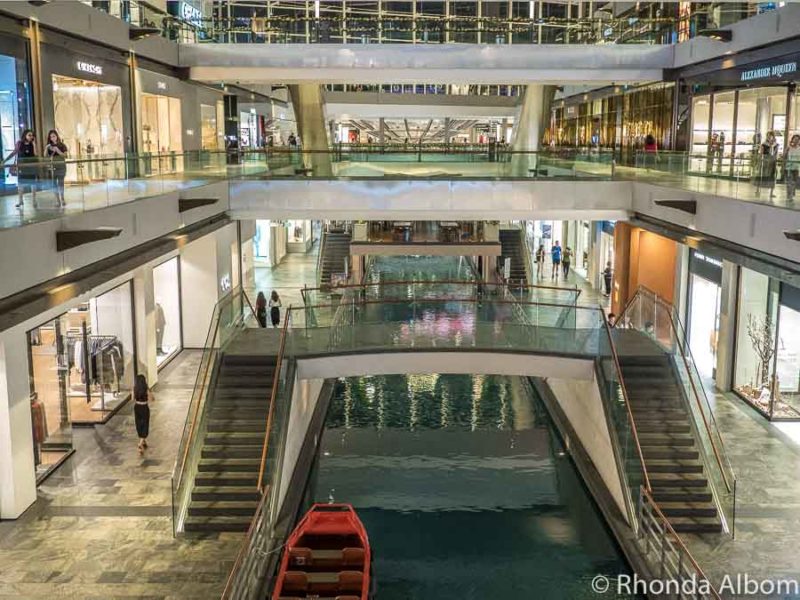 Sands SkyPark Observation Deck
Sands SkyPark observation deck boasts the spectacular 360-degree views you would expect from the 57th floor of Marina Bay Sands Hotel. In fact, it is the world's largest public cantilevered platform.
If you are not staying a the hotel, or even if you are and just want this experience in addition to the pool, you can reserve a skip-the-line entrance ticket to Sands SkyPark Observation Deck.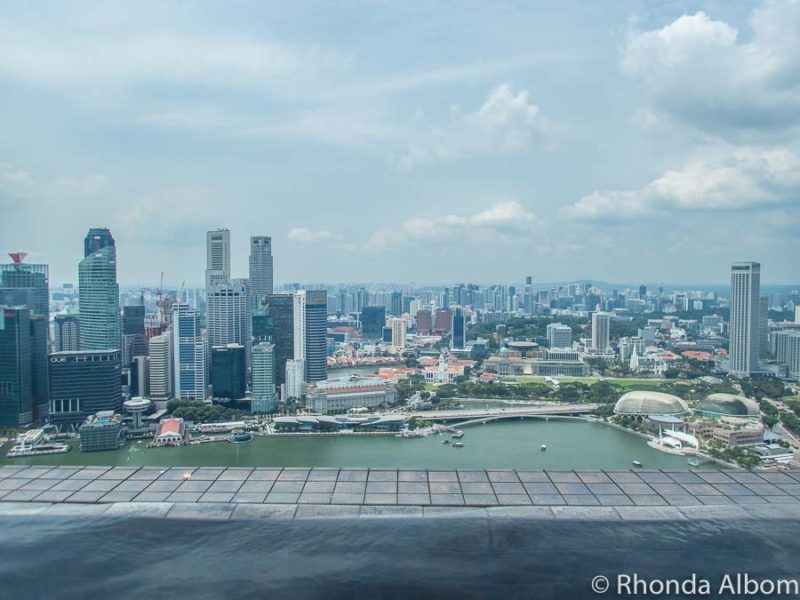 Spectra sound and light show
Impressive, nightly, and free for everyone, not just guests.
Spectra is an amazing sound and light show. If you time it right, you can easily see it, plus the Garden Rhapsody sound and light show at Gardens by the Bay on the same evening. Go to Garden Rhapsody first, at 7.45, and then relax and wait for the 9 pm Spectra show, or one hour later for both on Friday and Saturday.
More to know about your visit
Join the Sands Rewards club before you spend any money, and you will get credit for all your meals and shopping in addition to your room stay. There is a membership desk in the lobby.
There is an MRT station just below the hotel.
An elevator will take you up to a bridge that crosses to the Gardens by the Bay.
If you are not staying at the hotel and don't want to pay for the SkyPark Observation deck, you can get a drink at either bar or restaurant on the 57th (top) floor.
Marina Bay Sands has a strong and positive corporate social responsibility programme.
Marina Bay Sands opened on April 27, 2010, and cost a total investment equivalent to US$5.6 billion, including the 15.5 hectares of land.
There are 2,561 hotel rooms and suites.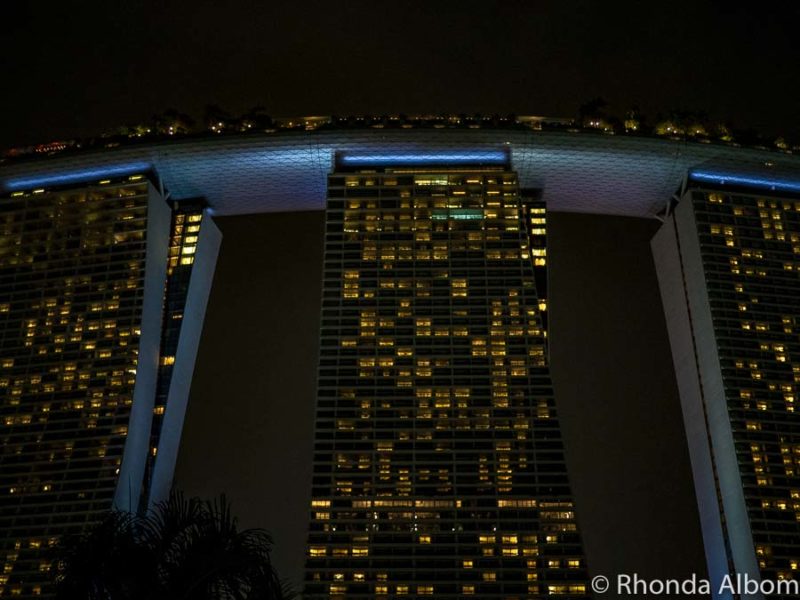 Nothing's perfect; the negative in this Marina Bay Sands review
I have heard many people complain that the hotel is big it is impersonal. Others balk at the price. For me, it was pure paradise. The only negative is that we didn't see quite as much of Singapore as we would have liked, as we spent too much time enjoying the Marina Bay Sands pool.
Things to see and do in Singapore
Occasionally, you might want to leave the hotel and explore Singapore, a unique city filled with modern architecture surrounded by a surprising amount of nature. There are gardens, cultural experiences, culinary excellence, and much more. See our list of things to do in Singapore for Couples
First-time visitors should start by reading this Singapore travel guide.
Other Singapore hotels
Of course, there are plenty of other Singapore accommodation options, ranging from backpackers to stunning five-star resorts. However, as you read in this Marina Bay Sands review, it will always be my top choice. If you want to see what else is out there, click here to check out the Singapore options.
Conclusion – Is Marina Bay Sands worth it?
For me, it was a big yes!
Save for later
If you enjoyed this Marina Bay Sands review, please share it on social media and save it for later on Pinterest.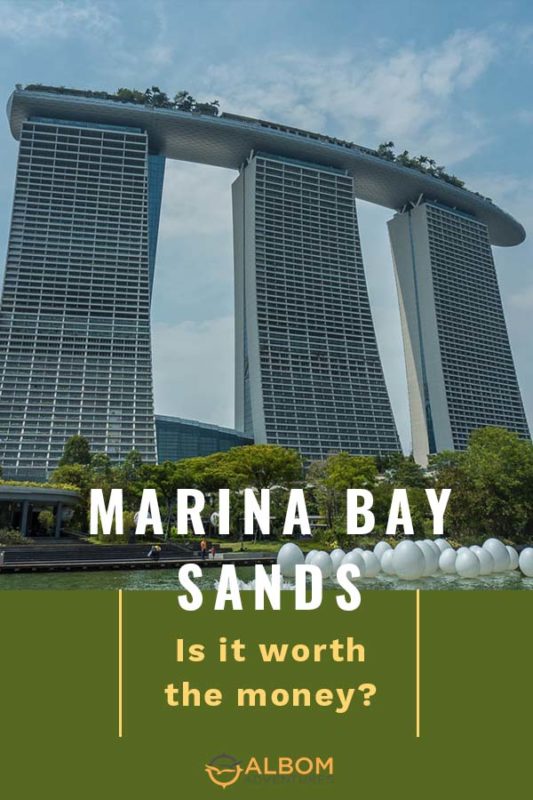 Will you stay at Marina Bay Sands next time you are in Singapore?
Disclaimer: Although we worked with the local tourism board, Visit Singapore, and were provided with various entrances throughout the city, we were not sponsored by Marina Bay Sands. I received no compensation for writing this review but rather did it to share somewhere wonderful with my readers. The opinions expressed here are strictly our own.