On any day, Aucklanders can look out at the Hauraki Gulf and chances are good there will be plenty of sails, cruisers, and even a few superyachts in our sightline. And, if it's the weekend, or summer twilight we can spot yacht racing in Auckland.
New Zealand's largest city is nicknamed the "City of Sails" for a good reason. And it doesn't take much, especially on a sunny summer day, to see why. Whether it's recreational boating, casual racing, or those special events where we can watch the professionals, yacht racing in Auckland is always a thrill.
Like many Aucklanders, my preferred view is from the water, although there are several great vantage points on shore. And for the really big events, Auckland throws a party with huge screens so we don't miss a thing.
In casual twilight racing, my preferred crew position is operating the mainsail.
Below we highlight some of the best of Auckland yacht racing.
This site contains affiliate links to products and/or services. We may receive a commission for purchases made through these links at no additional cost to you.
New Zealand articles trending on Albom Adventures
America's Cup racing
America's Cup is the world's oldest and most prestigious sporting trophy, and Auckland is proud to have been the defending champions, therefore the host the recent race.
New Zealand is the current holder of the coveted America's Cup, having won 7-3 over Luna Rossa Prada Pirelli Team in 2021. The season's racing began with all challengers competing for the Prada Cup, ultimately won by Team Luna Rossa Prada Pirelli. They then raced in a best out of 13 for America's Cup.
In fact, this win for Emirates Team New Zealand was the second in a row and the fourth since 1995. Their last win had them coming into 2021as the defending champion, having won in the prior racing series 7-1 over Oracle Team USA in 2017.
The highly sought after Cup resides at the Royal New Zealand Yacht Squadron, situated at Westhaven Marina, where it was the when New Zealand had it previously from 1995 until 2003. The club was established in 1871 as the "Auckland Yacht Club" until it received royal patronage thus changing its name to the Royal New Zealand Yacht Squadron.
Until recently the club patron was Prince Philip, Duke of Edinburgh.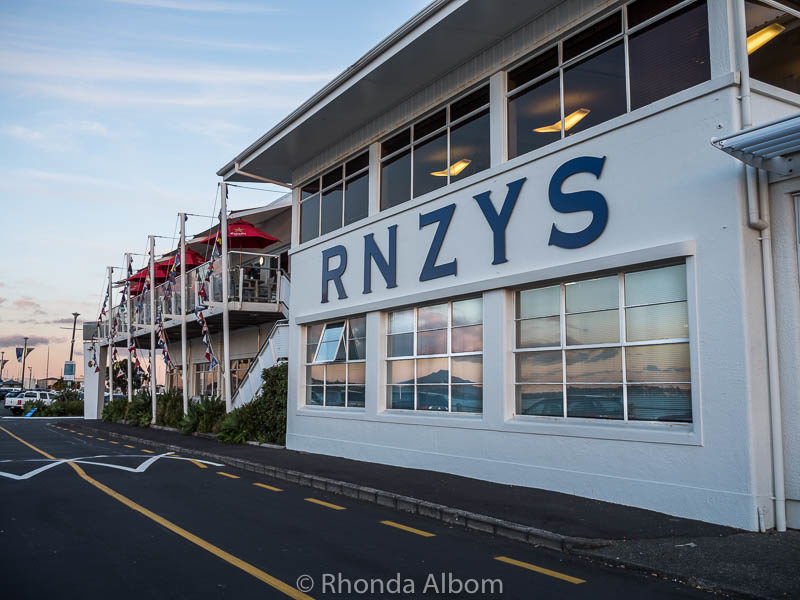 Experience America's Cup racing yachts in Auckland
One of the most unique ways to get out on the water in Auckland is a two-hour adventure onboard a former America's Cup yacht sailing out of Auckland's Viaduct Harbour. Best of all, guests have the opportunity to participate in the thrills of sailing in a proper racing yacht. Take the helm, grinders, or lines as the boat races along the Waitemata Harbor, in the same waters that hosted America's Cup races in 2000, 2003, and soon in 2021.
Best of all, no sailing experience is required to participate, and if you don't want to participate, simply sit back and enjoy the journey as the yachts sail past the city landscape. Check for discounts to join an America's Cup Sailing Tour in Auckland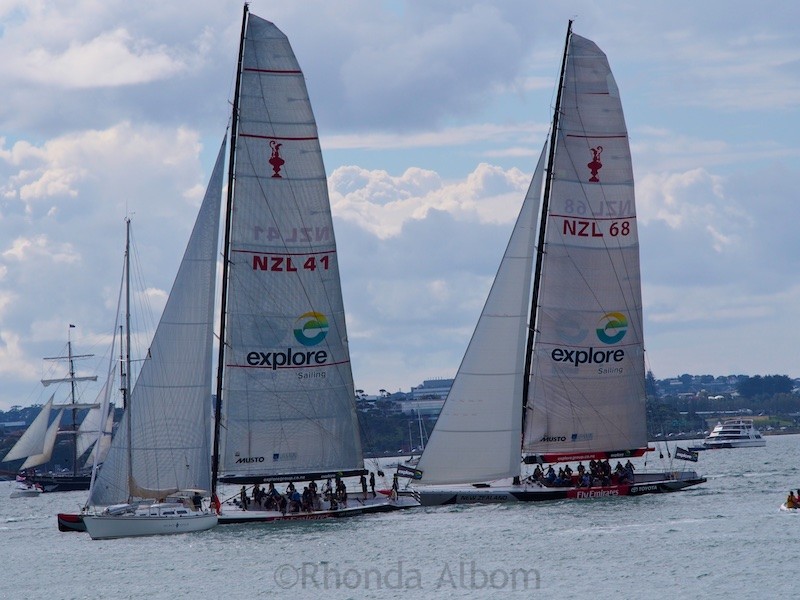 Local yacht club racing
There are more than 20 local yacht clubs in the Auckland area, including the Royal New Zealand Yacht Squadron. Each club offers some sort of yacht racing for its members, and occasionally welcomes guests.
Our club offers sponsored winter afternoon racing, as well as summer Wednesday twilight racing, alternating between women-only and mixed-gender crews. In addition, the summer schedule includes weekend cruising races out to one of the local islands.
I typically only take photos while heading out before the race, or after we cross the finish line. The exception is the centre photo below. It was a moment when we were ahead of our friends on a long leg, offering a brief moment to look back for a photo while yacht racing.
W
Flying Boat racing
Nicknamed "flying boats," this class of WASZPs are small, single-man sailing vessels each with two foils attached to the underside. These lift the hull out of the water, allowing it to "fly" at twice the speed of the wind. There are about 60 of these vessels in New Zealand, and nearly half competed in the 2016 national championships held on Manly Beach, Whangaparaoa, Auckland.
Sir Peter Blake and the Steinlager II
New Zealand's Sir Peter Blake skippered Steinlager II to an unprecedented victory in the Whitbread Round the World race (1989/90). The team won all six legs on both handicap and line-honours. For a gold coin ($2 NZ), I boarded Steinlager 2 at the annual Auckland Boat Show. (It is one of my favourite annual festivals in Auckland.)
Learn more about Sir Peter Blake and his amazing life.
Volvo Ocean Race Round the World – New Zealand stopover
With a new sponsor, the Whitbread Round the World race is now the Volvo Ocean Race Around the World. Racing every three years, the teams take about 9 months to complete the course. There are stopovers in a variety of cities, usually including Auckland, where the city has a huge display and match races.
Flying Fifteens national championships in Auckland
The Flying Fifteen is the world's most popular single design keel-boat class. It's a high-performance dinghy with a waterline length of 15 feet that can reach speeds of 14 knots on a reach.
Tall ship racing
The Auckland Tall Ship Festival was the culmination event following a 1200 nautical mile race from Sydney, Australia to the Bay of Islands, New Zealand. The 2013 winner, featured in the image below, is the Netherland's three-masted Bark Europa built in 1911 and rebuilt in the Netherlands in 1986.
These tall ships are 100% manually operated and can take 20 to 25 minutes to bring around (bring the sails over, resulting in turning the boat). After a short rest, the boats sailed as a fleet to Auckland for the festival.
The closest we can get to this on a daily basis is to hop onboard the Ted Ashby, a ketch-rigged scow at the the Maritime Museum. Check for discount prices here.
Yacht racing events in Auckland
Auckland often hosts an event around the international races such as America's Cup, Volvo Ocean Race, visits from British royalty, and the tall ship festival. There is information on the ships and often opportunities to board the boats, or at least get a closer look. Sometimes there are pirates, street performers, singing sailors, and arts and crafts alongside the educational material.
Yacht racing in Auckland is a way of life. And when not racing, Aucklanders spend much of their summer on the water sailing, cruising, fishing, kayaking, and jet boating. It is amongst the many ways to spend your time in Auckland.
If it's recreation or relaxation you are after, cruise out to one of Auckland's many islands in the Hauraki Gulf.
Where to ask questions and learn more about New Zealand
Save for later
If you enjoyed this article, please share it on social media and save it for later on Pinterest.
On the water or watching from the shore, where do you prefer to be during yacht racing time?