As with most island nations, New Zealand has a long nautical history that continues to be written.
From the arrival of the first Polynesian people through today, much of New Zealand's life revolves around the sea.
In Auckland, the country's largest city, it is said that one in four people have a boat. No wonder it has the moniker "the city of sails".
Auckland is also home to one of my favourite museums. The New Zealand Maritime Museum takes us through the nation's nautical history with authentic boats, identified replicas, fascinating stories, interactive, hands-on exhibits, and an opportunity to get out on the water.
It is the best place to discover the country's nautical history, from the first people to arrive only 1,000 years ago in dugout canoes to modern blue water racing.
And it's not just for tourists. I live in the Auckland suburbs and visit the museum whenever I am on the waterfront. Especially now that entry for Aucklanders is free.
Today, we share some of our favourite exhibits in the order we pass through them in the museum. Know that there is plenty more to see.
Discover New Zealand's early nautical history at the Maritime Museum
A variety of vessels were used to travel across the waters in the early days before Europeans arrived. There are plenty of examples of these early Polynesian vessels, both authentic boats and replicas.
In fact, I was so fascinated by the intricacy that I created a separate page to take a closer look at Polynesian outrigger canoes.
Here is one small section of the Polynesian exhibit:
Nautical history of European immigration
New Beginnings
Through stories, interactive exhibits, and displays, we get a feel for what it would have been like to be a European immigrant from the mid-1800s to about 1960. The ocean passage was long and not easy.
One exhibit room emulates the interior of a ship, gently rocking back and forth to stimulate smooth sailing days. Sitting in here for just a few minutes makes me glad that by the time I arrived in New Zealand, there was air travel.
There is also a cabin from a more modern ship, as well as information from the captain's point of view.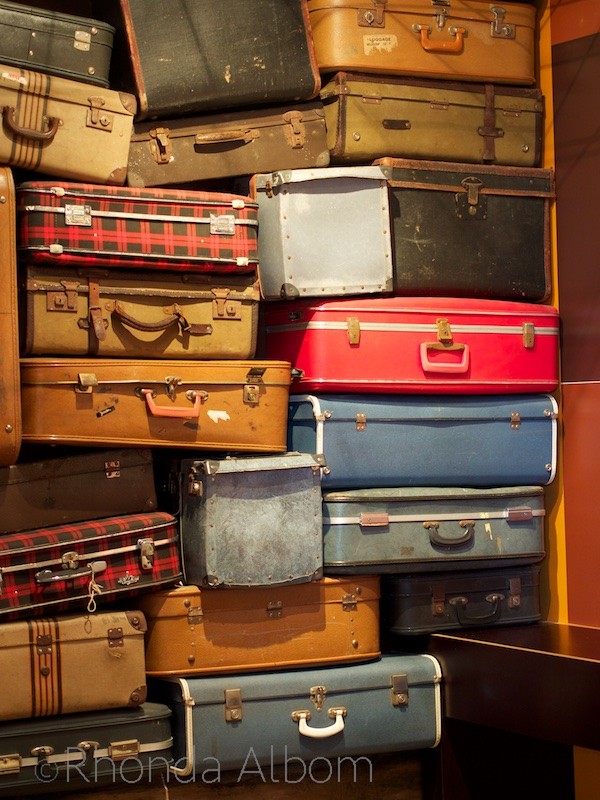 Modern nautical history
Blue Water – Black Magic
Blue Water, Black Magic shares New Zealand's modern nautical history, highlighting the country's yachting success. In fact, New Zealand's maritime achievements include holding every significant blue-water sailing trophy in the world at one point in time.
NZL32 Black Magic, New Zealand's 1995 winning America's Cup yacht, is on display here, as is information on some of our most successful sailors.
Blue Water Black Magic is, in part, a tribute to Sir Peter Blake (1948 – 2001), New Zealand's most successful yachtsman, an environmentalist, and a national hero.
In addition, there are hands-on opportunities to electronically design your own boat, race, and tie knots.
More indoor things to see at the Maritime Museum
Historical whaling from the 1800s to the early 1900s. (Since 1946, New Zealand has been a world leader in whale protection)
Kiwis and the Coast section offers a replica 1950s beach shop and bach (the name for a small holiday house on the North Island).
Tools used for navigation.
There are also collections of innovative smaller modern sailing vessels, outboard motors, and figureheads from the bows of ships.
A video and painting on the 1863 wreck of the HMS Orpheus, New Zealand's worst shipwreck.
A collection of temporary exhibits highlighting some aspect of maritime life or nautical history.
Nautical history continues outdoors
Docked up right next to the museum's outdoor pier are always several interesting ships. The photos below represent:
This waka, belonging to the Polynesian Voyaging Society, had been at the Maritime Museum for a while when I took the shot, but I would guess it is gone now.
SL Puke is New Zealand's old's working steamboat and was built in the late 1800s. I have been on it a few times, and offer a warning, especially if you are taking little ones, it's a working ship and if you touch or lean up in the wrong spot, you get greasy.
Rigging on the Breeze during a special event entitled "Dangerous Duties at Sea" held at the Maritime Museum. The highlight for my teen was getting an opportunity to climb up the rigging on the Breeze. during a special event entitled "Dangerous Duties at Sea" held at the Maritime Museum. The highlight for my teen was getting an opportunity to climb up the rigging on the Breeze.
Ted Ashby (see more below)
Sail on the Ted Ashby or one of the other boats in the museums fleet
There are several vessels, representing different aspects of our nautical history sailing from the New Zealand Maritime Museum, but only the Ted Ashby sails regularly.
The Ted Ashby
Ted Ashby is a replica ketch-rigged deck scow built by museum staff and volunteers in 1994 that takes out passengers for a 1-hour sail. You can sit back and relax, or help hoist the sails. Either way, we loved the experience and the classic views of the city.
Weather dependent, sails take place every Tues – Sun at 11.30 am and 1.30 pm.
Heading out on the boat comes with an additional fee for everyone, including Auckland residents. Reserve your Ted Ashby tickets in advance here. It includes the museum entry (and therefore may not be a better deal for Auckland residents).
The Breeze
While we have not yet sailed on it, we did get on the Breeze during a special event entitled "Dangerous Duties at Sea" held at the Maritime Museum. The highlight for my teen was getting an opportunity to climb up the rigging on the Breeze.
Other boats that sail from the New Zealand Maritime Museum
The Breeze: traditional recreation of a brigantine style ship used in New Zealand coastal and inter-Dominion trades.
Aotearoa One: This modern reconstruction of a traditional waka used to live in Gulf Harbour. It offers special sailings through Te Toki Voyaging Trust.
SS Puke (tug boat): On special occasions, visitors get out in the harbour on this 19th-century steam tug.
Nautilus: A vintage motor launch.
Visiting the New Zealand Maritime Museum
Will you visit the Maritime Museum? Have you sailed on the Ted Ashby?