Long before the days of GPS and satellites, curious and brave seafaring explorers used their knowledge of the ocean and the night sky for guidance. They explored the oceans in Polynesian outrigger canoes, the style of which has sailed the Southern Pacific Ocean for over 5,000 years.
In some places, single wooden-hulled Polynesian outrigger canoes are still in use today.
While a single carved out tree makes up the hull, what distinguishes Polynesian outrigger canoes is that traditionally they have only one outrigger. In contrast, Southeast Asia more often had double outriggers. Importantly, double-hulled canoes (catamarans) were also popular amongst the early Polynesian people.
Today, many original style wooden vessels can be found on the waters, but more often we have seen Polynesian outrigger canoes made from modern materials. Although, the basic long narrow shape with the addition of only a single outrigger has withstood the test of time.
It is the detailed handwork of the older vessels that I find so intriguing.
Taking a closer look at the construction details of the Polynesian outrigger canoes, the challenge these brave men faced seems multiplied.
The New Zealand Maritime Museum displays replicas of voyaging canoes from Polynesia, Melanesia, and Micronesia.
Larger vessels were used for migration sailing and were often double-hulled canoes. In fact, these are the type of boats that brought the first Polynesian people to New Zealand.
The legend of Kupe
Maori legend tells us that Kupe discovered New Zealand about 1,000 years ago. He sailed to Aotearoa (New Zealand) from Hawaiki, the traditional homeland of the Maori people. Today, no one today knows the exact location of Hawaiki. However, the accepted belief is that it is somewhere in Polynesia.
Where is Polynesia?
Polynesia is an eastern subgroup of Oceania and consists of over 1,000 islands in the Southern Pacific Ocean. It is not as clearly defined as many regions with land borders. In fact, different sources include different countries in Polynesia. The conflict is generally regarding the outliers.
However, regardless of where you draw the physical borders, most will agree that the countries listed just below are culturally Polynesian. A triangle from Hawaii to New Zealand to Easter Island defines this group.
The commonly agreed-upon list of countries of each region:
Polynesia: American Samoa, Cook Island, Easter Island, French Polynesia, Hawaii, New Zealand, Norfolk Island, Niue, Pitcairn Islands, Rotuma, Samoa, Tokelau, Tonga, Tuvalu, Solomon Islands, and Wallis and Futuna.
Melanesia: Fiji, New Caledonia, Papua New Guinea, Solomon Islands, and Vanuatu.
Micronesia: includes the archipelagos of the Caroline Islands, the Gilbert Islands, the Mariana Islands, and the Marshall Islands. There are also independent islands in the region.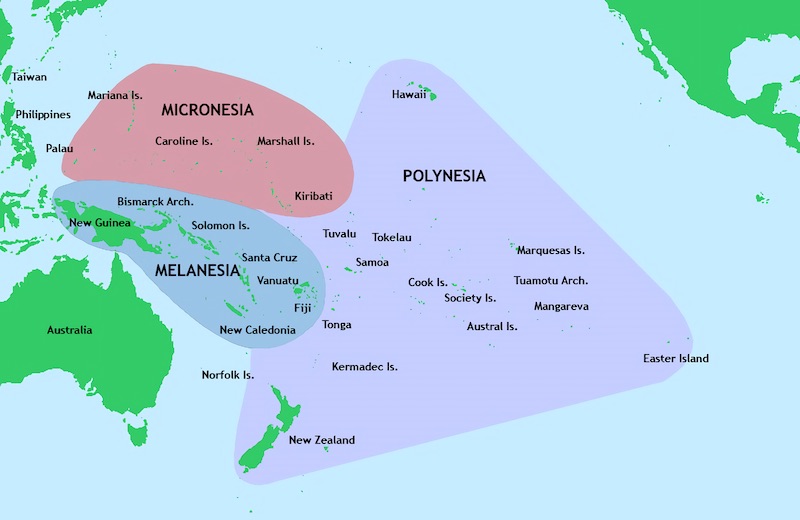 Polynesian outrigger canoes
What we do know is the detailed craftsmanship that went into building Polynesian outrigger canoes is similar throughout the region.
Many replicas of these boats are on display at the maritime museum in Auckland, and it's a great place to get a closer look at some of the details.
At the top of this page is a classic example of an outrigger canoe. The main parts are:
Hull/canoe – the hull that holds the canoe paddlers, carved from a single log, or stitched together.
Boom: Rather than a single boom like modern sailing vessels, the sail is lashed to two booms that are separated to raise the sail.
Sail: woven from plant materials and sewn together in strips. Pandanus matting is the most common in Polynesia. However, New Zealand used flax.
Outrigger boom: spars leading out from the hull.
Outrigger: the smaller lateral supports that float on the water and offers balance.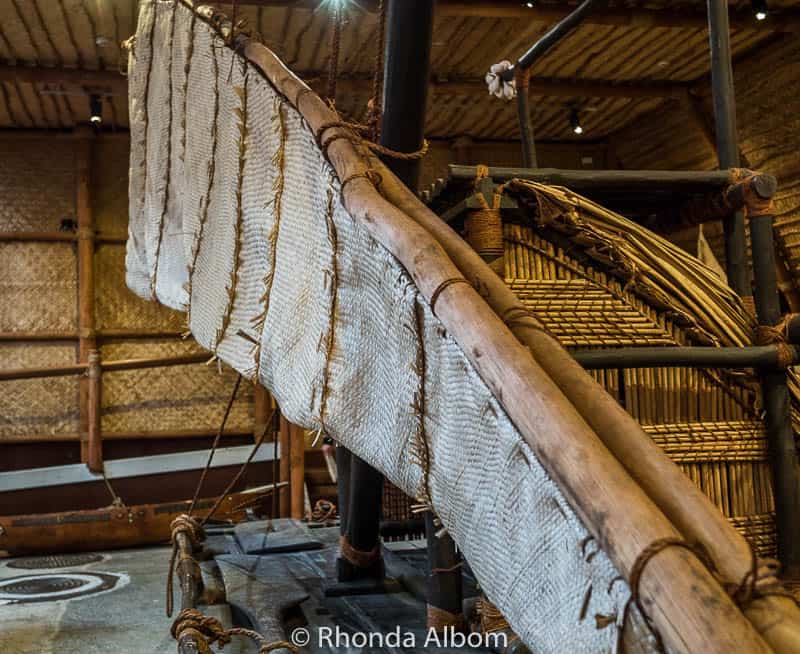 Polynesian outrigger canoes from Tonga
Just below is a Tongan Tongiaki, a double-hulled voyage canoe. The small hut offers the only protection the brave sailors had against the oceans. It's similar in style to the boats that originally brought the Polynesian Maori to New Zealand. Although, the Maori migration boats are believed to have been about 20 meters in length.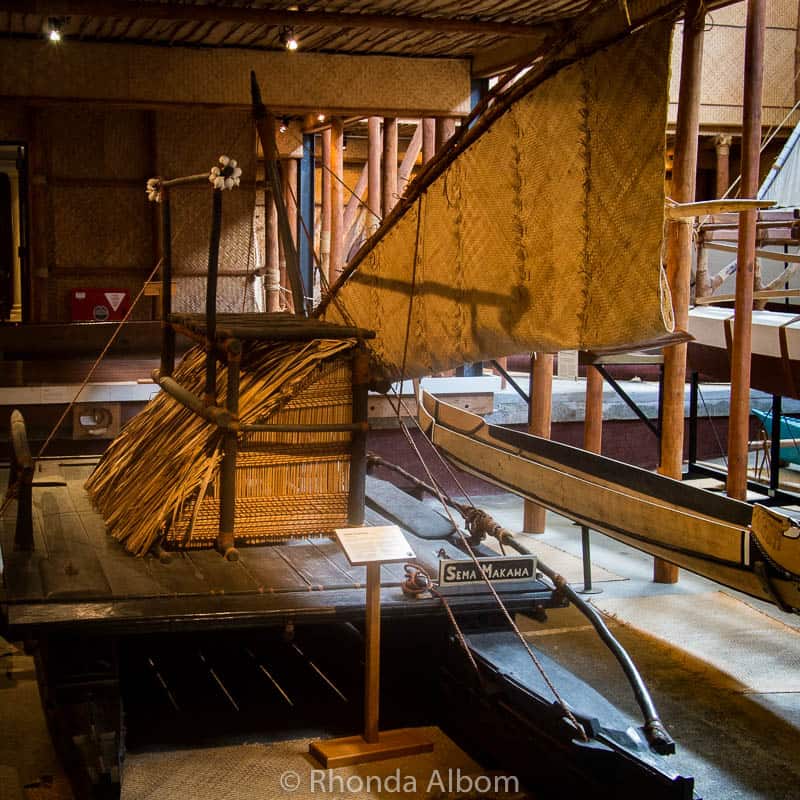 Polynesian outrigger canoes from New Caledonia
This vessel is from the Isle of Pines, an island in the archipelago of New Caledonia (Melanesia). It's a mix of modern and traditional styles and base materials.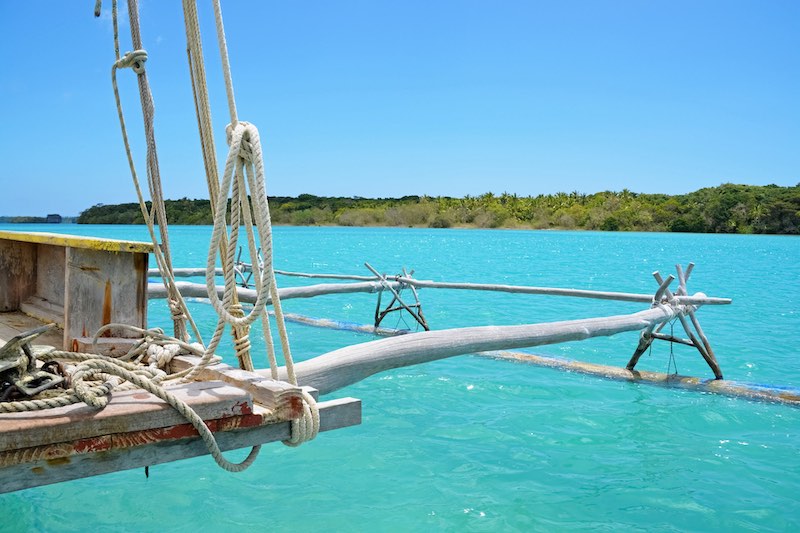 Polynesian outrigger canoes from Kiribati Atolls
Also at the museum is this Polynesian outrigger sailing canoe. In the background of the first shot below is the hull, outrigger boom and part of the sail of Taratai, a 76-foot baurua voyaging canoe from the Kiribati Atolls (Micronesia).
Check out the impressive detail in the lashings on both the smaller canoe and the larger migration vessel.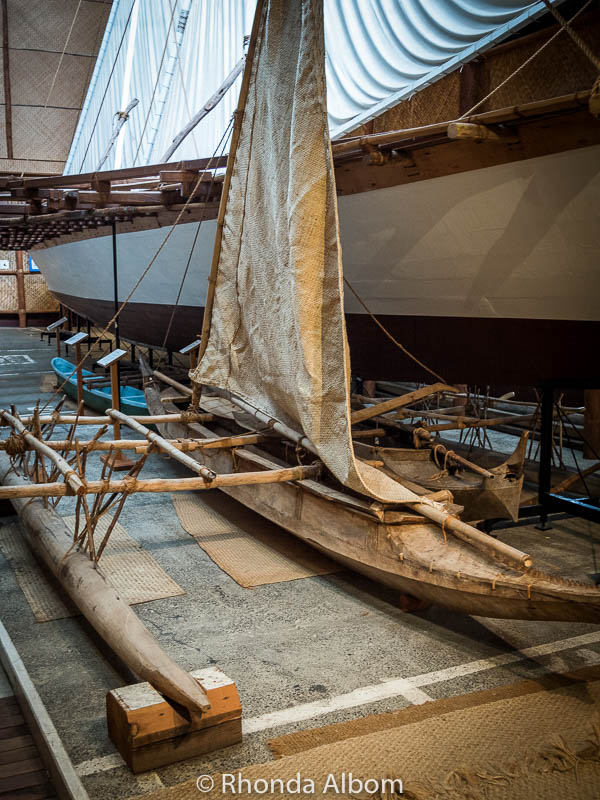 Polynesian outrigger canoes from the Cook Islands
We took all three of these shots on Rarotonga in the Cook Islands. The first two were modern racing vessels. The third is a historic waka outside the Cook Islands Museum and Library.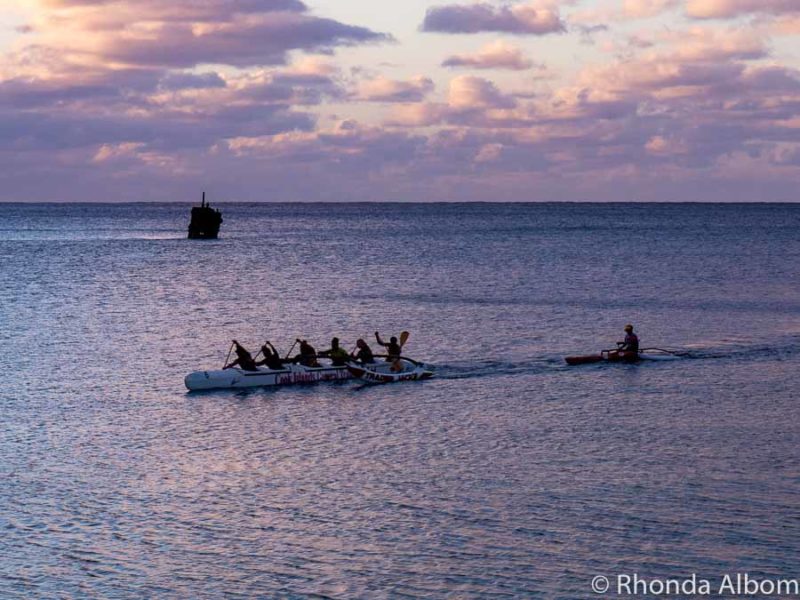 Canoes from French Polynesia
French Polynesia consists of over 100 islands stretching for more than 2,000km. The capital Papeete is located on the island of Tahiti, one of the better known of the islands.
We have visited a few of these islands but captured photos of Polynesian outrigger canoes only in Moorea.

Where to have your own outrigger experience
We are always on the lookout for new experiences that have great reviews from people who have tried them. Here are three that are now on our radar:
Outrigger Canoe Surfing in Honolulu, Hawaii
An exciting way for the entire family (ages 5+) to catch a wave, this adventure will have you surf three waves as you learn a bit about the history of what was once the official sport of the royal family. Considered so safe, life jackets are not required. You can reserve your outrigger canoe surfing experience here.
Outrigger Canoe Snorkel Tour in Maui, Hawaii
Starting from Wailea Beach you will paddle down the south shore to a snorkel spot featuring sea turtles, a variety of fish, and coral that can easily be observed in the pristine waters. You will learn a bit about the culture and celestial navigation from your guide as you paddle to your snorkel spot. You can reserve your outrigger canoe snorkel tour here.
Combo Sunset Cruise & Romantic Dinner in Bora Bora, French Polynesia
Not a traditional canoe, as this outrigger vessel is powered, but you will enjoy a two-hour romantic cruise, a glass of champagne, and the sunset along with not more than five other couples. Then you will be taken to the renowned St James Restaurant, where you will have a private romantic dinner at a pre-reserved table. You can reserve your cruise and dinner here.

More wooden canoes at the New Zealand Maritime Museum
Documenting New Zealand's nautical history, the maritime museum in Auckland takes us through the arrival of the nation's early population. Here are two more images of single-hulled canoes without outriggers.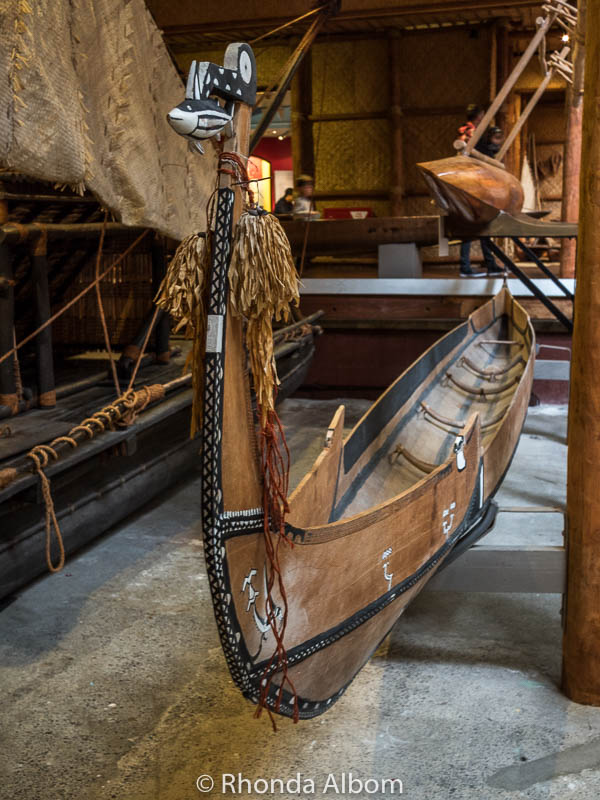 Practical information and tips for visiting the museum in Auckland
The museum is at Auckland's Viaduct Harbour at the corner of Quay and Hobson Streets.
The museum is open nearly every day from 10 am – 5 pm. Also available are optional sailings on the Ted Ashby most days, which offer a chance to get out on the water on a ketch-rigged deck scow. Reserve your Ted Ashby tickets here.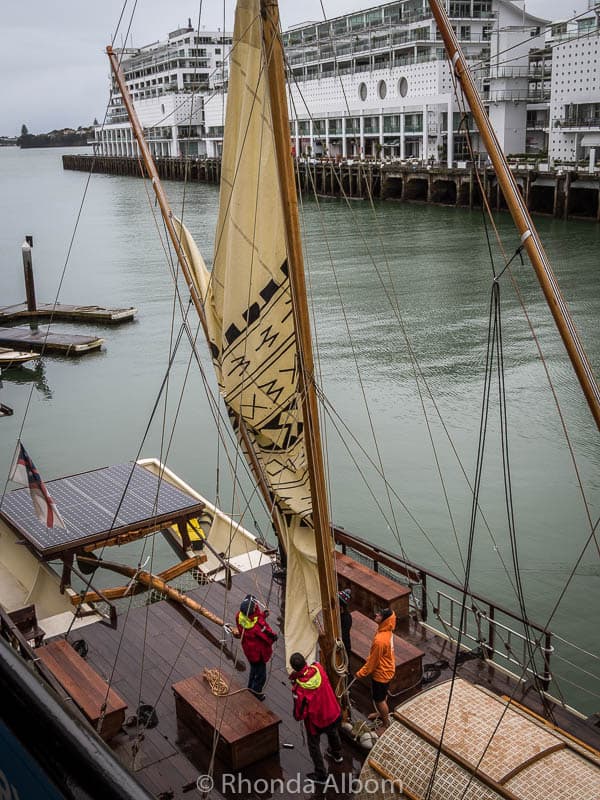 Save on your trip with these resources
These are our go-to companies when we travel. We believe this list to be the best in each category. You can't go wrong using them on your trip too.
Flights: we use Expedia for the best and cheapest flight options.
Accommodations: we use Booking.com (hotels), VRBO (self-contained), or Hostelworld (budget).
Cars (gas or electric): we use RentalCars to search for deals and dealer ratings.
Campervans or Motorhomes: we use Campstar where Albom Adventures readers get a 3% discount.
Motorcycles: we have heard good things about BikesBooking.
Private guides: we love the private guides at Tours by Locals.
Travel Insurance: while not required, we always opt for travel insurance and start at InsureMyTrip to compare coverage plans.
Check out our travel resources page for more companies that we use when you travel.
Save for later
If you enjoyed taking a closer look at these Polynesian outrigger canoes, please share this pin on Pinterest: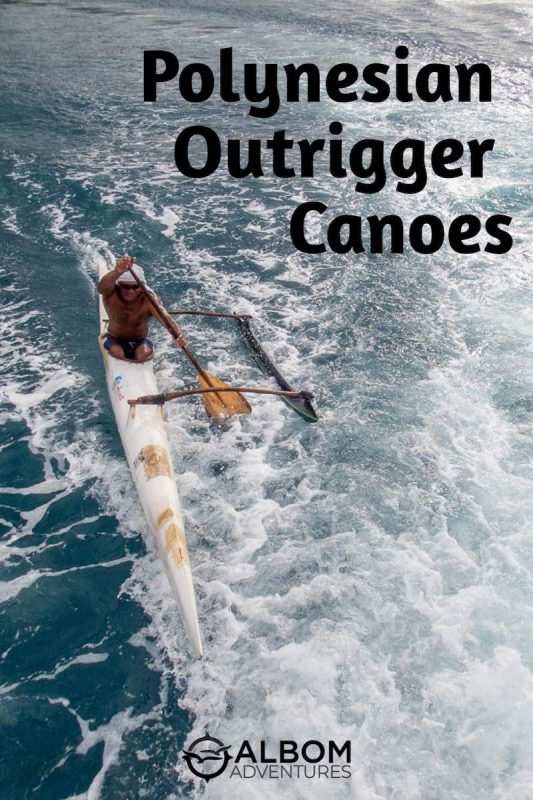 Can you imagine crossing the oceans on one of these Polynesian outrigger canoes?