There is no better view of the Auckland skyline than from the summit of Mount Victoria Devonport. The 360-degree views of the Waitemata Harbour and Hauraki Gulf are perhaps the best in the region. We try to bring all our visitors here in the afternoon.
This weekend traffic slowed us down, forcing us to have a new experience as the sun already dipped just below the horizon line. Arriving just after the golden hour, we feared we were too late. Instead, a richly coloured sky and a warm glow across the land greeted us.
The Auckland region is built on the cones of 48 volcanoes. Mount Victoria Devonport, standing 87 meters tall, is the tallest on Auckland's North Shore. In comparison, Auckland city's tallest volcano is Mount Eden at 196 metres, and the nearby Rangitoto Island rises to 260 metres.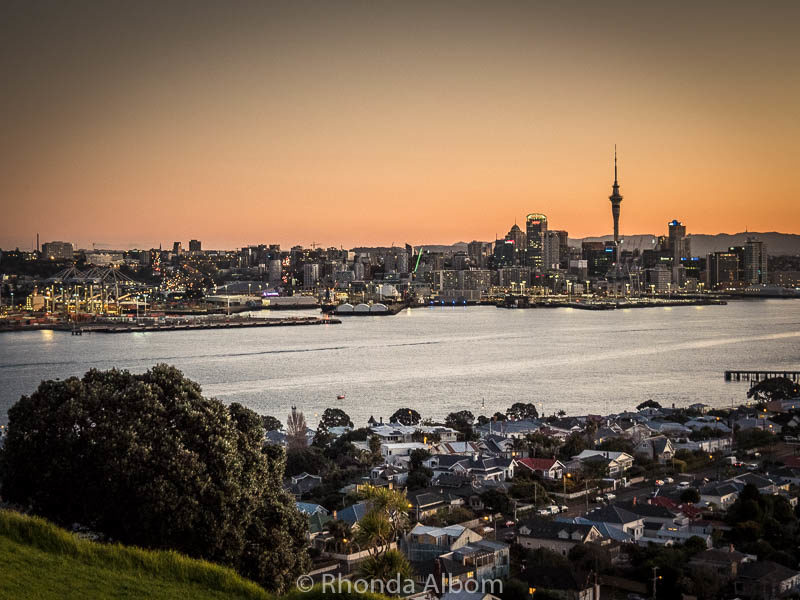 A Bit of the History of Mount Victoria Devonport
Once a Maori pā (a village or defence settlement) the age of this ancient volcano's first eruption remains unknown. It's Maori name "Takarunga" means "hill standing above". In 1840 the signing of the Treaty of Waitangi created the New Zealand we know today, then governed by Queen Victoria, ergo the name. The British used Mount Victoria as a vantage viewpoint to protect New Zealand from an anticipated Russian invasion (this event never took place).
It was also used to guide ships into Auckland Harbour and to alert the locals as to which ships were incoming or returning. Nearby homes were built with a line of sight to the flagpole. The signalman lived on the mountain, and his old house is used today as a writing centre promoting New Zealand literature.
What You Will Find at the Summit
One of New Zealand's few remaining disappearing guns; (A second one is on nearby North Head.)
A field of colourfully painted mushrooms that function as vents for a water pumping station which lies underneath the surface of the mountain;
A few Maori pā terraces and pits remain on the upper slopes;
And, a fully automated signal station (built in 1954, automated in 2000).
More Information:
Access to the summit of Mount Victoria Devonport is via car, mini-coach, Segway, or on foot. The access road is off of Kerr Street. Look for the signpost reading "To Mount Victoria Summit".
If you are going to drive, take caution as the narrow road does go in both directions. There is free parking available at the top, although it is limited.
While in Devonport, be sure to walk along Devonport Wharf. Also, visit the nearby volcanic cone on North Head, a former military complex with tunnels that you can walk through, cannons, and another of the disappearing guns.
If you prefer a tour, Viator offers a Devonport Volcanoes Afternoon Tour from Auckland that covers it all.
There is also a Mount Victoria to the east of central Wellington, New Zealand's capital city. It was a filming location for the first movie in the Lord of the Rings trilogy. (Director Peter Jackson was born in Wellington). It offers spectacular views of Wellington Harbour. Interestingly, it is the same height as Mount Eden, Auckland city's tallest volcano.
Don't Miss: 25 Things to Do in Auckland at Night or more Photos of Sunsets in New Zealand.
If you enjoyed these images, please pin this on Pinterest:
Photo Tips:
Announcing our newest project, a short ebook of easy travel photo tips. You can download a free copy. You will also receive our newsletter offering more tips and blog highlights.

Where is your favourite view of Auckland? Have you been to the lookout at Mount Victoria Devonport?