There is no better view of an Auckland sunset of the city skyline than from the summit of Mount Victoria Devonport. The 360-degree views of the Waitemata Harbour and Hauraki Gulf are perhaps the best in the region.
Whether you visit in the day or evening, you won't be disappointed. Either time, enjoy the Auckland skyline. During the day we like to watch the boats come and go, but better still we love being here for the Auckland sunset. Best of all, access to this spectacular site has been free since becoming a public reserve in 1880.
The Auckland region is built on the cones of 48 volcanoes. Mount Victoria Devonport, standing 87 meters tall, is the tallest on Auckland's North Shore. In comparison, Auckland city's tallest volcano is Mount Eden at 196 metres, and the nearby Rangitoto Island rises to 260 metres.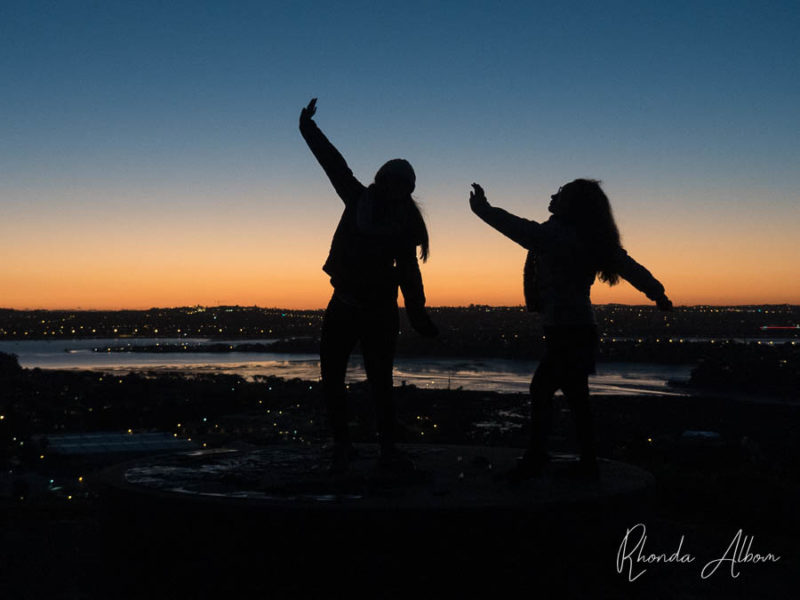 First, be inspired by Auckland …
Auckland sunset from Mount Victoria Devonport
Even on cloudless nights, the colourful Auckland sunset seen from the summit of Mt Victoria Devonport captures the imagination. While descriptions are nice, photos show it better.
Looking to the southwest, the Auckland Sky Tower dominates the city skyline.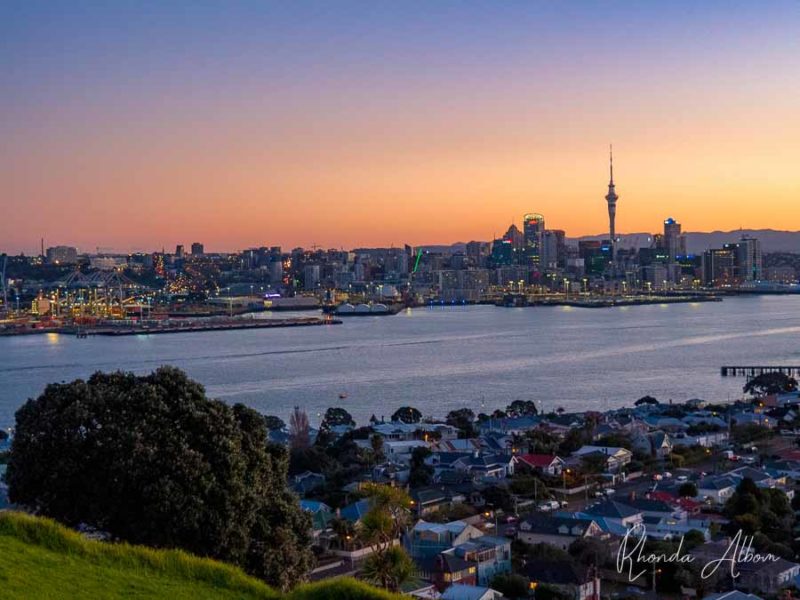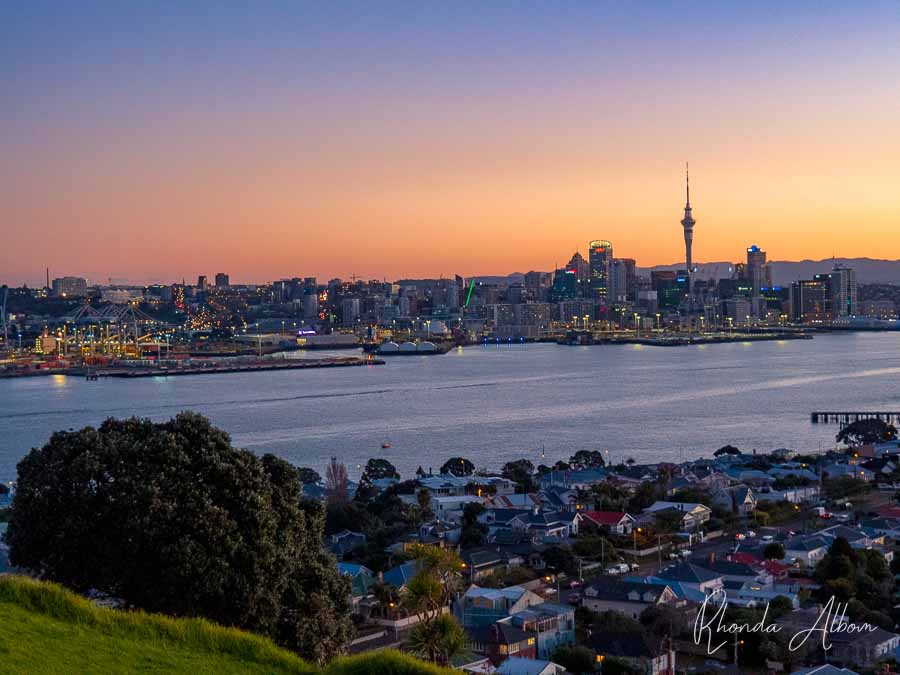 Looking west towards the Auckland Harbour bridge which leads from the city to the North Shore. Takapuna glows in the foreground.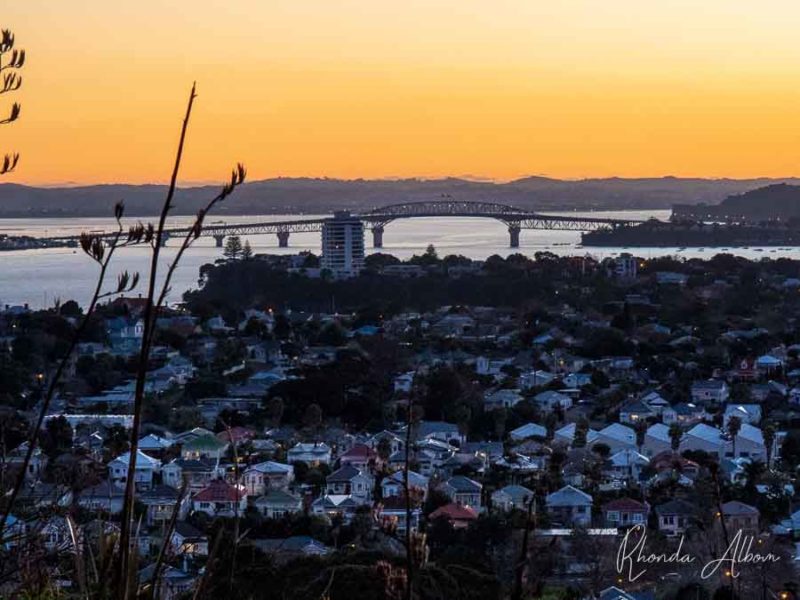 Looking northwest over Ngataringa Bay.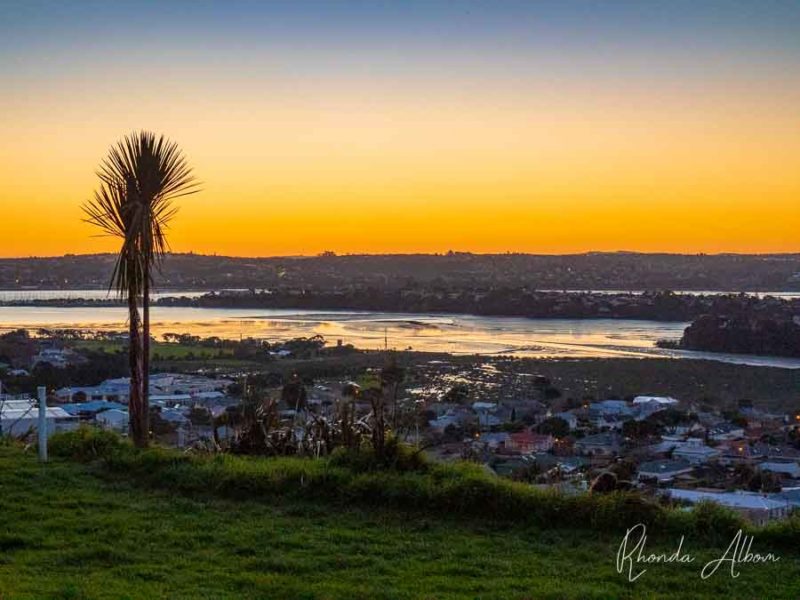 Looking North over the cities of Devonport and Takapuna.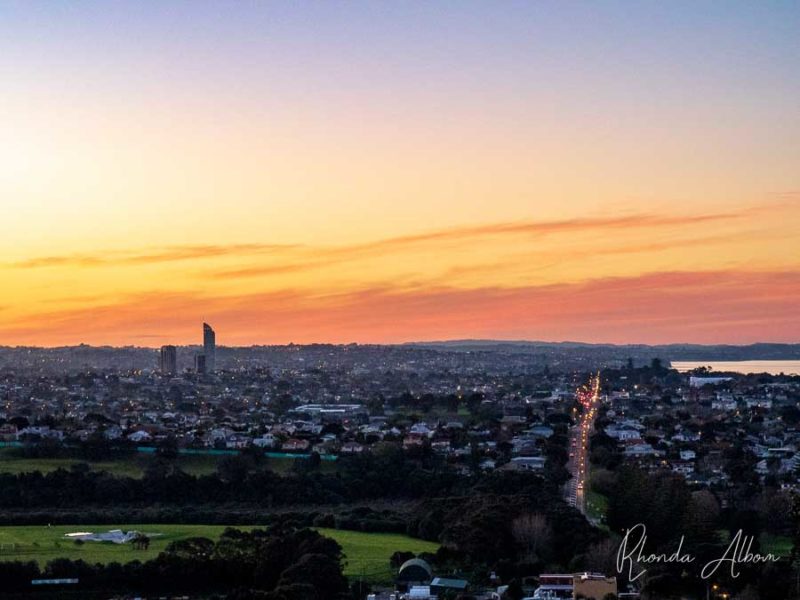 Where is Mt Victoria Devonport?
Located on the North Shore, just over the Harbour Bridge from the city, Devonport is one of Auckland's neighbourhoods. Access to the summit of Mount Victoria is via foot or bicycle. The access road was permanently closed to all private motor vehicles in March 2018.
However, there is a small car parking area off of Kerr Street if you want to start here for your walk. Look for the signpost reading "To Mount Victoria Summit".
Importantly, if you don't want to walk to the top, join into an Auckland sunset and night photography tour. Not only do you get to see several lit-up views of Auckland, but you will also travel with a guide that can give you guidance on camera settings to get even better night shots.
To walk from the coast, there is a path that starts on King Edward Parade. From here, head up Church Street and turn left onto Kerr Street. The path to the summit is well signposted. If on a bicycle, you will need to follow the road. However, if on foot we have found the staircase to be a better option.
What's at Mt Victoria's summit
There is more than just spectacular views, although that is generally the reason we go to the top. You will also find:
One of New Zealand's few remaining disappearing guns; (A second one is on nearby North Head.)
A field of colourfully painted mushrooms that actually are vents for a water pumping station underneath the surface of the volcano
A few Maori pā terraces and pits remain on the upper slopes
A signal station originally built in 1954 and later fully automated in 2000.
The Devonport Folk Music Club meets on Mondays in a historic bunker according to the sign on the door.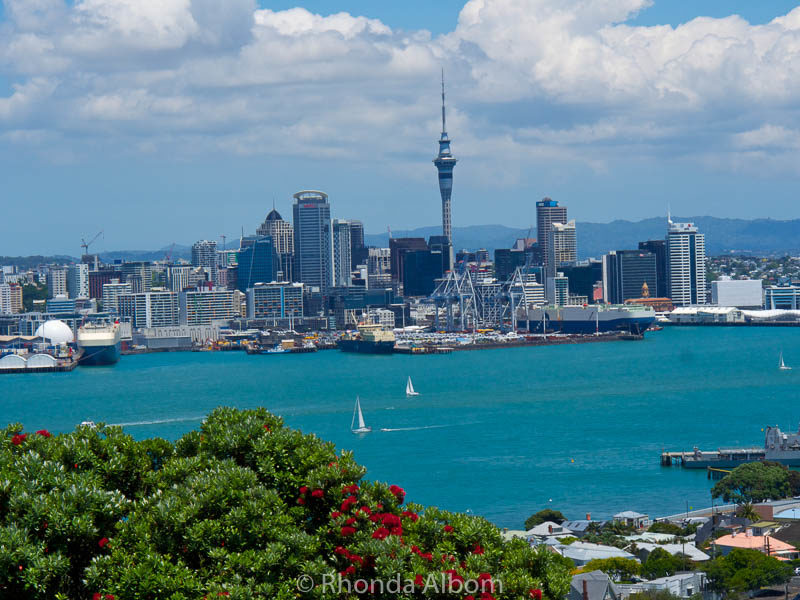 A Bit of the history of Mount Victoria Devonport
Once a Maori pā (a village or defence settlement) the age of this ancient volcano's first eruption remains unknown. Its Maori name "Takarunga" means "hill standing above". In 1840 the signing of the Treaty of Waitangi created the New Zealand we know today, then governed by Queen Victoria, ergo the name.
The British used Mount Victoria as a vantage viewpoint to protect New Zealand from an anticipated Russian invasion (this event never took place).
It was also used to guide ships into Auckland Harbour and to alert the locals as to which ships were incoming or returning. Nearby homes were built with a line of sight to the flagpole, thus earning the moniker Flagstaff Hill.
The signalman lived on the mountain, and his old house is used today as a writing centre promoting New Zealand literature.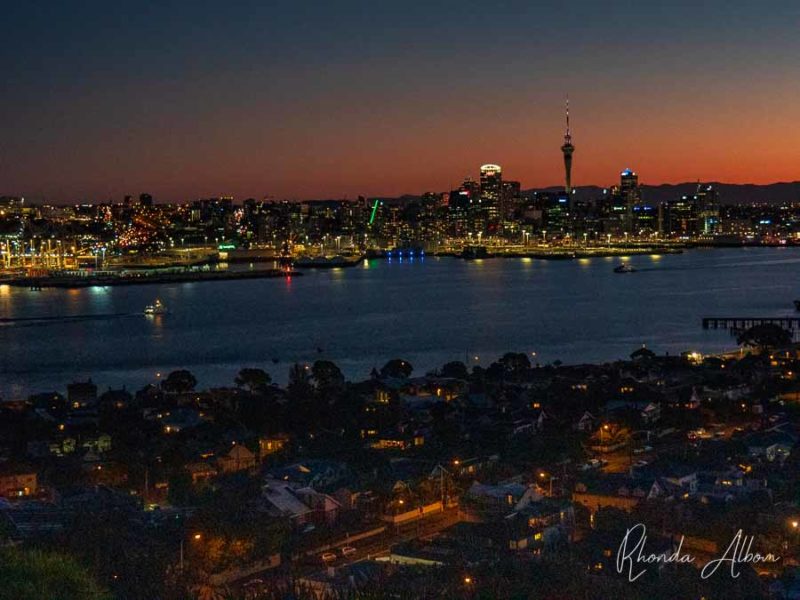 Final thoughts:
While in Devonport, be sure to walk along Devonport Wharf.
Also, visit the nearby volcanic cone on North Head, a former military complex with tunnels that you can walk through, cannons, and another of the disappearing guns.
There is also a Mount Victoria to the east of central Wellington, New Zealand's capital city. It was a filming location for the first movie in the Lord of the Rings trilogy. (Director Peter Jackson was born in Wellington). It offers spectacular views of Wellington Harbour.
Read next: Photos of Sunsets in New Zealand.
Get the best deals and discounts in Auckland
Activity discounts
Check Bookme.com for discounts of up to 70% on selected entrances, tours, activities, restaurants and more. Also, our readers get an exclusive 10% discount on New Zealand activities from Klook with code: EXPLORENZ10
(Applies to NZ activity purchases over $50 initiated in NZ or Aus)
Book your accommodation
We use Booking.com as they consistently return the best rates and their reviews are from actual guests. For self-contained lodging, we use Bookabach.
Reserve your vehicle
Use RentalCars.com to find the best deals on cars. With no hidden costs and outstanding customer service, we have successfully rented from them worldwide. Use Jucy for small campervans.
Before you book your NZ trip
Check our travel resources page for more of the companies we use when we travel. We believe them to be the best in each category. You can't go wrong using them on your trip too.
Save for later
If you enjoyed this article, please share it on social media and save it for later on Pinterest.
Have enjoyed the Auckland sunset from the lookout at Mount Victoria Devonport?