I am intimidated by cows. There, I said it. Growing up in a city, I had almost no exposure to farm animals. And while other people walk through the paddocks, passing cows without incident, I am nervous. On part of today's hike through Shakespear Park in Auckland New Zealand, hubby and I parallel an electric fence. This is a normal occurrence in this park, and it's easy to test the electric fence for current (see below).
Escape route gone, my rational mind takes over and I know these cows in Shakespear Park are not going to harm us. They are used to humans.
Continuing on our adventure, hubby and I ignore the cows who are clearly ignoring us. That is until . . .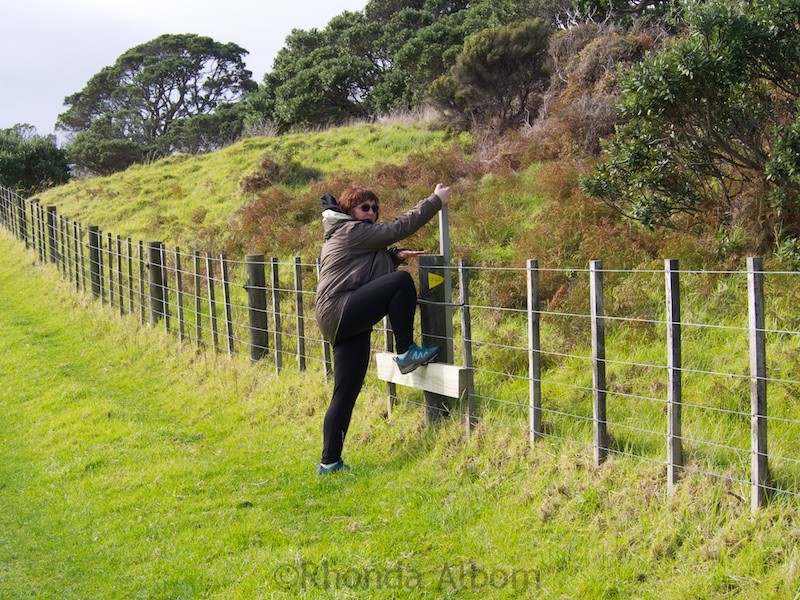 How to Safely Test if an Electric Fence is Live
I don't know about you, but I am not keen on getting an electric shock, even if I am intimidated by cows. I was to learn this simple trick:
Take a single blade of grass between your thumb and forefinger.
Touch the other end of the grass blade to the hot wire (typically, there is only one fence wire that might be electrified. This is the hot wire. It will stand out from the others in some way. At Shakespear, it is forward from the fence.
If you will feel a very mild shock through the grass, the wire is live. Do NOT touch it with your hands or skin.
Hubby can confirm that the shock through the grass is mild and nothing like the pain of touching the hot wire with a hand or any bare skin.
Shakespear Park is located at the end of the Whangaparaoa Peninsula, north of Auckland city. It is one of the Auckland Regional parks with a farming programme that includes cows and sheep.
What do you think the cow was really thinking? Would you climb the electric fence at the stile (the electric wires are covered there)?
If you enjoyed this article, please consider pinning it: