On part of today's walk through Shakespear Park in Auckland (New Zealand) hubby and I parallel an electric fence. We were well beyond the paddock that held the adorable black lambs.
Escape route gone, my rational mind takes over and I know these cows are not going to harm us. They are used to humans. (Even last year's crazy cow never actually approached us, she was just over stimulated by the boys who had been chasing her.)
Continuing on our adventure, hubby and I ignore the cows who are clearly ignoring us. That is until . . .
How to Safely Test an Electric Fence:
Simply take a single blade of grass between your thumb and forefinger and touch the other end of the blade to the hot wire. If it is live you will feel a very mild shock through the grass, but nothing like the pain of touching the hot wire with a hand or any bare skin (hubby can confirm this but that's a different story).
What do you think the cow was really thinking? Would you climb the electric fence at the stile (the electric wires are covered there)? 
If you enjoyed this article, please consider pinning it: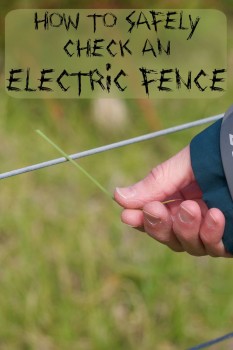 This post is also linked to BeThere2Day for Wordless Wednesday on Tuesday, Our World Tuesdays, Wednesdays Around the World at Photographing New Zealand, and Outdoor Wednesday at A Southern Daydreamer.
Here's the secret to packing light:
Download our free packing light checklist when you sign up for our newsletter.