I am intimidated by cows. There, I said it. I have known about my somewhat irrational fear for a long time, but usually, I contain it. Today, however, the fear of cows won out, and I climbed over an electric fence.
Naturally, I checked that it wasn't live before I went, although there was a stile offering safe passage, so I am not sure if a live fence would have even slowed me down. (See below if you don't know how to test an electric fence).
Growing up in a city, I had almost no exposure to farm animals and irrational or not, I have a fear of cows. And while other people walk through the paddocks, passing cows without incident, I find myself trembling.
Are you wondering how someone with a fear of cows found herself walking through a paddock filled with them? That's easy, there are many paddocks in the nearby regional park, most are free of animals, several will have grazing sheep, but only a few have cows.
The hiking trails pass through paddocks, often surrounded by an electric fence. Therefore, sometimes, I get to walk through a paddock with cows.
Don't let the cows scare you … let the park inspire you …
Fear of cows has a name!
The good news for me is that I am not alone. In fact, there are enough people who share my fear of cows that scientists have come up with a name for it. Or should I say two names?
So then the question became, did I have bovinophobia or taurophobia. I guess technically, I have both, but on the day in question, the one in which I was so intimidated by a cow relaxing in the field that I felt compelled to quickly test and then climb over an electric fence to "get away" – that would be bovinophobia.
Bovinophobia – fear of cows or cattle (Bovi is Latin for ox or cattle)
Taurophobia – fear of bulls (Tauro is Latin for bull)
Check out FearOf.net for more on this.
My fear of cows is stronger than my fear of the electric fence!
Normally I don't give this electric fence a second thought, although I give it a safe distance.
Today I turn to the left and realize we are walking through a field of intimidating cows. Okay, maybe they don't look that frightening, but just in case, I need an exit strategy. (As we all know, I am a bit afraid of cows.)
My rational mind tries to take over as I know these cows in Shakespear Park are not going to harm us. They are used to humans. And besides, they are far away and completely disinterested in us.
Continuing I ignore the cows until . . . she looks up at us. That's it, she just looked, she didn't stand or move, just turned her head and stared. My imagination took over.
I wasn't going to wait around to find out. Using a stile to safely climb over the electric fence without touching it and I am out of there.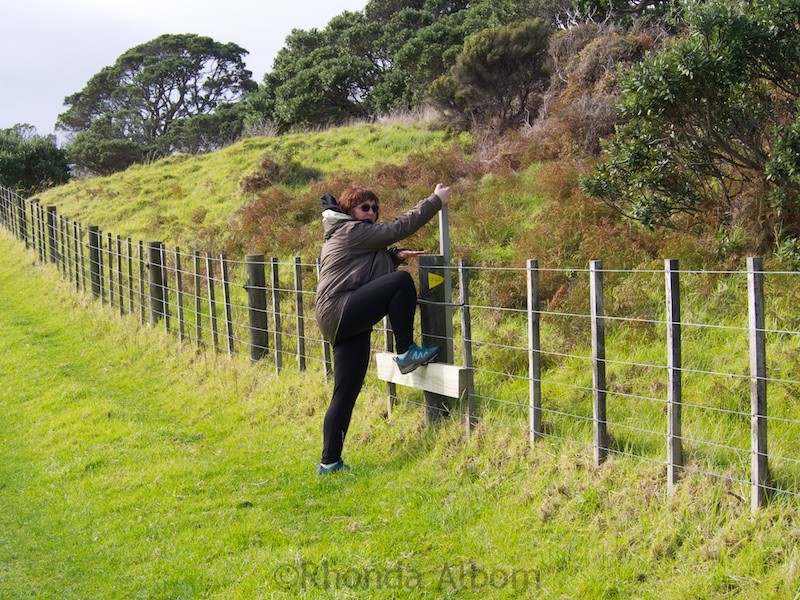 How to safely test if an electric fence is live
I don't know about you, but I am not keen on getting an electric shock, even if I am intimidated by cows. I was to learn this simple trick:
Take a single blade of grass between your thumb and forefinger.
Touch the other end of the grass blade to the hot wire (typically, there is only one fence wire that might be electrified. This is the hot wire. It will stand out from the others in some way. At Shakespear, it is forward from the fence.
If you feel a very mild shock through the grass, the wire is live. Do NOT touch it with your hands or skin.
My husband can confirm that the shock through the grass is mild and nothing like the pain of touching the hot wire with a hand or any bare skin.
The truth about the cows at Shakespear Regional Park
Shakespear Park is an award-winning Auckland region park found at the far end of the Whangaparaoa Peninsula, north of Auckland city. It is one of the Auckland Regional parks with a farming programme that includes both cows and sheep.
The truth is these are Hereford cows, a breed specially chosen for the park as they are generally 'people-friendly' animals, according to a posted sign. The suggestion is that if the animals approach you, simply continue on your way as they are usually just curious.
Save for later
If you enjoyed this article, please share it on social media and save it for later on Pinterest.
Looking for help planning a New Zealand adventure? We invite you to join Explore New Zealand Facebook Group to ask questions or share photos, stories, or anything about New Zealand.
Do you have a fear of cows? Would you climb the electric fence at the stile?
More about Shakespear Park you might like …