Just over the Harbour Bridge from Auckland, the stunning Takapuna to Milford walk offers spectacular nature and historical perspectives. The short walk between the two North Shore beaches is filled with impressive New Zealand nature.
Yesterday was a perfect spring day for a coastal walk from Takapuna to Milford on Auckland's North Shore. So much of the best of New Zealand, all in one afternoon's adventure; a perfect cup of coffee, sandy beaches, volcanic rock, gentle waves, a mermaid, cliff and island views, and happy people everywhere.
While many locals have enjoyed the walk, we encourage visitors to discover this little corner of paradise.
Takapuna to Milford walk options
Before you begin, decide if you want predominantly nature or a mix of nature and historic architecture.
Nature: The walk along the coast is on terrain alternating between paved promenade, uneven lava rocks, and open beach. Parts of it can not be accessed at high tide.
Heritage Trail: However, there is also the classic Takapuna Milford walk promoted by North Shore city that weaves in and out along several of the streets.
Loop: It's easy to see both, just make a loop. Check the Takapuna tide tables first, and choose either the outgoing tide, or the lower tide for the beach walk side.
Takapuna to Milford walk: Coastal
We opted for the coastal walk and loved it so much we came back the same way.
Our walk started at the Takapuna boat ramp where we were instantly distracted by the insanely delicious options at the Takapuna Beach Cafe. After enjoying a tasty dessert alongside my latte, we were ready to begin our adventure.
The 2.1km distance between Milford and Takapuna beaches isn't that far, but we took our time, frequently stopping to enjoy both nature and some of the interesting architecture of these two upscale neighbourhoods.
On the late spring day that we walked, there was a gentle breeze matched by soft waves. The blue sky and crystal clear water would have been enough to keep us happy but some of the interesting finds made it a truly worthwhile walk.
There seemed a surprise around every corner. Like a cliff wall of lovely fragrant flowers or a playful dog splashing in the foreshore.
The giant's chair
Feeling like a princess, I couldn't resist sitting in the "giant's chair." Also called 'the throne' as it sits at the base of Thorne Bay below what was once Merksworth Castle, and is now a modernized private home.
More great views on the Takapuna to Milford walk
Honestly, the day just kept on getting better with views like these:
A stair case leading to the low tide sand. Our mid tide walk found the bottom of these stairs underwater.
Rangitoto Island stands tall and proud in the distance. It last erupted about 600 years ago.
Look closely at the third image, at the girl lying on the seawall. Is she a mermaid?
Takapuna to Milford walk: Heritage trail
If you opt for the heritage trail. you will walk along public roads as well as paths. Download a free map.
Some of the highlights include:
The old post office
Several prominent homesteads
The Hurst trees
Algies Castle (originally called Merkesworth Castle)
Views of Lake Pupuke
Curious, I did look up Merkesworth castle and found this:
What you need to know: Takapuna to Milford walk
If you are making a loop, you can start the walk anywhere and go in either direction. Many people do a Milford to Takapuna walk. We start at the Takapuna boat ramp.
We found parking in the small boat ramp car park. There is also street parking along Alison and Earnoch Avenues. There is also parking near Milford Beach at the end of Muritai Road.
The coastal distance between the two beaches is just over two kilometres (in each direction), and the loop walk takes between 1-2 hours, depending on how many photos you take.
The walkway has two distinctively different portions. From Takapuna Beach Cafe to about Audrey Road we walked on uneven surfaces, climbing up and down over black, volcanic rock. According to the sign, it requires a reasonable level of fitness, which I guess I now have as I never found it a problem. There were occasional joggers, confirming that it wasn't too difficult.
The second half of the trail, from about Audrey Road to Milford Beach, is paved, easy, and suitable for prams.
Children should always be supervised around water, but additional care would be needed for the Takapuna end of this trail.
The walk from Takapuna to Milford is one of the many free things to do in the Auckland region.
If you loved this walk, check out these 18 amazing short Auckland walks.
Save on your NZ trip with these resources
These are our go-to companies when we travel. We believe this list to be the best in each category. You can't go wrong using them on your trip too.
Flights: we use Expedia for the best and cheapest flight options.
Accommodations: we use Booking.com (hotels), Bookabach (self-contained in NZ) or Hostelworld (budget).
Cars (gas or electric): we use RentalCars to search for deals and dealer ratings.
Motorcycles: we have heard good things about BikesBooking.
Campervans or Motorhomes: we use Campstar where Albom Adventures readers get a 3% discount.
Activity discounts: we check Bookme.com for discounts of up to 70% on activities.
Private guides: we love the private guides at Tours by Locals.
Travel Insurance: while not required, we always opt for travel insurance and start at InsureMyTrip to compare coverage plans.
Check out our travel resources page for more companies that we use when you travel.
Save for when you are ready to walk
If you enjoyed this walk, please share it on social media, and pin it: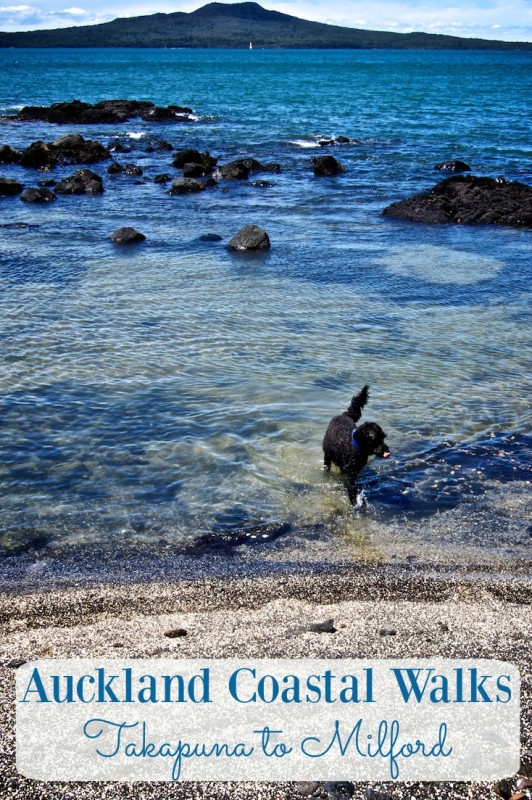 Which Takapuna to Milford walk will you do?
Nearby things to do: