Offering massive 360º views, it's not surprising that nearly every Aucklander and visitor wants to participate in one of the five Sky Tower activities that will bring them to the top. More than just the observation deck, there are options for thrills and culinary excellence.
Best of all, we share discount options that will save you time as well as money.
I have been to the top countless times and been close enough to each of the five Sky Tower activities to get some great shots. I am not brave enough for the most extreme, but other members of my family love it.
Whether you are an adventure seeker, diner, photographer, tourist, or Aucklander, you can't help but be impressed by the 360º views from the top of the Auckland Sky Tower. It really is a must-see in New Zealand.
In fact, the 360-degree awe-inspiring views from any of the upper levels allow visitors to see up to 82km in every direction on a clear day.
Standing proudly at 328 meters, the Auckland Sky Tower is an icon on our skyline. While on a world scale, that may not sound too tall, the Sky Tower is both the tallest freestanding structure and the tallest man-made structure in the southern hemisphere.
The five Sky Tower activities that will get you to the top
Observation deck
Sky Jump
Sky Walk
Orbit 360º
The Sugar Club
Technically, there is one more way, but it's once per year. The Step Up Challenge lets participants climb the 51 flights of stairs straight up the Sky Tower in a fundraising effort for Leukaemia and Blood Cancer New Zealand.
Observation deck – the classic Sky Tower activities option
The classic way to the top is still the most popular, as well as being the right option for most visitors.
To get to the observation deck, simply purchase your ticket, ride the lift up, and enjoy the views from 186 metres above the ground.
A glass-fronted lift (elevator) expands the views before your eyes as travel upwards at 18km/h. As a result, you will reach the top in just 40 seconds.
If you think you have already seen it all by the time you reach the top, you haven't. Once out of the lift, you will enjoy 360º views. Surrounded on three sides by water, Auckland offers a variety of views in each direction.
Signage lets you know what you are viewing in each direction.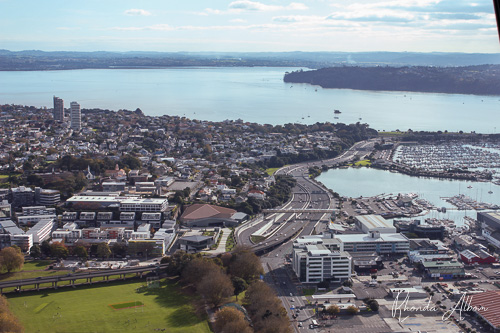 Don't miss the glass floor
And it's not just the view outward that's cool. There are sections of glass floor that let you look straight down over 180 metres to the ground. It's a bit unnerving for some, but not my daughter or her friend, whose feet you can see in the image below just after they gave the glass a few good jumps.
The glass floors are 38mm thick, as thick as the concrete floors throughout the Sky Tower, and are rated as completely safe. The same glass floors are used in the lifts.
For aesthetic purposes, a superficial protective layer of glass sits on top of the super-safe glass. This protects the main glass from scratches and is easy to repair without risk to the structural integrity.
Of course, that knowledge didn't seem to stop the drama in 2019 when a crack appeared in this top protective layer, and visitors reported it to the press. See the story at Newshub.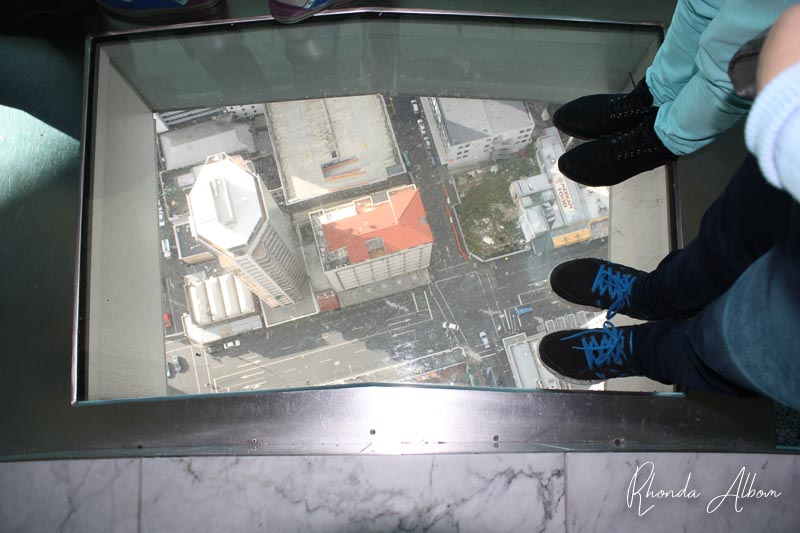 Get discounts and deals on your Sky Tower observation deck entry
Always check for discounts in New Zealand
We always check 100% New Zealand owned bookme for discounts before we visit any venues or participate in activities. They frequently feature different discounts depending on the day and time you choose for your activity.
While deals change, the ones available at the time of writing this page were excellent, with bookme offering discount observation deck entry tickets for adults, children, students, or families.
Check for discounts and book your observation deck admission tickets here.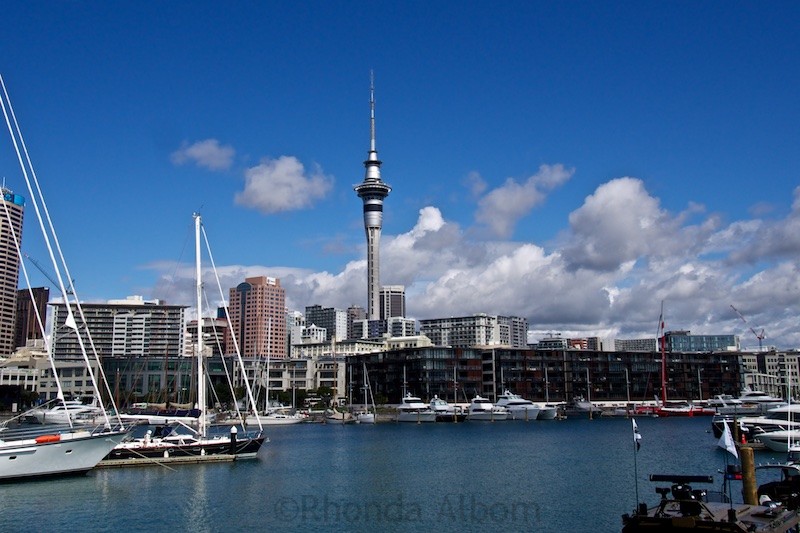 Adrenaline-pumping Sky Tower activities
If you want more heart-pumping excitement than just jumping on the glass floor, there are two thrill-seeker opportunities that just might pique your interest. Sky Jump or Sky Walk will get that blood pumping for sure.
Some of the more famous people to give it a go include Beyonce, Tom Cruise, and the members of the band One Direction.
Sky Jump
While there are five ways to access the top of the Auckland Sky Tower, there are only two ways down. The more obvious one is the lift. Adrenaline junkies know the other is Sky Jump.
While my friends loved it, Sky Jump isn't for me. However, I did feel like a bit of a coward upon learning that a 100-year-old took the 192-meter leap.
The controlled jump allows you to fall at speeds of 85km/hour (it was slowed for the 100-year-old).
While this speed is fast enough to satisfy any daredevil, it is slower than a traditional bungy jump. Therefore, Sky Jump has the advantage of allowing participants to enjoy both the thrill and the view during the 11 seconds it takes to get to the bottom.
Booking through Bookme not only may give you a substantial discount, but you will also get the Skyjump, the Skyjump certificate, entry to the Observation Deck after your jump, and validated parking (provides a discount) if you park in the SkyCity lot. Check for discounts and reserve your Sky Jump here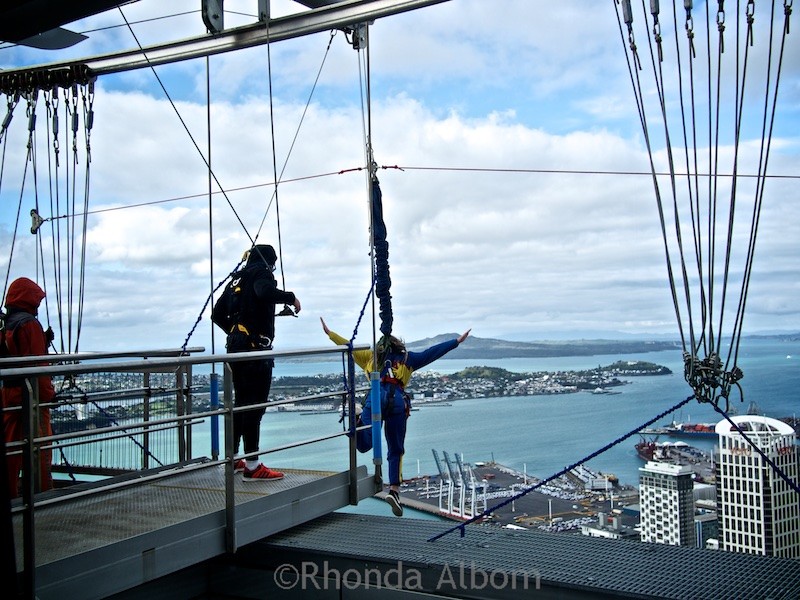 Sky Walk
The other Adrenaline pumping option takes off from the same spot, but rather than jumping, thrill-seekers "walk" around the Auckland Sky Tower on a 1.2-meter wide rail-less ledge suspended 192 meters above the ground.
Groups of up to six at a time take the walk with a guide. Are you brave enough? If so, don't be surprised when your guide offers you some heart-pumping challenges just to dial up your fear factor.
Depending on when you want to go, you may be able to get fabulous discount tickets that include observation deck entry.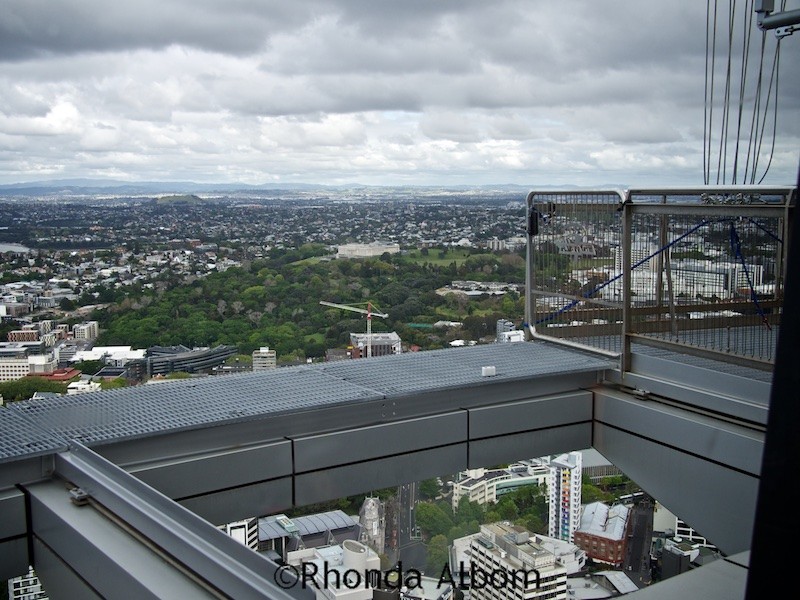 Sky Tower activities: Enjoy a meal with a view
Diners also have two mouthwatering culinary options at the top of the Sky Tower: Orbit 360º and The Sugar Club. SkyCity also offers several unique Auckland dining options outside of the tower.
The restaurants are so well renowned that Princess Ann, Prince William, and President Clinton have all dined here.
Orbit 360º
The always popular Orbit 360º is New Zealand's only rotating restaurant.
Taking one hour to do the full rotation, it allows diners an opportunity to see it all while enjoying a modern New Zealand menu in a relaxed setting. Note that the changing menu always features local and seasonal produce.
It's a lovely way to enjoy the views and feast on culinary delights without breaking the bank.
If Orbit is your choice, check out these three preset menu options offered with a discount when booked through Klook. You can make your booking here.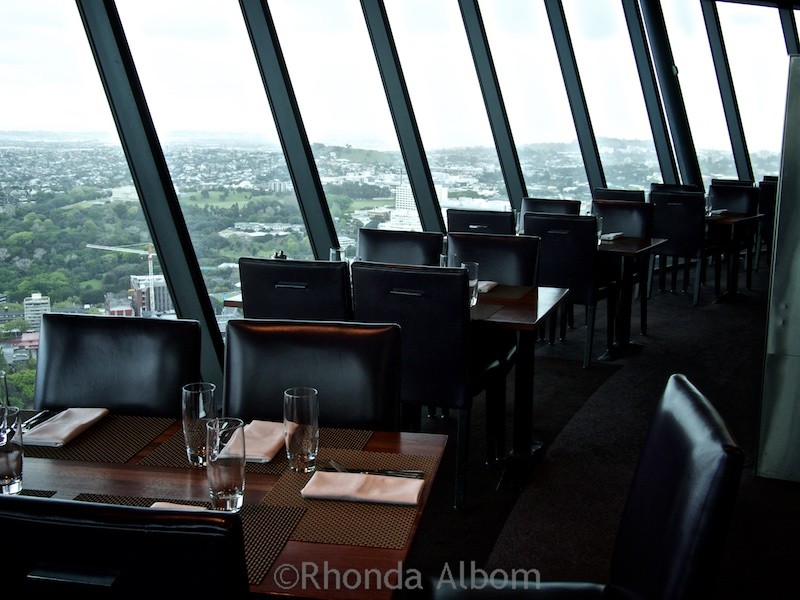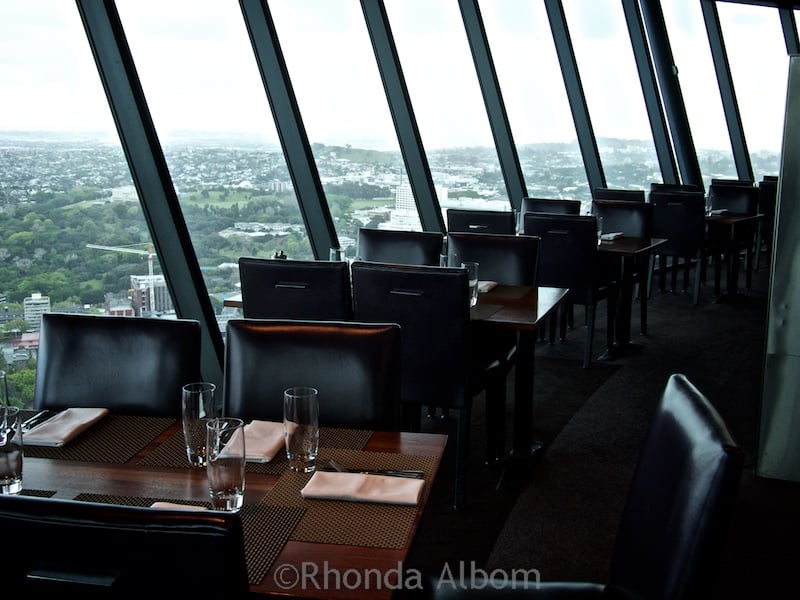 The Sugar Club
The Sugar Club by Peter Gordon is pure luxury surrounded by the same 360-degree views offered by each of the Auckland Sky Tower activities.
A frequently changing Chef's menu offers scrumptious high-end fusion, featuring daily temptations like Hiramasa Kingfish, Torched NZ Langoustine, or Duck Breast Salad.
It's a culinary feast for the senses made with sustainably sourced produce. Dinner here makes any occasion special.
Located a floor above Orbit 360º, the Sugar Club also has the distinction of being the highest restaurant in the southern hemisphere.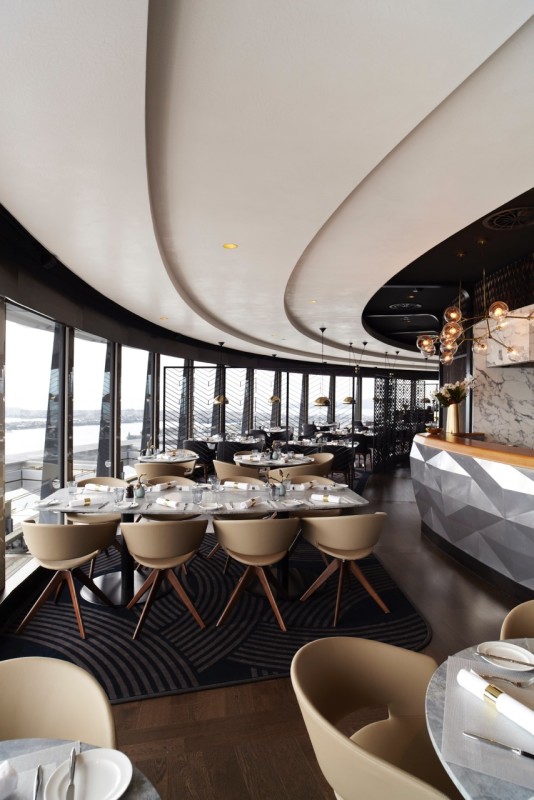 Summary of Sky Tower activities deals
All also featured above, these are the best deals we can find:
Final thoughts
Sky City complex includes the Auckland Sky Tower as well as hotels, more restaurants, theatres, a casino and more.
The Sky Tower is often lit up at night in different colours to represent various Auckland and worldwide events or holidays.
Going up to the top of the Auckland Sky Tower makes most tourists' list of things to do in Auckland.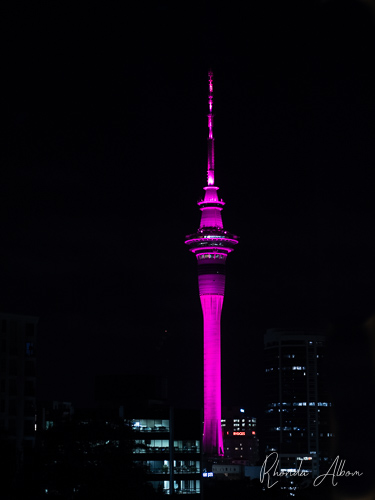 Save on your NZ trip with these resources
These are our go-to companies when we travel. We believe this list to be the best in each category. You can't go wrong using them on your trip too.
Flights: we use Expedia for the best and cheapest flight options.
Accommodations: we use Booking.com (hotels), Bookabach (self-contained in NZ) or Hostelworld (budget).
Cars (gas or electric): we use RentalCars to search for deals and dealer ratings.
Motorcycles: we have heard good things about BikesBooking.
Campervans or Motorhomes: we use Campstar where Albom Adventures readers get a 3% discount.
Activity discounts: we check Bookme.com for discounts of up to 70% on activities.
Private guides: we love the private guides at Tours by Locals.
Travel Insurance: while not required, we always opt for travel insurance and start at InsureMyTrip to compare coverage plans.
Check out our travel resources page for more companies that we use when you travel.
If you enjoyed this article, please share it on social media and pin it: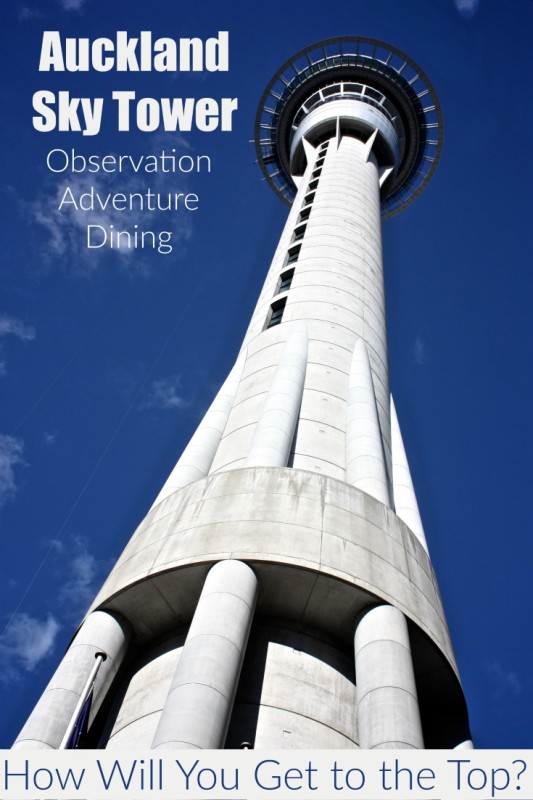 Which of these Sky Tower activities will get you to the top?