We love visiting Rotorua, and lucky for us, it's less than a half-day drive from our home in New Zealand. It's a city that's rich in culture, history, and adventure, and what's more, to our surprise, there are plenty of free things to do in Rotorua.
Jeff and I have been to Rotorua many times, and like many New Zealanders, we used to think that everything in that city was expensive. But over the years, we've discovered what the locals already knew; there are plenty of activities that don't cost a thing.
From exploring the Redwoods forest to relaxing in one of the city's natural thermal pools, Rotorua has something for everyone. It's a city that is unique and encompassing, a geothermal wonderland, an adventure playground, and a cultural capital.
Well known for geysers, bubbling mud, and other geothermal activity, the Rotorua region is home to 18 lakes, natural hot pools, towering redwoods, hours of hiking trails at all difficulty levels, and some of New Zealand's best mountain biking. And, best of all, you can intermix paid events with many of these free things to do in Rotorua, resulting in a getaway that meets your budget.
Popular with international tourists, it is too often overlooked by Kiwis for cheaper options. One visit with this list of free Rotorua activities will shatter the misconception and leave you coming back again and again.
Below we share some of the best free things to do in Rotorua, so whether you're a first-time visitor or a seasoned traveller like us, you'll be able to make the most of your time in this incredible city without breaking the bank.
Be inspired …
Free things to do in Rotorua: geothermal viewing
Rotorua is known for its geothermal activity, but if seeing bubbling mud isn't where you want to spend your money, there are two great options to see geothermal activity for free. (However, if you have the budget, there are several impressive spots with an entry fee, my favourite being Wai-O-Tapu.)
Kuirau Park
Location: Pukuatua Street and Ranolf Street, Rotorua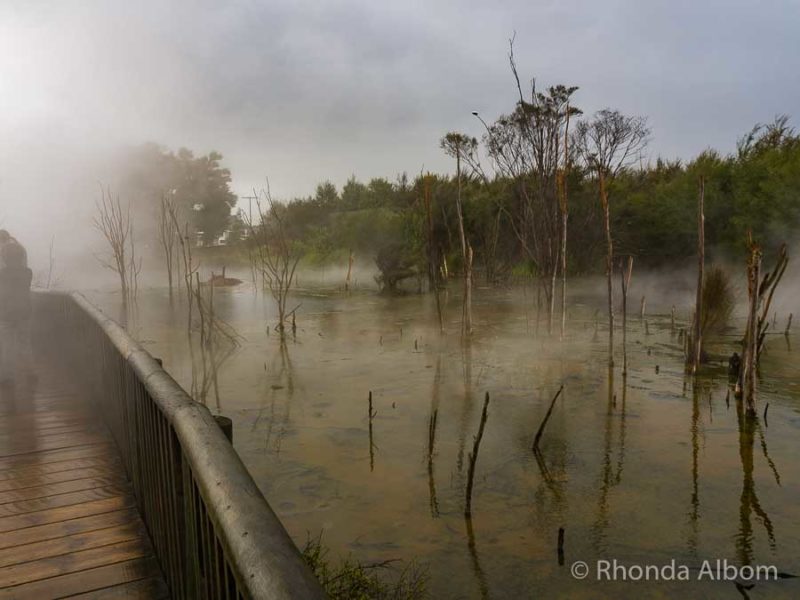 New Zealand's only geothermal public park, Kuirau Park, is located right in town. the boardwalk allowed us to pass over steaming and bubbling geothermal activity safely. Plus, we saw mud pools, a crater lake, and gardens.
There is even a spot to sit and soak your feet in the naturally warm water. Kuirau Park is one of the best free things to do in Rotorua.
Māori legend tells us:

Lake Kuirau was once cool enough for bathing. It was named for Kuirau, a beautiful woman who swam here often. A Taniwha (water monster) also lived in the lake. One morning, the taniwha snatched Kuirau.

The legend never determined whether she died of fright or if the Taniwha took her back to his lair. The Gods were so angry that they made the lake boil to kill the Taniwha.
Boardwalk near Wai-O-Tapu
Directions: From Rotorua take SH5 to first Waiotapu Loop Road exit (left). After 400m, turn left onto an unmarked road to the Waioptau Thermal Track.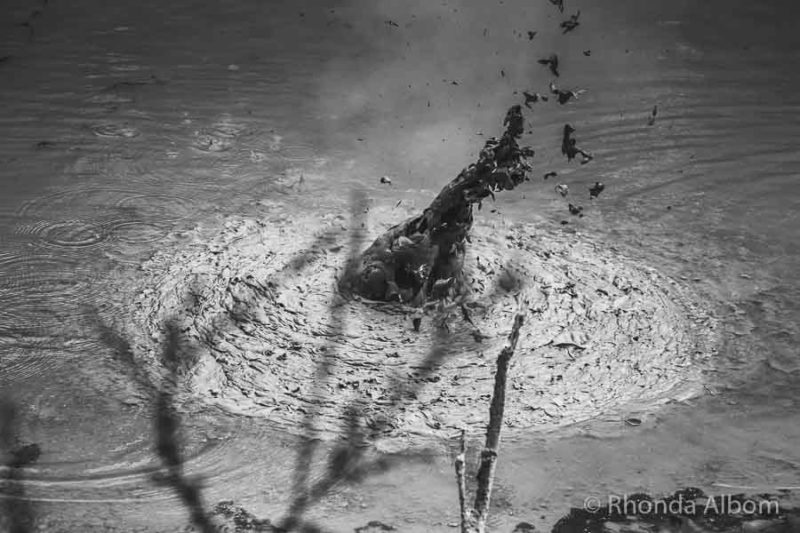 If it's just bubbling mud that you are after, check out the boardwalk just beyond the entrance to Wai-O-Tapu Thermal Wonderland. A short walk from the car park, and you can see scenes like this.
Free things to do in Rotorua: relax in a thermal pool
If soaking your cares away in the natural healing hot springs of Rotorua is on your bucket list, it doesn't have to break the bank. Locals know where to find free thermal pools in Rotorua, and we do too. As we live in Auckland, we probably haven't discovered all the spots, but the two we recommend are Hot & Cold Pools and Kerosene Creek.
Important Note: Whether commercial or free, it is always advised to keep your head above water in Rotorua thermal pools.
Hot & Cold Pools (near Wai-O-Tapu)
Directions: From Rotorua, turn on the second entrance of Waiotapu Loop Road (leading to Wai-O-Tapu Thermal Wonderland). Park near the bridge.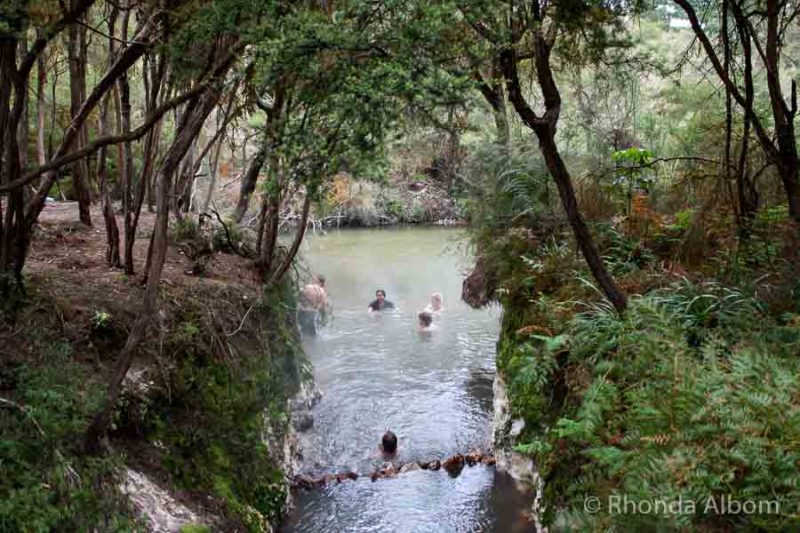 Once a local secret, the swimming hole near Wai-O-Tapu Thermal Wonderland is often referred to as the Hot and Cold Pools. Perfectly named, it's a spot where a cool freshwater stream meets a hot spring. It's soothing, relaxing, and completely free. Remember to bring your own towel.
Located under a bridge, there is a warning sign on the path with two stark reminders about keeping your head out of the water and checking for heat before entering.
Kerosene Creek
Location: About 30km south of Rotorua
Directions: From SH5 turn onto Old Waiotapu Road. It's 2.2km down a gravel road.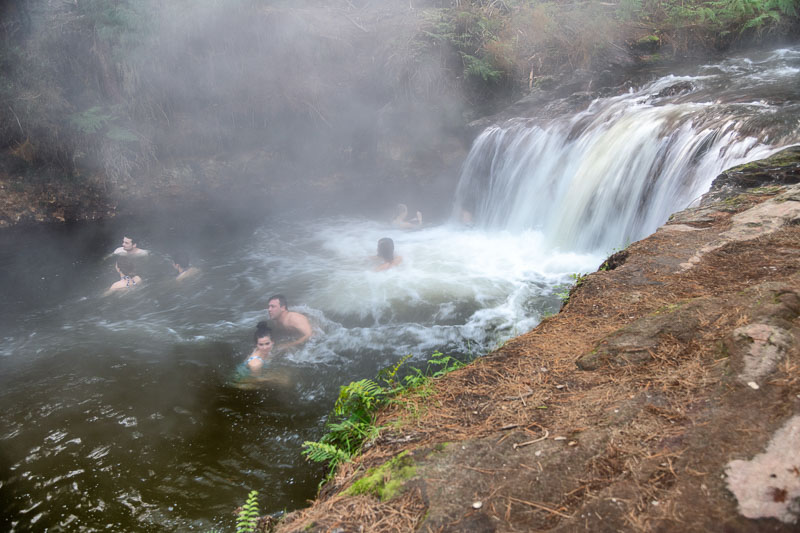 Another not very well-kept local's secret, Kerosene Creek is a hot spring and a waterfall that flows through Rotorua's natural bush. Upstream, there are also several jacuzzi-like pools.
Jeff and I love to soak in the warm waters of Kerosene Creek. It's a relaxing stop on the way to Taupo, but remember to bring a towel.
Free things to do in Rotorua: Cultural
Rotorua is the ancestral home of the Te Arawa people, who have been in the region for over 600 years. While there are numerous cultural opportunities targeting tourism, there are also free options to gain a better understanding of the culture. Art galleries and carvings around town and in Government Gardens are just a few options.
Ohinemutu living Māori village
Location: near the intersection of Lake Road and Lakefront Drive, Rotorua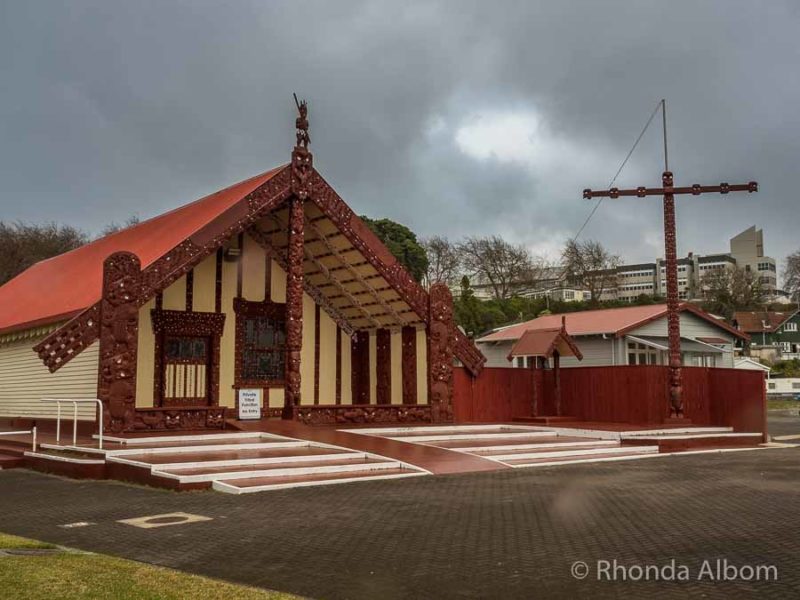 Ohinemutu is a living Māori village whose residents still utilize the natural geothermal waters in everyday life for bathing, cooking, and washing. It is home to the Ngāti Whakaue tribe, who initially arrived in New Zealand around 1350 AD.
In the 1870s, visitors (including royalty) frequently stopped at Ohinemutu for a soak in the healing waters before heading to the former Pink and White Terraces.
Life here revolves around the Tama-Te-Kapua Marae, a meeting house that is not open to the public. However, visitors are welcome in the St Faith's Anglican Church (built 1915). Its Tudor-style exterior stands in sharp contrast to the Māori influenced interior that is covered in intricately woven tukutuku panels and wood carvings. Added in 1960, the waterfront Galilee Chapel features a window etching of Jesus wearing a Māori cloak.
There are plenty of carvings and lifestyle items to discover, including an outdoor bathing-shed and steam vents used for cooking. While visiting Ohinemutu is one of the free activities in Rotorua, guided tours are available for a fee.
Government Gardens
Location: Hinemaru Street alongside Lake Rotorua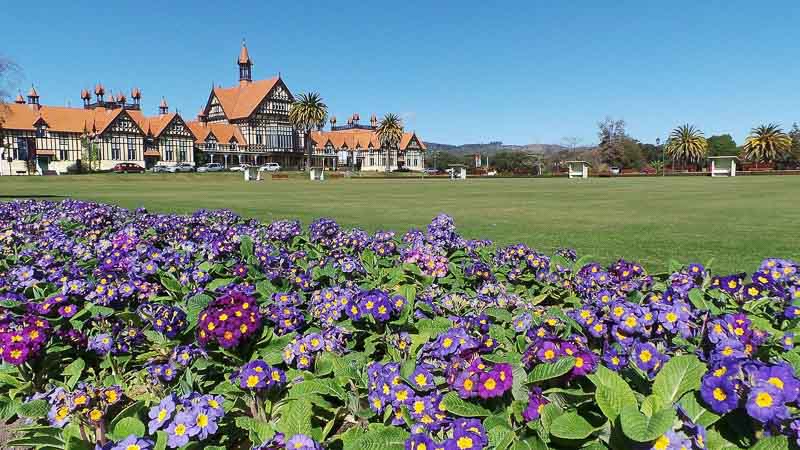 Free to enter, the 20 hectares comprising the Government Gardens were gifted by Māori to be enjoyed by the people of the world. Once a spa, the tutor-style Rotorua Museum is the most recognizable park structure, although it is currently closed for earthquake safety.
In addition, the gardens are home to over 400,000 plants and geothermal features, all displayed in a well-maintained garden.
Recreationally, there are bowling greens, petanque and croquet courts, and walks to see the sculpture trail, Blue Baths, Gardner's Cottage, and Kwaqiulth Totem Pole.
Note: The banner image on this page features a section of the fence at the Government Garden's main gate.
Free things to do in Rotorua: Hikes, walks, and views
Jeff and I absolutely love exploring the great outdoors in Rotorua. The city is surrounded by stunning natural beauty, and there are plenty of free hikes, walks, and viewpoints to enjoy.
Whether we're wandering through the towering redwood forest, strolling along the lakefront, or taking in the panoramic views from one of Rotorua's many lookout points, we always find ourselves awed by the beauty of the landscape.
It's amazing how many free things to do in Rotorua offer breathtaking vistas and awe-inspiring scenery. If you're an avid hiker or nature lover, Rotorua is definitely the place for you.
Walk or mountain bike in the redwood forest
Location: 5km southeast of Rotorua city centre along Long Mile Road.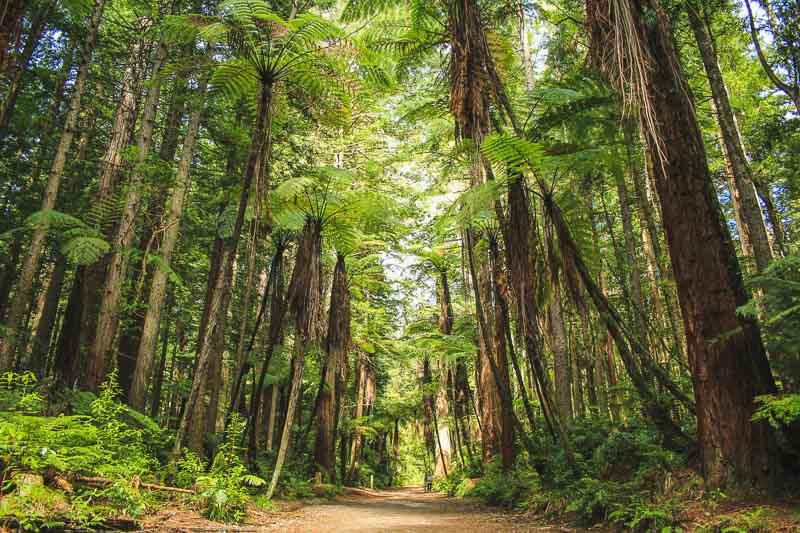 Reaching up to the sky, the California Redwoods grow up to 70m in New Zealand. Viewed from the ground, we walked amongst these giants on one of the many walking tracks.
Jeff and I love to hike and explore, so we always make sure to spend some time in the Redwoods forest when we're in Rotorua. It's also home to several popular mountain trails, so bring that bicycle from home or hire one for the day (they even have electric mountain bikes).
Although not one of the free attractions in Rotorua, we enjoyed the treetop walk at night. It's one of the many activities we recommend in Rotorua.
Rainbow Mountain Reserve walk
Location: 26km southeast of Rotorua along SH5 heading towards Taupo.
The 90-minute hike to the top rewarded us with fabulous 360-degree views. The 3 km walk passes steam vents, rare plant species, and often interesting coloured terrain.
Although uphill, it is generally easy. If you are feeling less ambitious, there is a 15-minute walk to a crater lake. The choice is yours.
Lake Okaro for a walk or trout fishing
Directions: click here.
Lake Okara isn't too far from Rainbow Mountain. Popular for trout fishing, if you want to join the fun, be sure to get a fishing license. If not, watching is fascinating, or look for wildlife, including ducks and eels, from the wetland boardwalk.
Lake Okaro is close to Waimangu, the world's youngest geothermal system. It's not free, but a fascinating and beautiful place to visit, often offering discount entry here.
Okere Falls Track
Location: 21km from Rotorua on Trout Pool Road off SH33 heading towards Tauranga.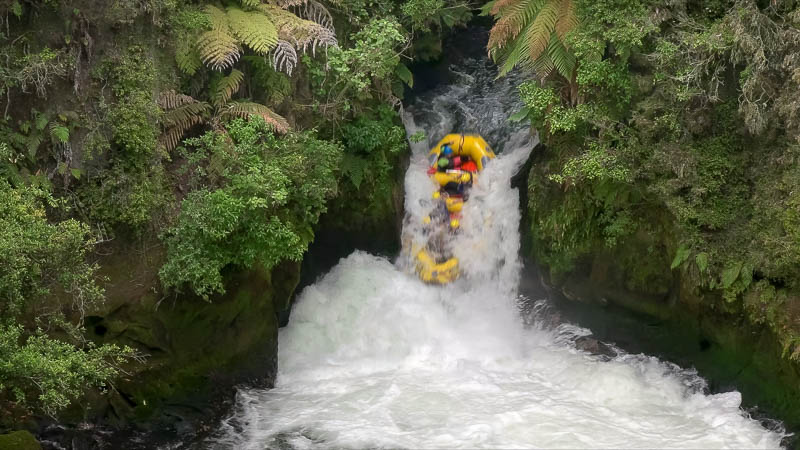 Adventure seekers know Tutea Falls as the highest commercially rafted waterfall in the world. Land lovers can follow an easy one-hour walking trail along the Kaituna River to enjoy the impressive falls without going over them. If timed right, you watch the whitewater rafters brave the drop from one of the lookouts.
Read next: 18 Amazing Waterfalls in New Zealand: Embrace Nature's Beauty
Take a stroll along the Lake Rotorua lakefront
Location: centre of downtown Rotorua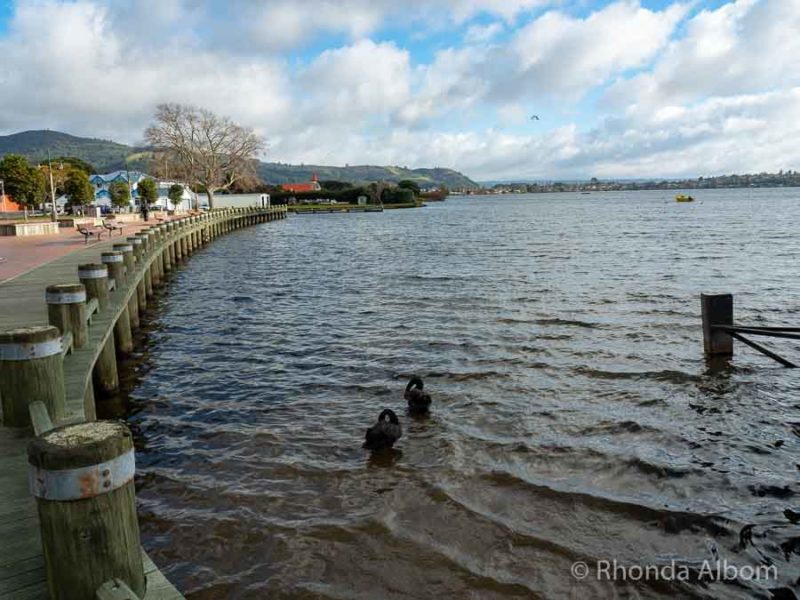 New Zealand's second-largest lake is 200,000 years old. Formed from a volcano crater, Lake Rotorua offers visitors a centrally located and relaxing place to enjoy the day. We like to stroll along the lakeside trail, watch (but don't feed) the black swans, and enjoy the scenery, often laced with geothermal steam vents.
The blue and green lakes
Sitting side by side and commonly called the blue and green lakes, Lake Tikitapu (Blue Lake) and Lake Rotokakahi (Green Lake) are well known in Rotorua. Beginning near the redwood forest, one can enjoy a peaceful hike to a spot where both lakes are visible.
The lakes are also popular for watersports; although Lake Rotokakahi is sacred. Despite having been to Rotorua several times, we still haven't made it here.
More free things to do in Rotorua
Rotorua Night Market
Tutanekai Street
Thursday nights from 5 pm to 9 pm, weather dependent
Locals and tourists flock to the Thursday night market for local Māori and artisan foods, arts and crafts, entertainment, and just to hang out with friends.
Saturday Market
Kuirau Park
Similar to the night market, with plenty of food options, arts and crafts, clothing, and entertainment, but it's also a flea market.
Bibleworld Museum and Discovery Centre
1141 Eruera St
Entry: Free (Donations appreciated)
Explore biblical times through handcrafted scale models, ancient artefacts, and hands-on activities.
Free things to do near Rotorua
Huka Falls
Directions: From Rotorua, about 77km on Thermal Explorer Highway/Wairakei Drive towards Taupo.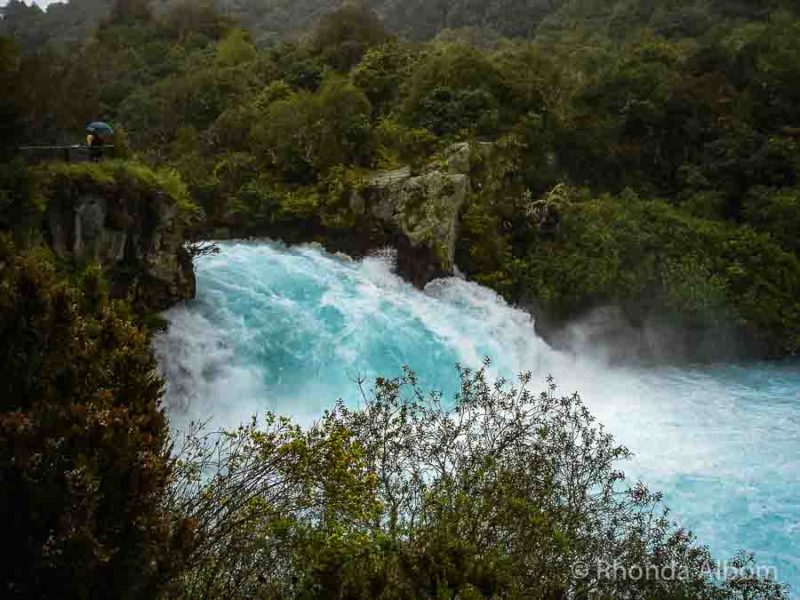 Much closer to Taupo than Rotorua, I included Huka Falls here as they are the most visited natural attraction in New Zealand. The largest falls on the Waikato River, it is their power, not their size, that will impress you. Just before the waterfall, the river narrows to a 20-metre-wide gorge from an average river width of 100 metres.
Without seeing it, it's hard to imagine, but every second of every day, up to 220,000 litres of water pound through the gorge and over Huka Falls, creating a deep turquoise pool.

(It's one of many free things to see in Taupo.)
Save on your NZ trip with these resources
These are our go-to companies when we travel. We believe this list to be the best in each category. You can't go wrong using them on your trip too.
Flights: we use Expedia for the best and cheapest flight options.
Accommodations: we use Booking.com (hotels), Bookabach (self-contained in NZ) or Hostelworld (budget).
Cars (gas or electric): we use RentalCars to search for deals and dealer ratings.
Motorcycles: we have heard good things about BikesBooking.
Campervans or Motorhomes: we use Campstar where Albom Adventures readers get a 3% discount.
Activity discounts: we check Bookme.com for discounts of up to 70% on activities.
Private guides: we love the private guides at Tours by Locals.
Travel Insurance: while not required, we always opt for travel insurance and start at InsureMyTrip to compare coverage plans.
Check out our travel resources page for more companies that we use when you travel.
Save for later
If you enjoyed this article, please share it on social media and save it for later on Pinterest.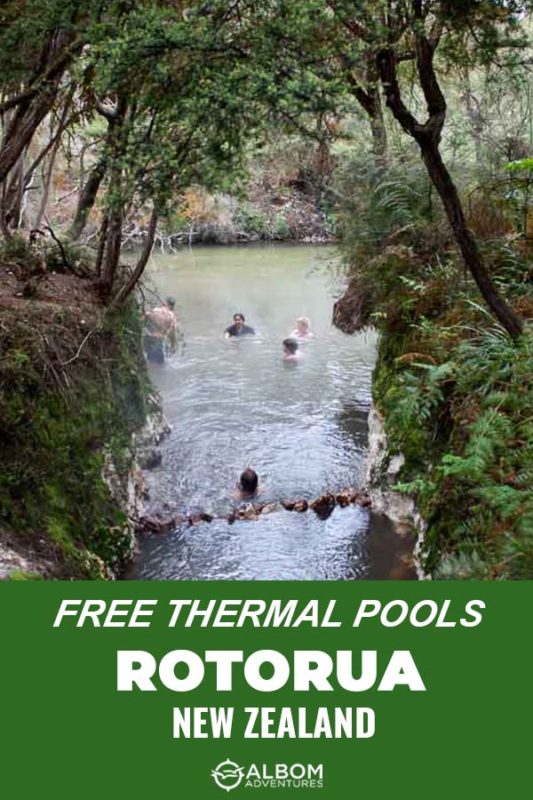 Which of these free things in Rotorua will be on your itinerary?
Photo Credits
Photos on this page are either shot by our team and watermarked as such, in the public domain, or some stock photos were supplied by DepositPhotos.
Disclaimer: We worked with Destination Rotorua on our last visit. They are the local tourism board. The opinions expressed here are strictly our own.