La Brea Tar Pits are home to the world's largest collection of ice age fossils, with over 3.5 million fossil bones.
For me, it was a huge surprise. Not only that it existed, but that tar still bubbled from the ground in spots within the center of a city as overdeveloped as Los Angeles. In fact, they are the world's only Ice Age fossil site being actively excavated in an urban location.
Located in the Rancho La Brea area of LA, they are a window into Los Angeles 25,000 years ago.
With both an indoor museum and outdoor excavation sites, there is plenty to see.
Outdoors, we observed early excavation pits, scientists and volunteers at active dig sites, and a recreation of a mammoth becoming trapped in "tar".
Once inside the Page museum, we found reconstructed skeletons, loads of historical information, and an opportunity to watch paleontologists at work in their fossil lab.
La Brea Tar Pits is one of the more fascinating sites we have seen.
The tar pits
The pits are not actually tar, but rather the crude oil which seeps through the ground and mixes with sediment, creating asphalt.
You will notice several of them are bubbling. This is escaping methane gas.
Reserve your entry ticket here.
A brief history of La Brea Tar Pits
The story unfolded a bit like an action-adventure set between 60,000 and 11,000 years ago, as ice age herbivores and their predators became trapped at La Brea.
Here's my memory of the graphic anecdote told by our guide:
Imagine you are walking along the former streets of Los Angeles, and suddenly you are immobile, unable to walk. You look down, and your feet have sunk only 5 inches into the asphalt.
You are not just a little stuck, but rather completely unable to free yourself.
As you struggle, terrified, you suddenly feel the huge teeth of a sabre tooth cat as it ends your suffering.
Early excavation and initial discovery continued from 1907 until the rights to excavate the land were gifted to the National History Museum.
Elephants escaped from the zoo in 1929. As they walked through the pits, they got stuck even though only five inches of their legs were submerged. This aided paleontologists' understanding of how so many animals had ended up preserved here.
La Brea Tar Pits – Pit 91
Once a shallow gooey pool, excavation started at Pit 91 in 1915, and scientists still dig here every summer. This open pit features colored markers, each representing different finds:
Yellow – A dire wolf scapula
According to the signage, the dire wolf was Rancho La Brea's most common large animal and was about the size of a grey wolf. Of the five species of the Canidae (dog) family once found here, the dire wolf is the only one that is extinct.
Purple (pelvis) and green (femur) from Sabertooth cat
Similar in size to an African lion with a shorter tail, this robust animal used its stealth to ambush rather than its speed to hunt.
Red – Harlan's ground sloth pelvis
The largest of the three species of ground sloths found at Rancho La Brea, Harlan's ground sloth was the most common. It is believed that their dermal ossicles (pebble-sized skin bones) functioned as protection from predators.
Blue – Western horse radius
The western horse was the larger of the two species, and both are extinct.
La Brea Tar Pits – Project 23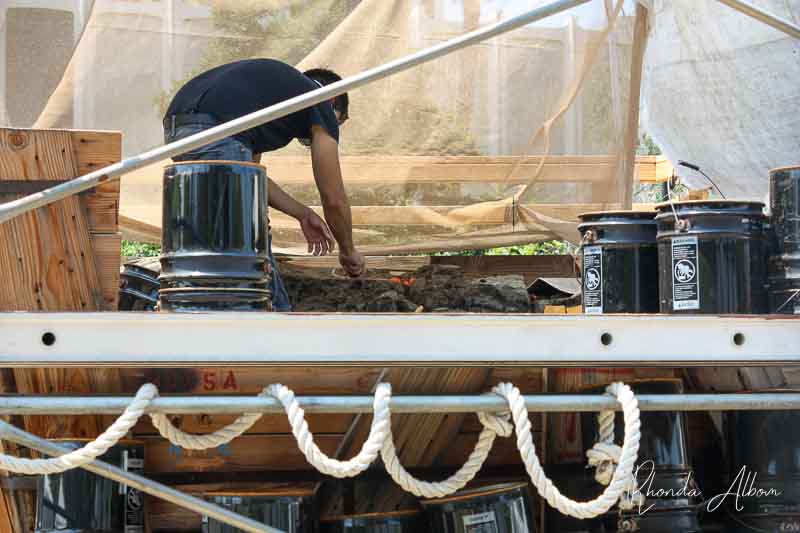 Here is a chance to watch scientists and volunteers excavating actual fossils. To date, they have discovered over a million fossils here, so chances are good they will find something new while you watch.
These discoveries have ranged from as small as mouse toes to as large as mammoth tusks.
How Project 23 got its name
It's not what you would think, as in it's not their 23rd project.
During excavation for the Museum of Art's underground parking garage in 2006 an impressive number of new fossil deposits were discovered, including a near-complete skeleton of an adult mammoth.
Scientists packed the deposits in 23 large wooden boxes. Next, they were moved to La Brea Tar Pits, where we see them today.
La Brea Tar Pits – Observation Pit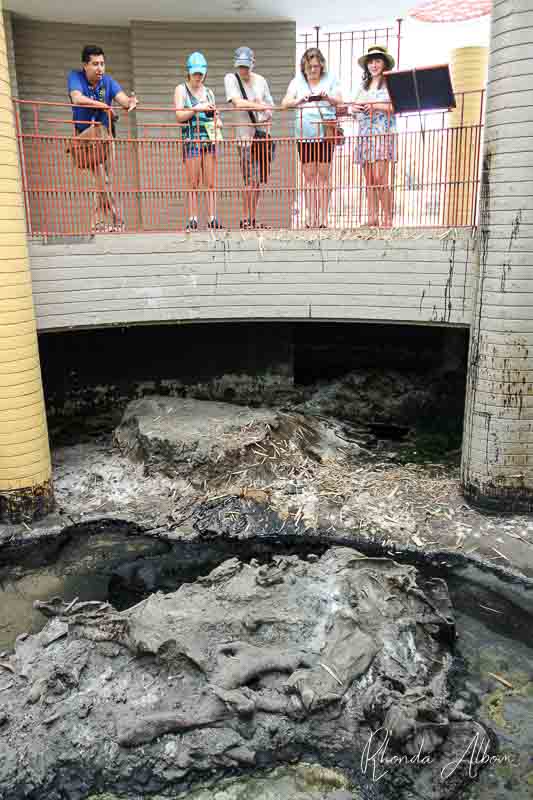 Here we found an open pit with an elevated viewing platform allowing us to observe one of the excavation pits.
It is the original museum here, first open in 1952. The idea was to give the public a feel for what it's like to enter a fossil pit.
Jeff remembers coming here as a child.
George C Page Museum
After we explored all of the outdoor pits, we ventured inside the George C Page Museum.
Here we saw the excavated animal bones put back together like a puzzle. Imagine building this woolly mammoth.
The museum showcases skeletons, fossils, and some of the best animal and plant life discovered here.
It also highlights other findings around the world, like the oldest cave drawings discovered in France and Spain.
We have since been inside the cave in Northern Spain that is now believed to feature the oldest cave drawings discovered to date.
Observing the paleontologists at work
Toward the back of the museum are the paleontologists' labs and offices. Rather than being behind closed doors like in so many museums, they are behind a huge glass window.
As a result, we can watch them at work as if looking into a giant fishbowl.
Tips for visiting La Brea Tar Pits and the Page Museum
The Page Museum (and the La Brea Tar Pits) are located at 5801 Wilshire Boulevard, in the heart of Los Angeles.
Save time by reserving your entry ticket in advance here.
It is open daily from 9:30am to 5pm (closed on some holidays and on the first Tuesday of every month), and the last entry is at 4pm.
Upon arrival, book your time for the free Excavator Tour, as tours are timed, and space is limited.
If you are not staying in the heart of LA, allow extra time to get here to account for traffic. Also, note there is a parking lot, with an additional fee. See more on parking here.
Plan to spend a couple of hours here.
Final thoughts on the La Brea Tar Pits
Honestly, La Brea Tar Pits turned out to be one of the most fascinating places we visited in Los Angeles, and this is a big statement for a city with Hollywood, Disneyland, and Warner Bros.
Save on your trip with these resources
These are our go-to companies when we travel. We believe this list to be the best in each category. You can't go wrong using them on your trip too.
Check out our travel resources page for more companies that we use when you travel.
*World Nomads provides travel insurance for travellers in over 100 countries. As an affiliate, we receive a fee when you get a quote from World Nomads using this link. We do not represent World Nomads. This is information only and not a recommendation to buy travel insurance.
Save for later
If you enjoyed this article, please share it on social media and save it for later on Pinterest.
Have you been to the La Brea Tar Pits?
Disclaimer: As media guests of La Brea Tar Pits, we were given a private tour. However, the opinions expressed here are strictly my own.