Chicago doesn't need to be expensive. In fact, there are plenty of free things to do in Chicago that will keep your visit budget-friendly and fun. We went to a local expert and guide, George Patton, to get his list of the best budget-saving things to do in the windy city.
It's often expected that when travelling, the best things always come with the highest prices.
While that may be the case for some destinations, the same doesn't apply in Chicago. Not to say that Chicago is a cheap city by any means, but it has many places and things to do, even on a budget. In fact, many of the top attractions in Chicago come at low prices or are entirely free.
But how can you explore if you don't know which places to go to? This article informs you about the best things you can do and places to visit in Chicago that won't take much from your pocket.
Top free things to do in Chicago
Chicago Cultural Center
Millennium Park
Garfield Park Conservatory
Lincoln Park Zoo
Cantigny Park
Chicago Cultural Center
Chicago Cultural Center combines a mixture of art, beauty, and fun. Within this center are two world-class domes used for music and theatre performances, art exhibitions, lectures, and even family events.
It houses thousands of people yearly as they host these interesting public events free of charge so that tourists can enjoy performances from both international and local artists.
Visitors can easily get a bus from Minneapolis to Chicago and spend a day at the Chicago Cultural Center. It's open daily between the hours of 10 a.m. to 5 p.m., and there's always something to do or see here.
Millennium Park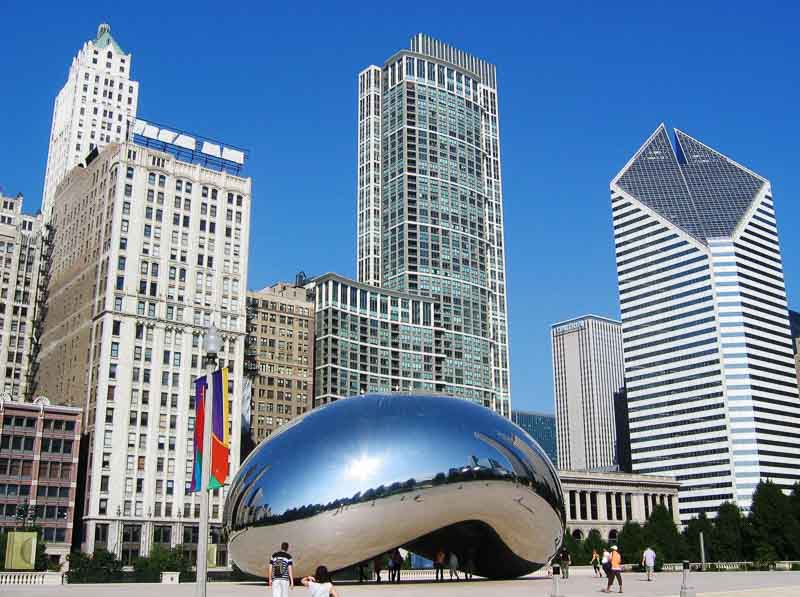 If you have kids, they surely won't let the trip end without having a taste of the fun at Millennium Park in the city of Chicago. Established in 2004, this park has one of the most breathtaking sculptures on Earth. In particular, the famous Cloud Gate, also known as 'The Bean,' is excellent for pictures and art lovers.
Millennium Park also has the Jay Pritzker pavilion that can host about 10,000 people at once for free concerts. This encourages a lot of arts and food events to take place in the park all year round. Moreover, your kids would enjoy the lakeside, and they can even play over at Maggie Daley Park as it's easily accessible via connecting bridge.
And don't worry about food; Millennium Hall is there to provide you a delicious meal or quick snack while you're there for a visit. Other than food expenses, entry into Millennium Park is free, and you can stay from 6 a.m. to 11 p.m.
Garfield Park Conservatory
If you're looking to learn something new while still having fun, Garfield Park Conservatory is the best place to visit. It's home to educational events throughout the year as well as cultural performances and hands-on activities.
Their programs and events range from family programs, school field trips, adult programs, special events and fundraisers, and exhibit showings and installations. These events are scheduled at different times of the year, so there's always something to do no matter when you choose to visit.
The conservatory isn't just limited to kids; adults also have plenty to do. For example, if you're a lover of the arts, you can try the Drawing and Color Exploration Art Class meant for individuals above age 55. The Bee Demo, Virtual Yoga, and Origami Open House are other activities that can be enjoyed by kids and adults alike.
Garfield Park Conservatory doesn't have paid admission, however, be mindful of visiting hours. The conservatory is only open on Wednesday from 10 a.m. to 8 p.m. and Thursday to Sunday from 10 a.m. to 5 p.m.
Lincoln Park Zoo – one of the original free things to do in Chicago
Lovers of wildlife, here you go! Lincoln Park Zoo was established in 1868 with just a pair of animals (two swans). Since then, it's grown exponentially and now houses 200 species of wildlife and quite a number of plants from different regions of the world.
It's open daily from 10 a.m. to 5 p.m. (to 7 p.m. on Saturday and Sunday), and before you think of the little kids getting bored from simply strolling around, there are a lot of programs organized to keep young children engaged. Some of the activities the zoo offers include Polar Bear and Seal Training, the Malott Family Encounter, and Ape Cognition and Care.
When the multitude of things to do tires you out, Lincoln Park Zoo also has plenty of food places to check out, such as the Park Place Café, Bird's Eye Bar & Grill, and The Patio at Café Brauer. There's even a souvenir gift shop available if you're thinking of buying something to commemorate your visit.
Cantigny Park
Cantigny is the place to get all the budget-friendly fun you seek in Chicago no matter your interests. It has spacious picnic grounds and rental services for pavilions for enjoying a nice meal outdoors; nature trails to accommodate strolling and hiking.
If you love history, you'll enjoy the thrill of Tank Park, which has an extensive collection of tanks and pieces that were brought from World War I, the Desert Storm, and Desert Shield. There's also something suitable for younger visitors—the Red Oaks farm playground, where they're free to play and run around.
Final thoughts on free things to do in Chicago
Traveling and visiting places can be expensive depending on where you go, but Chicago is one of the few places you can get maximum fun and plenty of choices to explore for when you're on a budget. There are a lot of tourist spots with budget-friendly rates in Chicago, and some of them are entirely free! So, the next time you find yourself in Chicago, make sure to try out one of these places.
Save on your trip with these resources
These are our go-to companies when we travel. We believe this list to be the best in each category. You can't go wrong using them on your trip too.
Flights: we use Expedia for the best and cheapest flight options.
Accommodations: we use Booking.com (hotels), VRBO (self-contained), or Hostelworld (budget).
Cars (gas or electric): we use RentalCars to search for deals and dealer ratings.
Campervans or Motorhomes: we use Campstar where Albom Adventures readers get a 3% discount.
Motorcycles: we have heard good things about BikesBooking.
Private guides: we love the private guides at Tours by Locals.
Travel Insurance: while not required, we always opt for travel insurance and start at InsureMyTrip to compare coverage plans.
Check out our travel resources page for more companies that we use when you travel.
Save for later
If you enjoyed this article, please share it on social media and save it for later on Pinterest.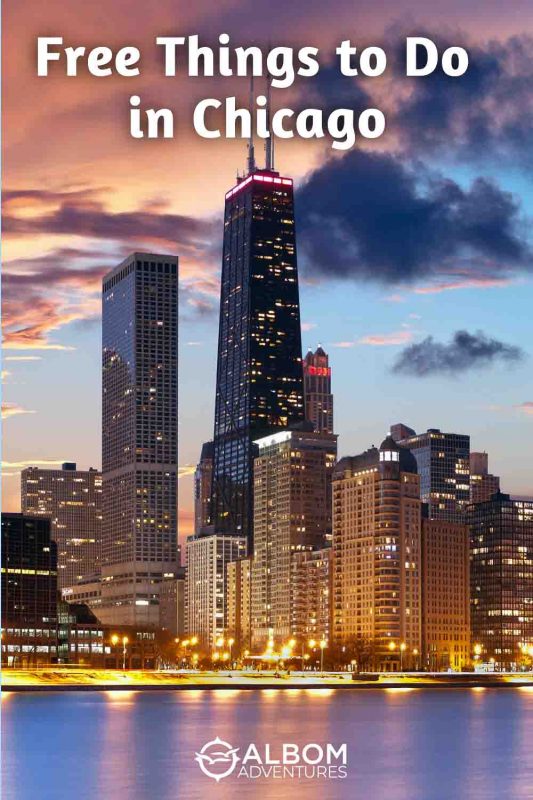 Which are your favourite free things to do in Chicago?
You might also like …
Photo Credits:
All photos on this page supplied by the author or stock images from Depositphotos.
About the author
George Patten is a tourist guide based in Chicago. He writes blogs to share travel tips with people visiting the USA. George also enjoys backpacking whenever he's not working.