The best thing about our former second home was that we could enjoy the many Lake Tahoe things to do in all seasons. And regardless of the time of year, it is a stunningly beautiful destination with no shortage of activities and attractions for locals and visitors.
Aside from weekend getaways and weeks of winter skiing, we lived in Lake Tahoe year after year, from July to October. Our home was just over the border from South Lake Tahoe on the Nevada side, so we had the best of both worlds: easy access to all the amenities and activities of South Lake Tahoe, as well as the peace and tranquility of the Nevada side.
There is something for everyone in Lake Tahoe, no matter what time of year you visit. In the summer, we spent our time hiking, biking, enjoying water sports, and soaking up the sun on the beach. In the winter, we hit the slopes at world-class ski resorts, went ice skating, or simply cozy up by the fireplace with a warm drink. And all year round, we explored the charming towns, indulged in delicious food and wine, and took in the breathtaking scenery that makes Lake Tahoe such a special place.
There are so many things to do in Lake Tahoe. Join me as I take you on a journey to discover the best activities and hidden gems in Lake Tahoe.
Our Lake Tahoe things to do list
Having lived in the Tahoe basin, I have clear favorites like hiking in summer, visiting Emerald Bay, and seeing the smiles on my family after a day of winter skiing.
Don't worry, these three aren't even close to all the best of Lake Tahoe. I have my complete Lake Tahoe things to do list below. We divided the list into three main areas:
Things to do in Tahoe in summer (and warmer weather days)
Lake Tahoe things to do in winter (or any snowy days)
Indoor things to do in Lake Tahoe (all season)
Top things to do in Tahoe in summer and warmer weather days
There is nothing quite like the fresh mountain air and stunning views of Lake Tahoe in the summer. Therefore, we try to spend as much of our time outdoors as we can. We have never run out of things to do in Lake Tahoe.
Head to the beach
There's nothing quite like the refreshing feeling of diving into the crystal-clear cool water on a hot summer day. Then relaxing on the warm sand, or better still, heading out for a swim, paddleboard, or kayak on the lake while taking in the stunning views of the surrounding mountains.
With family-friendly beaches all around, it's one of the more popular things to do at Lake Tahoe in summer, and it definitely sits high on my list.
There are plenty of great beaches to choose from, but two of our favorites are Zephyr Cove and Sand Harbor.
Boating and kayaking
Getting out on the water is another of the fun things to do in Lake Tahoe in the summer. There are plenty of options, from sunset cruises to kayaks, canoes, or stand-up paddleboards.
2 Hour sailing cruise out of South Lake Tahoe
This is our preferred way to get out on the lake, as they only take a maximum of 18 passengers per sail on a 40-foot yacht. Powered by the wind, there is nothing quite like the quiet of sailing. Reserve your 2-hour sailing cruise here.
Sunset wine-tasting cruise out of Emerald Bay
Combining several favorites at once, this vintage Chris Craft Venetian Water Taxi cruise leaves from stunning Emerald Bay, the jewel of Lake Tahoe (in my opinion). The two hours on board are spent enjoying the scenery, watching the sunset, and sampling eight California wines. Reserve your sunset wine-tasting cruise here.
Kayak or paddleboard rentals
Another fun way to enjoy the day. There are lots of options available, but the one that caught my eye was the clear kayak tours, as they allow me to see the water through the bottom of the boat. Check out the kayak options here.
Hike the Tahoe Rim or other trails
One of our favorite things to do in Lake Tahoe in the summer is to hit the trails for some hiking and mountain biking. There are so many beautiful trails to explore, with stunning views of the lake and the surrounding mountains. The trails around Lake Tahoe offer a variety of options for all skill levels, from easy walks to challenging hikes.
We love the Tahoe Rim Trail, a 165-mile hiking trail that circles the entire lake and offers stunning views of the surrounding mountains and forests. Jeff and I never did the entire trail, but rather sections. In fact, one of the many trailheads started at the end of our street, so we spent many afternoons exploring that section.
Parts are challenging, with steep ascents and descents and varied terrain that ranges from rocky ridges to lush meadows.
Another great trail is the Flume Trail, which features breathtaking views of the lake from high above. Always remember that you are in bear country, and before you go, check out these tips from the US Forest Service.
Go on a scenic drive around the lake and visit Emerald Bay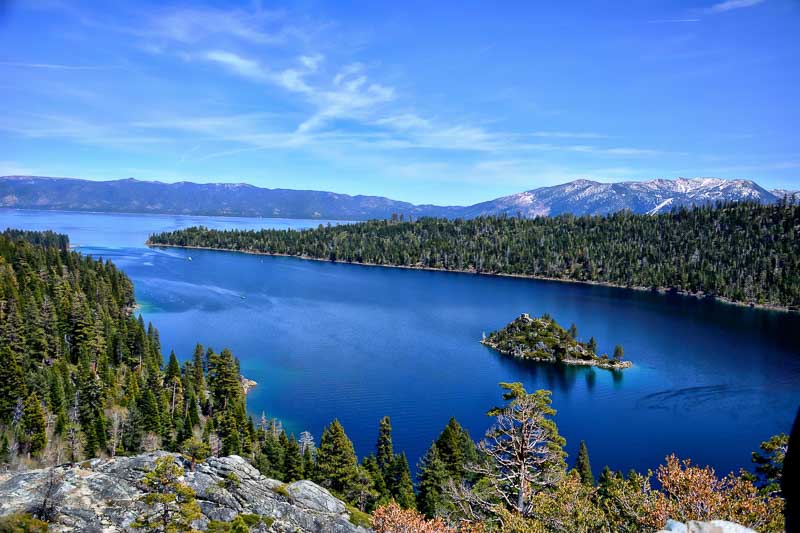 Driving around the lake in the summer or autumn is a must-do for anyone who visits the area. We did it at least once every year, and there are so many amazing things to stop and see, that we wrote a separate article highlighting the drive around Lake Tahoe.
And, if you don't have a car and don't want to rent one, there is a highly-rated circle tour you might want to join. Reserve your circle tour here.
Even if you don't have time to do the entire loop, make time to see Emerald Bay. It is one of the most iconic and picturesque spots in Lake Tahoe, and Jeff and I went here several times each year. Like the drive around the entire like, plan for a summer or autumn day, as the roads to Emerald Bay are often closed in winter due to snow and ice.
Aside from just enjoying the spectacular scenery, there is plenty to see and do in Emerald Bay. We enjoyed every visit, from exploring the historic Vikingsholm mansion to kayaking on the crystal-clear waters or hiking up to Eagle Lake.
The views of the lake and the surrounding mountains are simply breathtaking.
More things to do in Tahoe in summer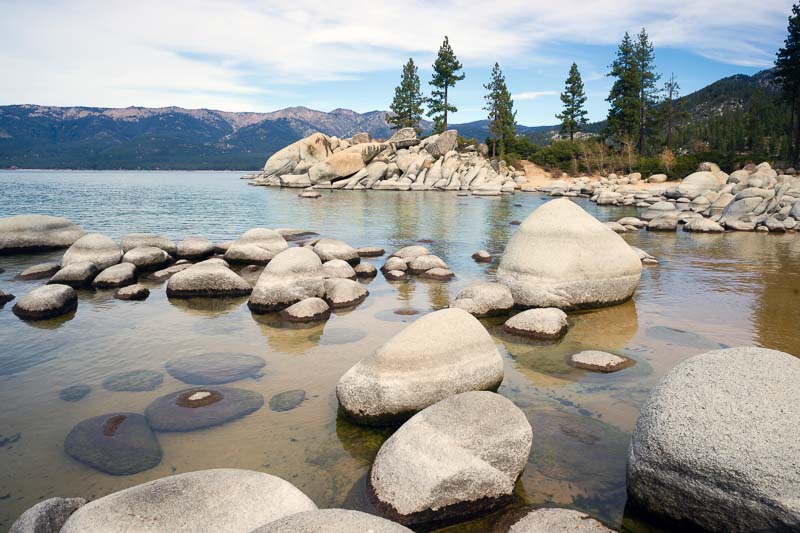 Take a scenic gondola ride
One of the best places to take in the views is at Palisades Tahoe (formerly called Squaw Valley), where you can take a ride on the aerial tram to the top of the mountain for panoramic views of the lake and the surrounding mountains.
Attend a summer festival
One of the highlights of the summer in Lake Tahoe is the wide variety of music festivals and outdoor concerts. There's always something happening in the area, from local bands to internationally renowned performers.
Go fishing
Fishing enthusiasts can cast a line on the lake or in one of the many streams and rivers in the area. Fly fisherman, check out this 5-hour fly-fishing tour that starts with a pick-up from north Lake Tahoe.
Go on a hot air balloon ride
See the stunning views of the lake from above or wait a bit later in the season and see the changing colors of the leaves in the fall.
Explore via bicycle
If you are into mountain biking and in South Lake Tahoe, you can rent your mountain bike here. However, if you're at Incline Village, you might want to rent a city bike here.
Best things to do in Lake Tahoe in winter and cooler days
Blanketed in white, Tahoe is magical in the winter. And, with average January temperatures of 29ºF, Tahoe in winter is cold, but not too cold. In fact, the average high temp in January is 43, often making for lovely days outdoors.
Lake Tahoe is a winter wonderland with some of the best skiing and snowboarding in the world. It's a skier and snowboarders paradise, with as much to do off the slopes as there is to on them. If the downhill excitement isn't for you, there are still plenty of other things to din in Lake Tahoe in winter.
Head to the slopes
With 15 options to choose from, Tahoe has the largest concentration of alpine ski resorts in North America, and it draws enthusiasts from all over the world.
And like most locals, we had our favorite. Heavenly is where our oldest daughter first learned to ski when she was 4. To be honest, with so many great options in the Lake Tahoe area, we chose Heavenly both based on its family-friendly reputation and because their Nevada entrance was located just about a mile from our house in Stateline.
Year after year, Jeff had a season pass here, and as stated above, I didn't, as skiing is just not my thing. But being so close to home, it was lovely to spend part of my day here, just enjoying the views. Although watching Jeff wasn't possible with so many runs over a large terrain (see the lift map), I never knew where he was.
As for myself, I had the opportunity to learn to ski at Boreal. It's known for its excellent beginner-friendly slopes and its commitment to providing a welcoming environment for newcomers to the sport.
More outdoor things to do in Lake Tahoe in the winter
Cross-country skiing
The snow-covered forests and mountains around Lake Tahoe are stunning, and cross-country skiing is a slower and gentler way to explore them. I found it to be quite a workout. There are about a dozen cross-country ski centers around the lake. If you prefer a tour, reserve your backcountry cross-country ski tour from Incline Village here.
Snowshoeing
A snowshoe adventure from South Lake Tahoe is one of the really fun ways to get out there. In small groups, the professional guides are local experts and take you to some unique spots. It's designed for all ability levels. Reserve your scenic snowshoe adventure here.
Sledding or tubing
We always sledded on our own at small local hills, especially when our kids were young. They're just a blast.
Snowmobiling
Snowmobiling is a thrilling way to see the rugged beauty of the Lake Tahoe area. It's an adrenaline rush to go speeding through the snow, taking in the stunning views of the mountains.
Ice skating at the outdoor rinks
Ice skating is a fun and family-friendly activity that's perfect for the winter months. I used to love skating under the stars and enjoying the festive atmosphere.
Indoor Lake Tahoe – things to do all year long
For us, Tahoe was mostly an outdoor destination, but there are times we just want to be indoors. Here are some of the highlights:
Explore the history and culture of the area at the Gatekeeper's Museum in Tahoe City.
Enjoy a delicious meal at one of the many restaurants in the area.
Visit the Lake Tahoe Historical Society Museum.
Check out the galleries and art centers.
Relax in a day of pampering and relaxation at one of the many luxurious spas in the area.
Experience the thrill of indoor rock climbing.
Try your luck at various table games and slot machines at one of the Nevada casinos.
Enjoy a movie at a cinema.
Bowl a strike at one of Lake Tahoe's bowling alleys.
Test your puzzle-solving skills at an escape room.
Tips for visiting Tahoe
Book accommodations in advance, especially during peak season. We always start at Booking.com for the best prices and clearly written cancelation policies. If you visit Tahoe during the shoulder season (spring or fall), the crowds are smaller and the prices are lower.
Dress in layers, as the weather in Lake Tahoe can change quickly and cools down quite a bit at night in the summer.
Bring a refillable water bottle, as staying hydrated is important in the high-altitude environment.
During the winter, roads in Lake Tahoe can be icy and slippery, so it's important to drive carefully. Check the weather and road conditions before you head out.
Bring sunscreen and apply it frequently, as the high elevation mean the sun's rays are stronger and more intense. You might also want insect repellent, as mosquitoes and other bugs can be abundant in some areas, especially in spring and summer.
Consider renting a car or bringing your own, as public transportation options can be limited.
Lake Tahoe is a beautiful and fragile ecosystem, so respecting the environment and practicing Leave No Trace principles is important to minimize your impact on the area.
Save on your trip with these resources
These are our go-to companies when we travel. We believe this list to be the best in each category. You can't go wrong using them on your trip too.
Flights: we use Expedia for the best and cheapest flight options.
Accommodations: we use Booking.com (hotels) or VRBO (self-contained).
Cars (gas or electric): we use RentalCars to search for deals and dealer ratings.
Campervans or Motorhomes: we use Campstar where Albom Adventures readers get a 3% discount
Private guides: we love the private guides at Tours by Locals
Travel Insurance: we start at InsureMyTrip as they are the best option to compare plans and find the right coverage for you.
Check out our travel resources page for more companies that we use when you travel.
Save for later
If you enjoyed this article, please share it on social media and save it for later on Pinterest.
What are your favorite things to do in Lake Tahoe in summer
Photo Credits:
All photos on this page are either shot by our team and watermarked as such or stock images from Depositphotos.