Driving around Lake Tahoe is truly unforgettable. For six years, Jeff and I lived in the South Lake Tahoe area for enough of each year that I was a Nevada resident. We drove around the lake many times. It was always a breathtaking journey that never failed to amaze us with its natural beauty.
Each trip was a new adventure as we discovered hidden gems and stunning viewpoints along the way. From the crystal-clear waters of Emerald Bay (our favorite destination) to the charming town of Tahoe City, there is so much to see and explore around the lake.
The 72-mile scenic drive around the lake offers stunning views of the crystal-clear lake waters, surrounded by the towering Sierra Nevada Mountains.
Below we share our insider tips and recommendations for the ultimate Lake Tahoe scenic drive.
Key stops when driving around Lake Tahoe
We listed them here in the order you will come to them if starting and ending in South Lake Tahoe and driving in a clockwise direction. This is the way we usually go when we circumnavigate the lake, but if we are just headed to a single destination, we choose the shorter option.
South Lake Tahoe
Emerald Bay (Vikingsholm and Eagle Falls)
Olympic Valley
Tahoe City
Incline Village
Kings Beach
Third Creek Waterfall
Sand Harbor Beach
Cave Rock
Zephyr Cove
Drive around Lake Tahoe map
The distance around Lake Tahoe is approximately 72 miles (116 kilometers), and driving time varies depending on traffic, road conditions, and the number of stops along the way.
I imagine driving around Lake Tahoe would take about 2-3 hours without any stops, but our reason for a Lake Tahoe road trip has always been the stops. Whether we are headed out to play or just to enjoy the stunning scenery, we usually plan a full day for the adventure.
Click the expand / collapse icon in the upper left corner of the map for the details. The suggested stops in this article are featured on the map either in red (on the main road/itinerary) or yellow (requires extra driving).
Our favorite stops along the Lake Tahoe scenic drive
Driving around Lake Tahoe offers an incredible opportunity to explore some of the most beautiful landscapes in the world. With stunning views, charming towns, and recreational activities, there is something for everyone to enjoy on this scenic drive.
Take your time and savor the journey, as every mile offers a new adventure and a chance to discover the natural beauty of Lake Tahoe.
South Lake Tahoe/Stateline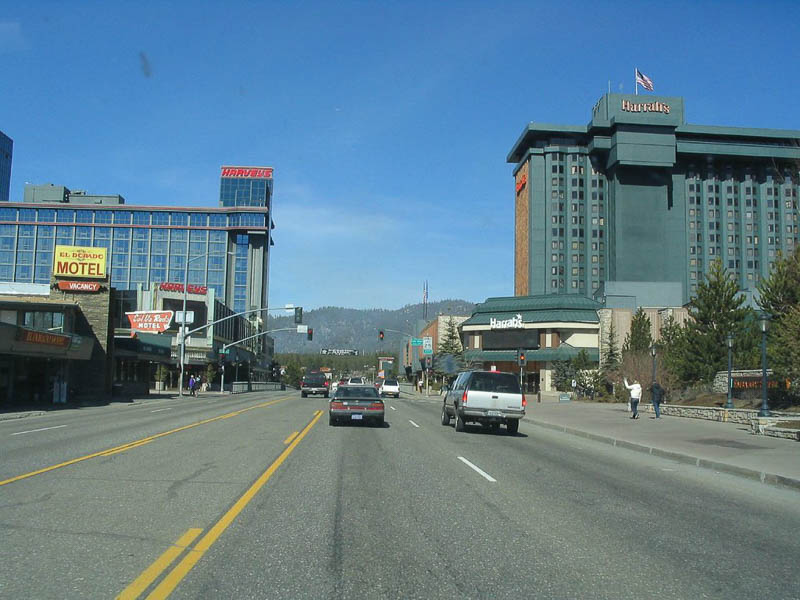 Often referred to simply as Lake Tahoe, the most popular tourist area crosses the state line at the lake's southern border. The city of South Lake Tahoe sits on the California side, while the town of Stateline is on the Nevada side. We instantly know when we cross between the two states.
While in California, we pass restaurants, shopping, ski and snowboard rentals, and motels. However, tall casino hotels dominate our view on the Nevada side, starting instantly at the state line.
With gambling legal in Nevada but not in California, it's no wonder it's built like this. The contrast at the border still amazes me, despite having done this drive more times than I can count.
Emerald Bay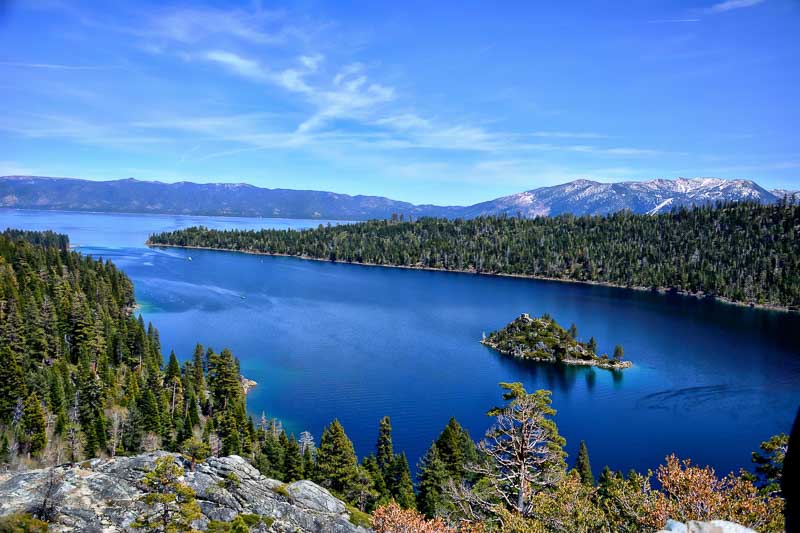 Clockwise distance from South Lake Tahoe: 12 miles (23 minutes)
Emerald Bay is the masterpiece that kept us doing this journey over and over again, never losing its magic.
Every time we round the bend, and I catch my first glimpse of Emerald Bay, a sense of awe washes over me. The crystal-clear water sparkles in the sunlight, with surrounding mountains forming a stunning backdrop.
We like to park the car and explore the area on foot. Two must-sees are Vikingsholm Castle and Eagle Falls.
Vikingsholm Castle is a stunning mansion built in 1929 that is open to the public for tours. I was amazed by the intricate details and stunning architecture, and I couldn't help but imagine what it must have been like to live on such a grand estate.
Eagle Falls is a series of cascading waterfalls that are simply breathtaking. The hike to Eagle Falls is pretty easy, although much of it is uphill on steps cut into the rock. We usually continue on to Eagle Lake and have even done so with a toddler in tow (we carried her in one of those hiking backpacks).
Honestly, I believe Emerald Bay is such a special place that even if you don't have time to circumnavigate the lake, you should make time to stop here.
From the panoramic views at Inspiration Point to the quiet serenity of the nearby campground, every corner revealed a new surprise and another reason to fall in love with this natural wonder.
Palisades Tahoe – (formerly Squaw Valley Ski Resort)
Clockwise distance from South Lake Tahoe: 37 miles (86 minutes)
Palisades Tahoe ski resort was the site of the 1960 Olympics and offers stunning views of the lake and the surrounding mountains. Being a huge fan of the Winter Olympics, I had to visit.
While the mountain offers a wide variety of terrain for skiers of all levels, from beginner to advanced, as a total beginner married to a double black diamond skier, I was a bit intimidated and stayed off the slopes. However, while I enjoyed watching Jeff fly down like an expert, I'll admit I spent most of my winter Palisades time around a fire, often with hot chocolate in hand.
We also visited in the summer when we took a scenic aerial tram ride to the top of the mountain. Here we were treated to panoramic views of the surrounding landscape. We also explored the Olympic Museum, which showcased artifacts and memorabilia from the 1960 Winter Olympics.
There are also hiking trails, mountain biking trails, a disc golf course, and a variety of events and festivals throughout the summer.
If the name Palisades seems unfamiliar it's because the resort changed its name in 2021 as its former name, in modern usage, is considered to be "offensive, derogatory, racist, and misogynistic." according to NPR.
Tahoe City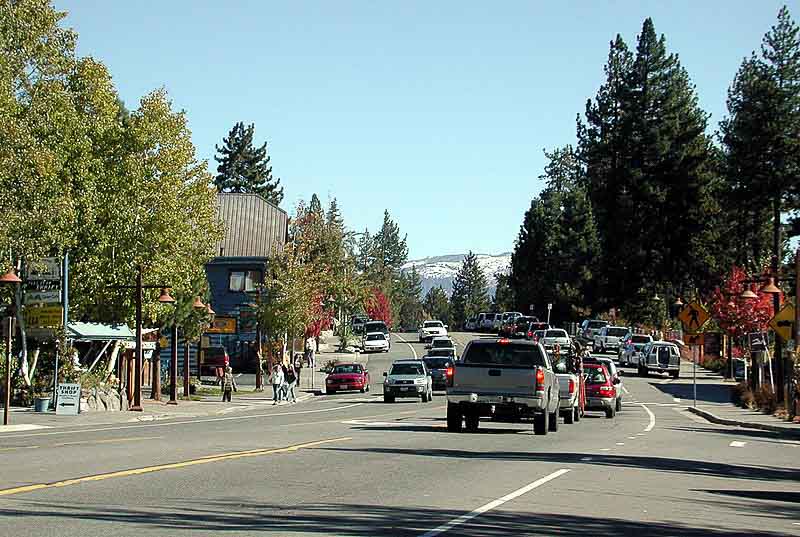 Clockwise distance from South Lake Tahoe: 30 miles (53 minutes)
Another favorite stop of ours was the charming town of Tahoe City. Here, we enjoyed shopping, dining, and recreational opportunities such as hiking and biking trails.
Donner Lake
A serene lake located just a short drive from Lake Tahoe, Donner Lake is another spot offering beautiful scenery. The lake is popular for boating and swimming and is a great place for trout fishing.
Note that we never included it when we drove around the lake, but it's worth mentioning here, as it's quite a popular holiday site.
Kings Beach
Clockwise distance from South Lake Tahoe: 39 miles (70 minutes)
Counter-clockwise distance from South Lake Tahoe: 33 miles (55 minutes)
Kings Beach a lively and picturesque town located on the north shore of Lake Tahoe. In addition to the beach itself, the town features a variety of shops and restaurants, with plenty of indoor and outdoor seating options that offer stunning views of the lake.
I particularly enjoyed the local ice cream shop, which had a wide variety of delicious flavors to choose from. In the evening, the town comes alive with live music and entertainment, making it a great spot to enjoy a night out with friends and family.
Third Creek Waterfall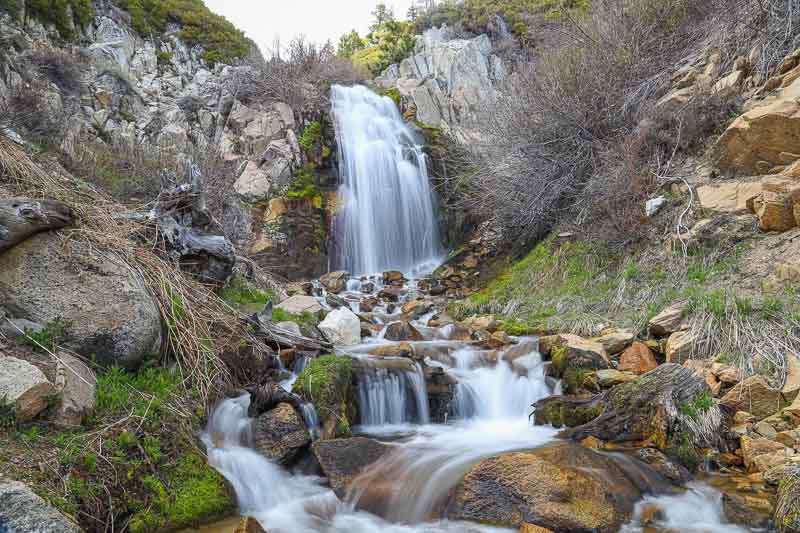 Counter-clockwise distance from South Lake Tahoe: 32 miles (52 minutes)
While it looks lovely in photos, we never took the trail to get to Third Creek waterfall, usually because we choose to spend our time at one of the other amazing stops along the Lake Tahoe scenic drive.
Sand Harbor Beach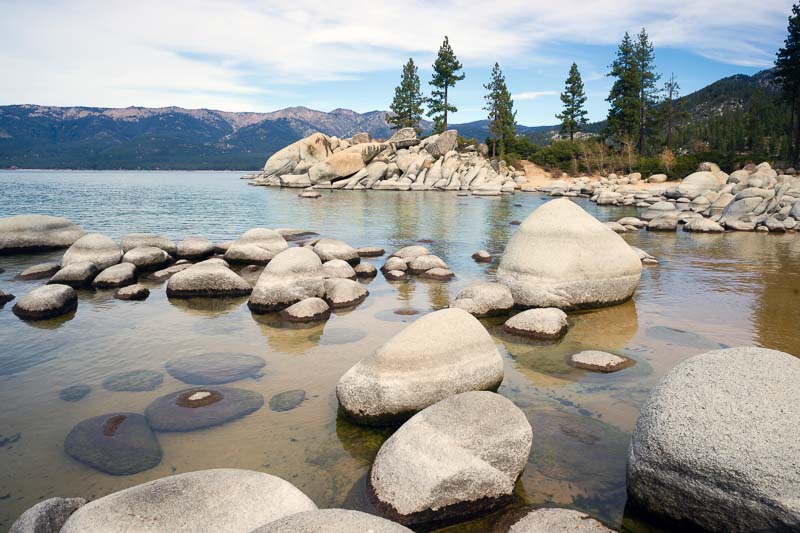 Counter-clockwise distance from South Lake Tahoe: 23 miles (38 minutes)
Sand Harbor Beach is another popular destination on the northeastern shore of Lake Tahoe. It is known for its crystal-clear waters, beautiful rock formations, and scenic hiking trails.
In addition to swimming, watersports like kayaking, stand-up paddleboarding, and jet skiing are popular here. The area is great for snorkeling and scuba diving as well, as the lake's clear waters provide excellent visibility.
For something a bit different, there is kayaking in transparent kayaks allowing us to see up to 65 feet (20 meters) below the water's surface. The trip kayaks towards the famous Bonsai Rock, and has really impressive reviews. Reserve your clear kayak tour of Lake Tahoe here.
Sand Harbor Beach is also home to several hiking trails, including the short Sand Harbor Nature Trail, which offers stunning views of the lake and the surrounding mountains.
Cave Rock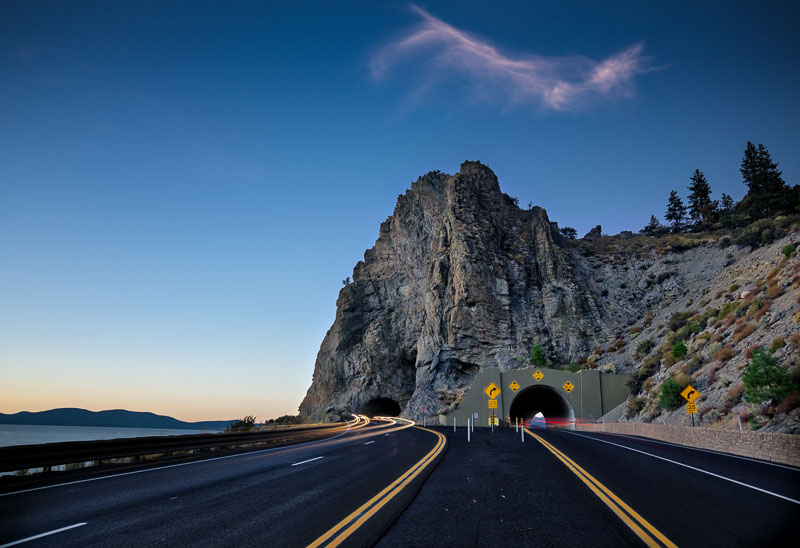 Counter-clockwise distance from South Lake Tahoe: 14 miles (24 minutes)
We've driven through the Cave Rock tunnel on Highway 50 countless times and never thought to stop and take a photo, nor did we stop to hike.
There's the original tunnel, now the westbound bore, that is relatively short at only 153 feet in length. The newer, eastbound tunnel is 410 feet long. As the highway does not have a designated bicycle lane within the tunnel, it's sometimes shared. As a cyclist himself, Jeff found it quite nerve-racking on the rare occasion he had to share with a car.
Zephyr Cove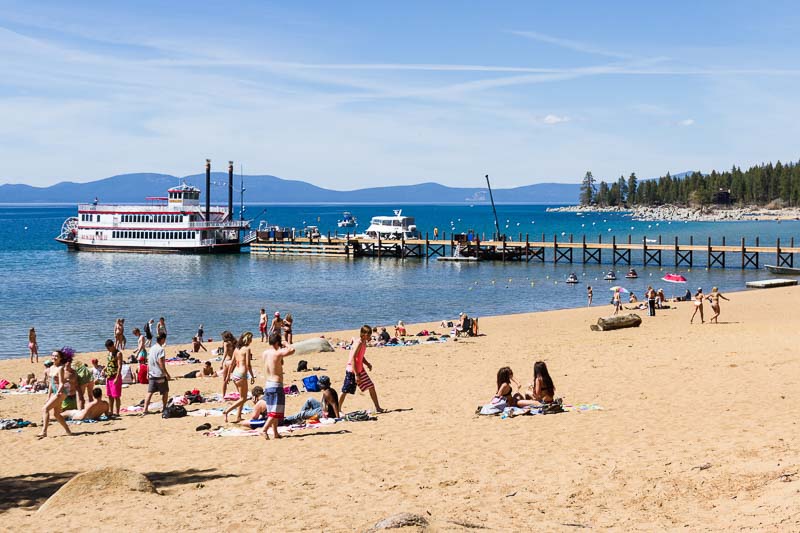 Counter-clockwise distance from South Lake Tahoe: 6 miles (17 minutes)
Zephyr Cove was our favorite summertime beach. Like nearly all the beaches around the lake, it has clear waters and panoramic views of the surrounding mountains.
Tips for driving around Lake Tahoe
Check the weather and road conditions before starting your drive. Winter weather can be unpredictable in the Tahoe area, and some roads may be closed due to snow or ice.
Drive slowly and cautiously. Many of the roads around Lake Tahoe are narrow and winding, with steep drop-offs and sharp turns.
Carry tire chains in the winter and know how to use them. Chain controls are common in the winter months, and you may be required to put chains on your tires to drive on certain roads.
Plan to go slow and take lots of breaks at many of the scenic pullouts and rest areas around the lake. Take time to enjoy the views.
Don't miss all the other things to do in the Lake Tahoe basin.
Save on your trip with these resources
These are our go-to companies when we travel. We believe this list to be the best in each category. You can't go wrong using them on your trip too.
Flights: we use Expedia for the best and cheapest flight options.
Accommodations: we use Booking.com (hotels) or VRBO (self-contained).
Cars (gas or electric): we use RentalCars to search for deals and dealer ratings.
Campervans or Motorhomes: we use Campstar where Albom Adventures readers get a 3% discount
Private guides: we love the private guides at Tours by Locals
Travel Insurance: we start at InsureMyTrip as they are the best option to compare plans and find the right coverage for you.
Check out our travel resources page for more companies that we use when you travel.
Save for later
If you enjoyed this article, please share it on social media and save it for later on Pinterest.
What's your favorite stop when driving around Lake Tahoe?
More from California and Nevada that you might like…
Photo Credits
Photos on this page are either shot by our team and watermarked as such, in the public domain, or some stock photos were supplied by DepositPhotos.