There are amazing views to be found all over the world, but few confuse the sense like the Skydeck Chicago Ledge on the viewing deck of the Willis Tower.
Despite being well aware of all the over-the-top safety features in place, that first step out onto the Skydeck Chicago Ledge is a bit unnerving. The glass balcony juts out more than four feet from the 103rd floor of the highest observation deck in the United States.
At 1,353 feet up it's surreal to look straight down … but really cool.
If you are afraid, I recommend finding a way to move past it and embrace this opportunity. However, either way, the unparalleled views from the 103rd floor are truly impressive, whether you step out on the ledge or not.
Here's how it went for us …
Note: Based on world conditions, we advise checking official channels including cancellation policies prior to booking. Also, with often reduced capacity, booking ahead becomes more important.
Visiting Willis Tower
We earn from qualifying purchases through partnerships or affiliate programs.
Our adventure started out on the entry-level of the Willis Tower.
The ground floor is filled with interesting exhibits reminding us that Chicago is a city of neighborhoods, people, and community. It highlights the city's sports, culture, and architectural heritage with fun interactive displays allowing us to get a different perspective on the tower.
One of my favorites was the ability to measure the tower using Micheal Jordan, Oprah Winfrey, or other unusual measurement standards. In case you are wondering, the Willis Tower is 262 Micheal Jordan's tall.
We also enjoyed a short film detailing the tower's history and highlighting a few other architectural wonders of Chicago.
From ground floor to the Skydeck Chicago in 60 seconds
It took only 60 seconds to get from the ground to the 103rd floor. From that height, the views are up to 50 miles and can include up to four states (Illinois, Indiana, Michigan, and Wisconsin). Skydeck Chicago attracts more than 1.7 million visitors annually.
What inspired the Ledge?
Following the success of the movie Ferris Bueller's Day Off, there were hundreds of forehead prints left on the windows every week. This, plus a Vegas walkout inspired the new Skydeck Chicago General Manager to create the Ledge.
It took a year of engineering and six months of construction to create the four boxes. Each is designed with a 1.5-inch glass floor fully tempered to hold a five-ton load.
It not only draws locals and tourists but also a bit of romance. There have been over 800 marriage proposals and 50 weddings.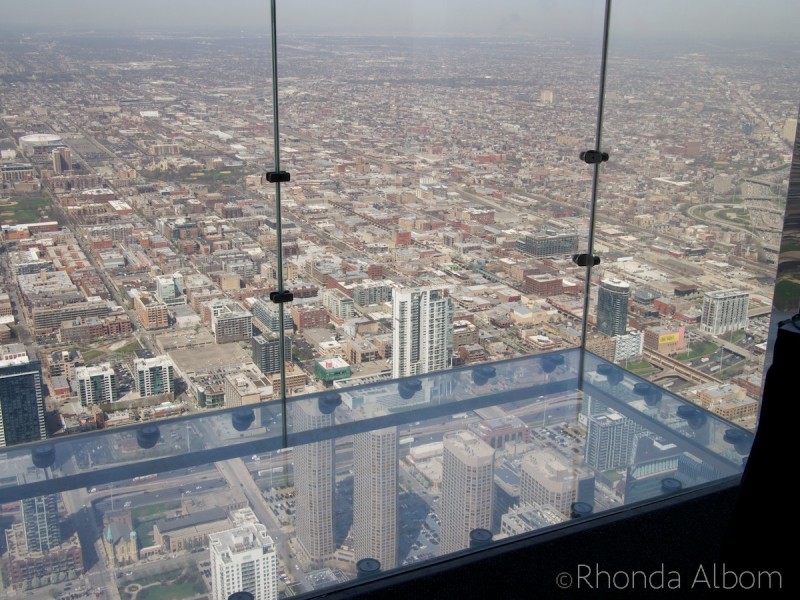 Location, tickets and other key infomation
Willis Tower (formerly Sears Tower) is at 233 South Wacker Drive in Chicago, Illinois. The entrance to Skydeck is located on S. Wacker Blvd between W. Jackson St. and W. Adams St.
Skydeck Chicago is the name of the Willis Tower observation deck. The Ledge refers to the glass boxes that cantilever from the building.
The Skydeck Chicago is open every day with seasonal hours: March through September from 9 am-10 pm and October through February from 9 am-8 pm. There are slightly longer hours on some of the weekend days.
While you can get general admission tickets, we noticed people were waiting upwards of 45 minutes to get out on the ledge. Now you can save time by reserve your prefered entry time in advance, and be out there when you want.
Or, if you are spending a few days enjoying Chicago, consider getting a CityPASS and save 48% on five key attractions including Skydeck Chicago.
Pro tip: best time to visit is either right when it opens, or after 5pm.
More on visiting Skydeck Chicago and walking out on the ledge
For me, the tower is a must-see on any visit to Chicago. I was a teenager when it was built, although back then it was called the Sears Tower. It was exciting to go up into what was then the tallest building in the world (we have since been up the Burj Khalifa in Dubai, the current tallest building in the world. For me, it defines Chicago's skyline and is a must-see on my rare visits to the city of my birth.
Now the second tallest building in the USA, the Willis Tower was the tallest building in the world for over 25 years.
You can purchase "Save Ferris" t-shirts amongst the Skydeck souvenirs available at the gift shop.
While I don't always get the professional photos, the ones taken on the Ledge are really fun. Shot from an angle high up, they really capture the atmosphere.
If you still want more information check out their official website here.
Best deals and discounts for your travel planning needs
We earn from qualifying purchases through partnerships or affiliate programs.
Flights: When it comes to flights, we always start with Expedia.

Hotels: We use Booking.com to compare and book accommodations. Don't miss Booking.com's Getaway 2022 Deals that save 15% or more on selected accommodations. (T&Cs apply)

Other accommodations: If you prefer B&B or self-contained type lodging, check out VRBO.

Vehicle hire: RentalCars is like a rental car search engine with no hidden costs, that lets us find the best deals on car rentals worldwide.

Private Tours: We are big fans of ToursByLocals, and use them for nearly all cities where we want a private guide.

Packing Tips: Get a free copy of our packing light checklist when you sign up for our mailing list. (We pack light, yet have everything we need.)
Find more money-saving resources and T&Cs on some of the above, check our Travel Resources page.
Please share
If you enjoyed this article, please share it on social media including Pinterest: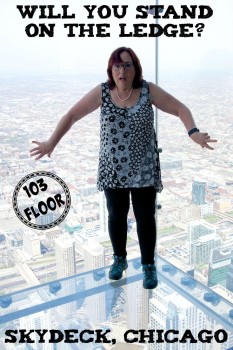 Will you walk out on the Skydeck Chicago Ledge? Or have you already done it?
You might also like
Disclaimer: I was provided with complimentary entry and a private tour, however, the opinions expressed here are strictly my own.