Chicago is the birthplace of the American skyscraper, and there is no better way to see its highlights than from a Chicago architecture river cruise.
Cruising on the river holds a unique advantage over walking on the streets. First, we were a distance away, yet there was nothing to get in our way. Therefore, we could see entire buildings. Secondly, the distance afforded by the river means we don't need to strain our necks to look up.
While the city's eclectic architecture can best be enjoyed from the river, multiple companies offer a Chicago architecture river cruise. We chose a Chicago Architecture Foundation (CAF) River Cruise aboard Chicago's First Lady Cruises. We tell you why below.
Some of our favorite architectural examples
Our guide kept it light and entertaining as she pointed out examples of historical revival, art deco, mid-20th century modern, post-modern, and contemporary design within Chicago architecture.
The commentary throughout our 90-minute cruise included architectural information as well as some of the city's fascinating and colorful history.
Much of the city we see today was rebuilt after the Great Chicago Fire of 1871.
Even before we pulled away from the dock, our CAF-trained volunteer docent guide highlighted some of the interesting buildings near our starting pier at the Chicago River walkway, including the Wrigley Building and Tribune Tower.
Three more interesting examples of the eclectic architectural styles:
Marina City has a historic designation. Considered very innovative when built in 1967, today Marina City is a Chicago landmark. Architect and designer Bertrand Goldberg believes, "There are no right angles in nature."
The art deco, post-modern NBC Building has structural gothic flying buttresses.
This curved reflective tower on Wacker Drive is an example of contextualism.
A few key skyscrapers along the way
The Willis Tower (Sears Tower) was the tallest building in the world until 1996. Today, it is the third tallest in the United States.
When built, the John Hancock Center was the second tallest in the world.
At 98 stories high, the Trump Tower in Chicago is one of the world's tallest residential buildings.
Bridges on the Chicago architecture river cruise
Chicago's first drawbridge was at Dearborn Street. It completed construction in 1834. Following that, the city built a total of 52 movable bridges, of which 43 of the original bridges are still in operation. I think we passed under about 18 of them on our tour, but I didn't count.
These bridges vary in style from Art Deco to Beaux-Art to Modernism.
They ALL operate a few times each year to let boats pass along the river and out to Lake Michigan. It's a really cool event to watch.
Therefore, it's not surprising that Chicago earned the moniker drawbridge capital in North America. In fact, it currently has more bridges than any city in America.
Residential life along the river
The Chicago River was so polluted it was toxic only 30 years ago. Now cleaned-up, river-front condos are considered desirable housing. Some of the housing high rises even have green grass parks at the riverfront.
Another draw card for river life is that River City has the only non-freezing marina in Chicago.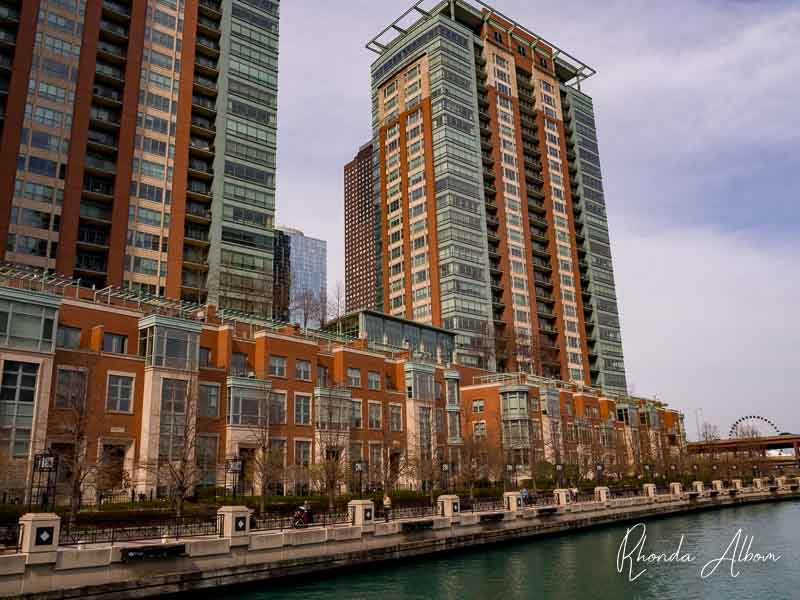 How to choose a Chicago architecture river cruise
With so many options, there are plenty of things to consider when making your selection. Here are some factors to consider:
Tour duration
Tours tend to run from 45 minutes to 2 hours. We had a 90-minute tour and thought it was perfect. Remember, you will need to arrive early (most often 30 minutes early) when you figure out how much total time you are allocating to the cruise.
Tour route
There are three legs of the Chicago River. Take a look at this map of the CAW route which highlights the key sites, and make sure the tour you pick goes past the buildings you want to see.
Seating options
Outdoor seating is optimal for a Chicago architecture river cruise as so many of the buildings are tall skyscrapers. However, if you prefer being indoors, make sure that option exists. Also, while cushioned seats sound nice, if it rains, they will be and stay wet for a while.
Onboard amenities
I believe all commercial boats running a Chicago architecture river cruise have restrooms onboard. Some also have full bars, snack bars, or other amenities like free stroller storage.
Price
I put this criteria last on purpose. Most of the cruise pricing is comparable for what they are offering, and choosing the cheapest option may not be the best choice.
Why we chose the Chicago Architecture Foundation Center River Cruise aboard Chicago's First Lady
Based on our criteria above, the Chicago Architecture Foundation Center river cruise aboard Chicago's First Lady:
Tour duration: 90 minutes
Tour route: Cruises on all three legs of the Chicago River
Seating options: Enough outdoor seating for everyone, plus indoor options.
Onboard amenities: It has a restroom, full bar, and snack bar
Price: In the range. Check here and reserve your spot on the CAF First Lady.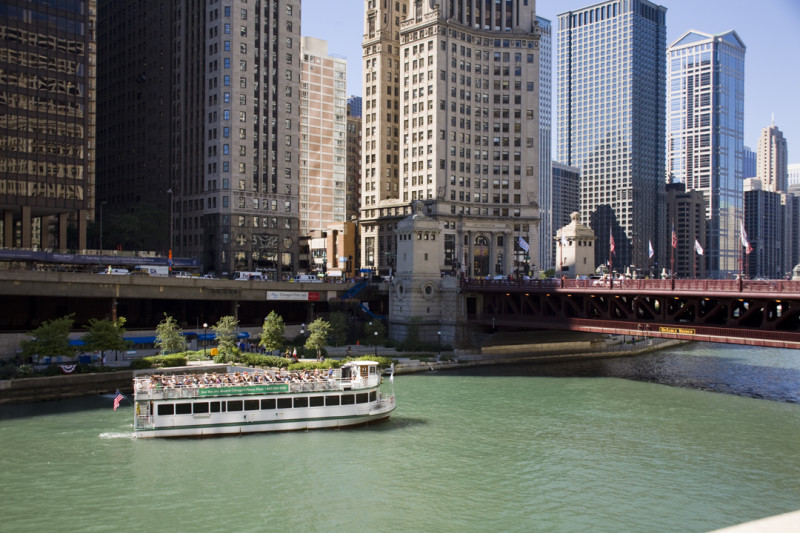 Best alternative: Shoreline Sightseeing
If CAF First Lady isn't what you are looking for, our next recommendation is Shoreline Sightseeing. While we haven't personally sailed with them, the over 8000 reviews resulting in a five-star rating is very impressive. From the reviews and webpage, we can conclude:
Tour duration: 75 minutes
Tour route: Cruises on all three legs of the Chicago River
Seating options: Enough outdoor seating for everyone, plus indoor options.
Onboard amenities: It has a restroom and a full bar on some cruises
Price: In the range. Check here and reserve your spot with Shoreline Sightseeing.
What you need to know before any Chicago architecture river cruise
The cruising season typically runs from April through mid-November.
Bring sunglasses, a cap, or a visor, as the amount of sunshine at any moment frequently changes as you cruise past some of the taller buildings, thus affecting your vision.
Most cruises run regardless of the weather, so bring a light wind/rain jacket.
Advance reservations are usually recommended regardless of who you sail with, especially on weekends and holidays.
Extra tips if you are cruising on CAF First Lady
Arrive early for the best seats, which I think are on the small deck at the front of the boat. We sat on the large upper deck, where the specific seat isn't that important as for the most part, we were looking up. However, from our observation, more highlighted features were on the left side (port).
Most people stayed in their seats for the entire tour; however, I moved about the boat to get better photos.
The dock for Chicago Architecture Foundation River Cruise aboard Chicago's First Lady Cruises is located on the Riverwalk at the Michigan Avenue Bridge and Wacker Drive.
The tours are hourly from 10 am, with additional sailings on weekends.
The CAF River Cruise aboard Chicago's First Lady Cruises ranked among the top ten tours in the USA by Trip Advisor in 2015 and is the current USA Today's Readers Choice poll's #1 best boat tour.
A personal side note:
I was born and raised in this city, and lived here until my mid-20s. Today, I come back to visit friends and family, all of whom live in the suburbs. Yet, Chicago architecture still fascinates me, and I have taken more than one river cruise over the past few visits.
Save on your trip with these resources
These are our go-to companies when we travel. We believe this list to be the best in each category. You can't go wrong using them on your trip too.
Check out our travel resources page for more companies that we use when you travel.
*World Nomads provides travel insurance for travellers in over 100 countries. As an affiliate, we receive a fee when you get a quote from World Nomads using this link. We do not represent World Nomads. This is information only and not a recommendation to buy travel insurance.
Save for later
If you enjoyed this article, please share it on social media and save it for later on Pinterest.
Have you taken a Chicago architecture river cruise?
More from Chicago that you might like
Disclaimer: We are frequently provided with complimentary entrances, tours, or sample items to aid in the writing of Albom Adventures. However, the opinions expressed here are strictly our own.