The reality is as much of a contrast as the title. On one end of town, a serene, internationally acclaimed, well-manicured series of themed gardens each telling a story of a different civilization. To be honest, the Hamilton Gardens caught me by surprise, far exceeding my expectations. In sharp contrast stands the Riff-Raff statue where Hubby and I did the Time Warp again. Both are amongst the free things to do in Hamilton New Zealand.
Hamilton Gardens
It didn't take long to understand why the 54-hectare Hamilton Gardens won the prestigious 'International Garden Tourism Award' in 2014. We focused our time on the enclosed gardens. Here, we strolled through one themed garden after the next, as we were taken on a journey through time. With attention paid to every detail, we know we overlooked as much as we saw. I am already thinking about my next visit when I am sure to take a guided tour.
⇒ Click here for pricing on a 75-minute guided tour of the gardens
Photo Tour of the Enclosed Gardens
In the order we walked: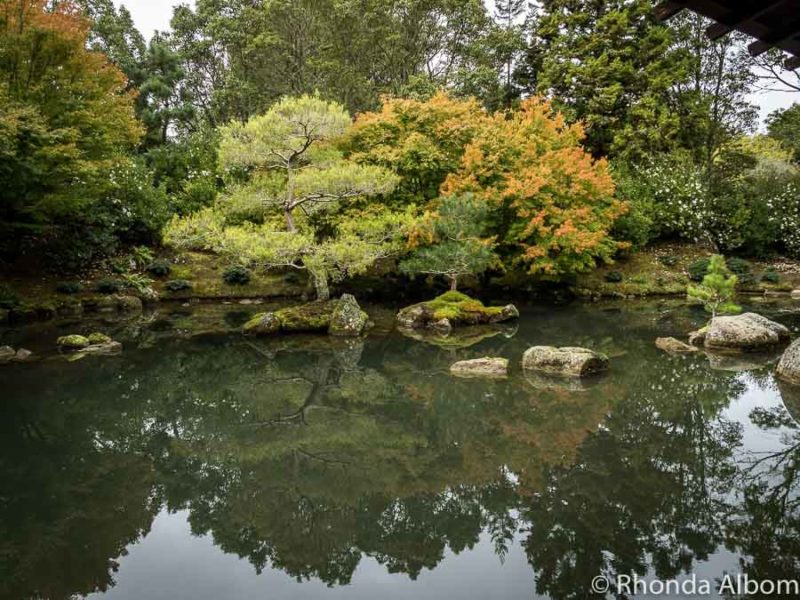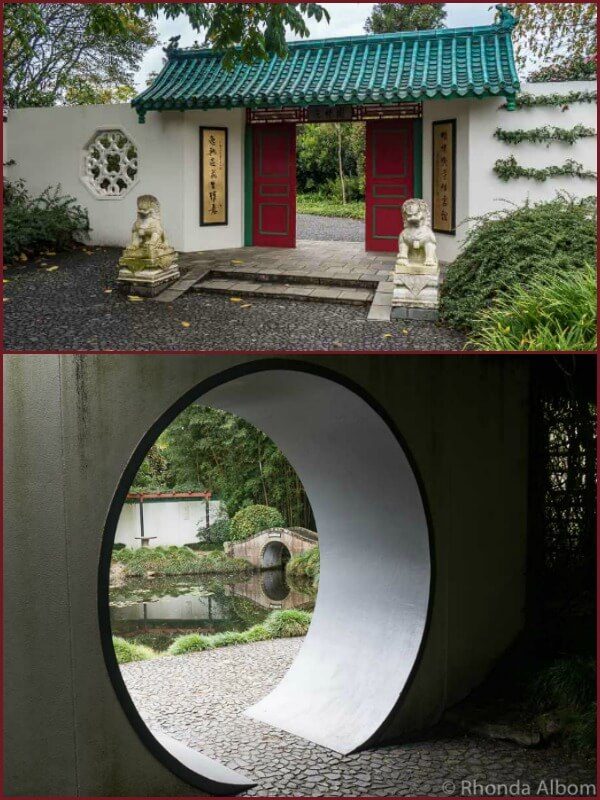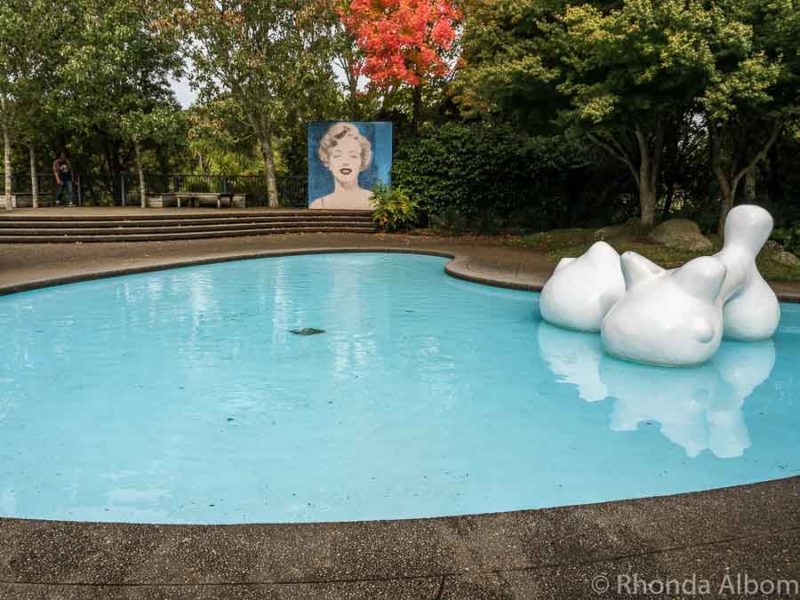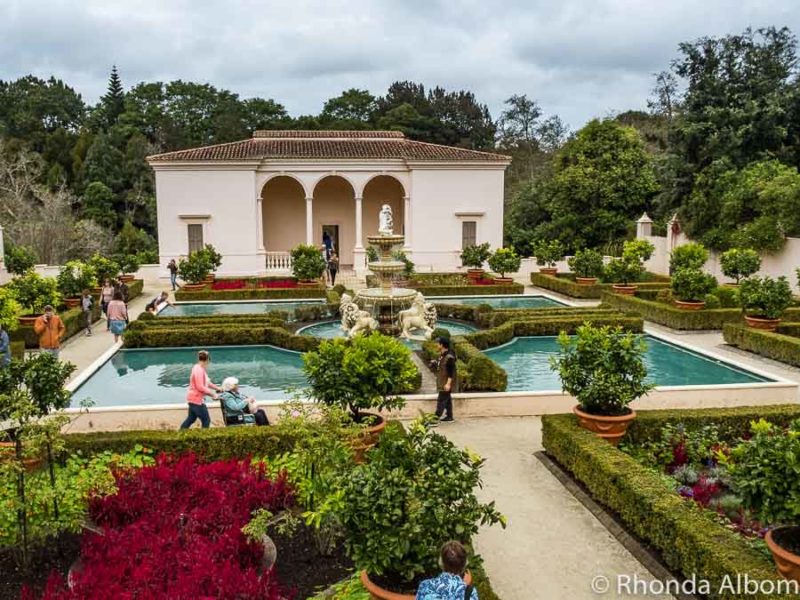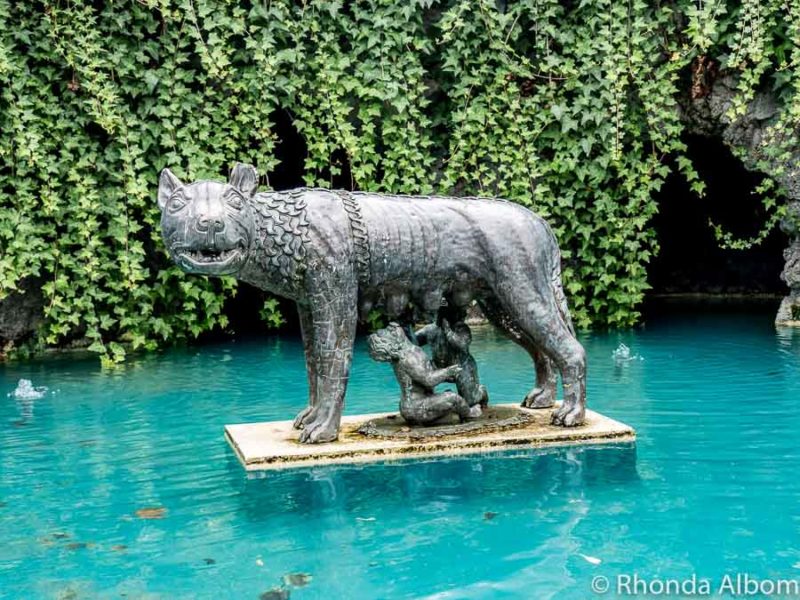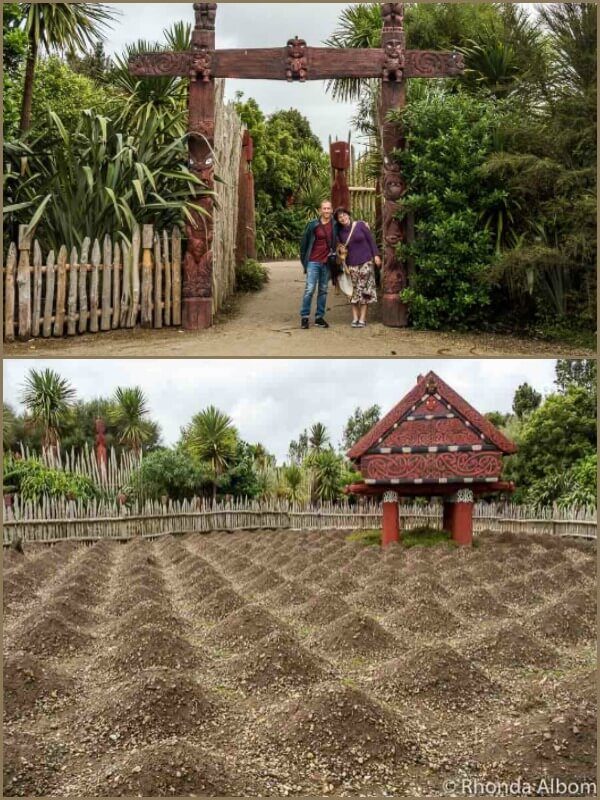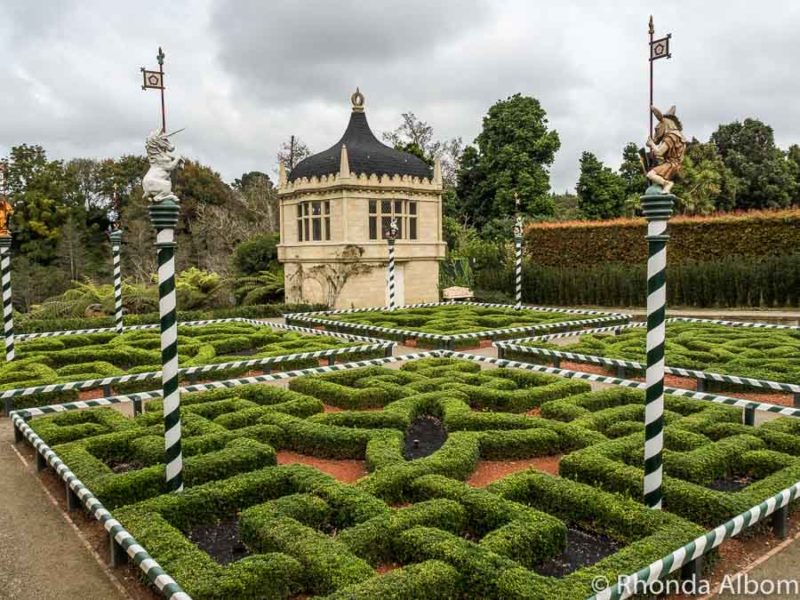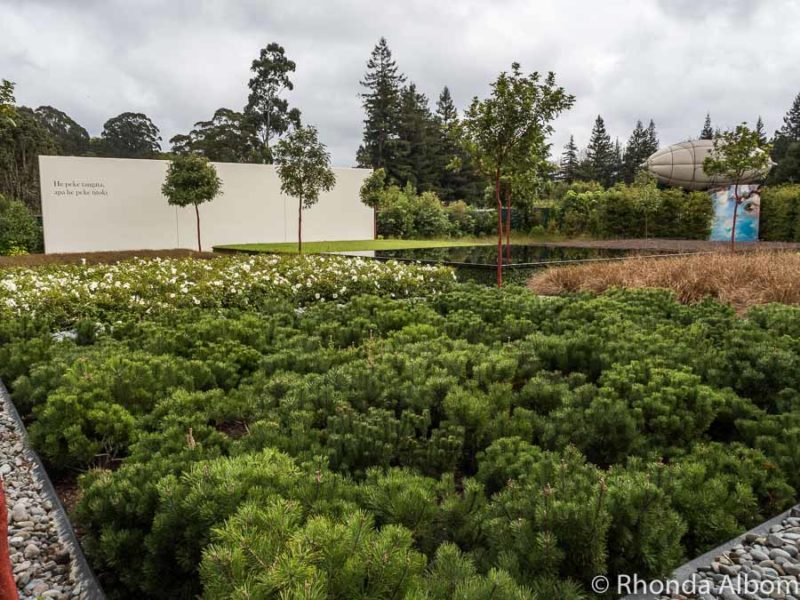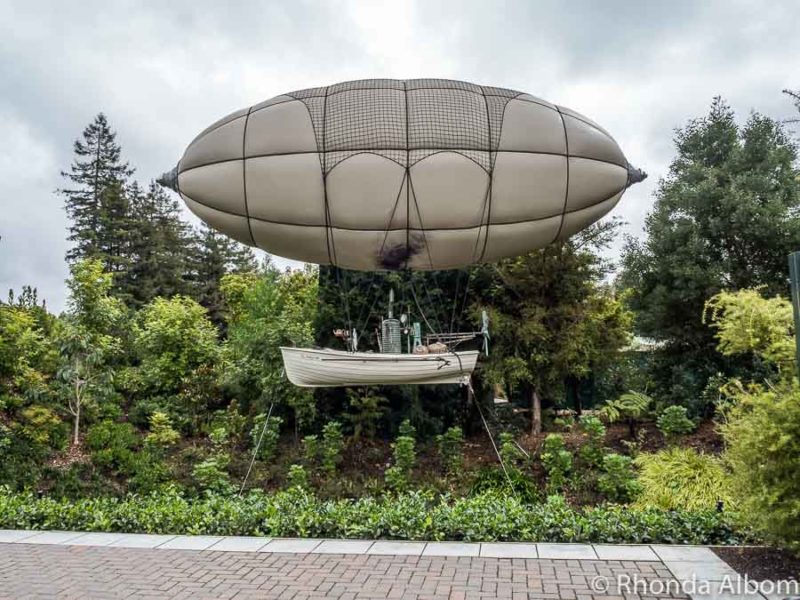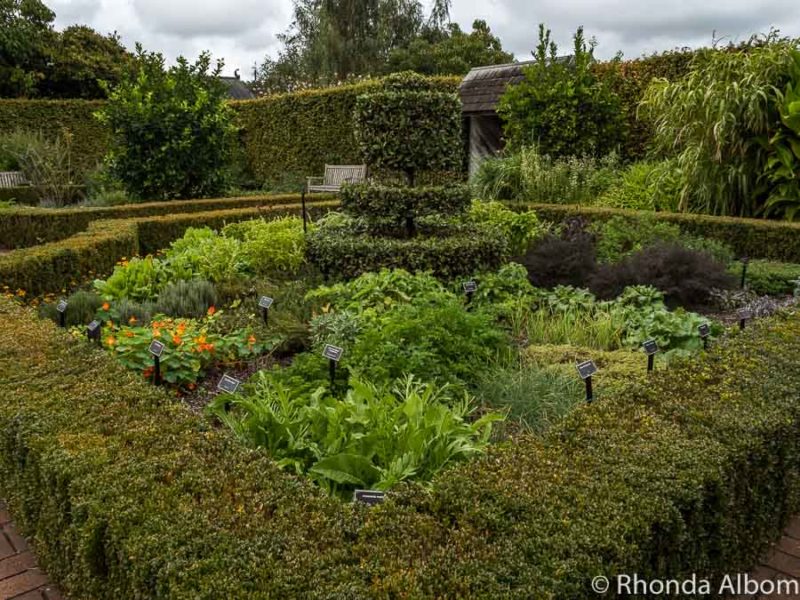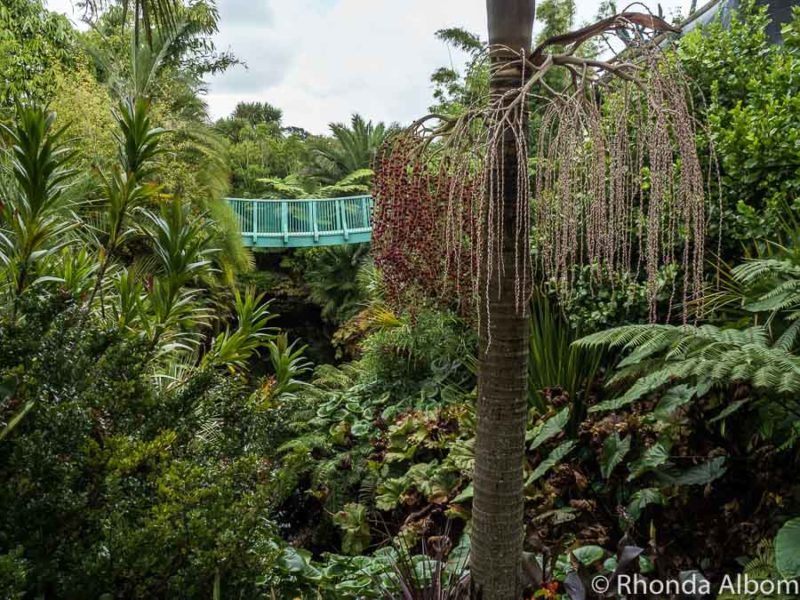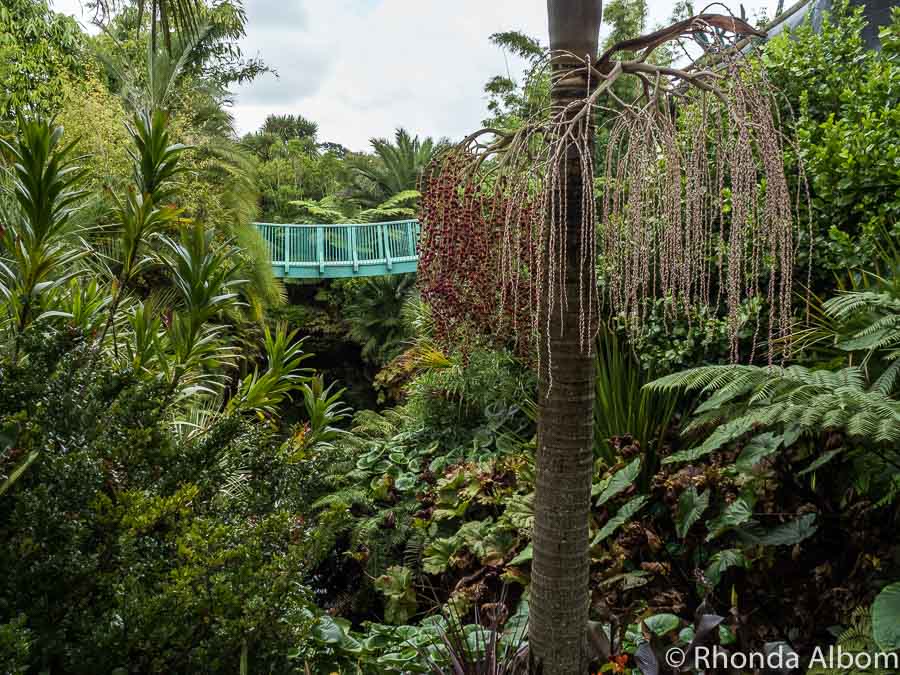 Practical information on visiting the Hamilton Gardens
Hamilton is 125 km southwest of Auckland (New Zealand's largest city), 103 km northwest of Rotorua (New Zealand's geothermal region), and 500 km north of Wellington (New Zealand's capital city).
Currently, a visit to the gardens is one of the free things to do in Hamilton, although this may change soon, as it is being discussed by city council.
Located on Hungerford Crescent, Hamilton Gardens has plenty of free parking.
Open daily, the Hamilton Gardens hours are:

Information Centre and Shop is open from 9 am to 5 pm.
Enclosed Gardens open at 7 am, closing at 7.30 pm in summer and 6 pm in winter.
Victorian Garden Display House open at 10 am, closing at 5 pm in summer and 4 pm in winter.

Allow enough time for a meal, or at least a coffee at the Hamilton Gardens Cafe. We enjoyed the outdoor seating overlooking Turtle Lake.
We picked up a Hamilton Gardens map at the Information Centre for a small fee, or you can click here to download a map.
A Hamilton Gardens wedding or other special events can be booked at the Hamilton Gardens Pavilion.
Taking a Tour from Auckland to Hamilton Gardens
If you don't have your own transportation, you can visit Hamilton Gardens as one of the stops on a tour from Auckland.  Here are two we like:
Hamilton Gardens & Hobbiton Exclusive Luxury Day Tour: This all-day tour takes you from Auckland to beautiful Hamilton Gardens. Then it's onto historic St Andrews Anglican Church in the "English" town of Cambridge. Lunch is included before a quick photo stop at a hydro-electric power station on Waikato River/Lake Karapiro. Finally, what many consider the highlight, a guided tour of the Hobbiton Movie set. (This tour includes two hours at the Hamilton Gardens)  ⇒ Check pricing for the Hamilton Gardens & Hobbiton Day Tour From Auckland
Sanctuary Mountain (Mt Maungatautari) & Hamilton Gardens Day trip from Auckland: Also an all-day tour, this option is more about nature and then Hobbits. It starts with a viewpoint photo stop and a walk across a swing bridge to view the Arapuni hydroelectric power station. Then on to a 1.5 hour guided tour of Sanctuary Mountain, a mainland ecological island enclosed with a predator-proof fence, thus allowing some of New Zealand's rarest flora and fauna to flourish. There are endangered plants, insects, birds, bats, frogs, and geckos here. It is the largest of its type in the world. A picnic lunch is provided. Next, cross a dam over a second hydroelectric station before making your way to Hamilton Gardens. (This tour includes one hour at the Hamilton Gardens)  ⇒ Check pricing for Sanctuary Mountain & Hamilton Gardens tour from Auckland
Rocky Horror Picture Show Fans, Don't Miss the Riff Raff Statue and more . . .
There are moments when the age generation gap is glaringly apparent on the faces of our young adult children, and for us, Riff Raff Square was one of those moments.
Rocky Horror Picture Show fans may or may not already know that its creator was a Hamilton resident. In the centre of town on Victoria Street, the statue of Riff Raff stands proudly in the Square named for him.
Who is Riff Raff? He is the movie's butler played by creator Richard O'Brien. For young people, it's a mystery. For millennials, it's a chance to giggle at their parents. I know my girls did when Jeff and I excitedly did the Time Warp. 'It's just a jump to the left and a step to the right.' I am pretty sure it was the pelvic thrust that had them rolling their eyes.
Other Free Things to Do in Hamilton
Riverside Walkway: Stroll or cycle on the 11 km Riverside Walkway as it winds alongside the Waikato River through native bush and a few residential areas.
Waikato Museum: It's a small museum with a collection of Māori artefacts, artwork, and a superbly carved waka (war canoe). Special exhibits may have an entry fee.
Taitua Arboretum: Gifted to the city of Hamilton in 1997, it is a lovely spot for a stroll or picnic under mature trees, or alongside the small lake.
Not So Free Hamilton Activities
Hamilton Zoo: Home to New Zealand's only tapirs and fishing cats, a visit to the zoo is one of the best things to do with kids in Hamilton. In total, there are over 600 native and exotic species at the zoo.
Classics Museum: Over 100 classic cars are on display.
Cruise on the Waikato River: Daily 90-minute cruises are available, including a Saturday wine tasting cruise.
Zealong Tea Estate: Sip a cup of organic pure oolong tea at the tea house or tour New Zealand's only tea plantation.
Where to Stay in Hamilton
As one would expect in New Zealand's fourth largest city, the range of Hamilton accommodation options spans from backpacker to luxury. Whichever you choose, we find the best prices by comparing at HotelsCombined and usually reserving through booking.com.
⇒ Check Hamilton accommodation availability at booking.com
Read next: Enjoy an Auckland to Wellington Drive with These Stops
If you enjoyed this photo tour of Hamilton Gardens, or the Riff Raff statue, please share it on social media including Pinterest: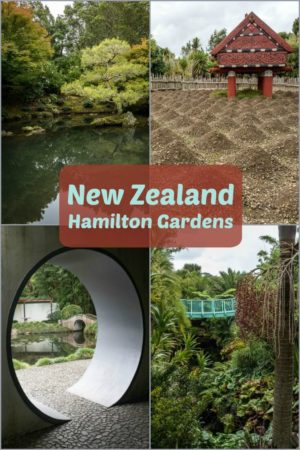 Will you visit Hamilton Gardens or one of the other things to do in Hamilton?