Honestly, Hamilton Gardens caught me by surprise. One of a kind, it's not like any other botanical attractions we have visited. It's an internationally acclaimed horticultural venue in New Zealand that tells the story of different civilizations, cultures and their respective gardens.
Strolling through the 18 diverse themed gardens and the outer gardens is a perfect peaceful escape from the hustle and bustle of life.
Located less than 2 hours from Auckland, we have visited Hamilton Gardens as a day trip as well as stopping here nearly every time we are headed south.
In addition to a bit of history, it's also a great place to be enchanted by impressive and artistic displays and learn about what grows in my garden.
Some of the 28 gardens are exactly as I expected from their name, while others caught me off guard. While one could rush through the entire place in less than an hour, my advice is don't.
From the serene Japanese Garden of Contemplation to the enchanting Surreal or Herb Gardens, the numerous themed gardens always take my breath away.
The best part? Admission to this botanical wonderland is completely free.
Hamilton Gardens need to be experienced and enjoyed. Until you can get here yourself, we shared our experience below.
New Zealand highlights trending on Albom Adventures
Hamilton Gardens: enclosed gardens
There are 54 hectares comprising New Zealand's Hamilton Gardens. The themed gardens located in the enclosed section are free to enter during the day and generally closed at night.
We tend to focus our time on the enclosed sections, strolling through one themed area after the next as if we were taken on a journey through time.
The photos below represent our favourite areas.
Paradise Collection at Hamilton Gardens
The Paradise Collection is all about tradition. It includes the Indian Char Bagh, Italian Renaissance, Japanese Garden of Contemplation, the Chinese Scholars', English Flower, and Modernist gardens.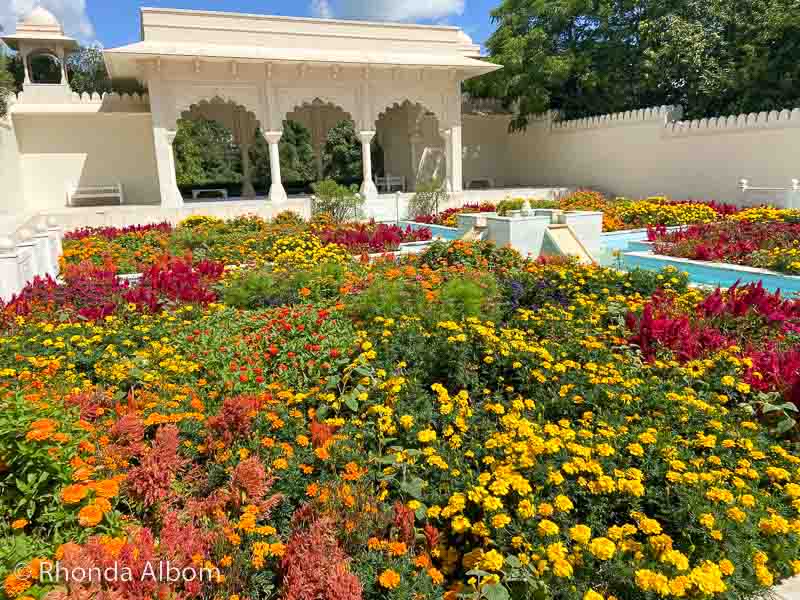 Indian Char Bagh
The original paradise garden, it's an icon of the universe, therefore often called "the universal garden." We were thrilled to see the bright colours blooming on our most recent visit.
Italian Renaissance
Sculptured and perfect, the Italian Renaissance, to my surprise, was my favourite of the gardens. With an emphasis on both Greek and Roman achievements, there is even a detailed statue of Romulus and Remus.
Japanese Garden of Contemplation
Often referred to as Zen Gardens, these dry landscape gardens represent the Muromachi era of Japanese history. With minimal vegetation, they are peaceful.
Chinese Scholars'
There is a similarity between the Chinese gardens we have seen around New Zealand and the world that is based on over 2000 years of tradition. This garden is no exception, from its winding pathways to its bridges.
English Flower
Inspired by the 19th-century arts and crafts style, we found this a peaceful place to stroll.
Modernist
Unique, the Modernist garden is fun, lively, and full of non-traditional shapes. In fact, to my husband, it was instantly reminiscent of a classic California backyard when he was growing up. From the kidney-shaped swimming pool to the Cape Cod chairs.
Productive Collection at Hamilton Gardens
The productive collection represents different aspects of the relationship between people and plants. Impressively, the food grown here is donated to Kaivolution Food Rescue. This charity helps feed local people in need by providing fresh food.
The collection includes: Te Parapara, Sustainable Backyard, Herb, Kitchen, and Ancient Egyptian gardens.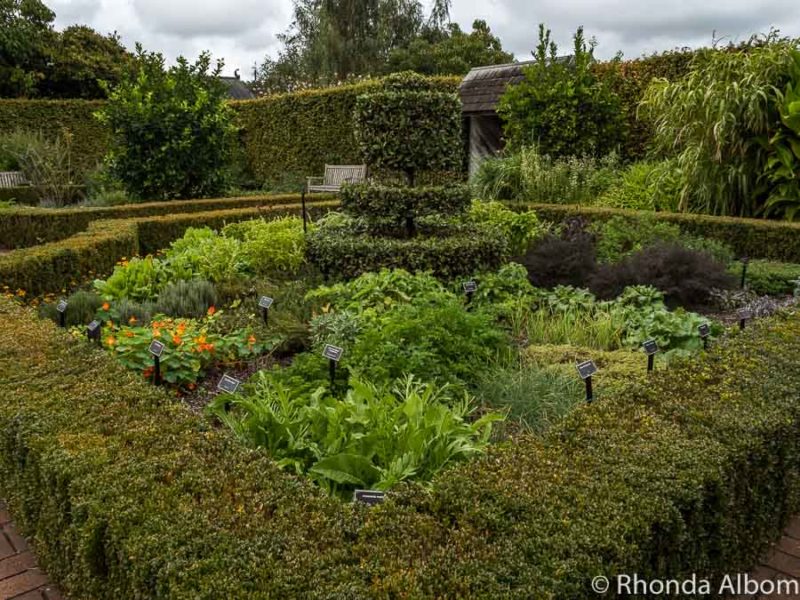 Te Parapara
Te Parapara is the country's only traditional productive Māori garden on display. Our most recent visit was the first time we had actually been here when the kumara (Māori sweet potato) was growing.
Sustainable Backyard
A small garden at this public venue yet an example of a large backyard garden that demonstrates the principles of sustainable food growth.
Herb
Traditional and comprehensive herb garden featuring plants used for food preparation, cosmetics, perfume, and medicinal purposes.
Kitchen
An old fashion garden that I wish grew in my yard. Filled with herbs, fruits and vegetables, it is what every chef desires. Best of all, the signage helps to identify the plants.
Ancient Egyptian
At first glance, we wondered how this beautiful new garden belongs in the productive collection. The signage clarifies; it represents the celebration of the annual harvest and the flooding of the Nile in ancient Egypt.
Fantasy Collection at Hamilton Gardens
The fantasy collection focuses on the relationship between gardens, fantasy, and art. It includes Surrealist, Picturesque, Tudor, Tropical, Chinoiserie, Concept, and Mansfield.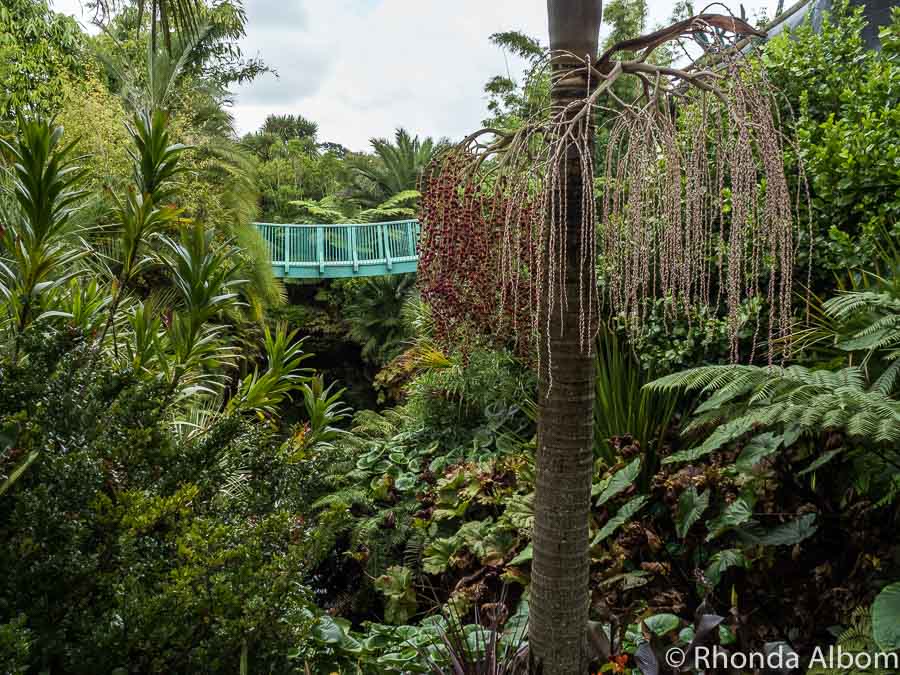 Surrealist
A perfect name for this larger-than-life, bizarre garden. It's one that needs to be experienced first-hand to be appreciated. Don't forget your camera, especially if you are like us and enjoy posing for fun shots.
Picturesque
An 18th-century garden inspired by fantasy and a desire for wild romantic landscapes.
Tudor
This one had a more playful feel to it. The self-opening doors lead to the Time Court, with a bit of an Alice in Wonderland feel to them.
Tropical
There is something impressive about tropical plants growing in this sub-tropical climate.
Chinoiserie
This large open garden space incorporated a fanciful European interpretation of Oriental design in the late 18th and 19th century gardens.
Concept
The motivation came from two Maori whakataukii (proverbs) and map legends. The whakataukii on the wall reads, "He peke tangata, apa he peke titoki" (The human family lives on while the branch of the titoki falls and decays.) While the second whakataukii is on a pipe and reads, "Whatungarongaro te tangata toituu te whenua" (As man disappears from sight, the land remains.)
Mansfield
A picturesque classic early 20th century New Zealand scene, as described in "The Garden Party", a short story by Katherine Mansfield.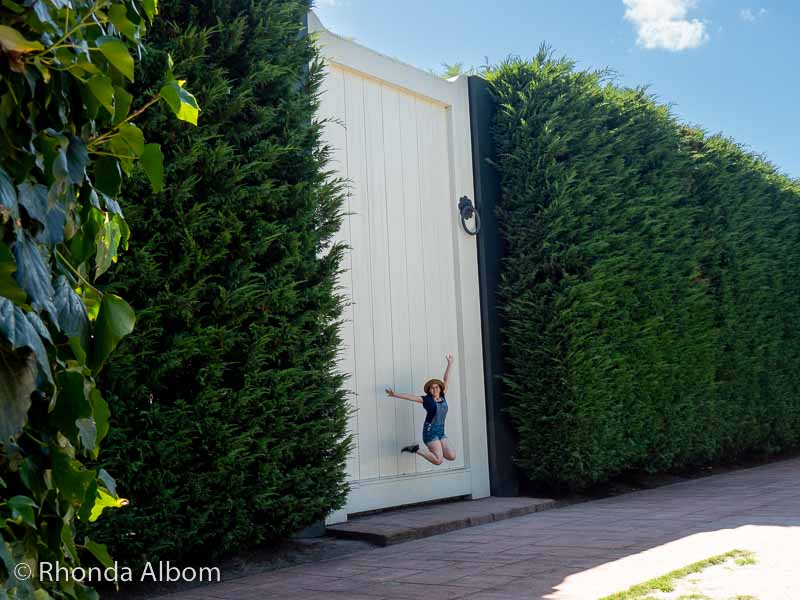 Hamilton Gardens: outside the enclosed area
The gardens outside the enclosed area are more traditionally what is found in botanic gardens. They cover way more than half the grounds and include:
Cultivar Collection: Rogers Rose, Hammond Camellia, Rhododendron Lawn, and a Victorian Flower.
Landscape Collection: Bussaco Woodland, Valley Walk, Hamilton East Cemetery and Echo Bank Bush.
Where are Hamilton Gardens?
The city of Hamilton is located 125 km southwest of Auckland, about 100 km northwest of Rotorua, and 500 km north of Wellington. Located on the southeast corner of the city, the official address is Hungerford Crescent, Hamilton East.
Before you visit …
Entry to Hamilton Gardens is free. Occasional tours are prescheduled, usually on the weekends. While pre-booking is not required, you can prebook here.
There is plenty of free parking.
Open daily, the hours are:

Information Centre and Shop: 9 am to 5 pm.
Enclosed Gardens: open at 9 am and close at 5 pm (last entrance at 4.30 pm).
Public toilets: 8 am to 5.30 pm
Gates at the road entrance: 6.15 am to 9 pm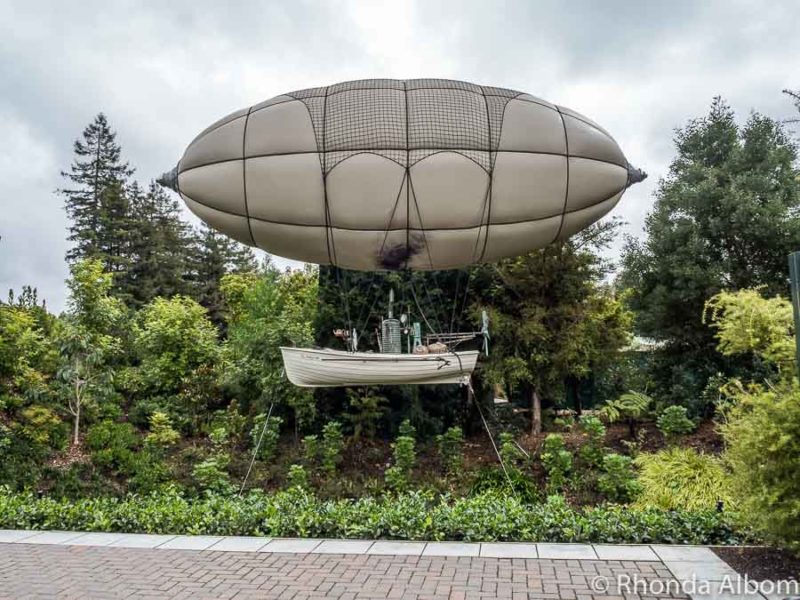 Taking a tour from Auckland to Hamilton Gardens and Hobbiton Movie Set
Calling all Lord of the Rings fans, this might be the perfect chance if you haven't added the Hobbiton Movie Set to your New Zealand itinerary. It's a long day, but for those short on time or those who simply don't want to do the driving, this all-day tour may be for you.
First, travel to Matamata to tour Hobbiton Movie Set, the only remaining LOTRs set still intact in New Zealand. Then it's off to Hamilton to explore the Hamilton Gardens on your own. A long day, but it's a great way to enjoy some of New Zealand's highlights. Reserve your tour here.
More about the Hamilton Gardens, New Zealand
Winner of the prestigious 'International Garden Tourism Award' in 2014.
Allow enough time for a meal or at least a coffee at the cafe. We often enjoy the outdoor seating overlooking Turtle Lake, although we brought a picnic for our last visit.
We picked up a map at the Information Centre for a small fee, or you can click here to download a map.
Weddings or other special events can be booked at the Pavilion.
Note that while Hamilton Gardens are free, there is talk of charging $10 entry to visitors from outside the area beginning sometime in 2023. Entry was still free when we last visited in March 2023.
We consider Hamilton Gardens to be one of the 9 best New Zealand gardens.
From riverside walks to exotic teas, there are plenty of other things to do in the city.
Read next: Enjoy an Auckland to Wellington Drive with These Stops
Save on your NZ trip with these resources
These are our go-to companies when we travel. We believe this list to be the best in each category. You can't go wrong using them on your trip too.
Check out our travel resources page for more companies that we use when you travel.
Save for later
If you enjoyed this article, please share it on social media and save it for later on Pinterest.
Whether you're a nature lover or simply seeking a peaceful escape from the hustle and bustle of life, Hamilton Gardens is the perfect destination.
Which is your favourite of the Hamilton Gardens?