Hamilton Gardens, New Zealand is one of a kind. It's not your usual botanical garden. Instead, this internationally acclaimed, well-manicured series of themed gardens tells a story. Interestingly, it's the story of gardens over time and across cultures.
While some of the 21 themed gardens are exactly as I would expect from their name, others took me by surprise. The Hamilton Gardens are something that needs to be experienced and enjoyed. While you could rush through in an hour, my advice is don't. Take the time to soak it all in and appreciate the detail and cultural differences.
There are 54-hectares comprising the Hamilton Gardens NZ. The 21-themed gardens are located in an enclosed gardens section that is free to enter during the day and generally closed at night.
Hamilton Gardens, New Zealand
We focused our time on the enclosed gardens. Here, we strolled through one themed garden after the next, as we were taken on a journey through time. The gardens include:
Paradise Collection includes six gardens: Indian Char Bagh Garden, Italian Renaissance, Japanese Garden of Contemplation, Chinese Scholars', and English Flower, and a Modernist Garden.
Productive Collection features five gardens: Te Parapara, Sustainable Backyard, Herb, and a Kitchen Garden.
Fantasy Collection includes 8 impressive gardens: Surrealist, Picturesque, Tudor, Tropical, Chinoiserie, Concept, and a Mansfield Garden.
Cultivar Collection features the Rogers Rose Gardon, Hammond Camellia Garden, Rhododendron Lawn and a Victorian Flower Garden.
Landscape Collection also has four gardens: Bussaco Woodland, Valley Walk, Hamilton East Cemetery and Echo Bank Bush.
With attention paid to every detail, we know we missed as much as we took in. I am already thinking about my next visit when I am sure to take a 75-minute guided tour from Klook.
New Zealand highlights trending on Albom Adventures
Photo tour of some of Hamilton Garden's enclosed gardens
Featured here in the order we strolled through the gardens.
Japanese Garden of Contemplation
Often referred to as Zen Gardens, these dry landscape gardens represent the Muromachi era of Japanese history. With minimal vegetation, they are peaceful.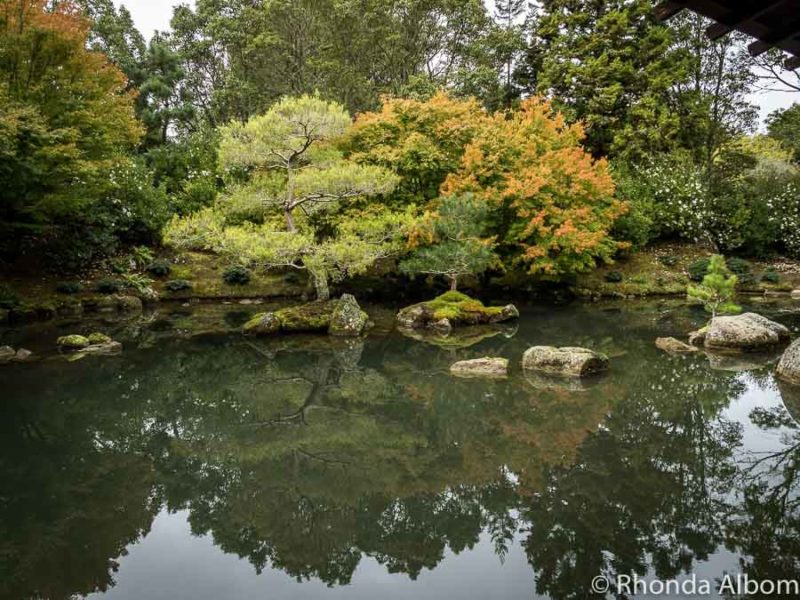 Chinese Scholars' Garden
There is a similarity between the Chinese gardens we have seen around New Zealand and the world that is based on over 2000 years of tradition. This garden is no exception, from its winding pathways to its bridges.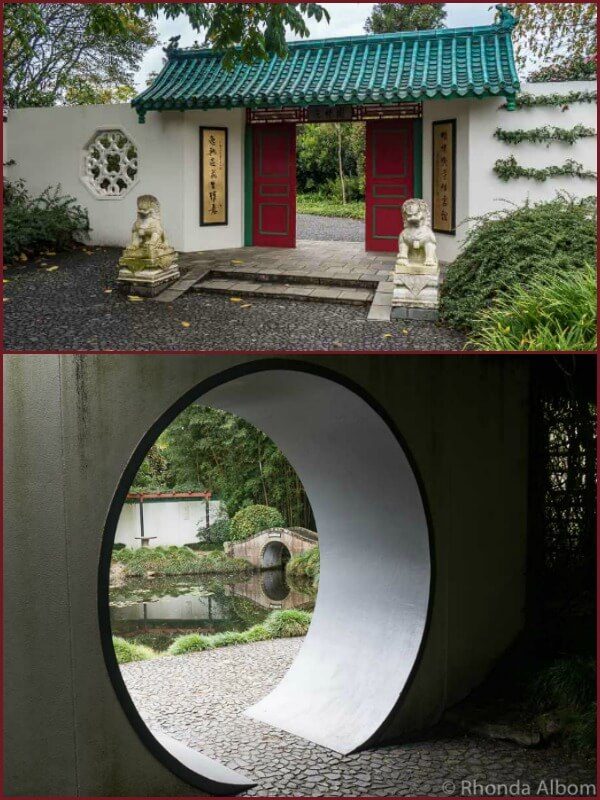 Modernist Garden
Instantly different from the other gardens, the Modernist garden is fun and lively, and full of non-traditional shapes.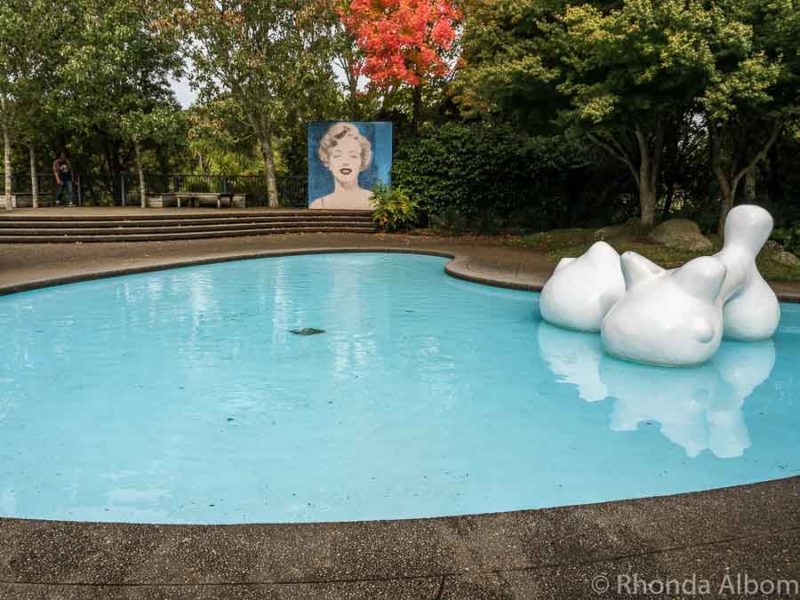 Italian Renaissance Garden
Sculptured and perfect, the Italian Renaissance Garden, to my surprise was my favourite of the gardens. With an emphasis on both Greek and Roman achievements, there is a detailed statue of Romulus and Remus.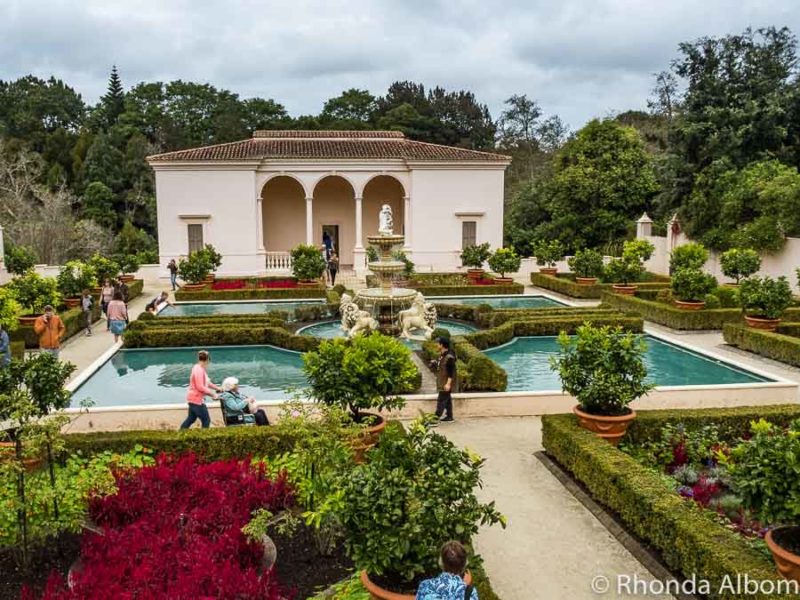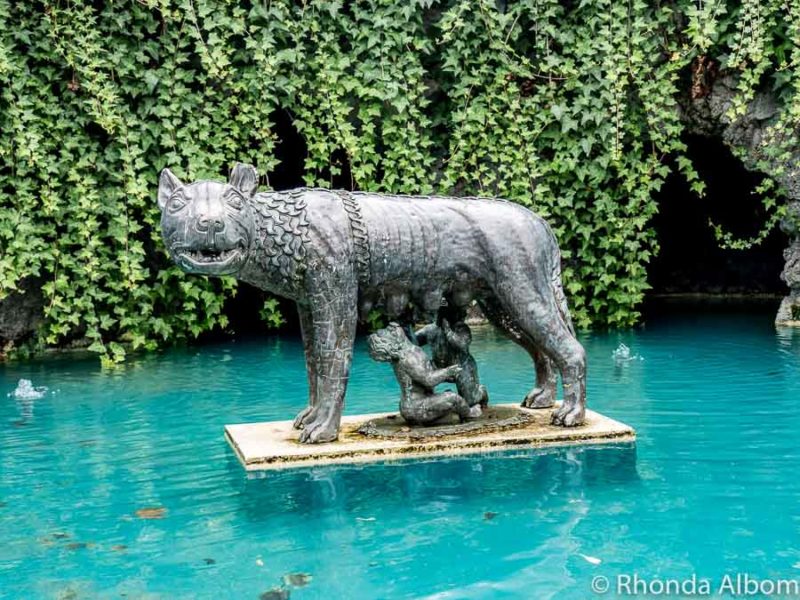 Te Parapara Garden
Te Parapara is the country's only traditional productive Māori garden on display. Our visit was just after the kumara (Māori sweet potato) harvest, so there was nothing growing. Perhaps next time.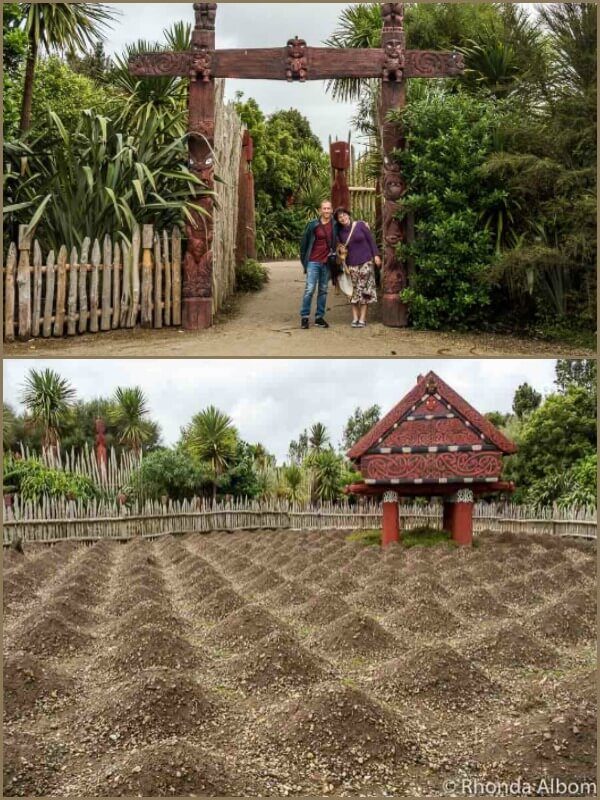 Tudor Garden
Another sculptured garden, this one had a more playful feel to it. The self-opening doors lead to the Time Court, with a bit of an Alice in Wonderland feel to them.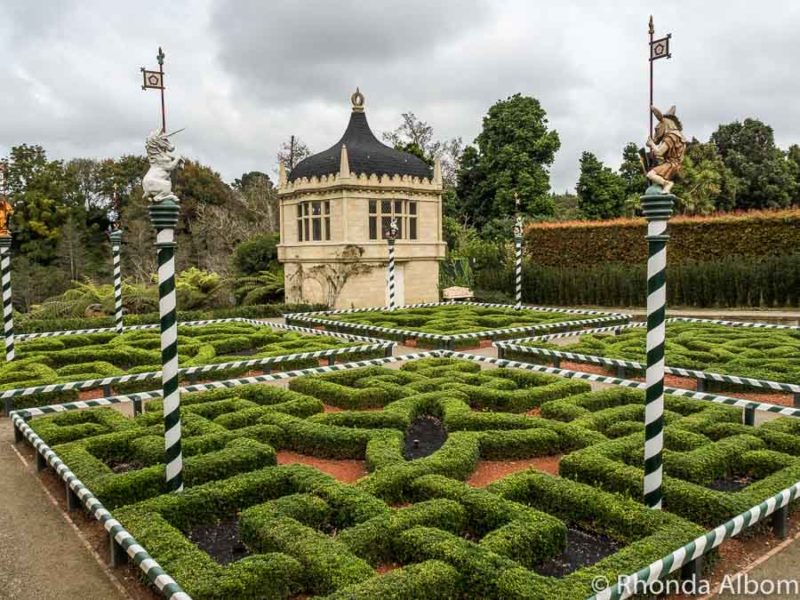 Concept Garden
This garden's motivation came from two Maaori whakataukii (proverbs)and map legends. The whakataukii on the wall reads, "He peke tangata, apa he peke titoki" (The human family lives on while the branch of the titoki falls and decays.) While the second whakataukii is on a pipe and reads, "Whatungarongaro te tangata toituu te whenua" (As man disappears from sight, the land remains.)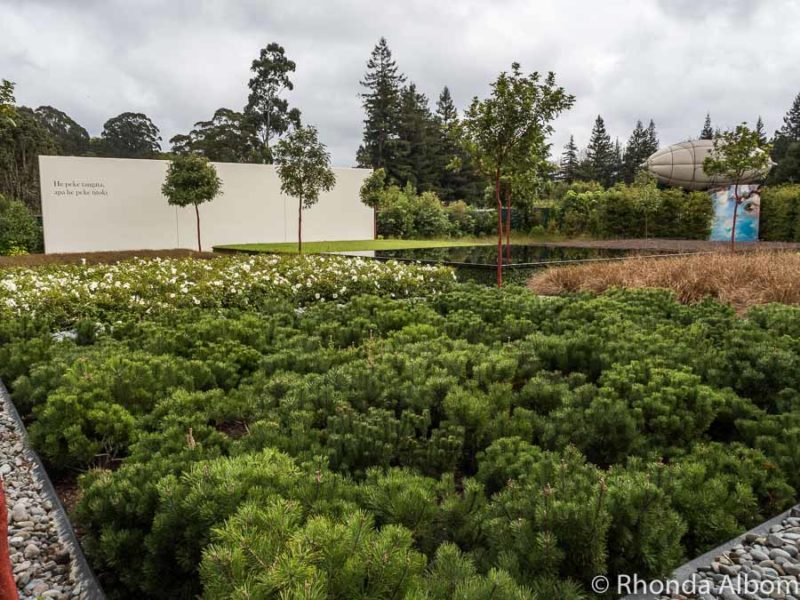 Kitchen Garden
An old fashion garden that I wish grew in my yard. Filled with herbs and vegetables, it is what every chef desires.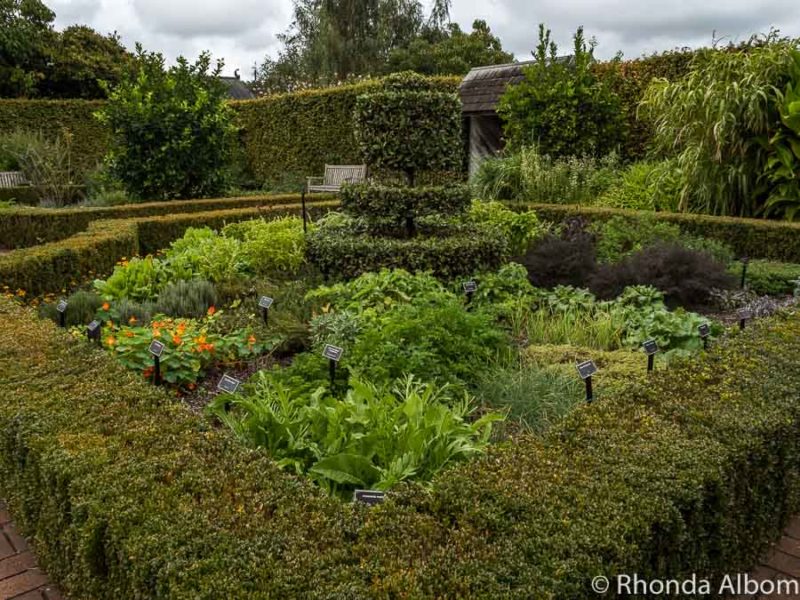 Tropical Garden
There is something impressive about tropical plants growing in this sub-tropical climate.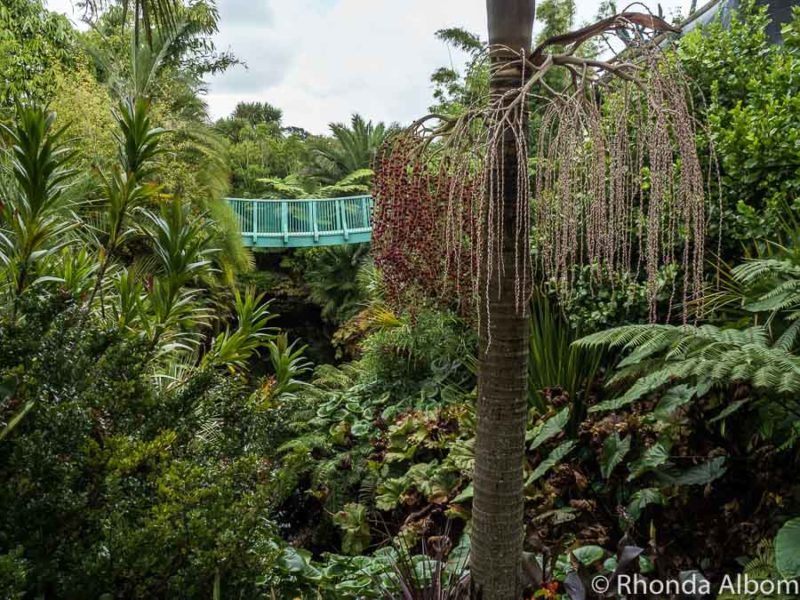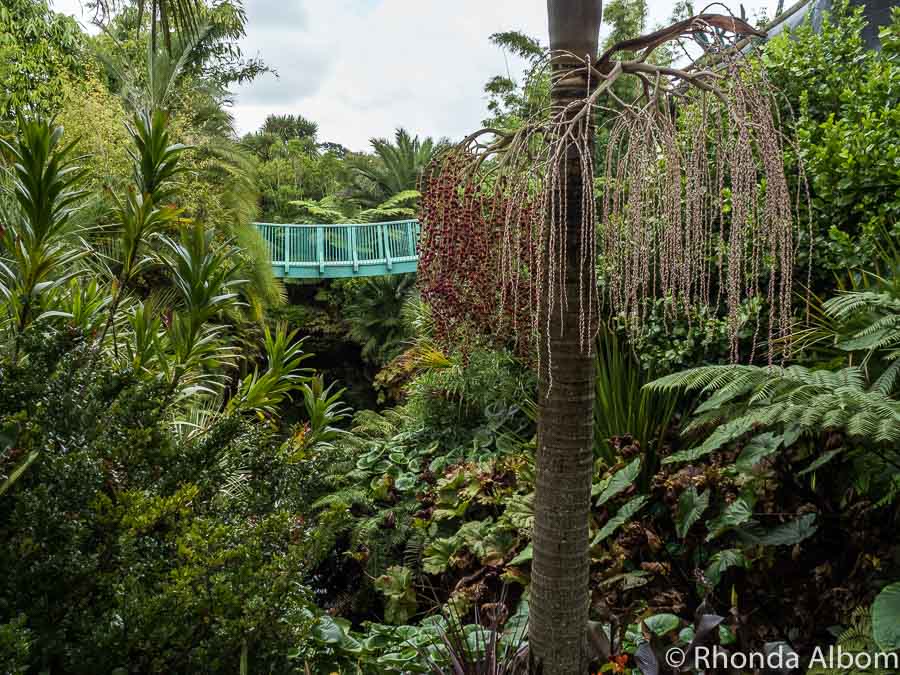 Where is Hamilton Gardens?
Hamilton Gardens' address is Hungerford Crescent, Hamilton. The city itself is located 125 km southwest of Auckland, about 100 km northwest of Rotorua, and 500 km north of Wellington.
Practical information on visiting the Hamilton Gardens, New Zealand
We earn from qualifying purchases through partnerships or affiliate programs.
Entry to the gardens is free, although there is an option to join an 11 am tour on Tuesdays, Thursdays and Sundays. While pre-booking is not required, if you are one who prefers to prebook, you can do it with Klook for the Hamilton Gardens.
Hamilton Gardens has plenty of free parking.
Open daily, the Hamilton Gardens hours are:

Information Centre and Shop: 10 am to 5 pm.
Enclosed Gardens: open at 10 am and close at 5 pm.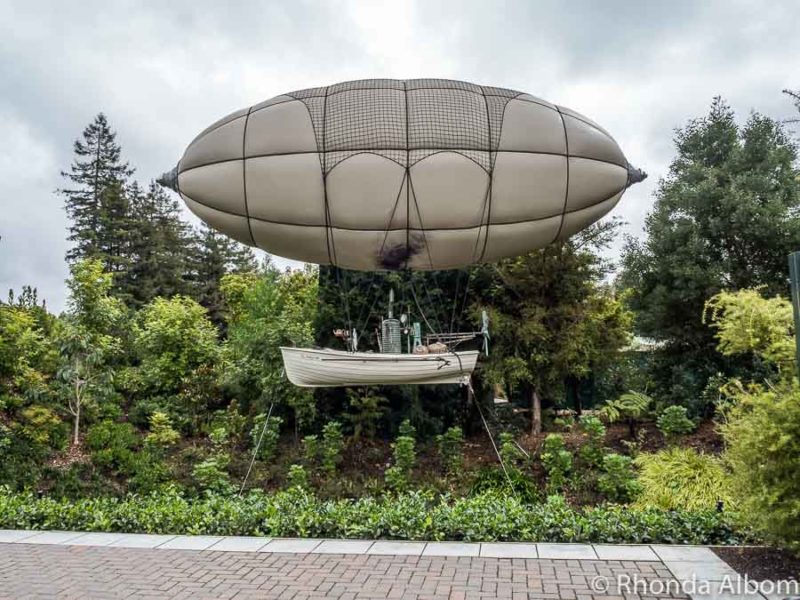 Taking a tour from Auckland to Hamilton Gardens
If you don't have your own transportation, you can visit Hamilton Gardens as one of the stops on a tour from Auckland. Here are two we like:
Hamilton Gardens & Hobbiton Exclusive Luxury Day Tour: This all-day tour takes you from Auckland to beautiful Hamilton Gardens. Then it's onto historic St Andrews Anglican Church in the "English" town of Cambridge. Lunch is included before a quick photo stop at a hydro-electric power station on Waikato River/Lake Karapiro. Finally, what many consider the highlight, a guided tour of the Hobbiton Movie set. (This tour includes two hours at the Hamilton Gardens) Check price for this tour.
Sanctuary Mountain (Mt Maungatautari) & Hamilton Gardens Day trip from Auckland: Also an all-day tour, this option is more about nature than Hobbits. It starts with a viewpoint photo stop and a walk across a swing bridge to view the Arapuni hydroelectric power station. Then on to a 1.5 hour guided tour of Sanctuary Mountain, a mainland ecological island enclosed with a predator-proof fence, thus allowing some of New Zealand's rarest flora and fauna to flourish. There are endangered plants, insects, birds, bats, frogs, and geckos here. It is the largest of its type in the world. A picnic lunch is provided. Next, cross a dam over a second hydroelectric station before making your way to Hamilton Gardens. (This tour includes one hour at the Hamilton Gardens). Check price for this tour.
More about the Hamilton Gardens New Zealand
Hamilton Gardens won the prestigious 'International Garden Tourism Award' in 2014.
Allow enough time for a meal, or at least a coffee at the Hamilton Gardens Cafe. We enjoyed the outdoor seating overlooking Turtle Lake.
We picked up a Hamilton Gardens map at the Information Centre for a small fee, or you can click here to download a map.
A Hamilton Gardens wedding or other special events can be booked at the Hamilton Gardens Pavilion.
From riverside walks to exotic teas, there are plenty of other things to do in Hamilton.
Read next: Enjoy an Auckland to Wellington Drive with These Stops
Save on your NZ trip with these resources
We usually start with aggregator companies as they do the work for us by providing a list of options, prices, and reviews. However, we also added a few personal NZ favourites:
Before you book the rest of your trip: Check out our travel resources page for more companies that we use when you travel.
We believe this list to be the best in each category. You can't go wrong using them on your trip too.
Save for later
If you enjoyed this article, please share it on social media and save it for later on Pinterest.
Will you visit Hamilton Gardens or one of the other things to do in Hamilton?