Today, the laid-back seaside town of Russell, New Zealand is an idyllic retreat. Charming and romantic, it's an opportunity to slow down and head back in time. A town inviting us to relax with a coffee or wine, we also like to take time to explore Russell. A Bay of Islands destination in New Zealand, this town has a surprising, fascinating, and sordid history.
Plus, there are plenty of fun and interesting things to do in Russell.
Russell has a few claims to fame:
It is New Zealand's first permanent European settlement.
Russell boasts the country's first colonial capital (nearby Okiato)
It holds the country's first licenced hotel and bar
Is a former whaling station
Home to NZ's oldest church.
Russell's Māori name, Kororareka, means "how sweet is the penguin" and today, little blue penguin sightings are common out in the bay.
Some links on this page can save you up to 70%. We earn from qualifying purchases through partnerships or affiliate programmes.
Start with some of our Bay of Islands highlights
Russell is a Bay of Islands town with stories to tell
A seaside location and whaling shore station, it rapidly developed a swashbuckling reputation. Drunken men and loose women earned Russell the moniker 'Hell Hole of the Pacific'.
Missionaries establish New Zealand's oldest church
Next came the missionaries intending to bring religion to this new land. In Russell, they had their work cut out for them. Christ Church was established in 1836 and is New Zealand's oldest church.
The Treaty of Waitangi established New Zealand as a nation under British protection in 1840. Russell became the country's first colonial capital city. The largest marker in the graveyard outside of Christ Church marks the grave for Tamati Waka Nene, a high-ranking Māori chief who was largely responsible for the acceptance of the Treaty of Waitangi by the Māori people.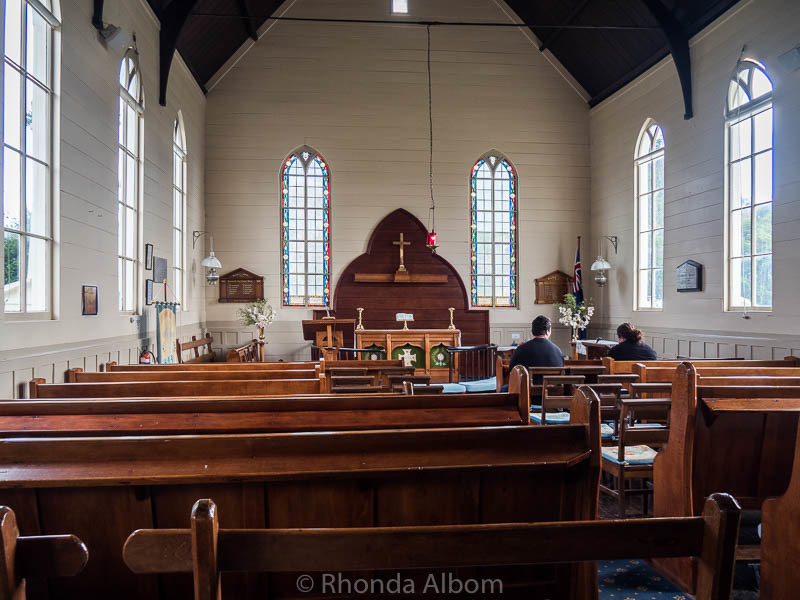 While today, the church is open to the public, entrance donation is on the honour system. The requested donation was only a gold coin ($1-$2) on our last visit. Weekly worship is held every Sunday at 10.30 am and is also open to the public.
Conflict and musket holes in Russell's old church
Throughout the mid-nineteenth century, there were many conflicts in New Zealand between the European settlers and the Māori people. The first of these was the Battle of Kororareka in 1845.
Interestingly, you can still see musket holes in the walls of the church from this battle. Although, at first glance, the musket holes are not very noticeable.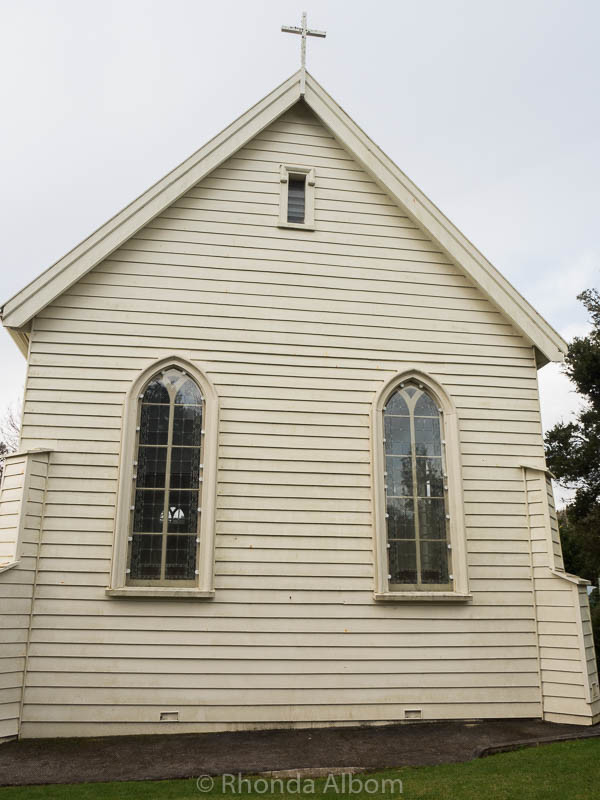 On closer inspection, I could spot two musket holes in Christ Church in the third and seventh panels from the bottom in the photos.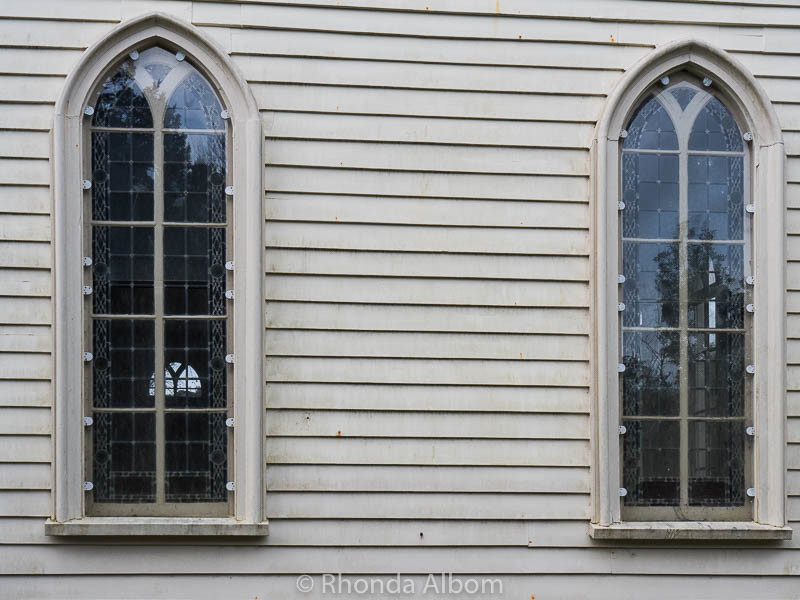 Duke of Marlborough Hotel
If you can work it out and the weather permits, save time for a meal, a coffee, or just a relaxing glass of wine at sunset from the Duke of Marlborough Hotel verandah. Established in 1827, it's the first licensed hotel in New Zealand.
The sign out front reads, "The Duke of Marlborough has provided hospitality to travellers and fishermen since the infamous days when Russell was a whaling port."
Better still, take in some real history and spend a night or two. It's a 19th-century hotel complete with modern facilities and a traditional twist. It's a four-star accommodation with waterfront views from the restaurant and many of the rooms. One visit and you will understand why it won a 2019 People's Choice award for Excellence from Hospitality New Zealand.
A Sewing Machine in a Tree?
Duke of Marlborough's restaurant is well known for its creative fare, over 100 different wines, and 30 beers, but the real fun is brought to life by its friendly staff. On our last visit, our server told a story of a hotel fire some 170 years ago. As the hotel burned, someone tried to save a big heavy sewing machine by tossing it out the window.
As the story goes, the sewing machine landed in the tree outside, which is where it stayed. The tree grew around it, and today, if you look closely, you can see little bits of the metal.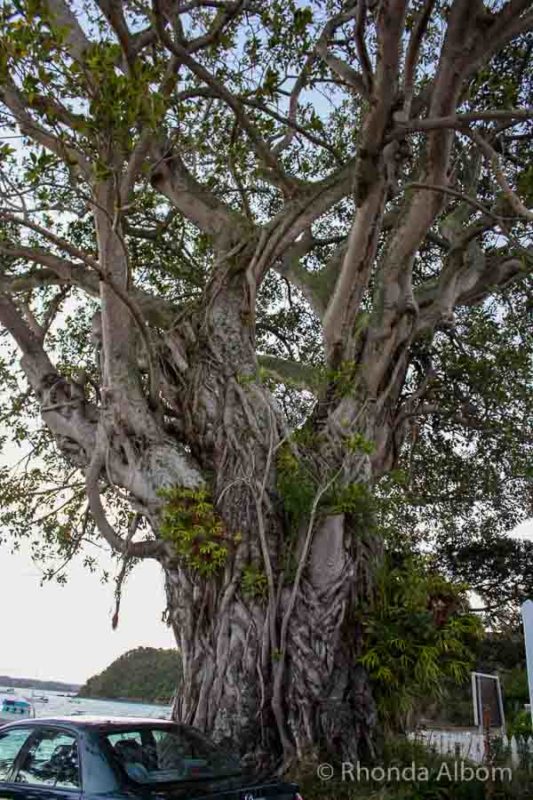 Russell was an early whaling station
A visit to the Russell Museum will highlight the local Māori history as well as the lawless days of the early 1800s when the first American and European whaling ships arrived in New Zealand. Even if it's closed, stop by for some of the always available outdoor exhibits.
For some unknown reason, members of our family seem compelled to climb inside the whaling caldrons.
New Zealand no longer participates in whaling
According to the Department of Conservation, today "New Zealand plays a leading role in the management and protection of the world's whales and is a recognised world leader in marine mammal protection."
The Hell Hole of the Pacific . . . Today
Visitors to Russell today are spoilt for choice. From cafes to long walks, there is plenty to do in Russell. Although, sometimes we just like to walk the streets and enjoy the colonial charm. Here are some of the highlights, several being obvious from the above text.
Historic things to do in Russell, Bay of Islands
Visit Christ Church, and take time to look for the musket holes and to walk through the small graveyard.
Explore the Russell Museum and the surrounding grounds.
Discover Haratu – the Māori Museum.
Take a tour of Pompallier Mission and Printery. It's NZ's oldest Roman Catholic Building and the place where Catholic missionaries translated their religious texts into Māori, printing over 40,000 books here.
Relaxing things to do in Russell, Bay of Islands
Have a coffee or a wine at the Duke of Marlborough Hotel while enjoying the waterfront view.
Enjoy a wine tasting at Omata Estate Vineyard and Kitchen.
Spend time at the beach and have a swim or build a look for shells.
Search for marine mammals on a 50ft catamaran with a Wildlife Cruise (use this link to check for discounts).
Note: swimming with dolphins is not permitted in the Bay of Islands.
Have a meal at the Gables, a restaurant in a building from 1847 with an unusual history having been a bakery, bordello, and shelter for AWOL sailors.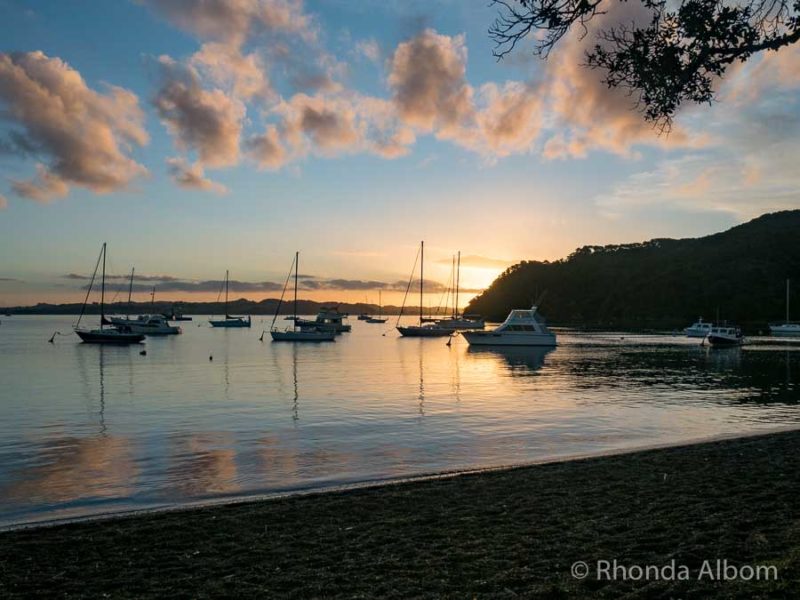 Active things to do in Russell, Bay of Islands
Climb or drive up Maiki Hill (Flagstaff Hill) for fabulous views. It was built to commemorate the signing of the Treaty of Waitangi.
Take a fast boat out to the famous Hole in the Rock at Cape Brett on Explore's Ocean Adventure (check for discounts). A highlight of our last visit, we featured it prominently in the video above. You can start this adventure from Paihia or Russell.
Take the Russell ferry across the bay to Paihia and the rest of the Bay of Islands for the day and enjoy the beach, hiking, waterfalls, watersports, craft shopping, and the Waitangi Treaty Grounds, the birthplace of New Zealand.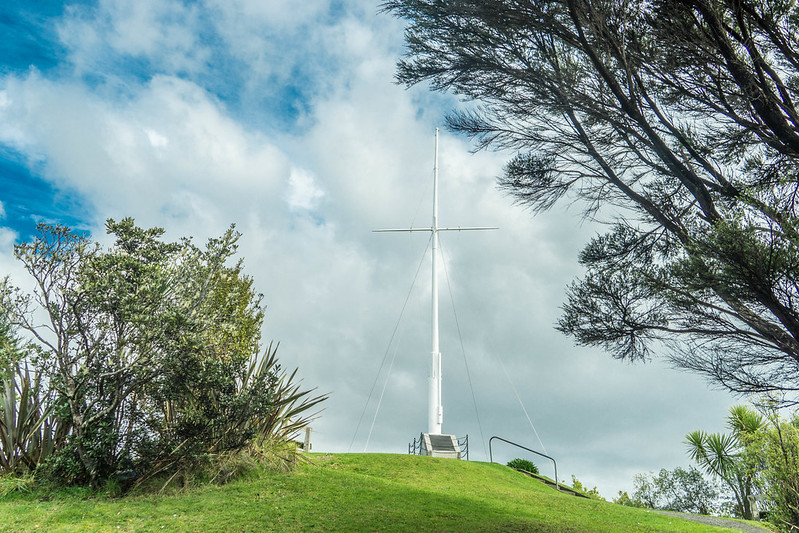 Getting to Russell
There are three ways to get to Russell. The most direct, and therefore most popular involve a ferry, either a passenger ferry from Paihia or a vehicle ferry from Opua. Check both ferry timetables here. There is also a windy backroad driving option.
Russell is a small community and easy to get around on foot, and if you are happy to walk, we find the 15-minute passenger ferry to be quite convenient. In fact, we often stay in Paihia and take a day trip to Russell.
Note: The walk to Flagstaff Hill from the Russell ferry terminal will take about 15 minutes, and it is uphill at the end.
If you prefer having a car in Russell, the vehicle ferry runs very regularly from Opua. Take Highway 1 to Kawakawa (north of Whangarei and south of Paihia). In Kawakawa, follow the signposts, which will have you turn towards the ocean onto SH11. You don't need to book in advance, and you pay once on the ferry.
Note: You will be on a sealed, but windy road to Opua.
To drive directly, turn onto Old Russell Road in Whakapara from SH1. Click here for more on any of these options.
Where to stay in Russell
If you don't want to stay at the Duke of Marlborough or if it's full, there are plenty of other great choices. Here are our top picks:
Duke of Marlborough (see above for details).
Arcadia Lodge offers deluxe rooms and suites, many with sea views. It's an 8-minute walk to town, so an okay option without a vehicle, if you don't have too much luggage initially. Check price and reviews.
Eagles Nest is just outside Russel and the ideal place to go for some five-star private luxury. Villas including champagne on arrival and gourmet breakfast provisions. Check price and reviews.
More about Russell, Bay of Islands
The Bay of Islands is located about 225 kilometres north of Auckland along the Pacific coast. It is an enclave containing 144 islands.
We often make the Bay of Islands the first overnight stop when we are road tripping from Auckland to Cape Reinga.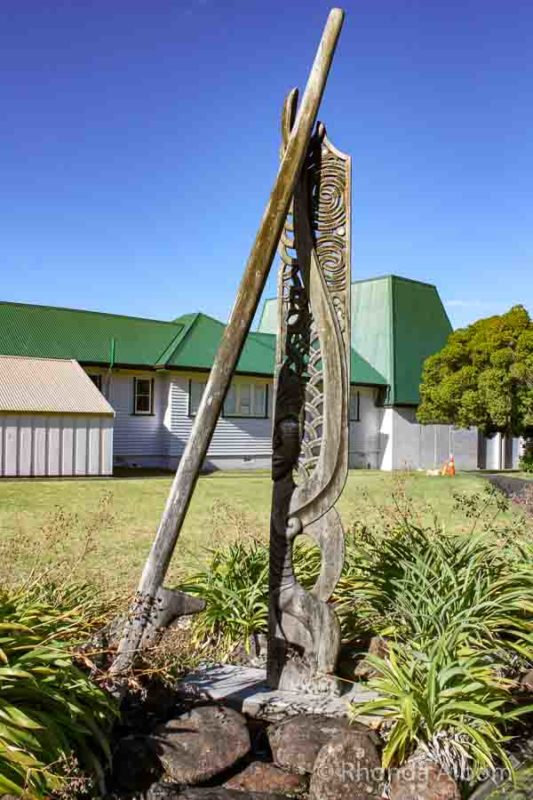 Book your NZ trip: Logistical tips
Book your flights
Use Expedia, our favourite flight search engine. They search worldwide and find the best and cheapest options.
Book your accommodation
We use Booking.com as they consistently return the best rates and their reviews are from actual guests. For self-contained lodging, we use Bookabach.
Reserve your vehicle
Use RentalCars.com to find the best deals on cars. With no hidden costs and outstanding customer service, we have successfully rented from them worldwide. Use Jucy for small campervans.
Activity discounts
Always check Bookme.com for discounts of up to 70% on selected tours, activities, restaurants and more. Also, our readers get an exclusive 10% discount on New Zealand activities from Klook with code: EXPLORENZ10
(Applies to NZ activity purchases over $50 initiated in NZ or Aus)
Before you book your trip
Check our travel resources page for more of the companies we use when we travel. We believe them to be the best in each category. You can't go wrong using them on your trip too.
Save for later
If you enjoyed this article, please share it on social media and save it for later on Pinterest.
What is your highlight from Russell, Bay of Islands?