Auckland's Stardome Observatory is a great night out for adults as well as kids. While they have several shows aimed at adults, "Our Night Sky" show is my favourite, as it changes each time we see it based on the current night sky.
It started out as a beautiful clear night, a perfect evening to visit the Stardome Observatory in Auckland.
Normally, I wouldn't care about the weather when heading to an indoor planetarium, but Stardome Observatory is different.
We headed to Our Night Sky, a planetarium show that is both live and interactive. As a result, both the presenter and the audience ask questions of each other.
Despite the minimum age of 5 for this show, the level of questions produced some fascinating discoveries.
All of this is done on a 360º live screen through Stardome Observatory's domed theatre.
Afterwards, we all headed outside to view the stars through the courtyard telescopes. Learning and then doing makes it more interesting.
Getting to Stardome Observatory
Getting here is fairly easy for us, as we live in and own a car in Auckland. Stardome Observatory is located inside Cornwall Park, which is also home to the iconic One Tree Hill.
There is a small carpark at the planetarium, but once it fills up you will need to park somewhere else inside Cornwall Park. There are plenty of close options.
I am not sure why, but the long queue to get in surprised us, even though everyone had advanced tickets, as this particular night had been sold out for days.
I wish we knew then to check for discounts, but today we do and always go first to 100% kiwi owned Bookme, where they now have discount options specifically for the Our Night Sky show at Stardome Observatory.
Stardome Observatory's dome theatre
The queue was actually waiting for the doors to the dome theatre to open. Once they did, people could pick their own seat, and first in had the first pick. Note that if you are late, you will not be let in.
All of the comfortable, reclined seats in the 360-degree dome theatre make it easy to see the show.
Pro Tip: The best viewing is actually from the back.
Rather than just a colourless dome as we entered the theatre, the dome mirrored the current sky just outside. This is when having it be a nice evening became more important.
On that particular night in January, it was nearly 8pm, and while the sun hadn't set yet, it was low in the sky.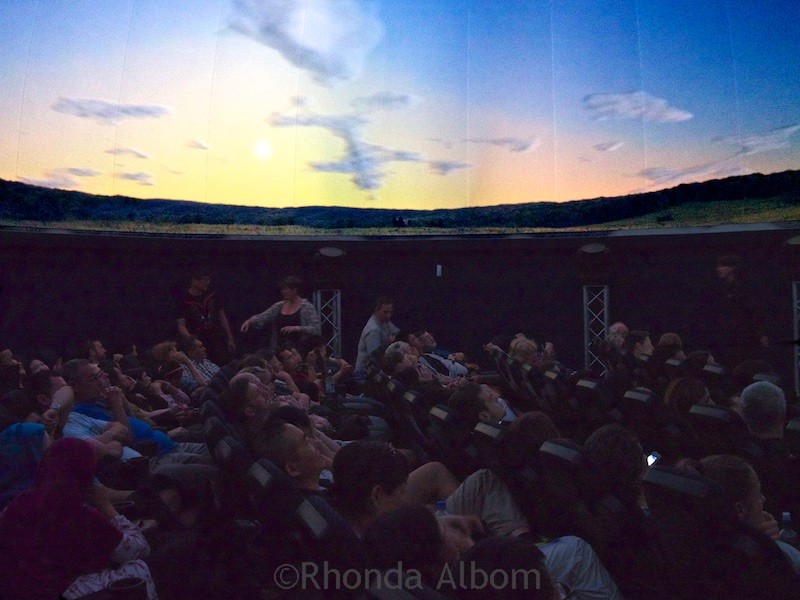 Our Night Sky
As I mentioned above, the show is live, rather than the more typical film we have seen of the planets at other planetariums.
It's also somewhat interactive and guided by an expert presenter.
Importantly, it starts with the local sky. Next, the effect resulting from the glow of the city lights is removed, and we can see the many more stars that are normally hidden from us.
After we have looked at all of the celestial sights locally, we begin to expand.
In fact, the presenter took us on a journey beginning in Auckland's current night sky and then travelling beyond the galaxy.
There were cool shots like the two just below. The first highlights Saturn as we moved away from earth, and the second photo shows the charted universe. It is visible from earth to 6 billion light-years away. The wedge shape created by our position in the galaxy blocks us from seeing through it.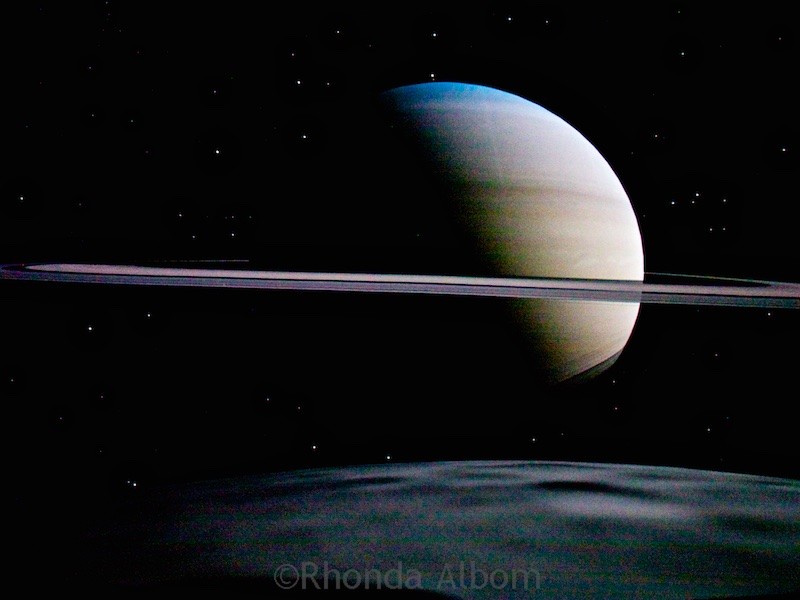 Our Night Sky doesn't end with the show
One of the most special things about the show is the courtyard telescope viewing that takes place afterwards.
For me, discovering new things about the universe in the show and then immediately being able to find these same objects in the sky reinforces what I learned in a way that nothing else can.
Best of all, the staff is on hand to locate stars, planets, and nebulae, and then we get a close-up look.
Plus, it's just plain fun.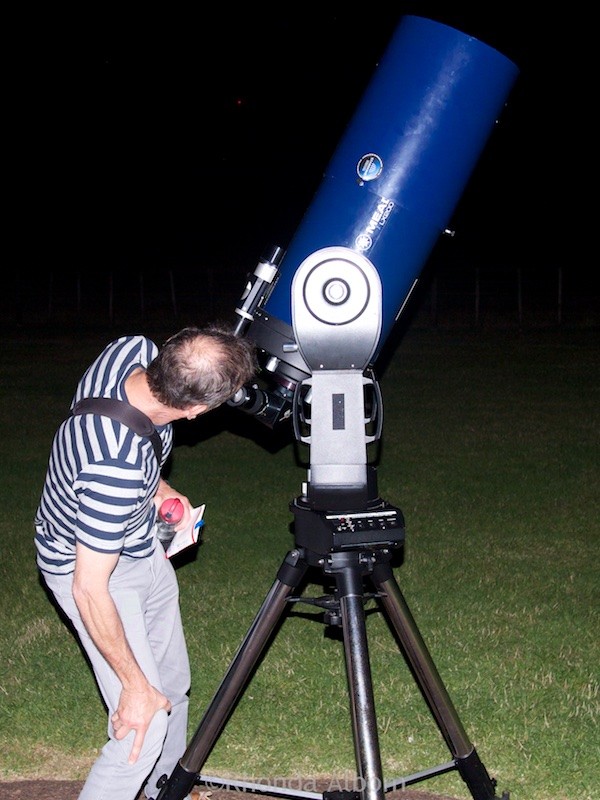 Next is the big Zeiss telescope at Stardome Observatory
If you want a mesmerizing closer look, Stardome Observatory offers "private tours" with a maximum of 15 visitors viewing through the Zeiss telescope in their copper observatory dome, which opens to the actual night sky.
This is a separate ticket from any of the shows.
While the Zeiss can magnify much more, our guide explained that they generally view at about 208 times magnification. This gives an insight into deep-space objects. As a comparison, the average camera zoom lens magnifies only 4-6 times.
Through the Zeiss telescope, groups view planets, moons, Orion and other nebulae, 47 Tucanae and other globular clusters, and galaxies.
Unfortunately, by the time the show was over, the sky had clouded over. Therefore, refunds or rain checks were provided to those with the Zeiss add-on.
However, for the purposes of writing this article, I had prearranged for this contingency in order to get a photo of the Zeiss telescope.
And we got lucky. For just a brief, yet incredibly special moment, the clouds cleared, and we could see the moon. It's not that often that things far exceed my expectations.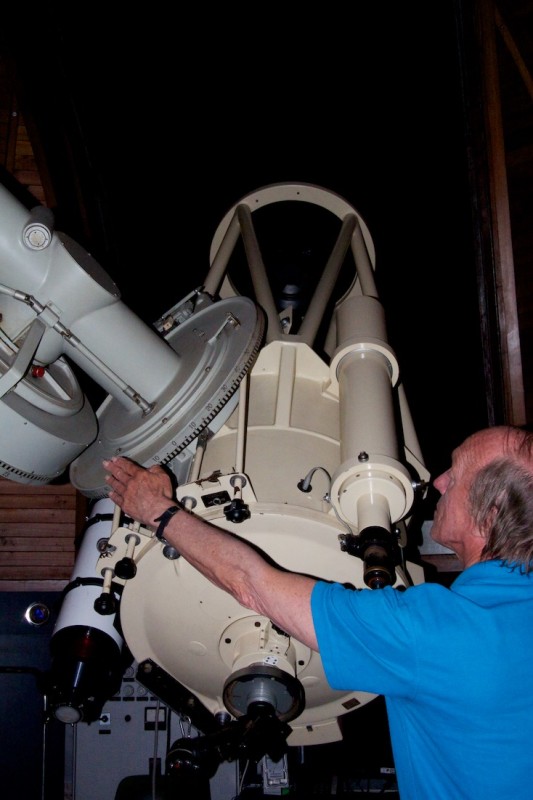 Inside the Stardome Observatory gallery
Arrive early, or plan to stay late to enjoy the other space and planetary displays. Allow at least 30 minutes if you like to read everything.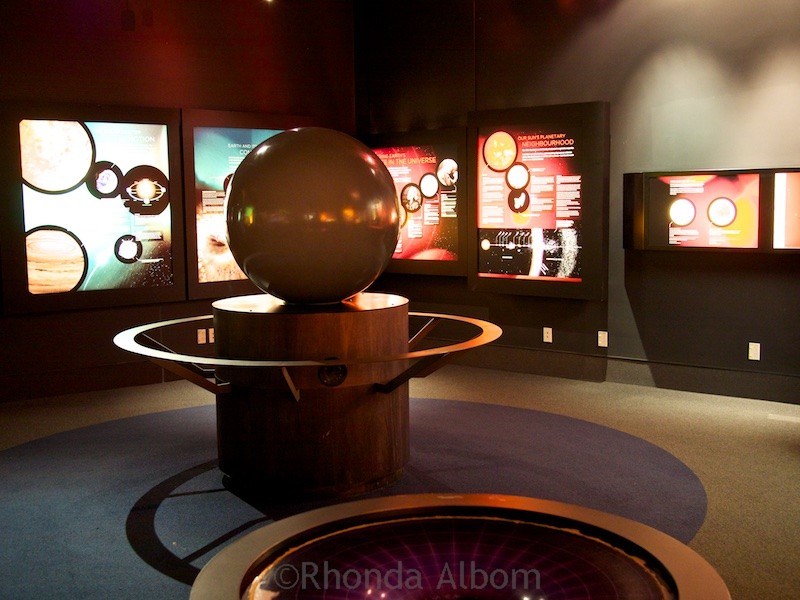 Visiting Stardome Observatory
General admission to the gallery and exhibits is $2, and you pay more to see the shows. It is the shows that make it one of the best museums in Auckland.
The live "Our Night Sky" planetarium show is on most Wednesdays, with some Thursdays to Sundays. The show is at 8.30, with an added show at 7pm if on Saturday or Sunday nights.
The minimum age for Our Night Sky is 5. If you have younger children, be sure to check out the quite similar kid's version entitled Looking Up.
The courtyard telescope viewing is included with your show ticket. However, there is an extra charge to see the Zeiss telescope.
Tuesday night's special live show is strictly 16+ and fills the dome with psychedelic images and a Pink Floyd musical theme.
If you want to learn more, download some of their free astronomy guides here.
A visit to Stardome's Our Night Sky is actually a really fun Auckland date night, as it is one of the best things to do in Auckland at night.
Save on your NZ trip with these resources
These are our go-to companies when we travel. We believe this list to be the best in each category. You can't go wrong using them on your trip too.
Check out our travel resources page for more companies that we use when you travel.
*World Nomads provides travel insurance for travellers in over 100 countries. As an affiliate, we receive a fee when you get a quote from World Nomads using this link. We do not represent World Nomads. This is information only and not a recommendation to buy travel insurance.
Please share
If you enjoyed this page, please share it on social media including Pinterest: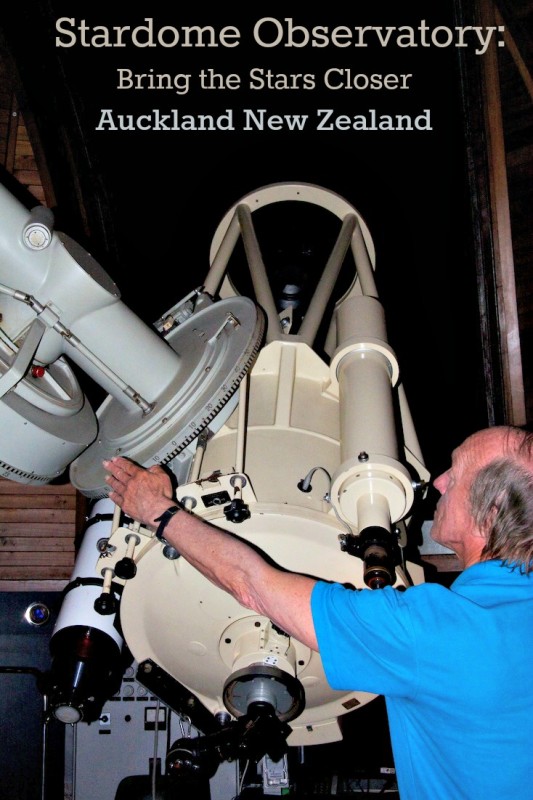 Have you been to Stardome Observatory?
Disclaimer: I was provided with complimentary entry and tour, however, the opinions expressed here are strictly my own.