Our latest adventure started in the USA in Phoenix Arizona with a visit to the Bruce Munro Sonoran Lights at the Desert Botanical Garden. Arriving after sunset, we experienced a surreal environment. The Desert Botanical Garden is the world's only botanical garden with a mission focused solely on desert plants, and intermixed we found creative, colorful and artistic light displays.
Each of the Sonoran Lights are unique. My favorite is entitled Water-Towers, a descriptive name for towers of filled water bottles, lit by fiber optic cables that create an ever-changing rainbow of colored lights. Rocket scientist hubby explains this more technically, "the phased LED illumination is guided through fiber optic strands that 'leak' light at imperfections and discontinuities in the cable. The refractive index of the water and bottles allows more leakage of light toward the end of the strand resulting in a glowing bulb effect."
Magical in their own right, I think it was the ethereal music, with an almost native chant like quality that kept me standing mesmerized until my father finally suggested we move on.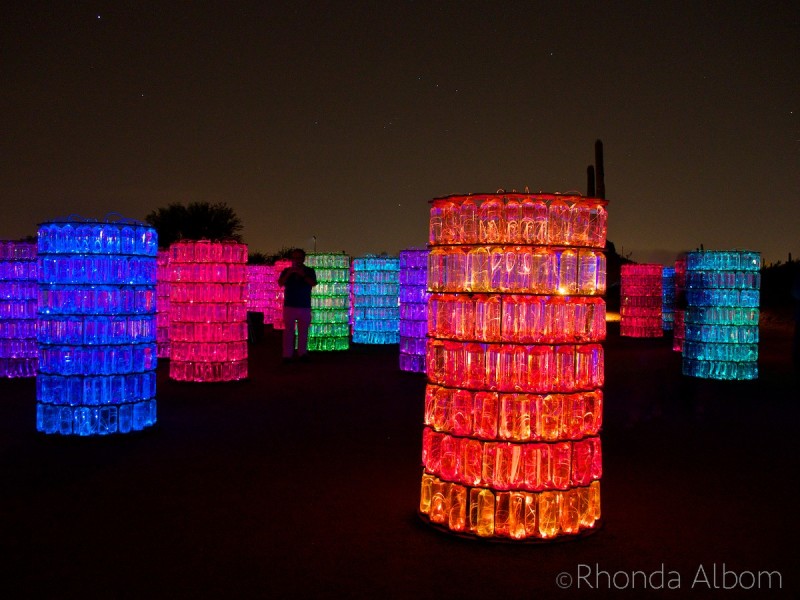 A few other highlights: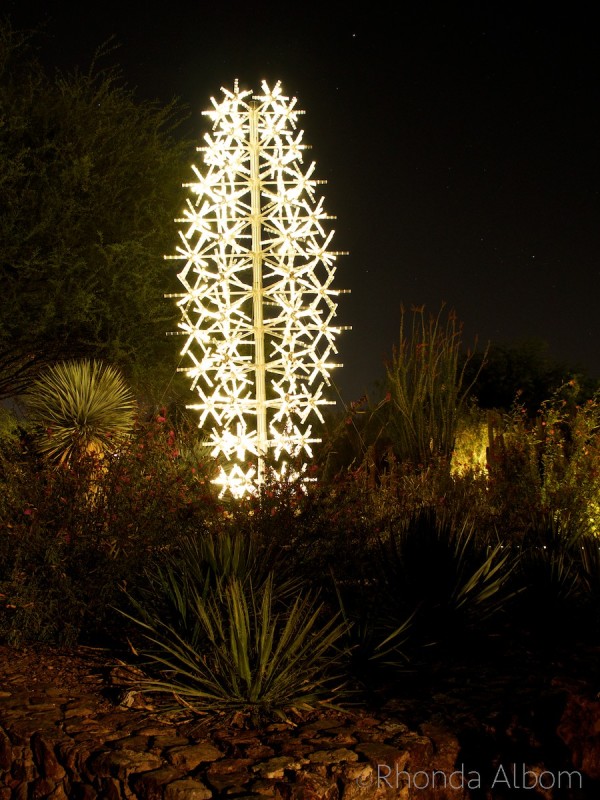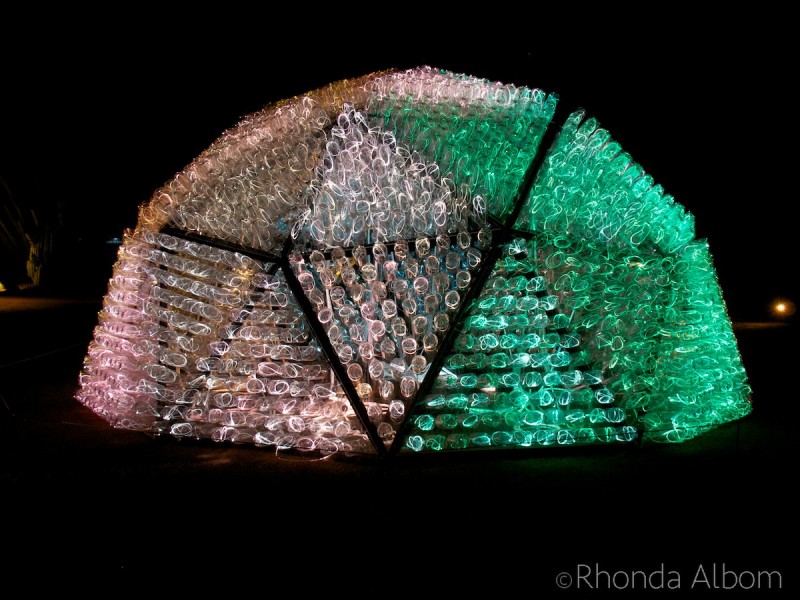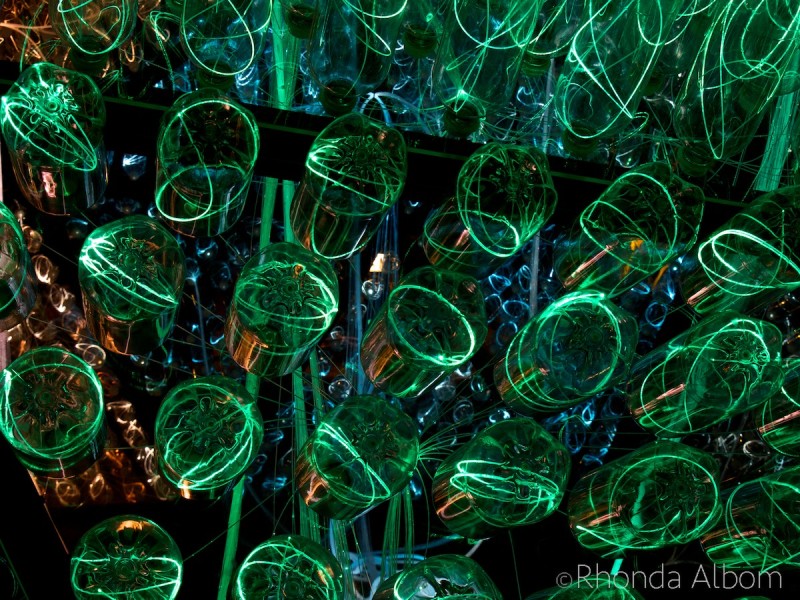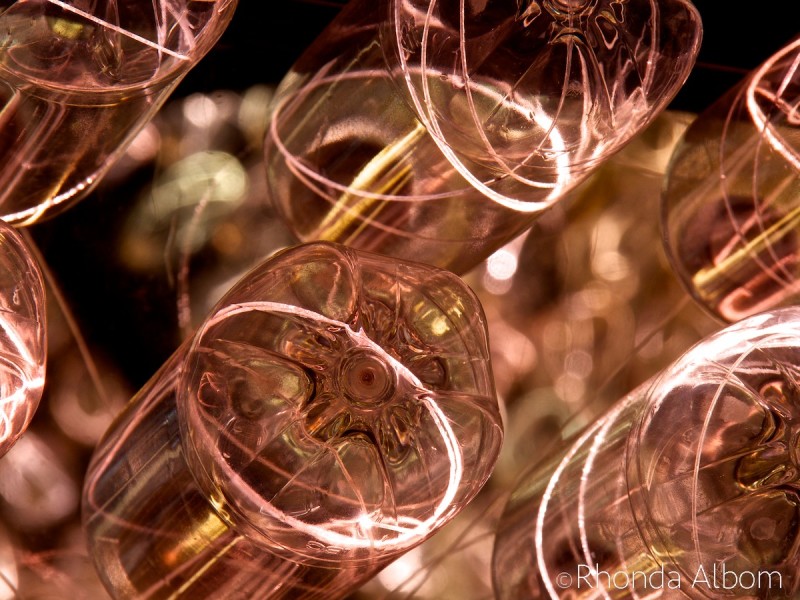 There were more Sonoran Lights, all equally interesting. Being relatively unfamiliar with the desert, I was also fascinated by the succulents. If I were visiting again, I would risk the much bigger crowds and arrive earlier, so as to better see some of these cacti. With a tripod and longer exposure I was able to capture some of the beauty.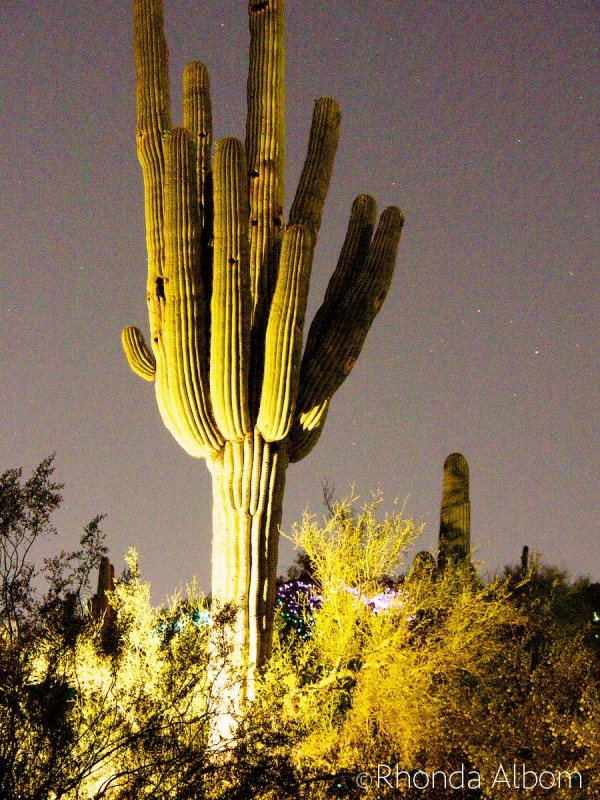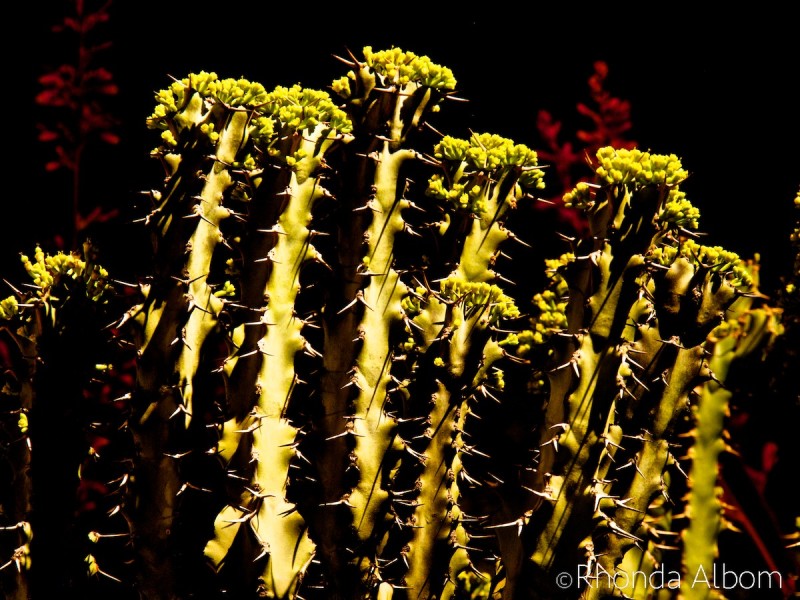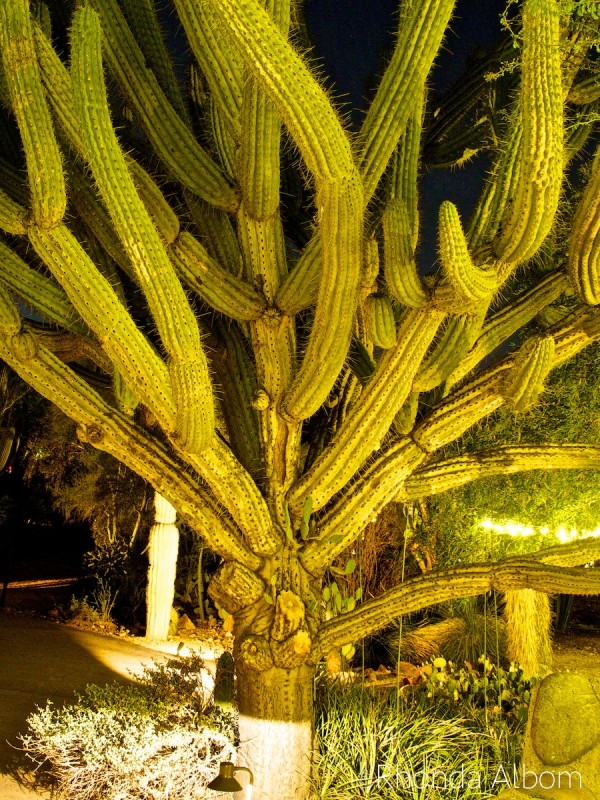 Practical Information:
The Desert Botanical Garden is located at 1201 North Galvin Parkway, Phoenix, AZ.
Open most days from 8 a.m. to 8 p.m., with longer summer hours (May – Sept) opening at 7am allowing visits before the heat of the day.
The Bruce Monroe: Sonoran Lights is open 6pm to 11pm nightly, until May 8, 2016.
Arriving after 8pm (like we did) will have much smaller crowds, however we felt we missed quite a bit of the flora, as well as the generally stunning desert sunset.
Check out the official Desert Botanical Garden website.
Personal Information: Dad and Sandy are doing great. Active and energetic, if not fully recovered, Dad is well on his way to being there. We had a delightful visit, mostly at home. The Desert Botanical Garden was our one major outing.
Note: Based on world conditions, we advise checking official channels including cancellation policies prior to booking. Also, with often reduced capacity, booking ahead becomes more important.
Have you seen the Bruce Monro: Sonoran Lights at Desert Botanical Garden? Do you prefer the lights or the succulents?
If you enjoyed this article, please share it on social media, including Pinterest:
Disclaimer: I was provided with a complementary entry, however the opinions expressed here are strictly my own.