A small town that has it all, Delray Beach is nestled along south Florida's Atlantic coast between Palm Beach and Fort Lauderdale. From wildlife, gardens, and white sandy beaches in the daytime to vibrant nightlife, there are a surprising number of fun things to do in Delray Beach, Florida.
To be honest, I first discovered Delray Beach as it's where my mother-in-law lives. She was not only excited about having a daughter but also about showing me around her town.
As a result, we bring a mixed perspective between tourist and local. And we consider ourselves lucky to have key family members living in such a vibrant resort town.
If you are wondering why I call it a small town when it has nearly 70,000 summer residents (and probably more than double that in the winter, according to my family), it's due to its awards.
Over the years, it has been named "Most Fun Small Town" (Rand McNally) and has been on the list of the top 10 Happiest Seas Side Towns (USA Today and the Travel Channel). If that's not enough, Delray Beach received the All-America City award multiple times.
Our favourite things to do in Delray Beach Florida
Be serene at Morikami Museum and Japanese Gardens
Snap a wildlife photo at Wakodahatchee Wetlands
Relax or play at Delray Municipal Beach
Indulge at 3 Gs Gourmet Deli and Restaurant
Hang out on Atlantic Avenue
Discover at Pineapple Grove Arts District
Morikami Museum and Japanese Gardens
Morikami Museum and Japanese Gardens is the only USA museum wholly dedicated to the living culture of Japan. It's one of the peaceful Delray Beach activities.
Strolling along the meandering paths, we pass fragrant flowers, Koi ponds, bridges, and even a waterfall, all creating a serene environment.
It features an indoor museum and six outdoor gardens, each representing a different historical period of Japanese gardening. Every detail is painstakingly placed to perfection.
The Roji-En garden has been named one of the top 10 Japanese gardens in Europe, North America, and Australia by the Journal of Japanese Gardening.
There is also an extensive collection of bonsai trees in the section designated a World Bonsai Friendship Federation Resource Center.
The museum and gardens are open Tuesday through Sunday from 10 am to 5 pm.
Wakodahatchee Wetlands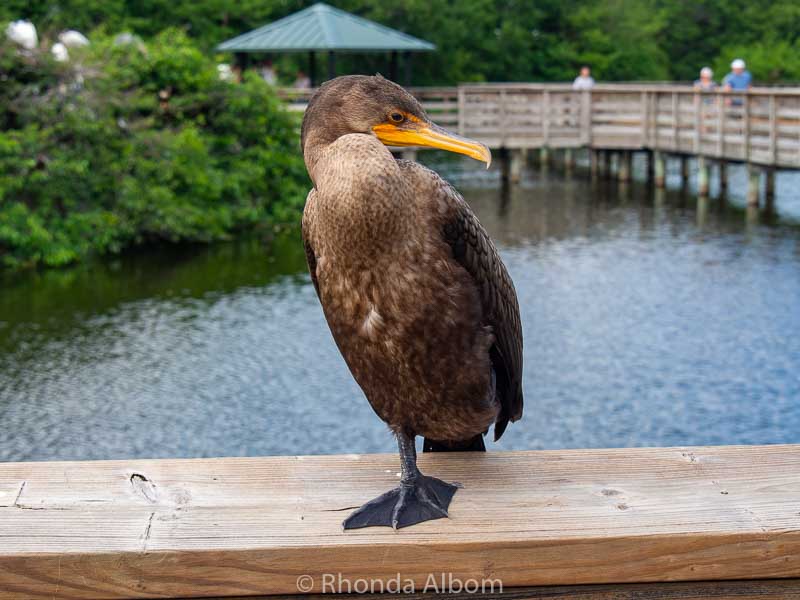 We like to start our day at Wakodahatchee Wetlands. Strolling along the nearly 1-mile long boardwalk, camera in hand, we see any combination of the more than 150 species of birds that choose to call this place home.
It also attracts other wildlife, including alligators, iguanas, turtles, raccoons, insects, and otters. Like the human visitors, the wildlife is free to come and go.
It's one of the popular Delray Beach activities among bird watchers, wildlife photographers, walkers, and nature lovers. There's a great educational element as well, through the signage describing birds in each micro-ecosystem or outlining the importance of water conservation.
The car parking is off of Jog Road, and the entrance to this Delray Beach boardwalk is free.
Delray Municipal Beach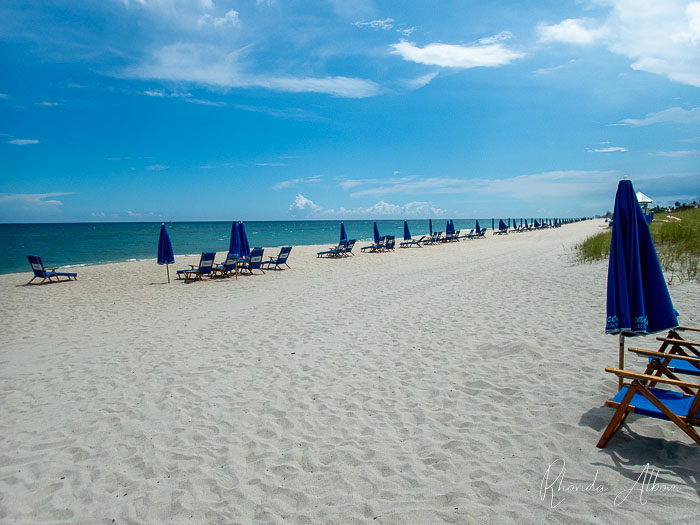 The seemingly endless white sand beach draws crowds daily to what many consider to be the best beach in Florida. Swimmers, sun worshipers, kids building castles, and athletes seem to fill every spot on lovely days.
Yet my photo shows an empty beach. Are you wondering why?
That would be luck, either good luck from a photography standpoint or bad luck from a beachgoer perspective. The truth is that I arrived just after a nearby lightning strike which resulted in a beach evacuation.
While I followed the rules, this particular safety precaution confused me, as the blue sky day seemed lovely.
Just about any other time, Delray Beach is a watersports paradise, popular for standup paddle boarding (SUP), parasailing, and kayaking. And if you don't have your own gear, rent it at the Delray Beach Watersports shack on the beach.
And, about 150 yards offshore, a sunken ship created an artificial reef offering an interesting snorkel / Scuba opportunity.
3 Gs Gourmet Deli and Restaurant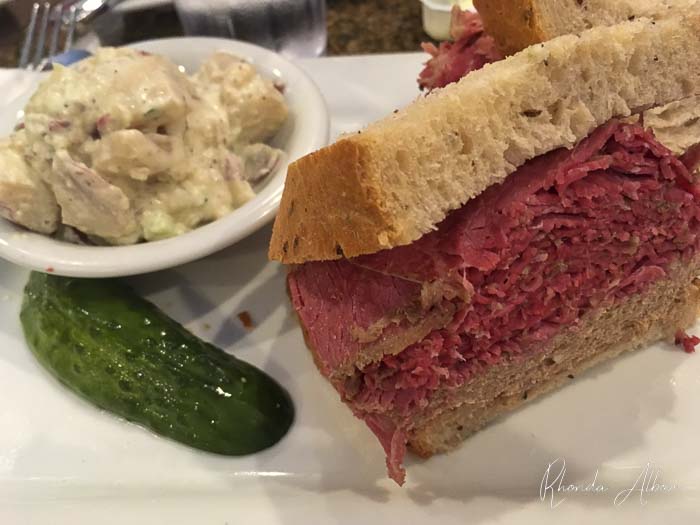 You probably won't find this old-fashioned Jewish Deli on everyone's list, but if you visit my mother-in-law in Florida, she will bring you here at least once.
After all, according to here, enjoying a deli sandwich at the 3 Gs should top any list of things to do in Delray Beach. I am not sure if it's the huge, overstuffed sandwiches or the bowls of half sour pickles and fresh rye bread on the table that are her favorite.
Personally, I am thrilled to report they now have both a gluten-free bread option as well as many menu items that can be made gluten-free.
The restaurant is located at 5869 W Atlantic Ave, and they don't take reservations. Agreeing with my family, it is worth the wait.
Atlantic Avenue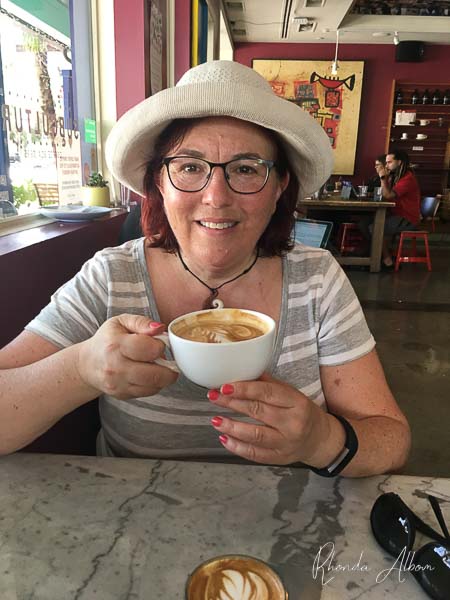 Atlantic Avenue is the longest Main Street in Florida, running from the ocean to the highway (I-95).
But what makes it popular is the mile-long stretch from the beach inland. This palm tree-lined street is well known for its upscale shops, outdoor cafes, fine restaurants, and nightly entertainment.
However, it's also the place to catch some active nightlife with plenty of dining options, bars, and live music options.
If you don't know where to go or just prefer a guide, consider a highly rated craft food tour down Atlantic Avenue.
You will enjoy more than 8 tastings, 2 cocktails, and 1 craft beer while you learn about the town's culture, history, and architecture. The tour runs from 11.30am to 2pm, and you won't need any additional lunch that day. Reserve your craft food tour here.
Or, if you prefer later in the day, check out this 6pm starting Delray Beach Happy Hour tour. With six locally prepared tastings and three alcoholic beverages, it also has great reviews. Reserve your happy hour tour here.
Pineapple Grove Arts District
As we pass under the trademark arch on NE 2nd Avenue, we enter the fun and funky Pineapple Grove art district.
It's the place for pampering at one of the spas, gastronomic delights at a bistro, perusing colorful art galleries, or taking a peek into some of the working studios in Artist Alley. It's easy to get caught up in the creative vibe of the neighborhood, making it one of the fun things to do in Delray Beach.
Check out some of the special events here.
More unique things to do in Delray Beach Florida
Despite the many times we have visited, we still haven't tried all of the Delray Beach activities that have been recommended.
Silverball Museum
With over 100 classic pinball machines and video games spanning the 1930s to today, the Silverball museum is one of the more unique things to do in Delray Beach. Best of all, they are all in working order and useable. So, if you are a pinball fan from way back, be prepared to for a trip down memory lane.
Saltwater Brewery
The city's first microbrewery hosts an eco-friendly environment. Made from all-natural ingredients, their packaging is 100% sustainable, and they even use edible rings on their six packs. See how it all works with an interesting behind-the-scenes tour offered every Saturday at 1pm. Alternatively, head to the tasting room or the beer garden.
Delray Beach Market
The state's largest food hall features 35 different food vendors to choose from in a colorful, airconditioned environment.
Green Cay (Boynton Beach)
Green Cay isn't in Delray Beach but rather the town to the north; however, it's way too cool not to mention here. Similar to Wakodahatchee, Green Cay Wetlands has boardwalks and an impressive bird and wildlife population. It is free to explore. The last time we visited, we saw baby alligators.
Getting to Delray Beach
Located in South Florida, getting here is pretty easy. We typically fly into either Palm Beach International airport (15 minutes away) or Fort Lauderdale International (30 minutes away), although, on occasion, we have flown into Miami (1 hour away). We rely on Expedia to help us find the best flight options.
Save on your trip with these resources
These are our go-to companies when we travel. We believe this list to be the best in each category. You can't go wrong using them on your trip too.
Flights: we use Expedia for the best and cheapest flight options.
Accommodations: we use Booking.com (hotels) or VRBO (self-contained).
Cars (gas or electric): we use RentalCars to search for deals and dealer ratings.
Campervans or Motorhomes: we use Campstar where Albom Adventures readers get a 3% discount
Private guides: we love the private guides at Tours by Locals
Travel Insurance: we start at InsureMyTrip as they are the best option to compare plans and find the right coverage for you.
Check out our travel resources page for more companies that we use when you travel.
Save for later
If you enjoyed this article, please share it on social media and save it for later on Pinterest.
Which of these things to do in Delray Beach Florida will be on your list?
You might also enjoy…
Photo Credits
Photos on this page are either shot by our team and watermarked as such, in the public domain, or some stock photos were supplied by DepositPhotos.