Cabo San Lucas, or Cabo as it's more commonly called, is not just a tropical party town in Mexico. In fact, there are plenty of unique things to do in Cabo San Lucas.
Located at the southern tip of the Baja Peninsula, Cabo is just south of the Tropic of Cancer line. A tropical paradise, it is the main town/city in the Los Cabos region.
Targeting the American market, Cabo is popular among Californians looking for a tropical beach getaway in somewhat familiar surroundings. There is virtually no getting around this. Resorts line the beaches, English seems more prevalent than Spanish, and prices are often listed in US dollars.
At times, I have found the American influence so strong, I could almost forget I was in Mexico.
But I could never forget I was in a vacation town as the options to spend money on an adventure, boating, watersports, or out in the desert seem endless.
But, isn't that why I was there?
Yes, I used to live in California. And yes, I used to head to Cabo for relaxation and fun. I have been there more times than I want to admit. The last time was not that long ago, as a cruise ship stop with my husband.
Our recommendations below are a mix of the unique things to do in Cabo San Lucas with some of the most fun things we have done over time, even if they are quite touristy.
Fun and unique things to do in Cabo San Lucas
Get out to El Arco (The Arch)
Hang out at the beach
Whale watching
Swim with whale sharks
Go SCUBA diving or parasailing
Indulge in a taco tour
Stroll through the downtown and visit a mask shop
Pump up your adrenaline on an ATV
Party at El Squid Roe
El Arco (The Arch)
El Arco (the Arch), a granite rock carved by the ocean currents, is a well-recognized icon of Cabo San Lucas. Called Land's End, the area marks the tip of the Baja Peninsula and the meeting spot of the Sea of Cortez and the Pacific Ocean.
Lover's Beach (photoed) is gentle, calm waters, great for snorkelling, swimming, or water play. What makes it one of the unique things to do in Cabo is the pass through to the ocean side, and the big waves crashing along what is aptly called Divorce Beach.
El Arco is a must-see for just about everyone who visits this town, despite the need for a boat to get here. Some of the boating options include:
Water taxis
This is the easiest way to get to The Arch and requires little planning. Price is negotiable and will cost more from the marina than just about anywhere else. Typically, about $10USD per person will get you from the marina either out to see the arch, or to be dropped off and picked up from its beach.
Kayaks
Once we hired kayaks and paddled out to Lover's Beach. We brought snorkel gear with us and enjoyed a bit of underwater discovery straight from the beach. Reserve your kayak and snorkel trip to Lover's Beach here.
Cruise ship
No, your ship cannot get near The Arch, but if you are on deck when the ship arrives or leaves the port, you should get a great view of the entire Land's End from the ship.
Get on a boat or get into the water
Hang out at the beach
If you are staying at one of the big resorts, or if you just got off a cruise ship on foot, you will most likely find yourself at El Medano Beach. This is the beach at the end of the bay that the marina is on. Beach-going locals will most often choose a quieter spot.
Whale watching
A seasonal event, if it's mid-December to mid-April, you have a good chance of seeing some of the thousands of migrating humpback whales now along the Baja peninsula for mating season. Reserve your whale watching tour here.
Swim with whale sharks
If you want more than just seeing whales, check out this option to swim with the largest fish in the world. Note that this tour starts and ends with an over 2-hour drive to La Paz, but I included it here as it's a popular Cabo activity and clearly one of the more unique things to do in Cabo San Lucas. Reserve your full-day whale shark discovery experience here.
Go SCUBA diving
The first time I dove here was back in the early 90s, and while not as colourful as some places we have been, coming face to face with a sealion made it one of my most memorable dives to date. If you are a certified diver, check out this highly rated 3-hour dive tour.
Go parasailing
Honestly, this one can easily be booked at the beach when you are ready to go, but if you are one who likes everything pre-paid, reserve your parasailing adventure here.
Eat, drink, and dance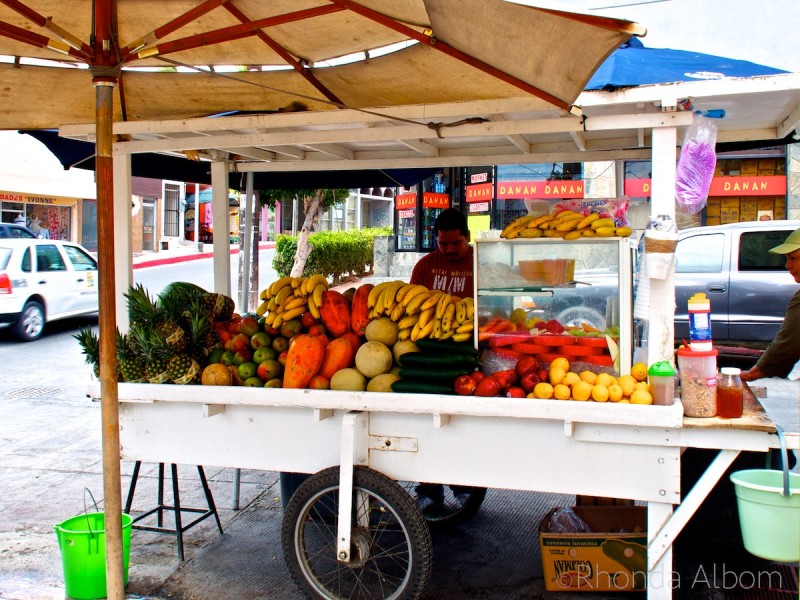 As with any touristy town, there are plenty of food options, from outdoor cafes along the waterfront to family-owned restaurants. Intermixed, there are a few larger eating establishments and plenty of street food vendors to fill the gaps.
I love trying local cuisine and am typically a pretty brave eater. Food carts don't scare me, and on our last trip to Cabo, which was only a cruise port stop, I tried a cup of fresh fruit, a smoothy, and tacos from meat shaved off a spit.
If you are keen on random street food and prefer a recommendation, one of the really fun and unique things to do in Cabo San Lucas is to take a taco tour.
Along with your taco guide, you will walk the energetic streets sampling fish tacos, tamales, and aguas frescas from both street vendors and family-run restaurants.
Reserve your spot on a taco tour here.
If you are looking for typical Cabo nightlife, head to El Squid Roe, a popular nightclub and restaurant owned by the same fun people who created Senior Frogs. It's been voted Cabo's top dance club by both locals and tourists.
Stroll around the streets of the city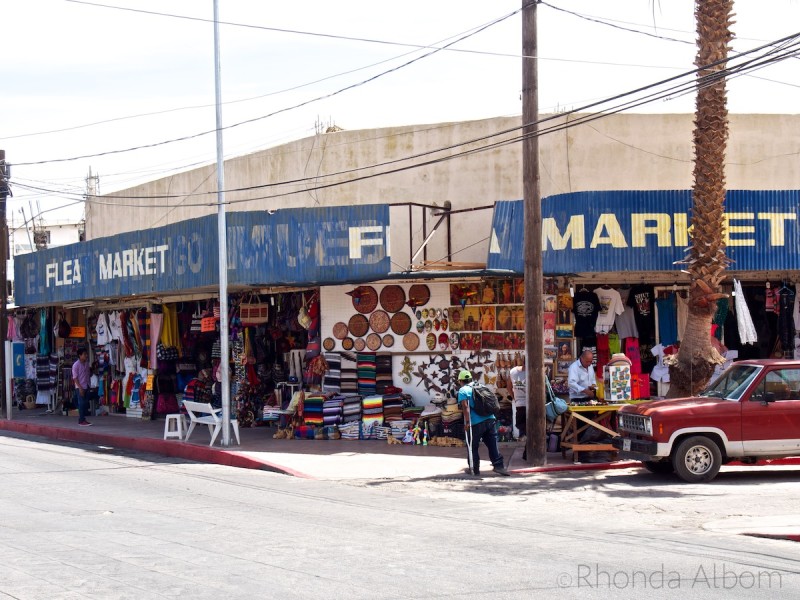 In general, resort towns are not really our thing, and we prefer a cultural experience when we travel. However, we choose regions like Los Cabos more for fun.
In saying that, we like to spend a bit of time discovering daily life. Therefore, we will almost always enter a grocery store, walk some backroads, and talk to locals.
As we explored the downtown area a bit, we discovered an interesting flea market and the provincial Cabo San Lucas Museum (an interesting yet small museum, I think we spent about 30 minutes inside.)
On our last trip, we stumbled upon Zen Mar, one of the unique things to do in Cabo San Lucas.
This fascinating mask store featured masks made by the indigenous Zapotec people in the valley of Oaxaca, Mexico. Each was made with armadillo shells, goat horns and porcupine skins. They were used in ancient Mexico at ritual ceremonies to take away the bad spirits from the people. I was sure New Zealand would never let us bring one home, so the photo is my souvenir.
Ride in the surrounding desert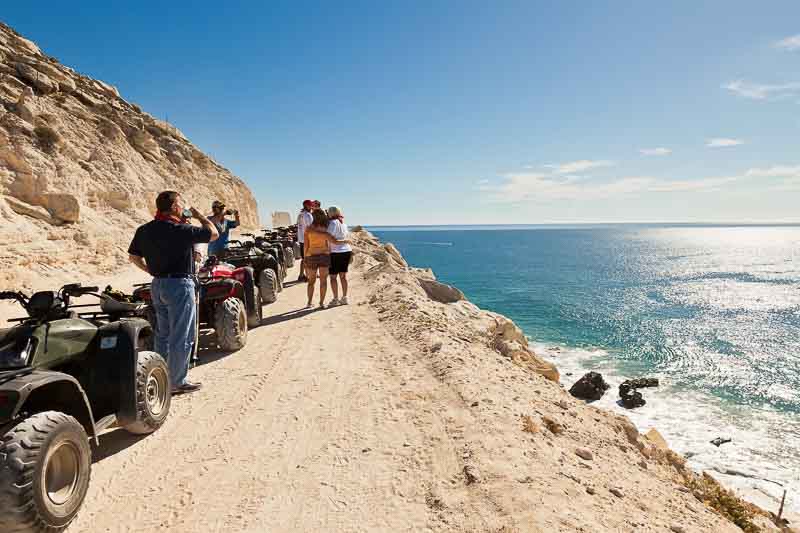 While not my thing, heading out on an ATV adventure to the Los Cabos beach and into the desert is quite popular, well-rated, and among the unique things to do in Cabo.
Each participant drives their own ATV through the desert and Migriño Beach. Reserve your ATV adventure here.
Walk around the marina and coast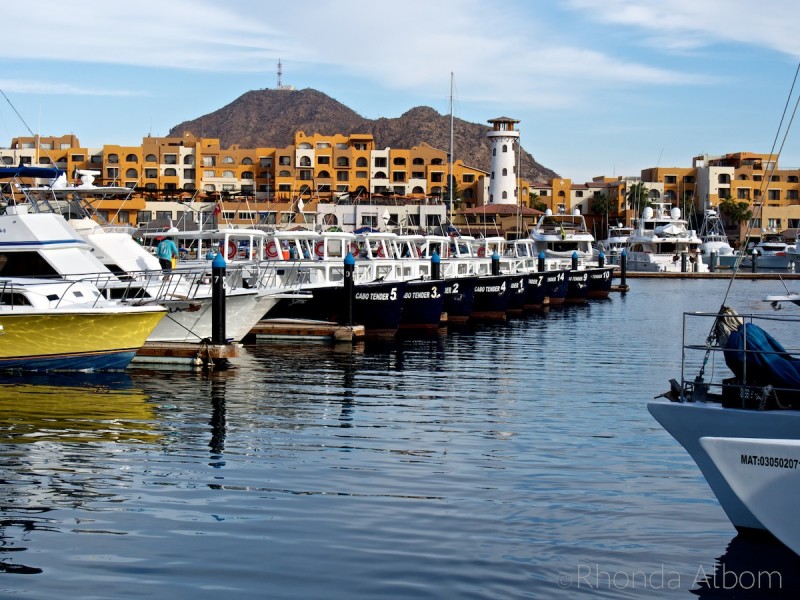 If you arrive via cruise ship or are staying at one of the posh hotels, you will most likely find yourself walking along the coast from the marina to El Medano Beach. It's a lovely area filled with shops, dining options, boats, and fishermen.
Yes, that's me being a typical tourist and posing with a sign. Sometimes I just can't resist these opportunities, and I am even willing to wait in a short queue for the shot.
While taking my photo with an Instagram sign can't really be considered among the most unique things to do in Cabo, its originality comes from the city name itself. Where else can you stand in front of a #Cabo sign?
Cabo San Lucas as a cruise port
It's a tender port, meaning the ship drops anchor, and passengers are taken on tenders (small power boats) for the 10-minute trip to shore.
On our last visit, the Princess Cruise staff handled the tender process very smoothly. From there, we simply walked around, enjoyed coffee, lunch and the local ambience.
More on Cabo San Lucas
Most of the water in Cabo is safe to drink.

The average year-round temperature is 26C (78F), increasing in the summer up to 38C (100F).
The official language is Spanish, although many people speak English, especially in tourist areas.
The currency is the Mexican Peso. While many places will accept US Dollars, your change will be returned in pesos.
Our most recent stop in Cabo was on the Island Princess towards the end of a cruise through the Panama Canal.
Read next: 20 Picturesque Cruise Ship Ports Around the World
Save on your trip and cruise with these resources
These are our go-to companies when we cruise. We believe this list to be the best in each category. You can't go wrong using them on your trip too.
Cruise: We find great deals at Cruise Critic.
Flights: we use Expedia for the best and cheapest flight options.
Hotels: we use Booking.com (hotels at our end ports) or VRBO (self-contained).
Cars (gas or electric): we use RentalCars to search for deals and dealer ratings.
Set up private guides at the ports: Looking to maximize our limited time at a port, we often hire private guides from Tours by Locals.
Travel Insurance: our go-to is Insure My Trip
Check out our travel resources page for more companies that we use when you travel.
Don't miss our best cruise tips.
Save for later
If you enjoyed this article, please share it on social media and save it for later on Pinterest.
What are your favourite things to do in Cabo San Lucas?
More from the region
Photo Credits:
All photos on this page are either shot by our team and watermarked as such or stock images from Depositphotos.