It was many years ago, before I had children, even before I met my husband. I was on a scuba diving holiday with my best friend in Bonaire, a Dutch island about 50 miles north of the Venezuela coast.
Honestly, the weather was divine (I love the tropics), and the diving lived up to its reputation as being some of the best in the world. With rigidly enforced reef protections in place, it's not surprising that scuba diving in Bonaire was idyllic.
We spent about a week there and dove nearly every day, respecting the dive/fly time limits and taking a rest day in the middle of it all to explore the island and discover some of the best things to do on Bonaire.
In fact, Bonaire is the world's first "Blue Destination." According to scubadiving.com, that means it "specifically commits to the sustainable use of ocean resources in pursuit of conscientious social and economic development."
That's me in red and black: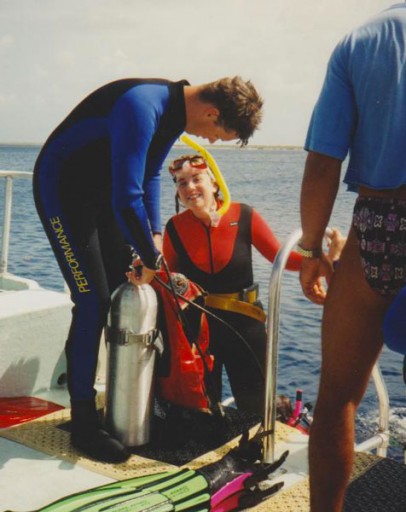 Scuba diving in Bonaire: the fun
Everything started out great. Bonaire itself is a lovely island. Located in the Leeward Antilles in the Caribbean Sea, they are part of the Netherland Antilles, aka the Dutch Caribbean. It's a small island but known in a few groupings.
Some call it the B of the ABC islands: Aruba, Bonaire, and Curacao. Others say it is the B of the BES islands, along with Sint Eustatius and Saba. It's probably best known among scuba divers.
I have nothing but fond memories of this Caribbean paradise, that is, until my dive accident.
But the scuba diving in Bonaire is fabulous. And if you are a diver, heed my warning below, but keep Bonaire on your list.
I even earned my PADI advanced open water certificate while there.
Had I simply followed my dive tables and not tried to push it to the limits, I would have a much different story to tell.
Rest day – what to do in Bonaire
While we probably pushed our diving to the limits of safety, we did take a rest day. It was a perfect opportunity to sit by the pool, swim in the sea and generally enjoy the Caribbean sunshine.
We also took the opportunity to hire a van as a group and drive around the island. It's a small island, and with about two hours of drive time, you can cover the majority of the main roads. To hit some of the off-road spots is a lot slower.
For the most part, we headed towards the Southern end to see both the historic yellow slave huts and the flamingo sanctuary. To date, we have only seen a flamboyance of wild flamingos here and in the Atacama desert in Chile.
The other totally cool thing to see is the pink salt lakes and salt mountains (which you can also see in the background of the flamingo photo).
Scuba diving in Bonaire: the moment it all went wrong
I have only vague memories of the moment I knew I was in trouble.
It was the first dive on our last day, which quickly became my final dive for a long time.
Everything was going great, and then it wasn't. I remember reaching out to my buddy to signal to her that I was in trouble but then spotting the boat out of the corner of my eye.
I made it on board, where the dive master knew immediately and asked for oxygen, but there was none. They radioed to shore to have an ambulance waiting, and again there was none.
Eventually, I made it to the partially open-air hospital.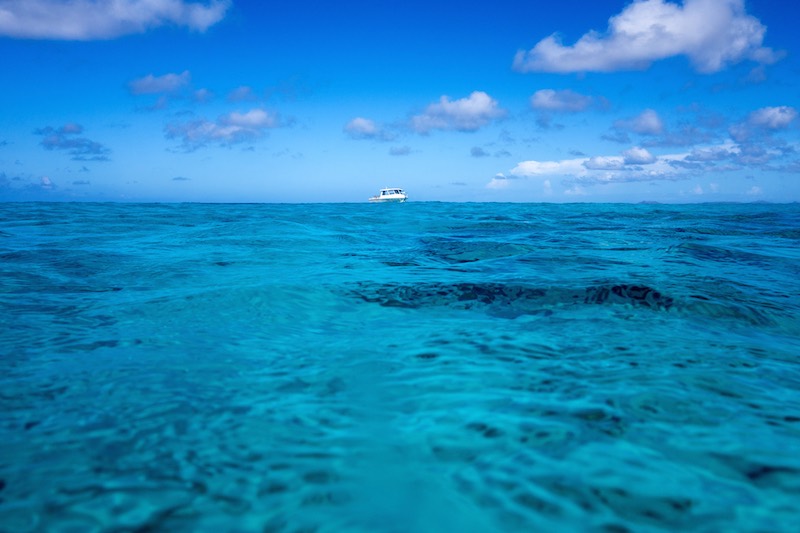 Scuba diving in Bonaire: the aftermath
My initial doctor spoke very little English, but why should he, we were not in an English-speaking country. Unfortunately, neither I, nor any of the people from our group spoke Dutch. I only remember the instruction, "Take off a lot of your clothes and sit over there."
He confirmed what we already knew; I needed to see the hyperbaric specialist as I most likely had decompression sickness (the bends). Unfortunately, there are two who live on the island. One was on holiday somewhere else, and the other was home with his family.
I doubt he was happy to be called in on his day off. In fact, he said no.
By the next morning, I was worse. We were scheduled to fly home soon, allowing for a full 24-hour wait after our last dive. But, it seemed apparent that I wasn't up to it.
So, our dive master did a bit of research, piled us all into a hotel van, and we drove to the hyperbaric specialist's house. I don't know what she said to him, but he agreed to meet us at the hospital, so back we went.
The humiliation
He took me into another exam room for standard neurological tests. As one would expect, one of the tests had me standing with my feet shoulder-width apart, arms out to the side, eyes closed and alternating one hand at a time touching my nose.
Seems normal enough, except he made me do this naked.
As I continued, the silence was suddenly broken by an announcement over the loudspeaker in a language I don't speak, followed by encouragement from my doctor, "Keep going."
Next thing I know a few people walk into the room and say something to the doctor, whisper, giggle and leave.
All the while there I am still touching my nose, left, right, left, right . . .
Then more people come in, whisper and leave – although some stay around.
"Keep going."
Left, right, left, right . . .
I don't speak Dutch, so I have to wonder if the announcement was about me … "Naked women in exam room 4."
And finally, into the hyperbaric chamber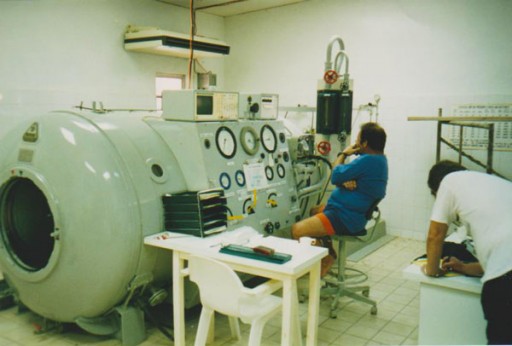 Eventually, I went into the hyperbaric chamber. My doctor (the one who made me stand touching my nose) is the barefoot man on the chair. The spots on the floor are dirt.
Normally, the chamber would have resolved my problem, but too much time had passed. As I learned later, some of the bubbles were already causing internal bruising (this did all heal).
So, to make a way too long story just a little bit shorter, I ended up as an in-patient in a hospital in Miami, Florida, for nine days.
More on diving computers
So, what went wrong?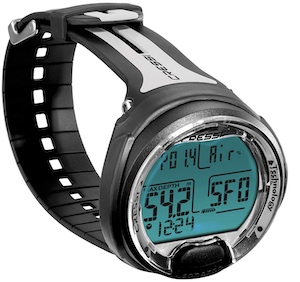 It's pretty simple. After I earned my Advanced Open Water qualification, one of the dive masters let me try out her computer for several dives.
When one dives from charts and tables, they do so conservatively. Everything rounds to safety, and the time allocated underwater is less than the real maximum time due to rounding.
Not so with computers. They allow you to push your limits. The Florida hospital downloaded my dives and said they could teach off of them. They were perfect and even included appropriate safety stops.
But each of my dives pushed to the limit, and the algorithm allows for a 5% margin of error. This was my downfall.
I believe dive computers have improved, and if I dive again, I wouldn't hesitate to use one. The likelihood of a calculation error still exists if doing it manually. I just wouldn't push so hard, knowing that my body couldn't take it.
I didn't let this incident stop me completely. Both of our girls earned their Jr. Open Water certificates in Fiji several years ago. They have also been scuba diving in Palamos, Spain.
A few final thoughts
Bonaire is lovely, the island is a paradise, and while my particular adventure wasn't too great, it's really a rarity. Most people dive at Bonaire with no issues, and had I not tested out equipment I was unfamiliar with, I would most likely have been fine.
This is not the first time we have ended up in hospitals on our travels. In fact, I was treated for dengue fever in Argentina (my exposure was a week earlier in either Paraguay or Brazil). Between our family members, we have also been to hospitals in Samoa, Vermont in the USA, Berlin (Germany), and Brisbane Australia.
Save on your trip with these resources
These are our go-to companies when we travel. We believe this list to be the best in each category. You can't go wrong using them on your trip too.
Flights: we use Expedia for the best and cheapest flight options.
Accommodations: we use Booking.com (hotels), VRBO (self-contained), or Hostelworld (budget).
Cars (gas or electric): we use RentalCars to search for deals and dealer ratings.
Campervans or Motorhomes: we use Campstar where Albom Adventures readers get a 3% discount.
Motorcycles: we have heard good things about BikesBooking.
Private guides: we love the private guides at Tours by Locals.
Travel Insurance: while not required, we always opt for travel insurance and start at InsureMyTrip to compare coverage plans.
Check out our travel resources page for more companies that we use when you travel.
Have you been scuba diving in Bonaire?
Photo Credits:
All photos on this page are either shot by our team and watermarked as such or stock images from Depositphotos.