Recently, while going through some old writings, I discovered this article I wrote nearly 17 years ago, only a few years after becoming an American Expat in New Zealand. Back then, I worried about day-to-day differences, while 20 years later, I only see the bigger benefits. Mostly positive, but then there are annoyances like dealing with dual taxes.
That initial article appeared on a platform that no longer exists. Reading it gave me a good laugh, and I hope it does the same for you. I have reprinted it below.
But first, let's take a look at my current life as one of the thousands of expats in New Zealand.
An expat is an immigrant, any person who lives outside their native country.
American expat means I was born in the USA and no longer live there.
A New Zealand expat was born in NZ but lives in another country.
After 20 years as an expat in New Zealand
Like everything, there is good and bad.
Benefits of living in New Zealand
Beauty
I get to live in New Zealand, one of the most beautiful countries in the world. Even after 20 years, I appreciate the natural beauty all around me. New Zealand has it all, from seemingly endless coastal views to subtropical rainforests, snow-capped mountains, geysers, glaciers, and so much more. Best of all, being a small country, you don't have to travel far to be in a different environment.
Balance
The value system includes a balance between family / home life and work. People work hard and play hard. Companies pay a living wage, even to wait staff, and employment packages include much more time off than we ever saw when we lived in the states. Here, the work day ends at the scheduled time. Whatever it is, it can wait until tomorrow. I like this.
Travel
This may not be on everyone's list, but it sure is on ours. It's easy to get to places that once seemed so exotic, like Tahiti, Fiji, or even Australia. (Similar to how NZ expats in Canada might feel about the USA and the Caribbean).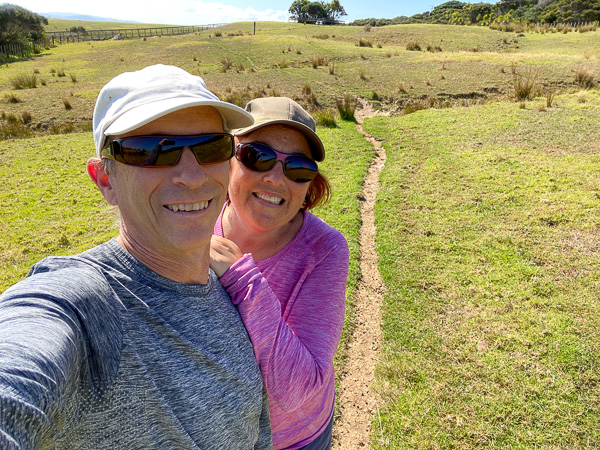 Disadvantages of being an American expat in New Zealand
Okay, so nothing is perfect, but the good above outweigh all the bad.
Far, far away
It may not look like it on a map, but New Zealand is pretty far from everywhere (although sometimes this is a wonderful advantage). If we are leaving the country, we are in for a minimum 3-hour flight to the closest spots. But heading back home takes over 12 hours just to get to Los Angeles (the closest USA port of entry). And even worse is Europe at 24 hours of air travel.
High cost of living
We try not to laugh when our friends in the states complain to us about the cost of petrol (gas). At our last fill-up, we paid over $3 per litre (about $12/gallon). But the real problem here is housing prices as a percentage of income. Unfortunately, according to Statista, New Zealand is quite high on this list in 2023, and if that's not bad enough, according to OneRoof, NZ is the world's seventh most expensive country in which to buy a house (compared to the USA ranked at 38).
Taxes
This is not unique to living in NZ. American expats all around the world still have to pay US taxes. But not the simple ones we filed when we lived in the states; they are suddenly super complicated, with tons of new rules and added reporting, like FBARs.

The good news is we don't pay taxes on the same money twice. While a huge financial benefit, it's an accounting nightmare. This is why we don't do them ourselves. This year we used the experts at BrightTax.

Right from the beginning, they made everything easy. First off, it was all online, with zoom call options. Our BrightTax accountant was organized, responsive, proactive, and friendly. In fact, the communications throughout the process were outstanding.

Their electronic forms are easy to use, clear, concise, and methodical. And they took care of everything. In the end, we had an online opportunity to review our 50+ page US Tax returns before they submitted them. No, I am not exaggerating, and yes, we reviewed it all (and always recommend this with taxes). After all, it's our names that sign the forms. Check out BrightTax for your expat taxes here.
Our life as expats in New Zealand …
My views early on …
Now that I am settled and everyday life feels normal, my original difficult adjustments to life as an expat in New Zealand surprised me. I reprinted it here as is, adding only some new photos. Below the text, I then added my current views on each point. Enjoy.
On life as an expat in New Zealand
Whether a visitor or an expat in New Zealand, surprises are headed your way.
Don't get me wrong, I love my New Zealand life and am proud to now be a citizen of this great land. However, as an American expat in New Zealand, there are several things that took me by surprise at the beginning.
Not the big things like driving on the other side of the road. It is the little things that we hadn't expected.
We moved from a coastal town south of San Francisco to a coastal town north of Auckland over three years ago, yet we still occasionally chuckle at the unexpected.
Enjoy it in the light-hearted vein in which it was written.
My top 10 adjustments to life as an American expat in New Zealand
While I call them adjustments, the reality is that I am still questioning and adapting. I am not there yet, but someday I will be.
1. How can I be this cold indoors?
Our move from latitude 37º north (San Francisco) to 37º south (Auckland) meant seasonal outdoor temperatures are similar. However, to my surprise, I suddenly find myself cold indoors during the winter.
The problems are single-pane glass, less insulation, no central heating, and open windows. Our newly built home has no heat source at all, and I mistakenly assumed this meant it wasn't needed. And for Kiwis, it probably isn't. But this American expat is used to consistent indoor temperatures.
I had no clue how to keep warm.
The solution, according to my friends, was to "put my woollies on." The problem is that I had no idea what they were talking about.
Apparently, "woollies" refers to any warm layers. It took me two years to learn to wear three pairs of socks at home. It took another year to figure out that as the winter sun sets, Kiwis close doors and curtains, turn on a small heat source, and warm only the main living areas.
We sleep with hot water bottles in cold bedrooms and try not to use the toilet in the middle of the night. But when I do, I swear I can see my breath in the bathroom.
2. Off with the fairies and other bizarre idiomatic expressions
Is this really an English-speaking country?
Kiwi speak features interesting idioms. Now, entrenched in the language, I hardly notice the difference; however, when I first arrived, I often had no idea what people were talking about.
Here are some of my favourite kiwi expressions (many also British), along with my understanding of their American equivalent.
Off with the fairies (daydreaming)
A box of fluffy ducks (it's wonderful)
Happy as Larry (very happy, although I have no clue who Larry is)
I can't get my head around it (I don't quite understand)
Good as gold (everything is in order)
Good on ya mate (good for you)
She'll be right mate (everything will turn out okay)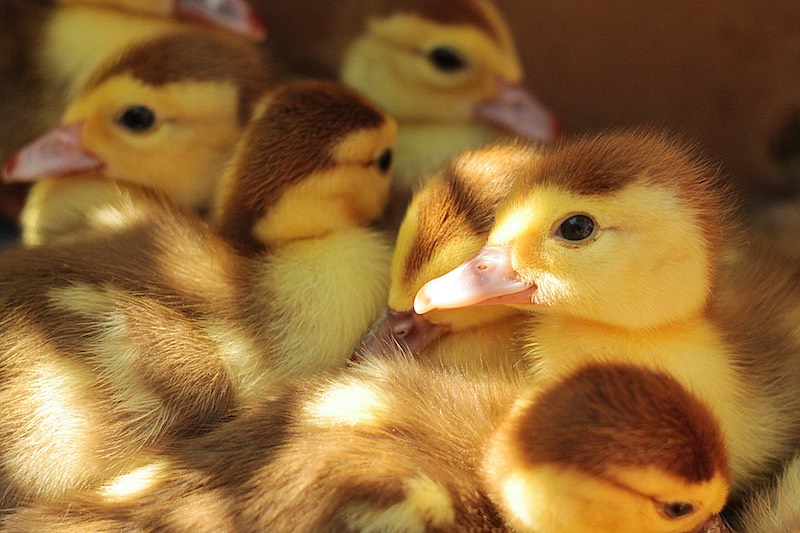 3. What happened to the letter R?
And how is it that "claw" and "door" now rhyme?
The letters R, T, and U now confuse me.
In New Zealand speak, the elusive letter "r" is randomly added to the end of some words and left off of others. Words that used to end in "a" like peninsula, are now pronounced peninsular. While many words that used to end in "er" now end in an "a" (super becomes supa).
T at the end of certain words indicates past tense, and a central "o" is now "ou". All three follow these patterns only some of the time. This is best illustrated by stories:
Another American expat in New Zealand played a rhyming card game with her child and at the end, had two cards left over. These were "claw" and "door". At first, we laughed about quality assurance and the two missing cards. Then we found out that with a New Zealand accent, door and claw actually rhyme.
In my daughter's English book, we found an instruction: "Circle all words spelt incorrectly". I thought it was an example of incorrect spelling. It turns out that the past tense of spell is spelt. Words like learnt, burnt, and kept are similar.
Then there is the added 'u' as in: colour, favourite, neighbour. And if that's not enough, some words are just spelt differently, like tyre (tire).
This "Personal Kiwi-Yankee Dictionary" didn't really help much, but it did give me a few laughs.
4. What Is THAT doing on my hamburger?
I'll admit that I miss that little slice of pickle on my burger.
But the big burger surprise came from what was on it. The classic kiwi burger has lettuce, tomato, mayonnaise, beetroot, and a fried egg.
5. Baked beans on toast is not a sandwich!
Our mistake here was learning how to make a sandwich from our children's friends. Some of their favourites include:
Peanut butter and butter
Baked beans on buttered toast (and adults top the beans with a fried egg)
Cold canned spaghetti poured over toast
Salt and pepper on toast (this from a 9-year-old)
Marmite on toast
One slice of ham between two slices of buttered bread
6. Children in New Zealand are barefoot
To be honest, being barefoot all the time was the first thing our girls loved about living here. Kiwi kids rarely wear shoes.
Really, that is all that needs to be said. From their first steps until nearly high school, shoes seem optional.
We see barefoot kids at beaches and pools, as we would expect, but they also leave shoes at home before heading to the doctor's office, zoo, restaurants, or even the grocery store. Even in schools, where uniforms are required, shoes are often optional.
Apparently, all kids have a pair of jandals (flip-flops) for that rare moment when they don't want to be barefoot.
7. Butter is big; everything else in my kiwi kitchen is small
New Zealand is a dairy producer, and nowhere is it more evident than when shopping for butter. Rather than quarter-pound sticks, butter in New Zealand comes in a 500g block (1.1 pounds).
In contrast, just about everything else in my new kitchen is smaller than its American counterpart.
As a result, the rolls of paper towels are too short for my American paper towel holder; my large American pots and pans are too large for the burners and don't fit in my sink; the refrigerator is too tiny to comment on, yet the butter is four times larger than my American butter dish.
8. Laundry still confuses me
One of our first major purchases was our washing machine.
The sales clerk initially showed us a tiny washing machine, claiming it is perfect for a family of four. When I asked for something larger, she replied, "Oh, that's right you Americans like everything big."
I ended up with the largest washing machine they had, although it held about half the laundry of the one I left in the states.
And the clothes dryer holds about 1/2 of what our washer produces. However, that quickly became irrelevant when we discovered that the labels on much of the clothing we purchase here reads "do not tumble dry." Our laundry now hangs outside to dry.
9. No gown?
As it does, life sometimes involves the medical system. And while my doctors are excellent, the process took some getting used to. In New Zealand, it's the doctor who comes to the waiting room to bring you in, and they stay with you the entire visit – even when you change clothes.
And gowns are not offered if they are not really needed, like when she needs to listen to my lungs.
10. Fart tax
As an American in New Zealand, I had to respectfully bite my lip to restrain from laughing when I heard about the fart tax. Not the concept, but rather the press' name for it.
Wondering about the fart tax? It was a current top news story back when we arrived. It's a proposed tax to help reduce greenhouse effects caused by the flatulence of farmers' millions of sheep and cattle. While it had an official name, the broadcasters nearly always referred to it as a "fart tax". However, after farmer protests, eventually, New Zealand dropped the issue.
Fast forward back to today, and here are answers to my initial expat in New Zealand questions
Honestly, with nearly 20 years living here, most of this is now just normal life. I have acclimatized to the housing temperatures and now even keep a window open nearly all year. Importantly, double-pane glass is now standard in new homes.
As for the language, I actually won an award for this wee poke at Kiwi Slang. I can understand the accent nearly always these days.
For the most part, we eat like Kiwis now. To my surprise, I enjoy beetroot on my hamburger, but I still can't get my head around the fried egg. As my children grew up, so did our sandwiches.
Today, I enjoy the freshness of laundry that has dried outdoors. And the fart tax is back in government discussions.
Now we relax and enjoy life as expats in New Zealand.
Save on your NZ trip with these resources
These are our go-to companies when we travel. We believe this list to be the best in each category. You can't go wrong using them on your trip too.
Check out our travel resources page for more companies that we use when you travel.
Save for later
If you enjoyed this article, please share it on social media and save it for later on Pinterest.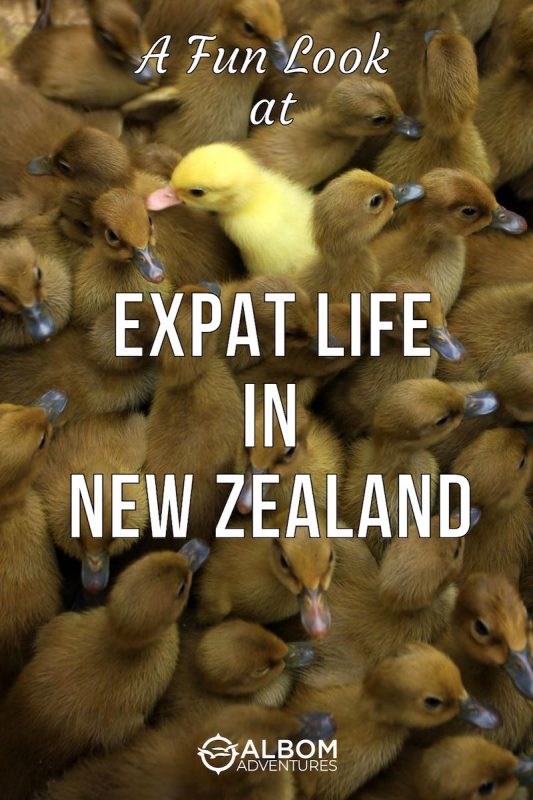 If you are an expat in New Zealand, did you have the same experiences?
You might also enjoy
Disclaimer: We are frequently provided with complimentary entrances, tours, or sample items to aid in the writing of Albom Adventures. However, the opinions expressed here are strictly our own.