Our hunt for somewhere different to explore in Mexico led us to Joel CZ, an expert who shares below some of the interesting and exciting things to do in Chetumal. Whether you're seeking relaxing beaches, Mayan history, or just tropical fun, check out his guide below.
You are about to visit the wonderful capital of Quintana Roo: Chetumal, where nature has a historical past!
This time I will bring you the best tips for your next visit. I will also give you some recommendations, so you don't miss a thing.
Of course, be prepared because you will have endless dream spots to take the best pictures and show them off on your social networks.
Chetumal has several places where you will make a special connection with nature, learn about its history and taste its exquisite regional dishes.
Their typical dishes are cochinita pibil, fish ceviche, and chocolomo.
I will also talk a little about its gastronomy. Have you ever heard of Marquesitas? Chetumal is not its original place, but they are very popular in the region.
Where is Chetumal?
Chetumal is in the southeast of Mexico, right on the Yucatan Peninsula bordered by Belize.
Currently, there are direct flights from Mexico City to the Chetumal Airport.
Another way could be by land if you are in Cancun. However, it is a long way, approximately 5 hours. But the views are worth it.
Now, without further ado, I'll recommend the following main Chetumal attractions and surroundings. Let's begin.
1. Chetumal's Boardwalk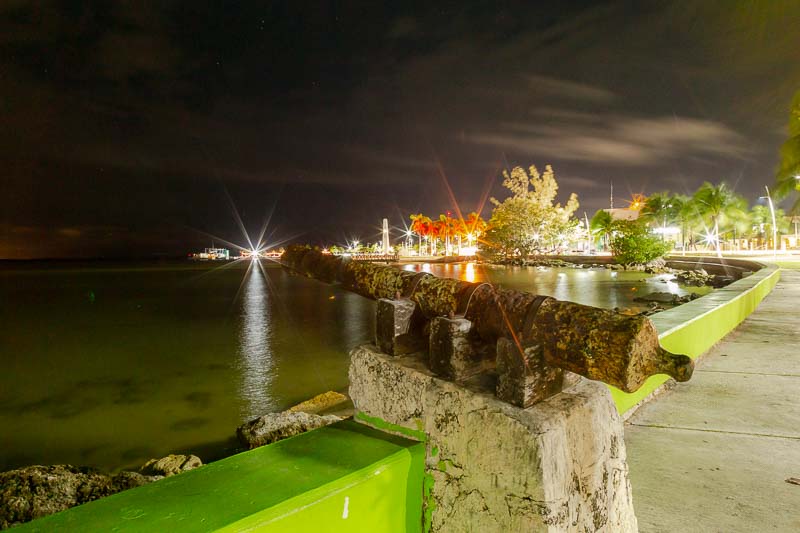 To begin this journey, the first thing to do is to visit the Malecon de la Bahia, where you will see the most representative monuments of Chetumal.
The "Malecon" has a beautiful sculpture corridor with 17 pieces by international artists.
You will also experience a great connection with the mangrove ecosystem and its fauna, and you might encounter some crocodiles, so be cautious.
This boardwalk is undoubtedly a symbolic place to appreciate the sunset. It has a unique and unparalleled view of Chetumal.
Therefore, the Malecon is a suitable place to be with your family and friends, and you can perform physical activities such as yoga or cycling, appreciating the view.
The Malecon de la Bahia has a restaurant area; street stalls are everywhere at night.
As I mentioned, the best-sellers are the marquesitas, for their rich flavor and affordable price.
Also, along the way, you will find different tourist spots. They will give you an idea of the best places to visit around the city.
You can't leave Chetumal without taking the best pictures. During your walk, you will see the sign "Aquí inicia México"(Here begins Mexico), a reference to the Belize border.
2. Shopping in Zona Libre, a must do in Chetumal
It is known as the "free zone" because it offers duty-free imported products.
Named after one of the border bridges with Belize, you will find various products such as footwear, clothing, and cosmetics, attracting many visitors daily.
What is sold in the free zone? Imported products, brand-name clothes, perfumes, shoes, electronics, and food, all at an affordable price.
Therefore, you must be aware not to exceed the total amount of products you want to cross into Mexico.
Be careful with the purchase limit, which is currently 1,000 USD per family or person. I recommend you constantly monitor your purchases.
Due to the low prices of imported products, thousands of tourists consider the Free Zone one of Chetumal's most visited shopping centers.
You may wonder why the prices are so low. Even though they are luxury items, the answer is that they are duty-free imported products.
There is no need to carry your passport with you, but it is a good idea to bring an ID so that you won't have any problems getting your products into Mexico.
3. Visit the Museum of Mayan Culture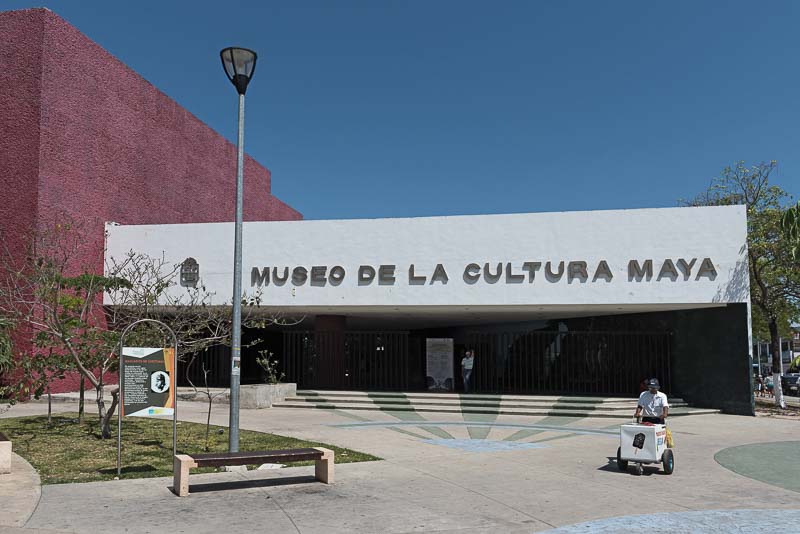 The Museum of Mayan Culture explains the cosmovision of the Mayan world.
One of the main places to visit in Chetumal is the Museum of Mayan Culture, one of the largest museums in Quintana Roo.
You will also find a large exhibition of photos, objects, and fascinating historical documents about the origin and richness of the Mayan culture.
It also has beautiful works made by artists from the region.
The museum is divided into three levels alluding to the levels of the Maya universe: earthly life, underworld, and celestial vault.
It also has four interesting didactic rooms and specialized guides to give you a tour.
Do you know what the sacred tree of the Mayas is? It is the Ceiba or Yaxché, and in the Museum of Mayan Culture of Chetumal, everything revolves around it.
Why is "Yaxché" important in the Mayan culture? Because it refers to one of the fundamental elements of the culture, the protagonist of rituals and ceremonies.
The museum is open from Tuesday to Sunday from 9:00 – 19:00 hrs. It is located at Av. Héroes, with corner Mahatma Gandhi s/n. And the entrance fee is 26 Pesos (1.50 USD).
4. Explore the Kohunlinch Ruins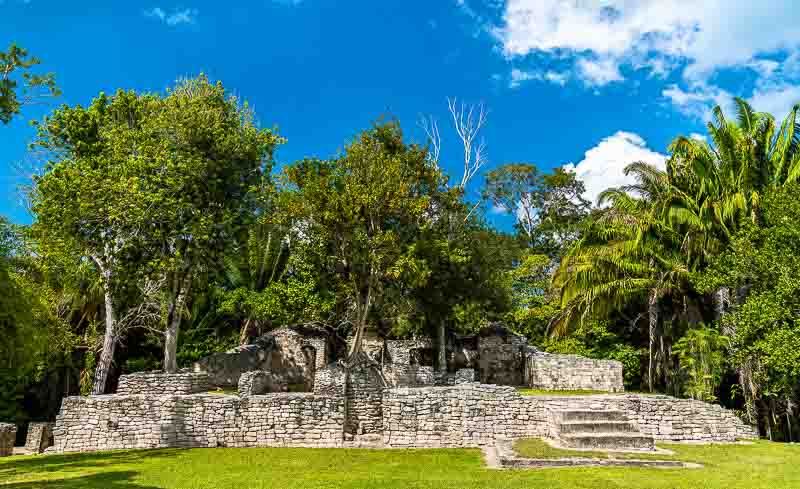 On March 20, 1969, the existence of Kohunlich's archaeological zone was officially announced.
Would you like to feel in the middle of the enigmatic jungle? If so, I recommend visiting the Kohunlich Ruins, a former Mayan ceremonial center.
How much is the entrance fee to Kohunlich? It is very affordable: 85 Pesos (about 4 USD), and the entrance is free on Sundays.
This magical place is about 65 kilometers from Chetumal and is open from 8:00 to 17:00 hrs. every day of the week.
For this reason, it is one of the most important Mayan precincts. The temple of the Mascarones stands out, named after the drawings that still preserve their red paint.
The Mascarones is the most famous structure in the State of Quintana Roo; almost 2 meters tall, it was considered the solar God.
Also, in the archaeological zone, you can practice physical activities such as cycling and enjoy nature.
Thinking of staying near Kohunlich? Chetumal has a hotel called "The Explorean Kohunlich."
In addition to cozy facilities, they offer diverse experiences inside the hotel, such as romantic dinners, kayak rides, sailing tours, a spa, and even weddings.
Now you know. You can't leave Chetumal without visiting the Kohunlich Archaeological Zone.
5. Mahahual Beach in Chetumal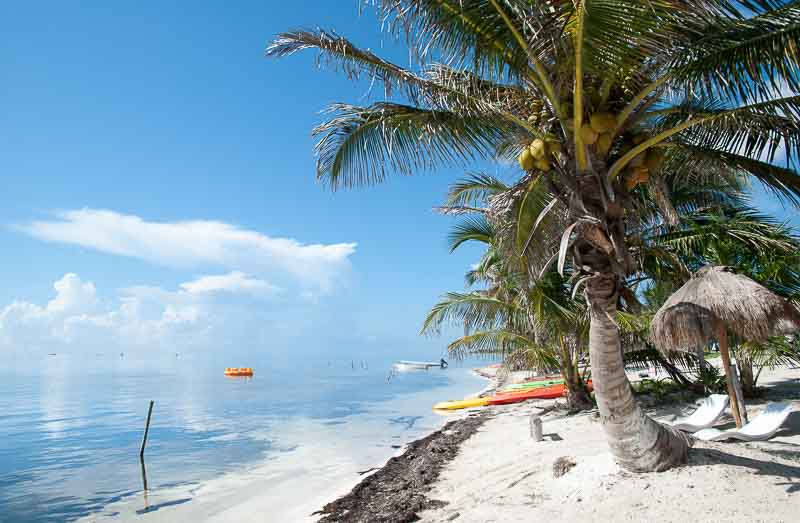 The name Mahahual comes from a specific species of trees native to the area.
The combination of the sea and nature makes it representative of one of the best beaches in Chetumal, considered one of the most sought-after attractions.
Located 141 km from Chetumal, approximately 2 hours from the Chetumal airport.
Mahahual is a tranquil town where tourism is felt more when cruise ships arrive at its beaches, either as a connection or destination to Cancun or any other beach.
What to do in Mahahual? Thanks to the beauty of its beaches, it is a favorite place for diving, kayaking, snorkeling, biking, walking along the boardwalk, and much more.
Also, if you are on your way along the boardwalk, you will find beach clubs, and you can enjoy the best dishes in the region.
Please don't forget to take lots of pictures with the colorful and emblematic;"Mahahual" letters on the boardwalk.
And if you want to stay here, fortunately, there are several hotels to spend the night in. My recommendation is to make a reservation and plan your stay.
6. Watch the Sunset at the Bacalar Lagoon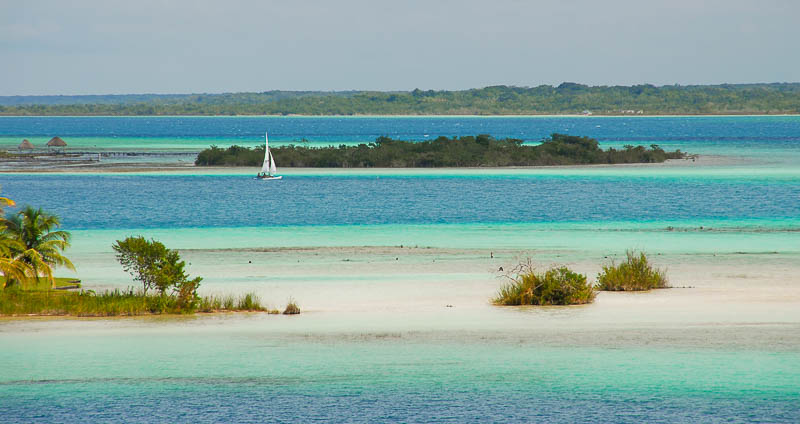 Since October 2, 2007, Bacalar has been officially Pueblo Magico. Definitely, one of the best sunsets you will ever see.
The Laguna de Los 7 colores (7 colors Lagoon) stands out because of the mesmerizing effect caused by the different shades of blue of its beautiful crystalline waters.
Bacalar comes from the Mayan "Bakhalal," meaning "near or surrounded by reeds."
The lagoon is shallow, which allows you to swim or even walk without seeing the end.
For this reason, you can also practice low-impact aquatic activities, avoiding altering the ecosystem using a boat or kayak.
Why is Bacalar a magical town? Because it enjoys unparalleled natural beauty, interesting cultural heritage, hotels and restaurants, and much more.
Other attractions in Bacalar are the Pirates' Canal, several cenotes, Laguna de Xul-Ha, Fort San Felipe, and Bird Island, among others.
There are many places to visit in Chetumal, but the Bacalar Lagoon is the most posted on social networks.
Where to stay in Bacalar? The truth is that there is something for any budget. In Bacalar, the offer is broad, from simple hostels to luxury hotels.
So now you know that Bacalar is an excellent option you can't miss when planning your itinerary of what to do in Chetumal.
7. Visit Las Calderitas in Chetumal
Its name derives from the Mayan words Chaac te emal, which means: where the rains come down.
Located only 8 kilometers from Chetumal, on the coast of the Bay. If you're in Chetumal, there is public transportation where you can go back and forth.
Las Calderitas is a town initially dedicated to fishing, and nowadays also to tourism.
You may wonder what to do in Las Calderitas. You can take a boat ride, enjoy the fauna, sunbathe, swim and delight yourself with the best regional dishes.
Also, like all the previous destinations, in Las Calderitas, you can enjoy the sunrise and sunset. This Caribbean corner will give you a great experience to share.
What do you need to bring to Las Calderitas? Comfortable clothes and bathing suits. Always bring your camera and your biodegradable sunscreen that doesn't harm the ecosystem.
And if night falls here and you don't want to take the bus back, you can find a cozy hotel, or why not, stay and camp!
Final thoughts on things to do in Chetumal
Now you will think of Chetumal as one of the best tourist attractions in Quintana Roo. An excellent destination for nature lovers and beach sunsets.
Save on your trip with these resources
These are our go-to companies when we travel. We believe this list to be the best in each category. You can't go wrong using them on your trip too.
Flights: we use Expedia for the best and cheapest flight options.
Accommodations: we use Booking.com (hotels), VRBO (self-contained), or Hostelworld (budget).
Cars (gas or electric): we use RentalCars to search for deals and dealer ratings.
Campervans or Motorhomes: we use Campstar where Albom Adventures readers get a 3% discount.
Motorcycles: we have heard good things about BikesBooking.
Private guides: we love the private guides at Tours by Locals.
Travel Insurance: while not required, we always opt for travel insurance and start at InsureMyTrip to compare coverage plans.
Check out our travel resources page for more companies that we use when you travel.
Save for later
If you enjoyed this article, please share it on social media and save it for later on Pinterest.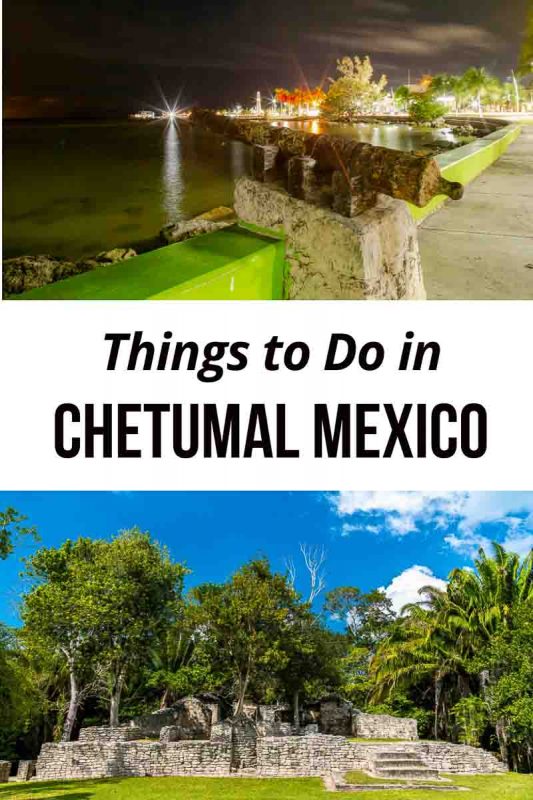 Which of these things to do in Chetumal will you try?
You might also like …
Photo Credits:
All photos on this page are stock images from Depositphotos.
About the author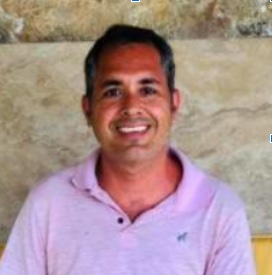 For the past 20 years or so, Joel CZ has done a lot of traveling within his country, Mexico. There are so many towns to visit that it never ceases to amaze him all the beautiful places he didn't know existed. He writes about them in his blog, Mexico Travel and Leisure.