We have had some incredible opportunities during a lifetime of travel. Including among these, we have been lucky enough to visit a few iconic ancient Mayan archaeological sites. Today we compare Tikal vs Chichen Itza.
Steeped in history and mystery, these UNESCO World Heritage sites hold immense cultural significance. Join me as I compare my experiences exploring these ancient wonders, sharing insights on the journey, architectural grandeur, and overall ambience of each site.
Visiting Tikal: A hidden gem in the jungles of Guatemala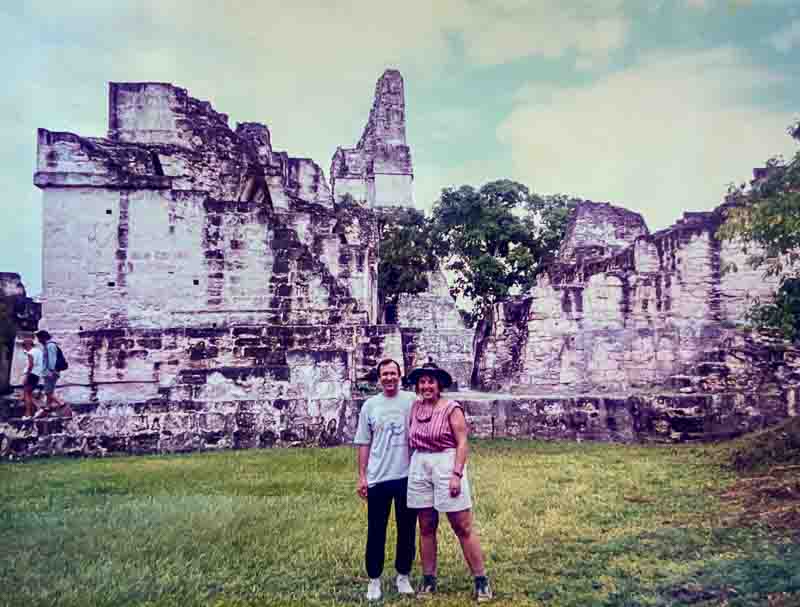 For Jeff and I, Tikal was a day trip from San Ignacio, Belize, where we were spending several days. We had met a few other couples who also wanted to see Tikal, so together, through the hotel, the six of us hired a driver and English-speaking guide.
After an early morning start, we all embarked on a scenic drive through verdant landscapes. The journey took less than three hours, including a stop and our border crossing.
Honestly, the drive was more of an adventure. The van seemed nice enough when we started out, but once we crossed into Guatemala, sections of the road were in need of repair, and we quickly discovered the van needed better shocks.
The combination of all that bouncing and the coffee we all had with breakfast left a few of us in need of a pit stop. Of course, there were no public bathrooms until we reached the park, so our driver stopped at the home of one of his friends, and they allowed us all to use their outhouse.
In the end, there was lots of laughter among our group. If you are staying in San Ignacio and are looking for a day trip to Tikal that includes assistance at the border crossing and a guided tour of the ruins, check out this one: Reserve your day trip to Tikal from San Ignacio, Belize here.
The ruins of Tikal, a glimpse into Mayan splendour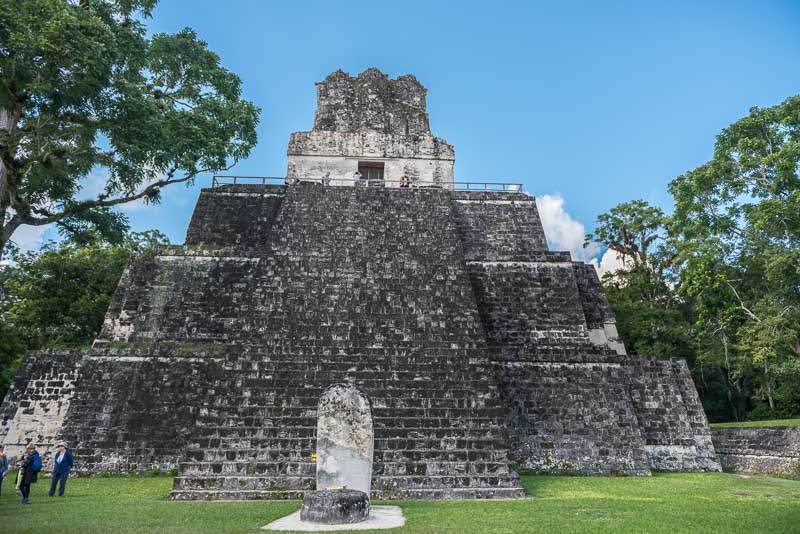 Upon arriving at Tikal National Park, we were greeted by an air of mystique as towering pyramids peeked through the dense canopy.
Tikal National Park covers a vast area, nearly 575 square kilometres, and the ancient city covers 16 square kilometres of that and hosts about 3,000 buildings.
Needless to say, after the drive, our anticipation was high, and we were eager to explore Tikal's hidden treasures. Our adventure began with a walk along well-maintained trails, surrounded by the songs of tropical birds and the occasional roar of howler monkeys.
As we stepped into the heart of Tikal, the sheer magnitude of the ancient city revealed itself.
The majestic Temple I, also known as the Temple of the Great Jaguar, stood tall before us. Its awe-inspiring stature and intricate architectural details captivated my attention. The stairs to the top are treacherous, and after a few tourists fell to their death here, climbing Temple I steps is no longer allowed.
We climbed to the top of Temple II, the Temple of the Masks, and were rewarded with breathtaking panoramic views of the surrounding jungle and two ceremonial and residential complexes. For a moment, we felt like ancient rulers surveying their kingdom (of course, this thought was planted by our guide before we walked to the top).
Tikal's Plaza of the Seven Temples showcased the remarkable craftsmanship of the Mayan civilization. The intricately carved stelae and altars provided insight into their culture, beliefs, and historical events.
Visiting Chichen Itza: The jewel of the Yucatan Peninsula
On a separate occasion, I visited Chichen Itza on a day trip from Cancun, Mexico, with a group of friends. We took an organized tour, and the drive from Cancun took around three hours, offering a chance to admire the picturesque landscapes of the Yucatan Peninsula.
Another amazing place, Chichen Itza is a UNESCO World Heritage site and was named it one of the New 7 Wonders of the World in 2007
The ruins of Chichen Itza
Chichen Itza, with its well-preserved ruins, draws visitors from around the world. The imposing El Castillo, or the Temple of Kukulkan, dominated the central area. Its remarkable construction, aligned with astronomical precision, exemplifies the Mayan civilization's advanced understanding of celestial phenomena.
The grandeur of the Great Ball Court left us marvelling at the Mayans' sporting prowess as we imagined the ancient games that once took place within its colossal walls.
Exploring the sprawling complex, we were also taken to the sacred Cenote Sagrado, a natural sinkhole that served as a sacred site for rituals.
Still on my bucket list would be to come back here during the equinox and witness the play of light and shadow, which creates the illusion of a descending serpent on the temple's staircase.
If you are going to make your own way to the ruins, you will want to reserve this skip-the-line pass in advance. Or, if you are heading there from Cancun or Playa del Carmen, you will want to choose your tour options here.
Where are Tikal and Chichen Itza?
We highlighted the two key destinations (Tikal and Chichen Itza) in black, and added drive lines from our starting points. But those are not the only ways to get there.
Distance to Chichen Itza from these other cities in Mexico is:
Cancun: 200 Km (2 hours 44 minutes drive time) – recommended tour: Reserve your Cancun or Playa del Carmen to Chichen Itza tour here
Playa del Carmen: 185 Km (2 hours 23 minutes drive time) – recommended tours are on the same link above at Cancun.
Mérida: 121 Km (1 hour 53 minutes drive time)
Chetumal: 325 Km (4 hours 17 minutes drive time)
Distance to Tikal is:
Comparing Tikal vs Chichen Itza
Our ultimate verdict is that both Tikal and Chichen Itza offer remarkable insights into the rich tapestry of Mayan civilization, but they each possess unique characteristics that set them apart.
Tikal vs Chichen Itza: ambience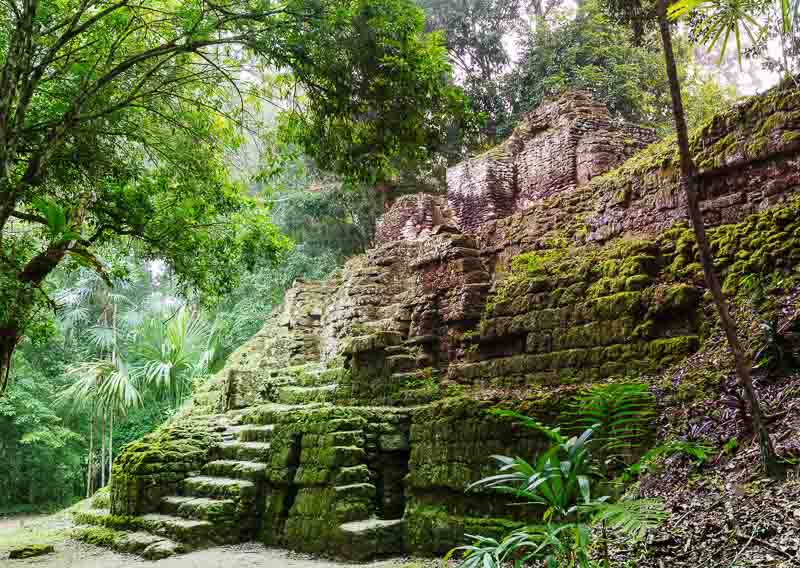 Tikal's location deep within the Guatemalan jungle creates an atmosphere of exploration and adventure. The untouched surroundings and the sheer immensity of the site contribute to an almost mystical experience.
On the other hand, Chichen Itza's accessibility and proximity to Cancun make it a popular choice for tourists (like me at the time) seeking a glimpse into the Mayan legacy without venturing too far off the beaten path.
Tikal vs Chichen Itza: architectural grandeur
In terms of architectural grandeur, both sites boast impressive structures.
Tikal's pyramids rise majestically from the dense jungle. The intricate carvings and stonework found in Tikal's ruins highlight the Mayan craftsmanship and attention to detail.
In contrast, Chichen Itza showcases a blend of Mayan and Toltec architectural styles. The iconic El Castillo pyramid, with its precise alignment and impressive scale, stands as a testament to the engineering prowess of the ancient Mayans.
The site's well-preserved ball court, observatory, and other structures provide valuable insights into the civilization's social, religious, and scientific practices.
Tips for visiting Tikal and Chichen Itza
Wear lightweight, breathable clothing and comfortable shoes. Both Tikal and Chichen Itza involve a fair amount of walking. And the day I visited Chichen Itza was shockingly hot and humid, with very little shade.
Bring a water bottle and a few snacks.
Use insect repellent. Being situated in natural environments, both sites can have mosquitoes and other insects. As one who contracted dengue fever in the Brazilian jungle, I am pretty careful about this.
These are ancient sites with historical and cultural significance. Please respect the structures, follow the rules, and avoid climbing or touching any prohibited areas.
Consider hiring a local guide to enhance your experience and gain a deeper understanding of the history, architecture, and cultural significance of the sites. We have always been happy with the private guides we have used around the world from Tours by Locals.
If you are driving through Guatemala's jungle roads to Tikal, be prepared for a bumpy ride. From experience, I recommend wearing a supportive bra, as the road conditions can be that rough.
Remember, these tips will help ensure a more enjoyable and fulfilling experience when at any of the Mayan ruins. In addition to the two featured here, Tikal and Chichen Itza, Jeff and I have explored the Mayan ruins of Xunantunich in Belize and Tulum in Mexico.
Whichever ruins you visit, remember to embrace the historical significance and immerse yourself in the awe-inspiring wonders of these ancient civilizations.
Final thoughts on Tikal vs Chichen Itza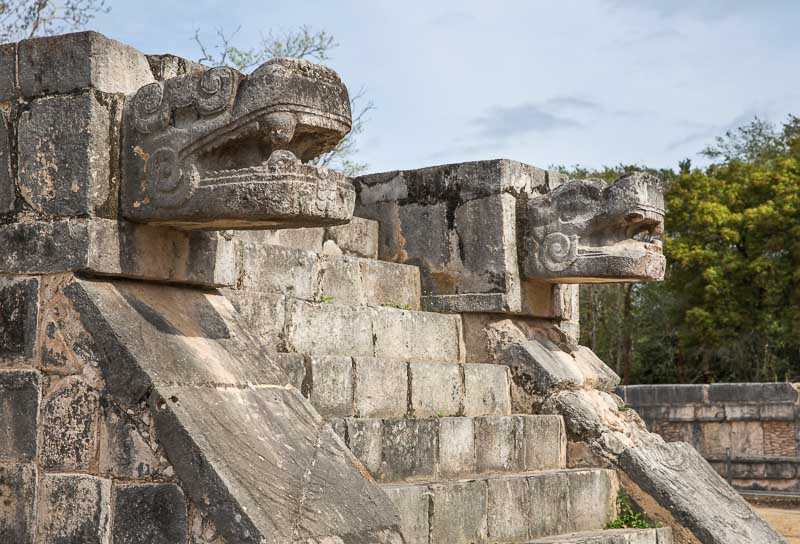 Ultimately, the choice between Tikal and Chichen Itza depends on your preferences as a traveller. If you seek an off-the-beaten-path adventure surrounded by dense jungle and a sense of mystique, Tikal is the perfect choice. The journey itself, with its scenic drive and remote location, adds to the allure of the experience.
On the other hand, if you prefer a more accessible and tourist-friendly option, Chichen Itza provides an exceptional opportunity to witness the magnificence of Mayan architecture and culture.
Its proximity to popular tourist destinations like Cancun allows for a convenient day trip, making it a great choice for those with limited time or seeking a more comfortable travel experience.
Whichever site you choose, prepare to be captivated by the architectural wonders, cultural significance, and historical mysteries that await you at these extraordinary destinations.
Did I have a favourite? Only slightly, I favour Tikal, but honestly, both were amazing.
Save on your trip with these resources
These are our go-to companies when we travel. We believe this list to be the best in each category. You can't go wrong using them on your trip too.
Flights: we use Expedia for the best and cheapest flight options.
Accommodations: we use Booking.com (hotels) or VRBO (self-contained).
Cars (gas or electric): we use RentalCars to search for deals and dealer ratings.
Campervans or Motorhomes: we use Campstar where Albom Adventures readers get a 3% discount
Private guides: we love the private guides at Tours by Locals
Travel Insurance: we start at InsureMyTrip as they are the best option to compare plans and find the right coverage for you.
Check out our travel resources page for more companies that we use when you travel.
Save for later
If you enjoyed this article, please share it on social media and save it for later on Pinterest.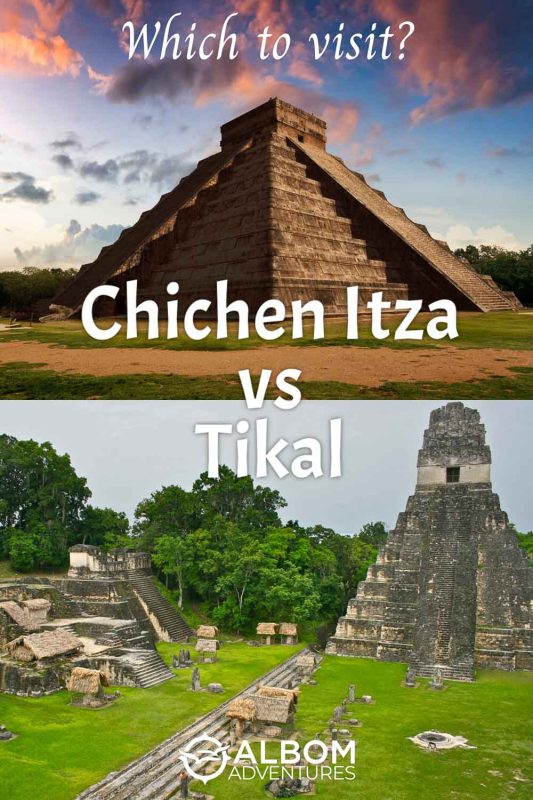 Tikal vs Chichen Itza, which will you visit?
More from Central America and the Caribbean you might enjoy …
Photo Credits:
All photos on this page are either shot by our team and watermarked as such or stock images from Depositphotos.