Rainforest or coffee plantation? Jungle tram or zip line? Pontoon boat to see crocodiles or a city tour? We only had one day at the Puntarenas Costa Rica cruise port, and we had to choose.
Tempted by the lure of a rainforest teeming with exotic wildlife for us, coffee won out. But we talked to many people on the ship, and it turns out either choice was a good one.
Both are discussed below, along with a few other options for things to do from the Puntarenas Costa Rica cruise port.
Costa Rica cruise port: Best things to do in Puntarenas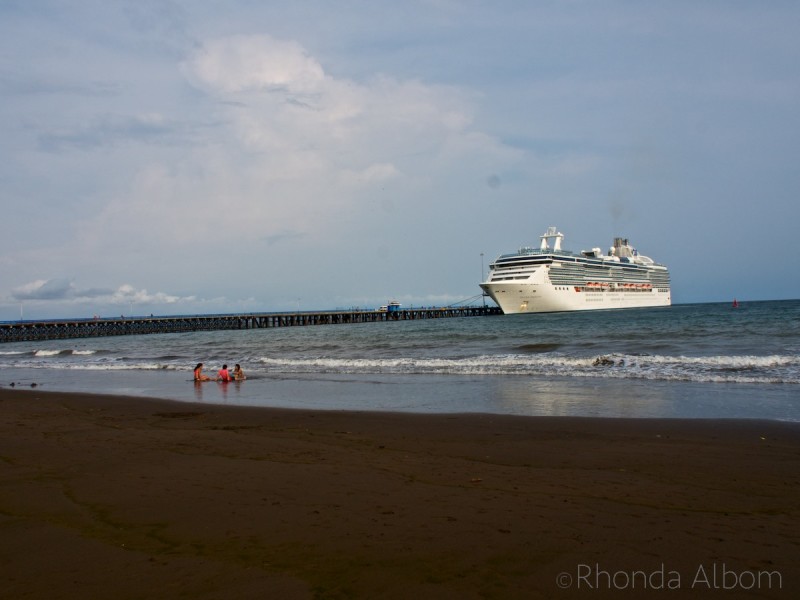 Surrounded by islands, inlets, beaches, and natural treasures, the actual town of Puntarenas is quite small. In fact, it's easily accessible by walking off the cruise ship. However, you will need transportation to get out to the jungle, coffee plantations, cloud walks, or even the capital city of San Jose.
Nearly all of the excursions begin with a relaxing drive through the countryside. A guide will take this opportunity to highlight some of Costa Rica's history, along with pointing out its exotic flora and fauna, mango, sugar and citrus plantations, colourful fruit stands, rural farming communities, and miles of pristine landscapes.
Top things to do in Puntarenas as a Costa Rica cruise port
Visit a coffee plantation
Choose a wildlife viewing and rainforest exploration
Learn how Sarchi oxcarts are made
Stroll through San Jose, Costa Rica's capital city
Enjoy the beach
Visit a Coffee Plantation
Although Costa Rica produces only 1% of the world's coffee, they have an excellent reputation for quality. This is due in part to a law requiring that only Arabica beans are grown, thus maintaining quality.
We opted for a half-day excursion to Espiritu Santo Coffee Plantation that included a visit to the Sarchi oxcart craft town.
Espiritu Santo is actually a co-op that started in 1968. Today it consists of 2,300 farmers on 247 hectares.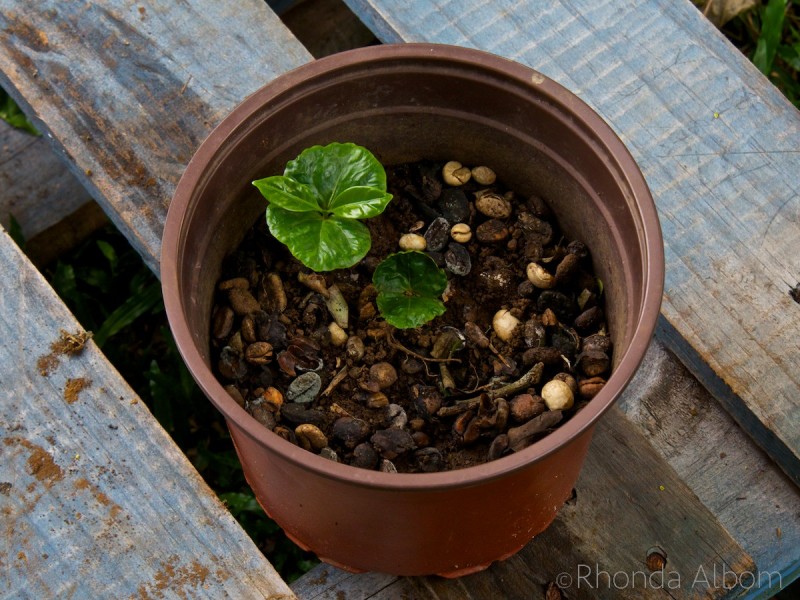 Here, we discovered the bean-growing process
Plants grow from beans in pots for the first year before being transplanted to an orchard. Significant yield begins after three years and a plant's lifetime is 25 years.
The rainy season brings jasmine-smelling white flowers that turn black leaving a small coffee bean behind.
Once mature, the berry turns red and is ready for hand-picking.
Paid by the basket, the average picker gathers about ten baskets (12kg each) per day. However, the fastest can fill 25 baskets.
Removing the flesh of the coffee berry within 24 hours of picking avoids fermentation.

The centre bean is then dried either by heat for 28 hours or by air (for much longer). Air drying produces a higher quality bean.

Beans are placed in 46kg sacks.
Sampling coffee made the traditional way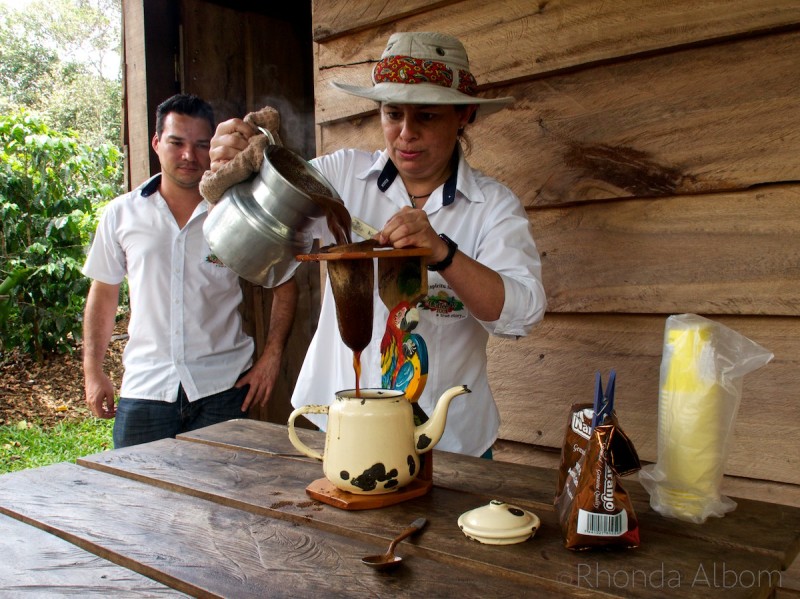 Although our visit started with a fabulous coffee sample, after following the process, the traditional coffee made using a chorreador seemed even better.
Here, our guide poured simmering water through ground coffee held in a fabric filter. This allows the oils to come through, enhancing the flavour.
Sarchi oxcarts
Brightly coloured, hand-painted oxcarts once carried coffee from the growing fields. Traditionally passed down through the generations, they are a form of Costa Rican folk art.
We visited the oxcart factory in Sarchi, a town known throughout Costa Rica as the birthplace of oxcart craftsmen.
Located on the outskirts of San Jose, it's a great add-on to any coffee, chocolate, or capital city tour.
Wildlife viewing and rainforest walks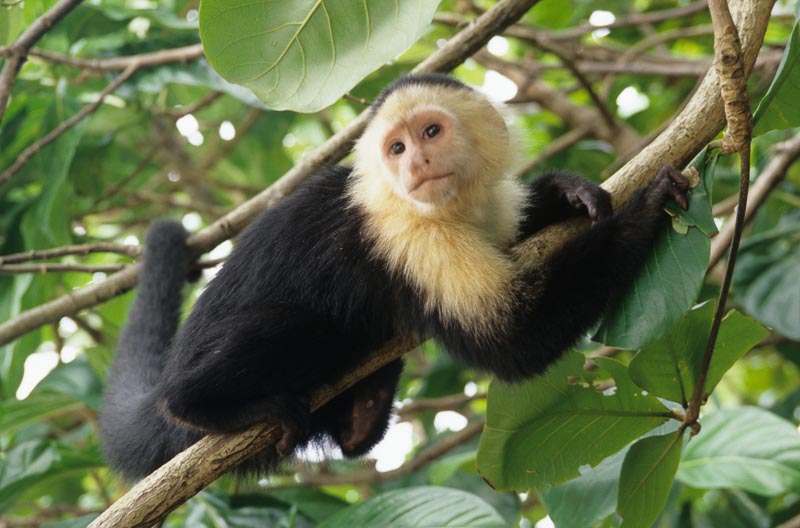 With over half a million different animal species in Costa Rica (300,000 of which are insects), it's hard to go into the rainforest and not see very many. But it does happen.
In fact, on the rainy day that we were there, one of the groups got stuck in the mud for a while, reducing their rainforest time and ultimately leaving them with a non-interesting story to share.
To increase the likelihood of seeing specific animals, you might want to visit one of the wildlife centres or take a focused excursion.
Wildlife, rainforest, and other nature-based adventures from this Costa Rica cruise port
The key wildlife and rainforest options are:
Spot crocodiles from a cruise on the Tarcoles River
One of the world's largest crocodile habitats makes for a fascinating pontoon cruise.
Take a Walk in the Clouds
This is a canopy walk on a series of suspension bridges.
Relax in the hot springs and view Arenal volcano
While many visitors find the views of one of the world's most active volcanoes to be the highlight here, for me, it is the natural mineral hot springs created by geothermal activity.
Visit the Costa Rica Animal Rescue Center
Here, injured or otherwise harmed endangered wildlife get shelter, food and medical attention. The goal is always rehabilitation and release. Employing mostly volunteers, the center is in Turrucares.
Combine Puntarenas Costa Rica cruise port options with a tour
If you want to do it all, you can, or at least get close. Here are a few top-rated options:
Monteverde Cloud Forest and coffee tour shore excursion
The eight-hour excursion includes crossing six suspension bridges at Monteverde Cloud Forest, a typical Costa Rican lunch, and a coffee plantation tour. You will discover what lives and grows at some of the higher altitudes while you enjoy the incredible diversity at this Costa Rica cruise port. Then enjoy a Don Juan Coffee tour. Reserve your Cloud Forest and coffee tour here.
Puntarenas highlights 6 in 1 shore excursion
This one gives you a good taste of the area. The highlight is the riverboat cruise with a professional naturalist tour guide on the Tarcoles River. In addition to crocodiles, he will point out many of the 320 bird species in the area. You will also visit Carara National Park, Villa Lapas Reserve's eco SkyWalk, and shop at El Jardin. Reserve your 6-in-1 excursion here.
Tortuga Island full-day boat trip
This 7-hour adventure will bring you to the white sand beach of Isla Tortuga for a day of reef snorkelling, spider monkeys and dolphin watching, seeing the Nicoya Stone Arch and enjoying lunch in a private beach club. Reserve your Tortuga Island boat trip here.
Or take a private tour
Private highlights tour (price is per person)
Your private guide will meet you at the port and take you to Puerto Caldero to see the white-faced monkeys, Tarcolas River for a tropical fruit smoothy, shopping, and a boat ride to spot crocodiles, and give you a city tour of Puntarenas. Reserve your private highlights tour here.
Tours by Locals (price is per group)
Offering a huge variety of Puntarenas tours, the biggest advantage we have found working with Tours by Locals is that you can choose your guide and email them prior to the tour. We often do this to change the itinerary and custom-create our own. All three of the local guides for this area are highly rated, and all three are multilingual, including English. Choose your guide and reserve your private tour here.
Explore San Jose, the capital of Costa Rica
San Jose, the capital of Costa Rica, is a 1.5-hour drive from the Puntarenas Costa Rica cruise port.
Travelling through emerald valleys, residential areas, rural landscapes, and past the national stadium, I was mesmerized by continuous beautiful scenery. San Jose is the ideal excursion destination for those looking for history, culture, shopping, or those who simply don't like being in the jungle.
Many consider the National Theater of Costa Rica (Teatro Nacional de Costa Rica) to be the highlight of their visit to the city. Its graceful, neoclassical architecture, marble foyer, and stunning ceilings make it one of Costa Rica's most beautiful buildings.
Stroll along streets in the Puntarenas Costa Rica cruise port area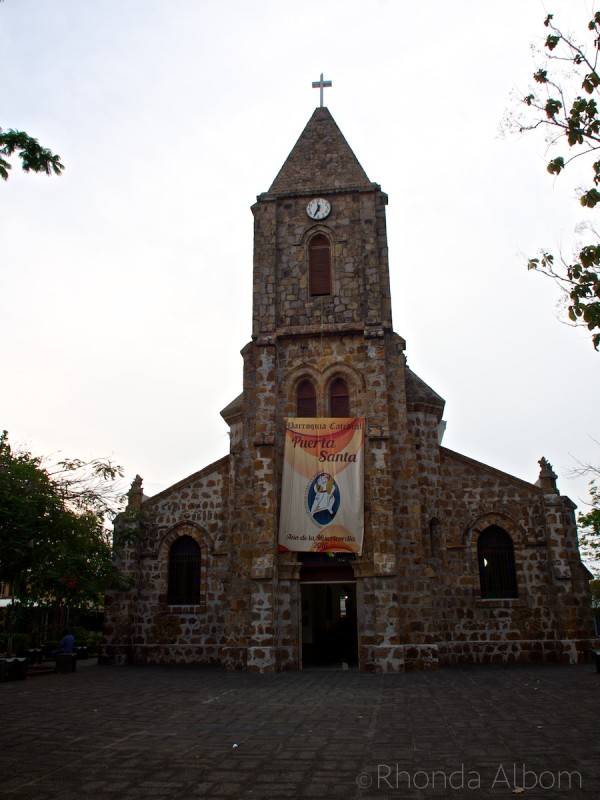 After returning from our excursion, we had enough remaining time to either head to the beach or explore the easily walked town of Puntarenas.
In addition to downtown, we opted to stroll to the main commercial fishing area, which is on a water inlet about five blocks from the beach (walk along Calle Central).
Here we found a number of seafood restaurants, and despite temptation, we headed back to the town, went into the Catedral de Puntarenas (built in the 1800s), and then stopped at a grocery store as we always find them to be a window into local culture.
Pick up souvenirs at the market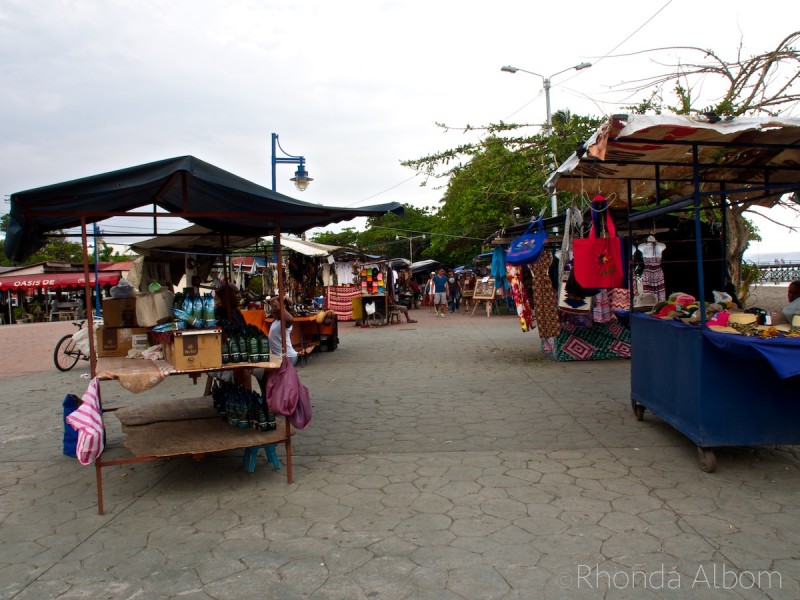 Before returning to the ship, we took a bit of time to shop at the local market set up along the Esplanade just outside this Costa Rica cruise port. I am pretty sure this is only here on the days there are cruise ships.
More on this Costa Rica cruise port
Bring and use insect repellant as mosquitos are present during the daytime.
Language: Spanish
Currency: Costa Rican Colon, but many street vendors also accept US Dollars.
Costa Rica was one of several ports on a cruise from Florida to Vancouver that passed through the Panama Canal. If you're cruising in the region, don't miss these 25 tips for cruising.
If you are thinking about cruising, check out the latest deals at Princess Cruises.
Read next: 20 Picturesque Cruise Ship Ports Around the World
Save on your trip and cruise with these resources
These are our go-to companies when we cruise. We believe this list to be the best in each category. You can't go wrong using them on your trip too.
Check out our travel resources page for more companies that we use when you travel.
Don't miss our best cruise tips.
Save for later
If you enjoyed this article, please share it on social media and save it for later on Pinterest.
What will you do at this Costa Rica cruise port?
You might also like …
Photo Credits:
All photos on this page are either shot by our team and watermarked as such or stock images from Depositphotos.