Portland Oregon is known for its vibrant culture, beautiful scenery, and trendy neighborhoods. We found it to be fun and funky and loaded with free things to do in Portland.
We have a few friends who live here and could easily see why they chose it. There is an overall friendliness of the community coupled with a genuine concern for the environment.
From exploring the abundance of parks, gardens, and hiking trails to attending free concerts and events, Portland has a lot to offer without spending a dime. And at the time, that seemed perfect for us, as we arrived exhausted from weeks of continuous travel without a break.
Below, we take a look at some of the best free things to do in Portland so you can make the most of your time without breaking the bank. You'll be amazed at how much you can see and do for free in this incredible city.
Top free things to do in Portland Oregon
Hike in Forest Park
Stroll along the Eastbank Esplanade
See cherry blossoms at Tom McCall Waterfront Park
Find hidden treasures at the Portland Saturday Market (or the Farmer's Market)
Read something fascinating at Powell's City of Books
Enjoy nature at Powell Butte Nature Park
Discover the highlights of Washington Park, including the International Rose Test Garden and Hoyt Arboretum
Check out the street art
Map highlighting free things to do in Portland
Click the expand / collapse icon in the upper left corner of the map for the details. Note that the free things to do in Portland are in Red, and those that are only free some of the time are in yellow.
Forest Park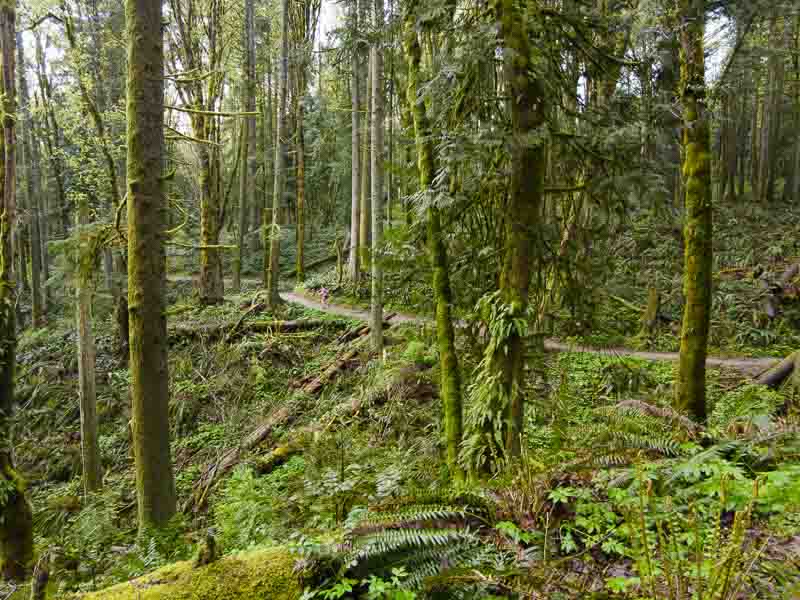 Address: NW 29th Ave
Forest Park is one of the largest urban forests in the country, with over 5,000 acres of forest and miles of hiking trails to explore. The park offers a variety of trails for hikers of all skill levels and provides an opportunity to experience nature in the heart of the city.
Jeff and I chose a moderate trail and hiked for a few hours before we enjoyed a picnic lunch on a grassy spot in the park. It was a great way to spend a day in nature without leaving the city.
Pittock Mansion is also located in the park. Although entry to this historic house museum, built in 1914, has a fee, walking through the grounds is free. Pittock Mansion sits at the top of the hill with stunning views of the city.
Eastbank Esplanade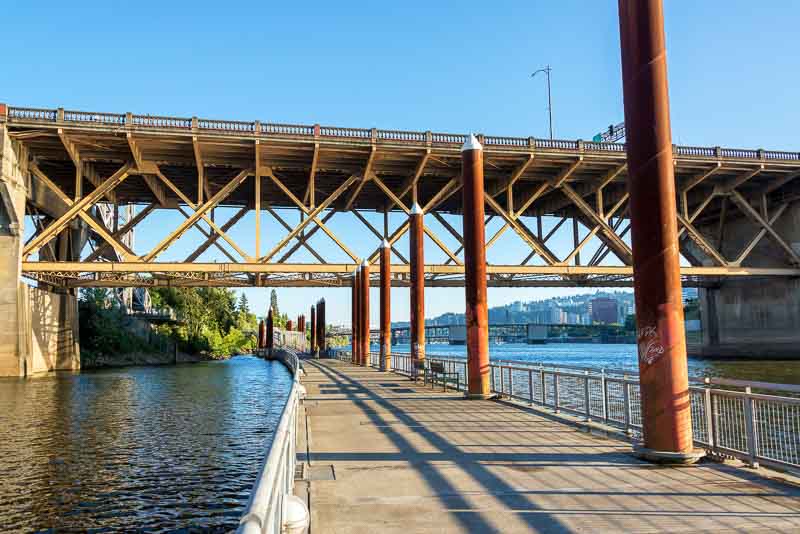 Address: SE Water Ave & SE Hawthorne Blvd
The Eastbank Esplanade is a popular 1.5-mile riverfront path along the Willamette River, perfect for walking, jogging, or biking. We enjoyed scenic views of the city, the river, and the bridges that cross it.
Bicycle riding along the Eastbank Esplanade is also a lot of fun. It's pretty easy to rent bikes and ride along the path, taking in the sights of the river and the city. It was a great way to see the city from a different perspective.
Although not free, there's even a top-rated bicycle foodie tour that rides along the Eastbank Esplanade. Reserve your foodie tour here.
Tom McCall Waterfront Park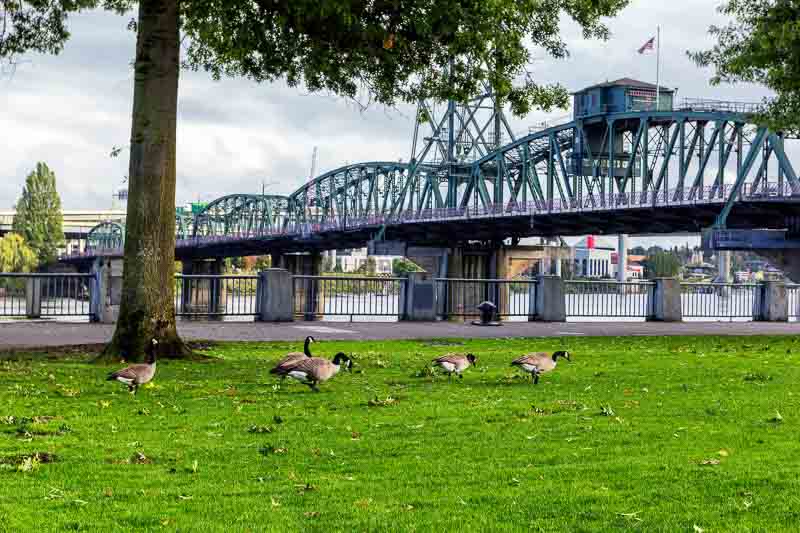 Address: 98 SW Naito Pkwy
Governor Tom McCall Waterfront Park is a beautiful park located along the Willamette River in the heart of downtown. Offering stunning views of the city skyline and the river, the park is a popular spot for jogging, walking, and picnicking.
The park is also the best place to see cherry blossoms in Portland as the trees burst into color in the springtime.
Portland Markets
Portland Saturday Market
Address: 2 SW Naito Pkwy
The Portland Saturday Market is an open-air market that takes place every Saturday and Sunday from March through December in the Old Town Chinatown neighborhood. It features over 250 local artisans, craftspeople, and food vendors selling handmade goods and tasty treats.
It is the country's largest continuously operated outdoor arts and crafts market.
Portland Farmers Market
Also popular with locals are the Portland Farmers Markets that take place throughout the city on different days of the week. They feature a variety of local farmers, ranchers, and food producers selling fresh produce, meat, dairy, and other locally sourced products.
The flagship farmers market is held at Portland State University every Saturday, but there are also markets in other locations throughout the city.
Powell's City of Books
Address: 1005 W Burnside St
Powell's City of Books is the world's largest independent new and used bookstore, with 1.6 acres of retail space and covering an entire city block in downtown Portland.
The bookstore has an impressive collection of new and used books and a rare book room, which houses rare and valuable books that are not available for purchase.
It's one of the first places in Portland that we visited, and we were surprised how we got lost in the fun of browsing the shelves at Powell's. It's easy to do, and like most people, we emerged with a few treasures to take home.
Powell Butte Nature Park
Address: 16160 SE Powell Blvd
Powell Butte Nature Park is a beautiful area with stunning views of the city and the surrounding mountains, including a distant view of Mt. Hood. The park features over 600 acres of natural habitat and is home to a variety of wildlife, including birds, butterflies, and deer.
While we didn't get a chance to visit Powell Butte Nature Park on our last trip, it's definitely on my list of free things to do in Portland on our next visit. The park has miles of hiking trails that wind through forests, meadows, and streams, providing ample opportunities to explore the area's natural beauty.
Washington Park
Address: 4033 SW Canyon Rd
Washington Park is a large urban park that offers a variety of free and paid activities and attractions, miles of hiking trails, picnic areas, and playgrounds. Inside the park is:
International Rose Test Garden
Hoyt Arboretum
Oregon Zoo
Portland Japanese Garden (see "sometimes free" section below)
International Rose Test Garden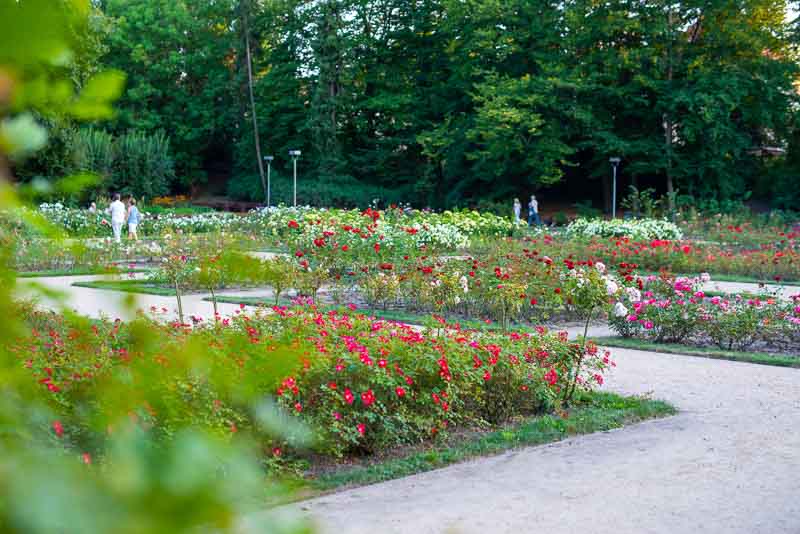 Address: 400 SW Kingston Ave
International Rose Test Garden is the oldest official continuously operated public rose test garden in the United States. It is home to over 10,000 roses with more than 610 varieties.
The rose garden is especially beautiful in the summer months when the roses are in full bloom. A highlight is the Queen's Walk, a beautiful pathway lined with a variety of rose species.
Hoyt Arboretum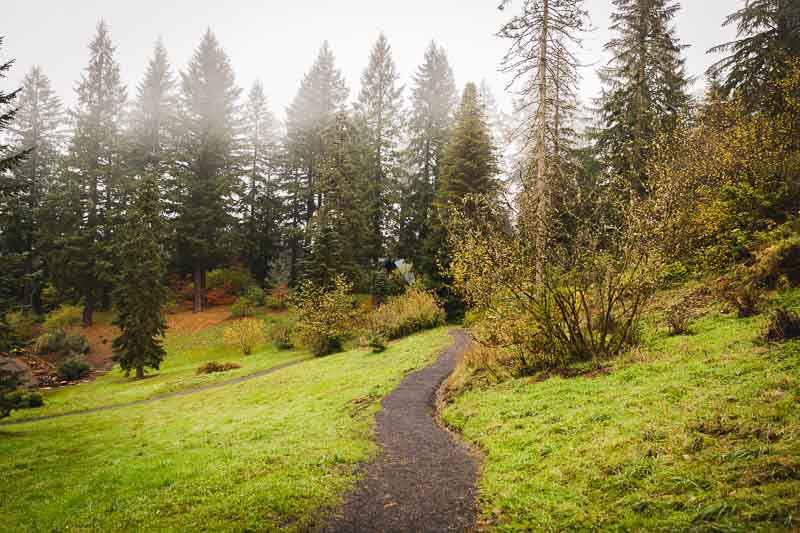 Address: 4000 SW Fairview Blvd.
Hoyt Arboretum boasts more than 2,300 species of trees and plants from around the world. The arboretum offers free guided tours and hosts various educational events throughout the year (registration required).
With over 12 miles of trails and more than 2,300 different species of trees from around the world, it's an ideal destination for nature enthusiasts looking to explore Portland's natural beauty.
Jeff and I had a lovely hike along the Redwood Trail and the Fir Trail, taking in the awe-inspiring views of towering redwoods. Best of all, it was one of the completely free things to do in Portland.
Check out the street art
I love street art, and Jeff and I tend to seek it out in every city we visit. Be it murals on the wall or interesting statues and sculptures, seeking out public art is on my list of free things to do in Portland.
The street art scene in Portland is vibrant and diverse, with a range of styles and mediums, and we opted to share photos of some of the more unique things we saw rather than murals. They are:
The Lovejoy Columns were painted by a Greek immigrant from 1948 to 1952. He worked as a railway watchman. Keeping himself occupied, he painted on these columns, often from the top of train box cars as they waited at the crossings.
I have no idea the meaning behind the bicycle tree, but I had to take the shot.
North Park Block is a historic tree-lined green belt with a playground and these elephant statues. As I took the photos, the people nearby shouted some not-so-nice things at me, so I opted not to get any closer.
Best places to see street art
One of the most well-known street art spots in Portland is the Alberta Arts District, which features colorful murals and street art pieces on many buildings and walls.
The Central Eastside Industrial District is another popular area for street art, with many warehouses and buildings featuring large murals and graffiti art. A fun way to discover it is with a 2-hour bicycle tour of the district to see some of the most popular street art pieces and learn about the artists behind them. Reserve your bicycle tour here.
The Mississippi Avenue District is known for its vibrant and eclectic street art scene, with many murals and art installations on the sides of buildings and in public spaces.
If you are like me, you will want to access a Portland street art Alliance map here.
More free things to do in Portland
Pioneer Courthouse Square
This bustling public plaza in the heart of downtown Portland is often referred to as the "living room of the city." It serves as a hub for cultural events, live music, and festivals throughout the year with its iconic amphitheater, outdoor seating areas, and beautiful landscaping. The square is also home to the famous "Weather Machine," a sculpture that provides daily weather forecasts to passersby.
Belmont Historic Firehouse and Learning Center
The Friends of Portland Fire and Rescue support a safety learning center that is open every Wednesday from 9 am to 3 pm. You can also pre-schedule a tour of the historic firehouse to see its collection of antique fire fighting equipment and exhibits, including an emergency response simulator, alarm dispatch board, and more.
Oregon Rail Heritage Center
A free railway museum featuring three vintage steam locomotives, railway equipment, and interesting exhibits about Oregon's railroad history.
'Sometimes' free things to do in Portland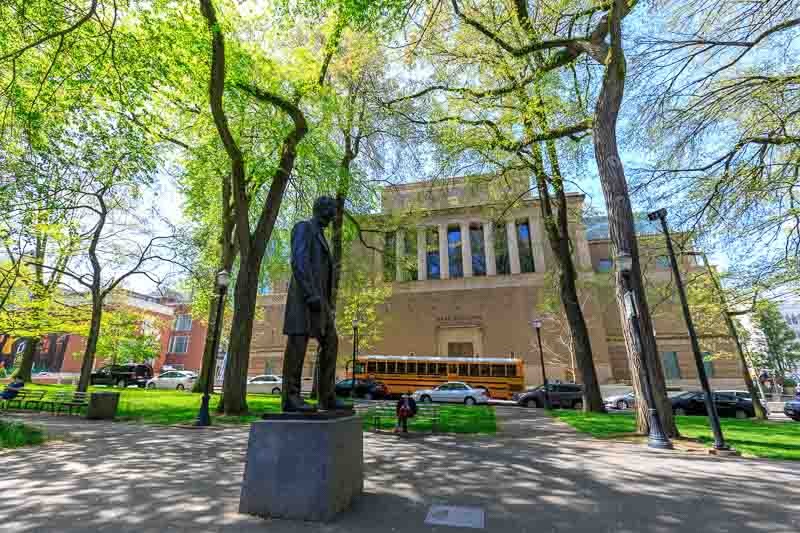 Pittock Mansion has some free days throughout the year that get you inside the mansion to enjoy a glimpse into Portland's past with its elegant architecture and original furnishings. As we mentioned above, the grounds and lovely views of the city are always free.
The Portland Art Museum, with its impressive collection of more than 42,000 works of art, offers several free days throughout the year. One of the highlights of the museum is the Native American art collection, which features more than 4,000 objects from various tribes across North America.
Oregon Museum of Science and Industry (OMSI) also has random free days throughout the year that you can find here.
Where to stay in Portland, and why we love Hotel Vintage
We recommend the Hotel Vintage for your next visit to the city of Portland. Jeff and I stayed there on our last visit and absolutely loved it.
One highlight is the 5pm evening wine reception that we have come to enjoy at other Kimpton properties, too (Seattle and San Francisco).
Our Sky Loft room on the top floor was spacious and comfortable, with luxurious amenities such as plush bedding and high-quality toiletries. Our room had everything we could want and more. When morning came I wrapped myself in one of the hipster sweatshirt bathrobes and enjoyed a coffee in the window box.
And, as expected, we received excellent customer service from the hotel staff.
Additionally, the Hotel Vintage is conveniently located in the heart of downtown Portland, making it easy to explore the city's many attractions. Reserve your stay at Hotel Vintage here.
Tips for visiting Portland
Embrace the city's quirky culture: Portland is known for its unique, offbeat vibe.
Although a generally mild climate, Portland's weather can be unpredictable, so make sure to check the forecast before heading out and dress in layers. Comfortable shoes are a must, especially if you plan on hiking or walking.
Take advantage of public transportation. Portland has an extensive public transportation system that includes buses, light rail, and streetcars. Consider purchasing a day pass to make getting around the city more convenient.
Check for special events: Throughout the year, Portland hosts a variety of free festivals and events.
If you are going to do any shopping, bring reusable bags and containers: Portland is committed to sustainability, and many businesses encourage customers to bring their own reusable bags and containers. Consider bringing a reusable water bottle and a keep cup.
Take advantage of free tours: Some attractions, like the Portland Japanese Garden and the Pittock Mansion, offer free guided tours. Take advantage of these opportunities to learn more about the history and culture of Portland.
Don't forget to explore some of the surrounding areas. From Portland, we chose to do several day trips as well as to drive down the spectacular Oregon coast.
Save on your trip with these resources
These are our go-to companies when we travel. We believe this list to be the best in each category. You can't go wrong using them on your trip too.
Flights: we use Expedia for the best and cheapest flight options.
Accommodations: we use Booking.com (hotels) or VRBO (self-contained).
Cars (gas or electric): we use RentalCars to search for deals and dealer ratings.
Campervans or Motorhomes: we use Campstar where Albom Adventures readers get a 3% discount
Private guides: we love the private guides at Tours by Locals
Travel Insurance: we start at InsureMyTrip as they are the best option to compare plans and find the right coverage for you.
Check out our travel resources page for more companies that we use when you travel.
Save for later
If you enjoyed this article on the free things to do in Portland, please share it on social media and save it for later on Pinterest.
Which of the free things to do in Portland have you tried?