It's a strange feeling, standing amongst the giant redwood trees of Northern California. They surround us with strength and power, towering over us so tall we can rarely see their upper branches.
It seemed nearly impossible to capture the grandeur of the redwood trees and the contrasting feeling of both awe and insignificance. I gave it my best shot. Below are the photo highlights from hiking and driving south from Crescent City California to Fort Bragg through the giant redwood trees.
They provided a sharp contrast to the wide-open coastal views we had been enjoying as we drove from Astoria along the Oregon Coast.
Trending on Albom Adventures
Where to see the giant redwood trees – our journey
Our overall journey was pretty massive, travelling from Vancouver to San Francisco. We used a variety of transit methods, travelling directly from Vancouver to Seattle via bus. From here, we enjoyed the train to Portland. Then we hired a car and drove the Oregon coast heading south from Astoria.
It wasn't long after crossing into California that we began to see the big redwood trees. We made many stops between Crescent City California and Fort Bragg. The three highlights are marked in red on the map.
Jedediah Smith Redwoods State Park
Prairie Creek Redwoods State Park
The Avenue of the Giants in Humbolt Redwoods State Park
Tips to enjoy the redwood trees
There are hundreds of miles of trails weaving through 40,000 acres of old-growth redwoods in Northern California. While some people say there are better trails and sites, really, whatever you choose will be amazing. Therefore, it's encouraged that you don't just spend time in the crowded more popular areas like Fern Canyon and Tall Trees Grove.
The US National Park Service does offer a few tips to enjoy the redwood trees, summarized here:
Download and use their free mobile app.
Don't just look at the trees from the car. Park and enjoy some of the trails. Note that parking may be more difficult if you have an RV, but there are some options.
Stop at the visitor centers for each park. Here you can learn about current conditions and also the best roads to take. Note that the tall trees will interfere with your GPS accuracy.
Don't forget to plan ahead for where you want to spend the night. The park campgrounds fill up well in advance and backcountry camping requires a permit.
Be safe, especially around wildlife like elk. Don't risk your safety for a great selfie.
Rather than selfies, we brought a tripod, thus allowing us to capture some of the magnitude of the trees in comparison to our size. The first of the three photos below is from Prairie Creek Redwoods State Park, while the other two are shot in Jedediah Smith Redwoods State Park.
Jedediah Smith Redwoods State Park
We entered Jedediah Smith from the south on Howland Hill Road and looped up to the north. Although starting out paved, the road quickly became a hard-packed dirt road with incredible scenery.
We stopped and hiked at Stout Grove. I recommend both the drive and the hike.
Prairie Creek Redwoods State Park
Prairie Creek is home to the tallest tree on earth but they keep its location a secret.
However, there are plenty of tall trees here, and one of the tallest is found in the "Big Tree Wayside" off of the Foothill trail. Its photo is up above, the first of the three tripod photos.
In addition to trees, we also noticed some interesting berries, but are not sure they are edible.
This state park is great for hiking with loads of well-signposted trails. From the Northern end of the park, there are several relatively short trails leading out to a lesser-known beach.
The Avenue of the Giants in Humbolt Redwoods State Park
This 31 mile drive through the redwood trees was the highlight of our day.
We did stop at "Pepperwood" for a hike, although Founder's Grove was the hiking area that had been recommended to us. Either way, the rain came and we cut our hike short.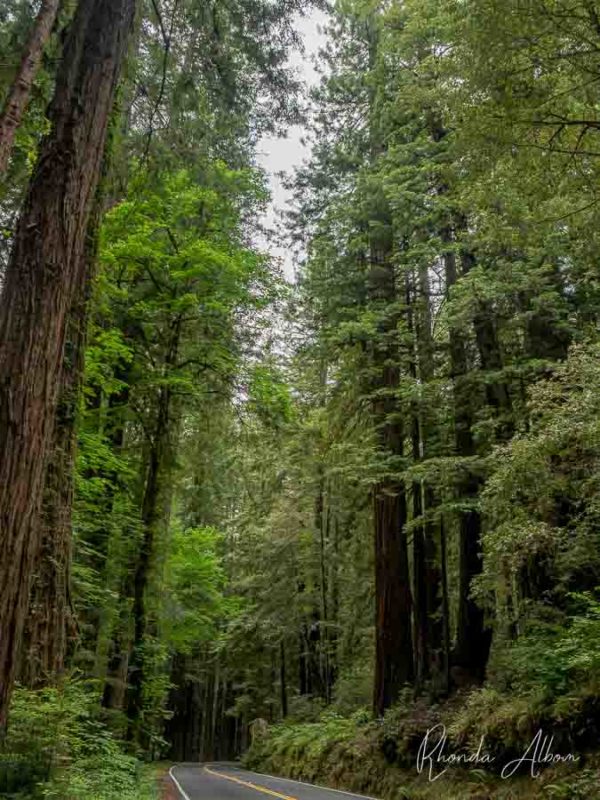 More about redwood trees
The Coast Redwood is the tallest living tree on earth and a fascinating excursion on any USA road trip.
Not only are they tall, but they are also old. Fossil research suggests that relatives of today's coast redwood trees thrived in the Jurassic Era, 160 million years ago.
Only about 5% of the world's old growth redwood trees exist today, and 95% of these are in California, mostly in protected parks.
We drove by three places that had a "famous" drive-thru tree for $5, but we didn't see the point without kids, and besides, we can't imagine that the redwood trees like it very much.
You can stop into visitor centers at each park for free trail maps, or, pre-purchase this waterproof, tear-resistant trail map from National Geographic of the Redwood National and State Parks.
Practical information on tree care
Nature takes care of trees in the forests, sometimes with protection by park rangers. If you run into anything that needs attending to, here are contact numbers for the parks listed above.
Jedediah Smith Redwoods State Park (707) 464-6101
Prairie Creek Redwoods State Park (707) 488-2039
The Avenue of the Giants in Humbolt Redwoods State Park – (707) 946-2409
However, if you have your own trees, you might need a bit of help from experts like Waco professional arborists or Missouri City professional arborists.
Travel planning tips
This site contains affiliate links to products and/or services. We may receive a commission for purchases made through these links at no additional cost to you.
Flights: We use Skyscanner to find all the available flight options at the best prices.

Rental Car: We always use RentalCars.com, a rental car search engine with no hidden costs.

Accommodations: We use Tripadvisor to check ratings and book lodging when we travel.

Travel Insurance: We purchase insurance that covers medical and travel emergencies when we head overseas. We start with Travel Insurance Master, an aggregator that gives us a free and easy-to-read comparison of the inclusions of each policy.

Packing Tips: Get a free copy of our packing light checklist when you sign up for our mailing list. (We pack light, yet have everything we need.)

**Find more money-saving resources on our Travel Resources page.
Save for later
Please share this article on social media including Pinterest: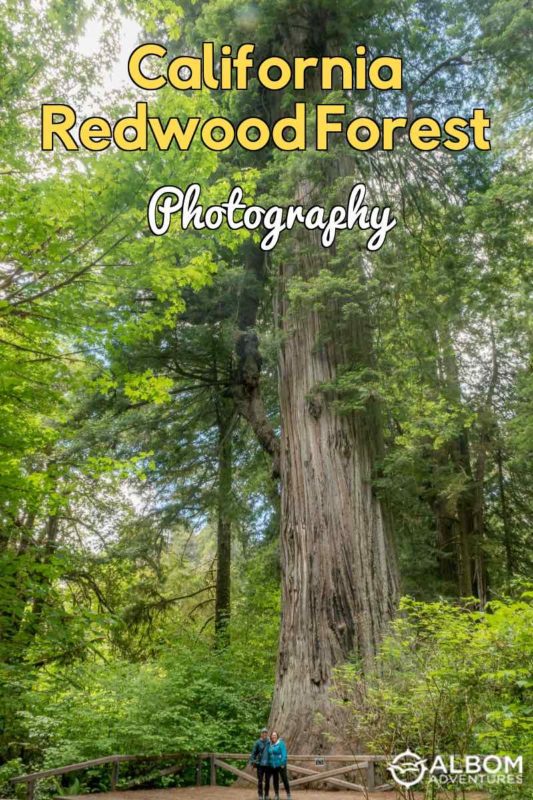 Have you seen giant redwood trees in Northern California?
Tree lovers might also like: