Camels stand on the sun-soaked sands of Essaouira beach. Their handlers compete for my attention with crashing waves as a horse gracefully gallops through the Essaouira surf. We came for windsurfing lessons on this stretch of Morocco's Atlantic coast, most famous for being windy.
A coastal community in North Africa, Essaouira is a mix of exotic aromas, cobblestone streets, and some of the friendliest people we have met anywhere.
Note: Based on world conditions, we advise checking official channels including cancellation policies prior to booking. Also, with often reduced capacity, booking ahead becomes more important.
Camels and Horses on the Beach
Horseback riding and camel riding are popular with tourists and are available on the beach. For us, camel riding in Oman fulfilled our need for this once in a lifetime experience.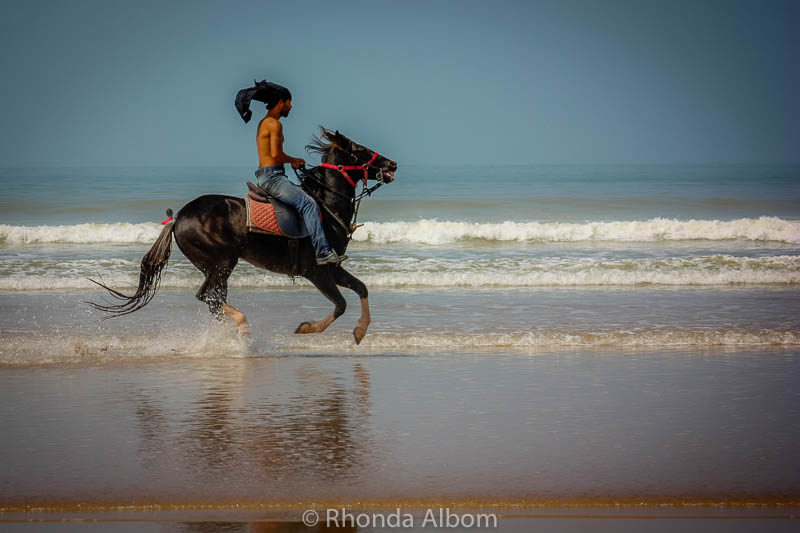 Windsurfing and Surfing in Essaouira
Essaouira beach is home to many international surfing and windsurfing competitions. Essaouira kitesurfing is also becoming popular. If you are heading to the beach in Essaouira, be warned that it is famous for its wind. It's a wind that rarely quits.
Windsurfing, kitesurfing, and surfboarding are all available as lessons in the famous Essaouira surf, or as board hire from several spots along Essaouira beach. Our first day was too windy for beginners to windsurf, so our girls opted for Essaouira surfing lessons. They enjoyed it enough to stick with it during the week. While there are several shops along the street offering a windsurfing, kitesurfing or board surfing lessons.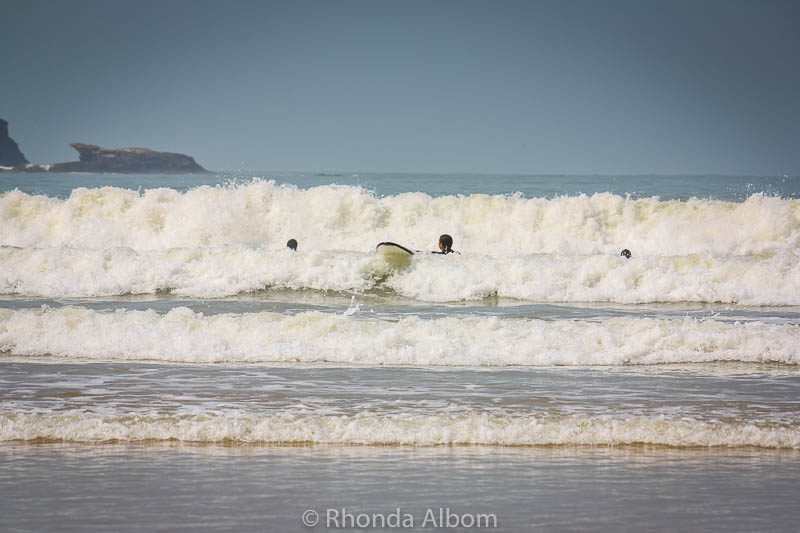 How to Get to Essaouira
The easiest ways to get to Essaouira are self-drive, with a tour, or to take the bus from Marrakech.
• Rent a car in Morocco
The drive from Marrakech is less than 3 hours on a well-paved road. While there are no cars allowed in the old medina, there are at least two large parking lots outside the gates. However, when heading to the Essaouira beach, we had no problem finding street parking.
While we did a handshake deal to rent our car, I don't recommend it. We were lucky and had no problems, but there was so much potential for things to go wrong. In retrospect, we would have rented our car through Rentalcars.com. We have used them worldwide without any problems, and find that we always get either a lower rate or the same rate as going directly to the suppliers, but overall have fewer problems with Rentalcars.com.
⇒ Click here to check pricing and availability of rental vehicles in Morocco ⇐
• Tours to Essaouira
• Take the bus to Essaouira
While we drove a rental vehicle, the bus from Marrakech seemed to be a popular option, especially amongst backpackers.
Essaouira Sunsets
Essaouira beach is not a place for sunbathing as the wind blows fine sand everywhere. There are plenty of beachside cafes, and we enjoyed Moroccan mint tea from one of them. If I focus only on the sun, sand, and waves, Essaouira beach could almost be anywhere. Aside from the wind, what makes it unique are horses, camels, birds, and wildly colourful sunsets every night.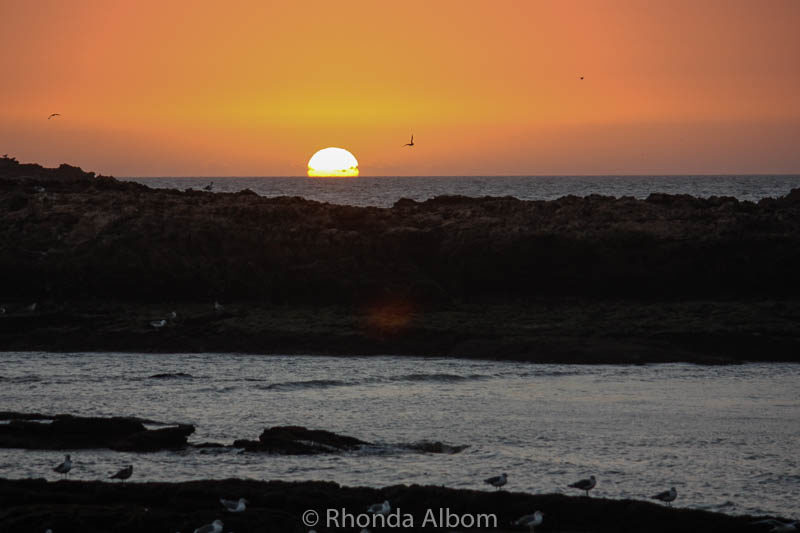 I have been to cleaner and more beautiful beaches on tropical islands like Aruba, Samoa, or Rarotonga so why is Essaouira beach one of my favourites? Most likely it is because our visit to Morocco stayed with me. I think it changed me more than any other country we visited. Here we got to know people, to learn about culture and history from them, and to see the world from a different perspective.
Where to Stay in Essaouira Morocco
We love the atmosphere in the older parts of the Moroccan villages. Therefore we opted to stay in the Essaouira medina. We stayed in the Lakhdar Family Suite at Riad Watier in the old medina and recommend it as the perfect room if you have kids.
⇒ Click here to check availability at Riad Watier
Although the beach in Essaouira is lovely, there is more to this town than just the beach. There is more than enough to keep us entertained and busy for five days, especially in Essaouira's old Medina (the non-European section of town).
Tips Before You Visit Essaouira Beach
We saw several tourist women in western swimwear. Our girls needed to be in wetsuits to stay warm enough in the water. While less seemed okay on the beach, women are recommended to cover at least shoulders and cleavage in the older parts of town. Otherwise, expect stares.
There was plenty of free street parking near the beach when we were there.
Take caution when drinking water in Morocco.
Carry toilet paper with you.
There is more to Essaouira than just the beach. We stayed for five days and could have stayed much longer. Here are some of the medina highlights.
We travelled by train from Fes to Marrakesh. Here we rented a car and had a fascinating Moroccan Road Trip. Essaouira beach was our first stop. From here we headed inland, where we saw goats in argan trees, as this is the first step in the process of making argan oil.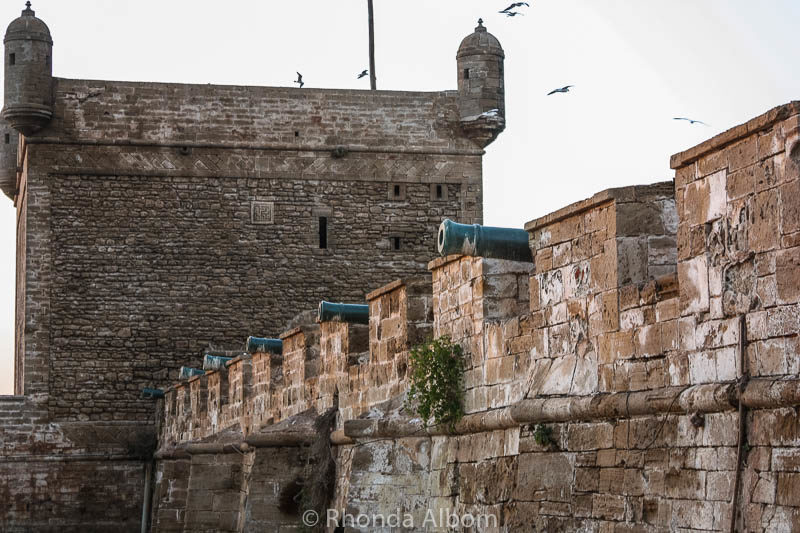 Please Share
If you enjoyed this photo tour of Essaouira Beach, please pin this on Pinterest: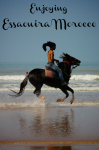 Have you been to Morocco? Did you dip your toes in the Essaouira surf, or try your skill with a wind-based sport on Essaouira beach?