Z is for zipline Waiheke. Zipping over the trees is the most exhilarating way to enjoy the lush green forests of Waiheke Island.
It's a three line adventure.  The first line will fly you over a working vineyard. The second will travel over a forest canopy, and finally, you will head down into the bush reaching speeds up to 60kph. Each of the three ziplines is over 200m in length with side-by-side cables so you can zip alongside a friend.
⇒ Check Pricing and Availability for your Ziplining experience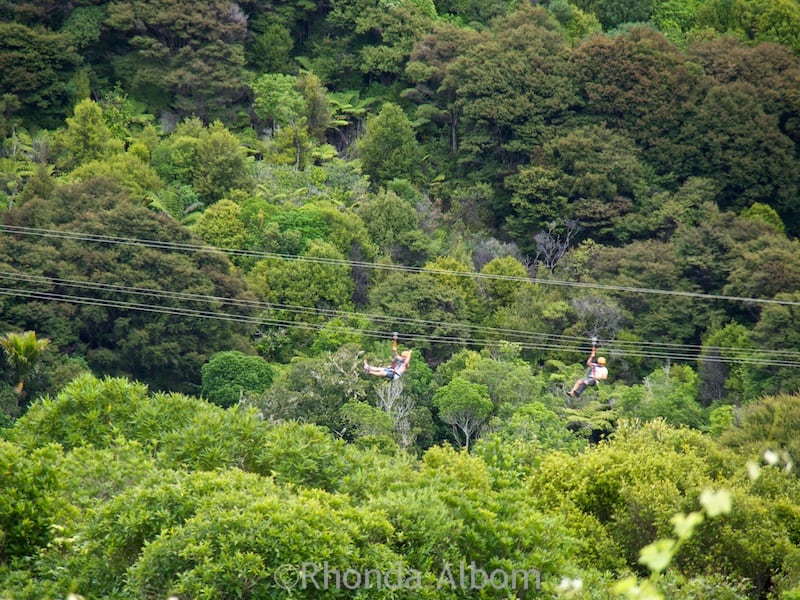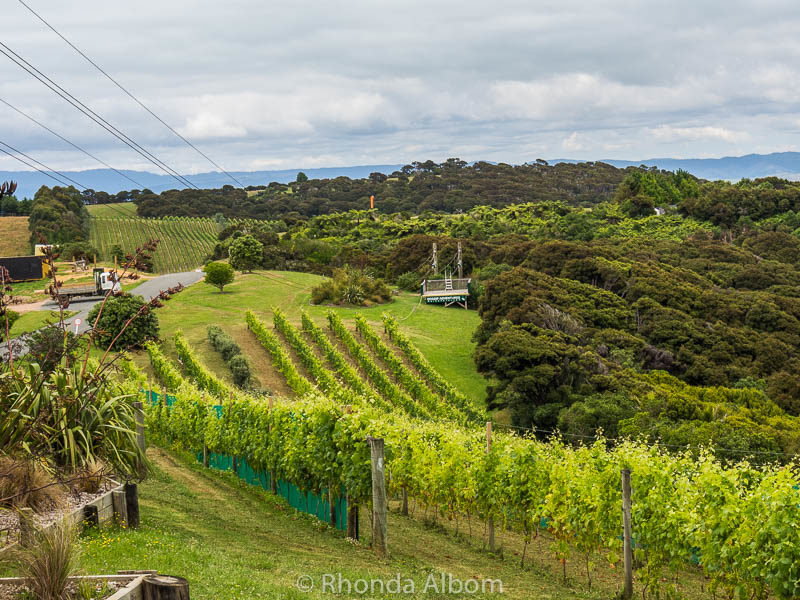 Enjoy Waiheke Island
While the opportunity to zipline Waiheke is exciting on its own, the entire experience takes less than two hours at EcoZip. Waiheke Island offers so much more. It is home to several world-renowned wineries and stunning beaches. The vineyards offer tastings or tours, and several feature superb restaurants.
Rushing back to Auckland after your adventure would be a mistake. The 45-minute ferry ride can wait while you explore the island. Your options are hiring a car, taking the public bus or enjoying a relaxing tour that does it all. Viator offers a Best of Waiheke: Ziplining, Wine Tasting and Vineyard Lunch Tour.
Viator is a Trip Advisor Company that we feel very comfortable recommending. This zipline Waiheke tour includes an afternoon wine tasting and lunch at Stonyridge Vineyard. It also includes other wine, olive oil, microbrew, and local jam tastings. Plus, the van travels through the farmland, beaches, forests and seaside villages on the Island.
→ Check Prices and Availability on the Best of Waiheke Tour.
Or Check out one of these tours with Get Your Guide
Practical Information on Ziplining on Waiheke Island:
EcoZip takes only 12 people per time slot, so it is best to book in advance of your visit, either directly or through Viator.
The Waiheke ferry runs roughly every 30 minutes from the Auckland Ferry Terminal to Matiatia Ferry Terminal on Waiheke Island. It's a relaxing 45-minute sail.
If you just want to zip, you can arrange in advance to be picked up at the dock by EcoZip, who will point out sites along the 20-minute ride to their location.
You can bring your camera or hire a GoPro on the spot.
While there are no age restrictions, size does matter. You must be between 30 and 125kg.
⇒ Check Pricing and Availability for your Ziplining experience
Please pin this on Pinterest:

Adrenaline Junkies: Don't miss these other adrenaline rush activities in Auckland.
Is zipline Waiheke for you?