Adrenaline junkies, are you ready for a Zipline Waiheke adventure? Imagine the exhilaration of flying over vineyards and then over the subtropical rainforest canopy. As the native forest flashes below you, your Go-Pro captures all of the action.
And it's not just the scenery. EcoZip's Waiheke ziplines stand in parallel, so you can zip side by side with a friend, capturing photos of each other with the island spread out below.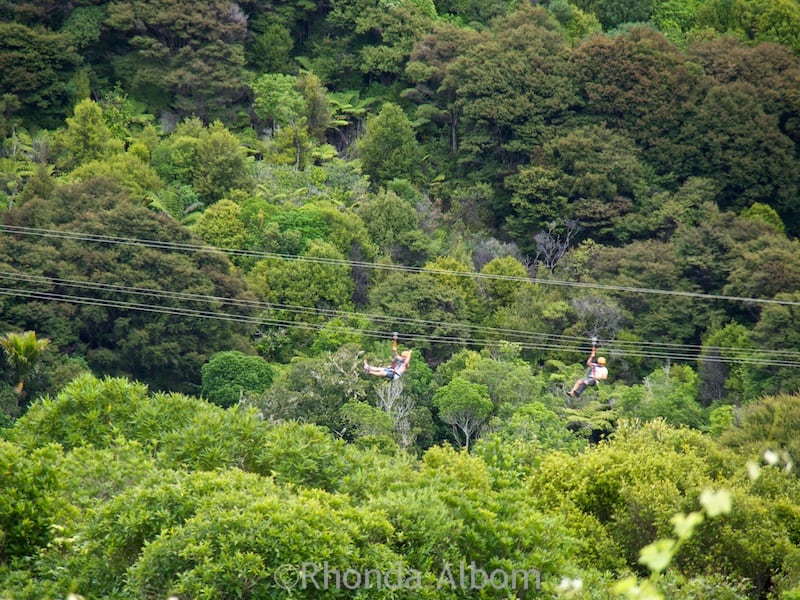 While you are enjoying the thrill, you can do it knowing that EcoZip is not only concerned for your safety, they are also looking out for the environment, with an impressive focus on New Zealand conservation.
We often have affiliate partnerships with companies that we trust and recommend. We receive a small compensation if you make a purchase using these links. In some cases, the links can save you up to 70%.
What is EcoZip?
From the beginning: getting to Waiheke
If EcoZip is part of your Waiheke plan, the easiest way to get to the island is the passenger ferry from the Auckland Ferry building or Devonport Wharf to Waiheke. From there, enjoy a 20-minute Waiheke highlight tour as you are driven to Trig Hill (in Onetangi) for your zipline adventure.
Safety first
All safety gear is provided for you. A short safety briefing follows before you head off for your adventure.
Zipline adventure
EcoZip provides a three-line adventure, each with ziplines over 200m in length. Best of all, they offer side-by-side cables so you can zip alongside a friend.
The first line will fly you over a working vineyard, home to nearly 2,000 Syrah vines. Auckland's skyline can be seen in the background.
The second travels over an ancient native forest canopy.
Finally, you will head down into the bush, reaching speeds of up to 50km per hour.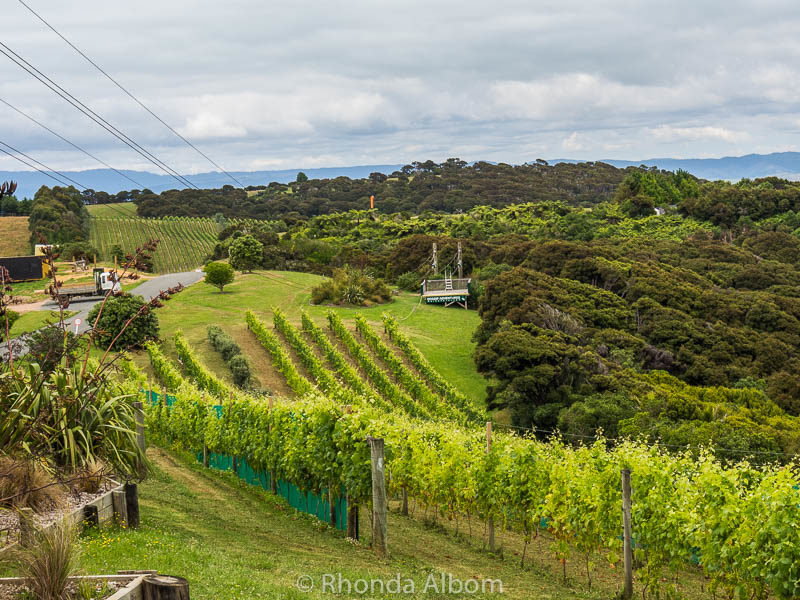 A forest hike
The return to base just adds to the fun, with a guided hike through the regenerating native rainforest. Shaded and comfortable, the walk is not only beautiful, but it's also an opportunity to learn about the company's conservation efforts.
As you walk and listen, you will discover the changes that have occurred here from the initial inhabitants and then later, the European settlers. The 1.5km stunning walk back to the start gently meanders through the bush. The guide points out native plants and their uses. Also, keep your eyes open for skinks, geckos, and weta.
Check Price (and availability of discounts) for your Ziplining experience
Important information on ziplining on Waiheke Island:
EcoZip is located at 150 Trig Hill Road in Onetangi.
They take only 12 people per time slot, so it is best to book in advance of your visit, as they often fill up.
Participants under 18 years must be accompanied by a participating parent or guardian.
Each participant must weigh between 30 and 125 kg.
Depending on the date and time you choose, discount tickets may be available. Click here to check for a discount price, and remember to scroll down to the calendar for options.
The Waiheke ferry runs roughly every 30 minutes from the Auckland Ferry Terminal to Matiatia Ferry Terminal on Waiheke Island. It's a relaxing 40-minute sail.
You can bring your camera or hire a GoPro on the spot.
Enjoy Waiheke Island
While the opportunity to zipline Waiheke is exciting on its own, the entire experience takes less than two hours at EcoZip. Waiheke Island offers so much more. It is home to several world-renowned wineries and stunning beaches. The vineyards offer tastings or tours, and several feature superb restaurants.
To get you started in thinking about what to do with the rest of your day, all of our favourite things to do in Waiheke Island can be found here. The good news is, after your zipline experience, there are a number of optional places you can be dropped off in lieu of returning directly to Auckland.
Thrill-seekers: Don't miss these other adrenaline rush activities in Auckland.
Save for later
If you enjoyed this article, please share it on social media and save it for later on Pinterest.
Is Zipline Waiheke for you?
Disclaimer: This article originally appeared as part of an AtoZ New Zealand series. It represented the letter Z. It was written in conjunction with EcoZip Waiheke. However, the opinions expressed here are strictly our own.