At Orana Park, an open range Christchurch zoo, you can get up close to lions in their habitat, hand-feed a giraffe, or observe kiwi birds foraging in their nocturnal environment. Read on for discount opportunities at Orana Park and other animal encounters in the city.
If you think all zoos are alike, you haven't yet been to Orana Park, our favourite Christchurch zoo and animal experience. New Zealand's only open range zoo features some amazing wildlife encounters. Where else can you travel through a lion reserve in NZ?
The wildlife encounters are up close and personal, with safety being paramount.
Endangered animals live in open enclosures emulating their natural habitat.
In fact, Orana Park is a Christchurch zoo that is home to over 1,000 animals from 90 different species, set on 80 hectares of land. And either on foot or with the free tram, you can try and see them all in a day.
Orana Park is a place for adults as much as children. Its open range layout also makes it a photographer's paradise.
Some links on this page can save you up to 70%. We earn from qualifying purchases through partnerships or affiliate programmes.
Our must-see list at our favouriteChristchurch zoo
Note: We last visited this destination prior to the start of current world restrictions. As rules appear ever-changing, we advise always checking with official channels prior to any travel.
There are New Zealand natives like kiwi birds and kea, as well as animals from Africa, Australia, Asia, and America. And while it's all pretty cool, there are a few must sees.
Meet the white rhinos
Imagine looking into the eyes of a white rhino, one of the earth's largest land mammals, while standing so close you believe could reach out and touch him, but you wouldn't dare try to find out.
During the encounter, the keepers brought us quite close to some of the white rhinos, while still protected by the contact barriers.
And if you are like me, you are looking at the photos and wondering why they are called 'white' when clearly, they're not. Turns out, white rhinos are believed to be named from a mistranslation of the word "wijd" (Dutch for wide) as in wide-mouth rhino.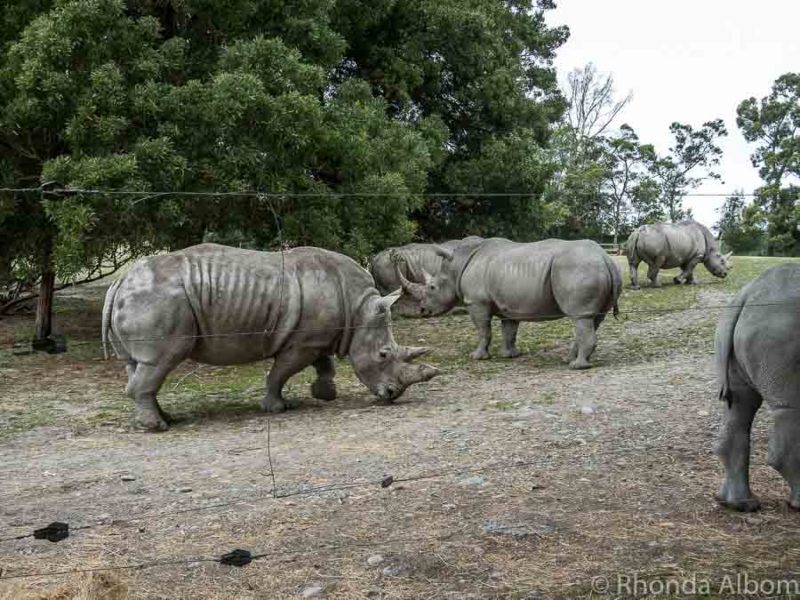 Head out 'on safari' on a lion encounter
(Hoping to reopen in January 2022)
If you are looking for a once in a lifetime adventure that gets your heart pumping, don't miss the lion encounter at this Christchurch zoo.
You will travel through the African Lion Habitat alongside specialised keepers who will feed the lions from the safety of a specialized vehicle.
There is an additional fee for this adventure. With only 20 tickets available daily, you'll need to book this one in advance by emailing or ringing at +64 3 359 7109.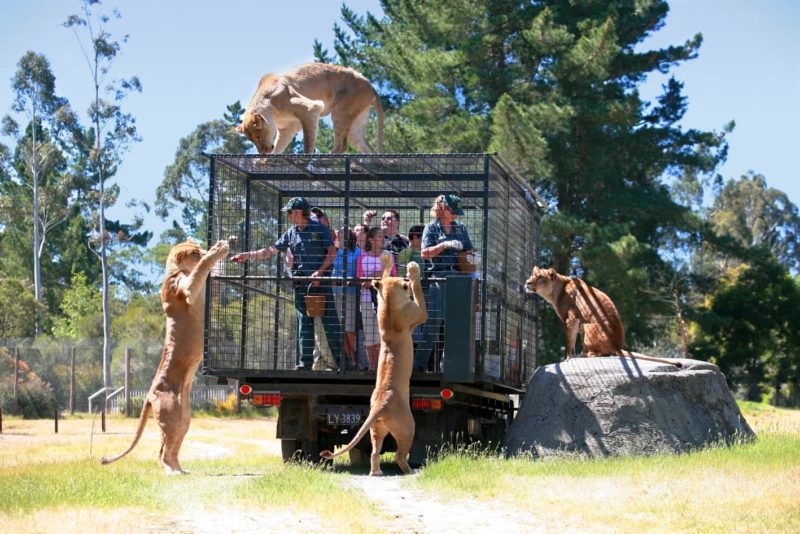 Hand feed a giraffe
Have you ever felt the rough wet tongue of a giraffe as he takes food from your hand? There are two opportunities daily to hand feed a giraffe at this Christchurch zoo.
While we arrived for the afternoon feeding time, on that particular day the giraffes didn't seem too interested in eating, but one did pose rather well for our camera.
Get up close with some of New Zealand's unique birds
There are multiple opportunities to discover some of New Zealand's birdlife.
Two of our favourites are the walk-through kea habitat and the nocturnal kiwi house.
Kea are endemic to the South Island and nationally endangered. The habitat is an award winning alpine environment for the world's only mountain parrot.To keep the bird's mentally challenged, their food is often hidden in containers.
As for the kiwi house, remember it will be dark. We recommend arriving a bit early for kiwi bird feeding time. We did this, and it allowed our eyes to adjust, so we could clearly see the endemic kiwi birds.
New Zealand's only gorillas live at this Christchurch Zoo
Housed in Orana's Great Ape Centre, these magnificent primates have both an indoor and outdoor area. Interacting through the enclosure perimeters with the critically endangered western lowland gorilla, we could appreciate his human-like qualities.
At first, whilst indoors, he seemed to just stare at me throught the glass. But once the keepers opened the door, he went out, and seemed to get a bit cheeky, sticking out his tounge.
Check out the farmyard
Chicken and sheep are amongst the animals in the farmyard, an area that allows visitors to get up close some of the domestic animals. This colourful turkey was also roaming about when we were there.
Other animal highlights at Orana Park
In June 2018, four young Tasmanian devils arrived at Orana Park from the [email protected] sanctuary, in Tasmania. They are part of the Save the Tasmanian Devil (STDP) Ambassador Programme. According to the press release, Tasmanian devils are the world's largest surviving carnivorous marsupials.
Here are some other stunning animals.
A bit of Orana Park history
Orana Park first opened in 1976. At that time, it had only 28 animals and a drive-thru lion reserve (which closed in 1995).
In 1984, they opened the South Island's first kiwi house. Orana Park sustained significant damage from earthquakes, floods, snow, and wind storms between 2010-2013. They are now fully operational.
Conservation of endangered species is a top priority including involvement in an international zoo-based breeding programme. In addition to animal welfare, the park provides education, recreation, and enjoyment to the public.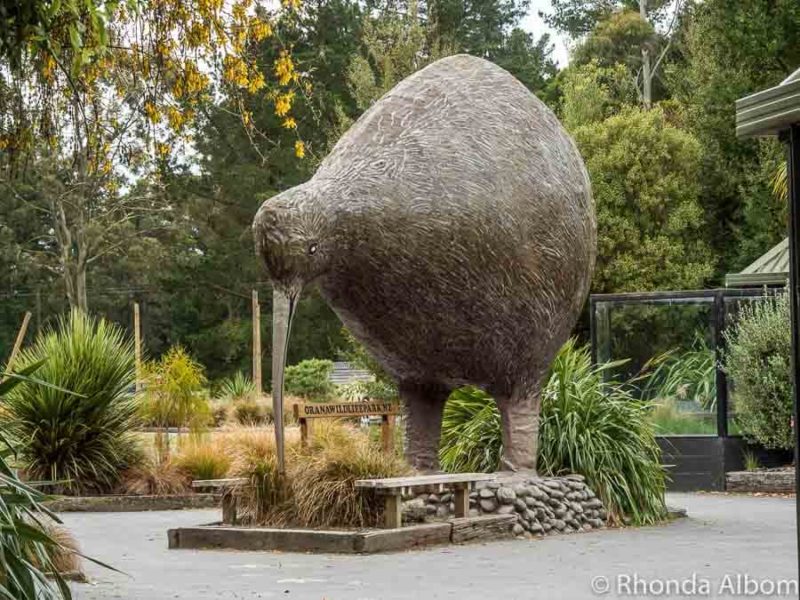 Practical information on Orana Park
Orana Wildlife Park is at 793 McLeans Island Road. It's a 15-minute drive from the airport, or 30 minutes from Christchurch city.
Animal encounters and feeding times follow a schedule with 12 options daily, starting with meerkats at 10.45 and ending with gorillas at 3.45 (subject to change). Not all encounters happen every day, and the giraffe feeding takes place twice daily. Check the online schedule before you arrive, and be aware that the schedules can change to accommodate the animals.
Allow at least three hours for a visit, more if you are doing the lion encounter.
You can walk the park, or take the commentated Safari Shuttle around the park (25-minute loop).
The park also has a children's adventure playground and two large picnic areas.
Entrance fees support the park's conservation work.
Get discounts on other Christchurch zoo or animal encounters
In Christchurch, you can also see animals at:
Willowbank Wildlife Reserve: This is the spot for the big 5 in New Zealand. Willowbank is home to the kea – a cheeky mountain parrot, the tuatara – an ancient relative of the dinosaur, the kaka – a bush parrot, takahe – a bird once thought to be extinct and now classified as nationally vulnerable, and the kiwi bird – a national icon. Check for discounts to Willowbank.
International Antarctic Centre: If it's penguins you are after, check for discounts for a VIP penguin backstage pass. And while you are here, experience the wonders, magic, and history of Antarctica.
Booking tips for New Zealand travel planning
Some links on this page can save you up to 70%. We earn from qualifying purchases through partnerships or affiliate programmes.
First-time visitors start here: New Zealand travel guide or with our favourite New Zealand road trips.

Flights: We use Skyscanner to find all the available flight options at the best prices.

Rental Vehicles: For cars, we always use RentalCars.com, a rental car search engine with no hidden costs. For campervans (and larger cars), note that Spaceships Rentals NZ offers free one-way drop-off between Auckland and Christchurch.
**Albom Adventures readers can check for discounts off Spaceships campervans.**

Accommodations: We use Tripadvisor to find ratings and reserve accommodations in most NZ cities.

Activity Discounts: We use Bookme.co.nz to find discounts on entry tickets and tours in New Zealand.

Travel Insurance: We purchase insurance that covers medical and travel emergencies when we head overseas. We start with Travel Insurance Master, an aggregator that gives us a free and easy-to-read comparison of the inclusions of each policy.

Packing Tips: Get a free copy of our New Zealand packing list when you sign up for our mailing list.

**Find more money-saving resources on our Travel Resources page.
Save for later
If you enjoyed this article, please share it on social media and save it for later on Pinterest.
Which Christchurch zoo will you visit?
More from Christchurch that you might like
Disclaimer: We worked with ChristchurchNZ, the local tourism board who arranged for our entrance to Orana Wildlife Park to assist in the writing of this review. The opinions expressed here are strictly our own.