Exploring New Zealand by motorhome enables you to experience the ultimate freedom as you navigate scenic roads, discovering hidden gems and breathtaking wonders along the way. John Carlton, who has explored over 20 countries in his motorhome, guides you on such a journey.
Imagine waking up to a stunning sunrise over sparkling, crystalline waters, stepping outside, and inhaling a new morning's crisp, clean air in an untouched landscape. Your journey has no constraints, no rigid schedules, and no interruptions.
You're embarking on a self-directed exploration of New Zealand's enchanting, otherworldly beauty from the cozy comfort of a motorhome. This unique journey transports you into the heart of the country's wilderness, revealing its hidden gems at your own pace.
Discovering New Zealand's untouched corners
Motorhome travel, or as some call it, campervan travel, has surged in popularity due to its inherent flexibility and ability to reach remote, less-travelled regions. For those considering embarking on this incredible journey, several options are available, ranging from rentals to campervans for sale.
The latter can be cost-effective for those anticipating extended or recurring adventures amidst New Zealand's stunning landscapes. Whether you're a nature enthusiast, a wine connoisseur, or a history buff, this guide presents attractions that can ignite your curiosity and inspire your wanderlust.
Majestic Milford Sound
Rudyard Kipling once described Milford Sound as the eighth wonder of the world, and it's indeed a destination every road-tripper must visit. Here, you'll experience the majesty of towering cliffs emerging from dark waters, spectacular waterfalls plunging from dizzying heights, and a vibrant ecosystem teeming with unique wildlife. An overnight stay presents a mesmerizing starlit sky, unparalleled in clarity and brilliance.
Take the opportunity to fully immerse yourself in this extraordinary landscape by venturing out on a kayak or boarding a small cruise ship to navigate the Sound. Take advantage of the underwater observatory for a glimpse of marine life, showcasing the biodiversity of this natural sanctuary.
Exploring the Southern Alps of New Zealand by motorhome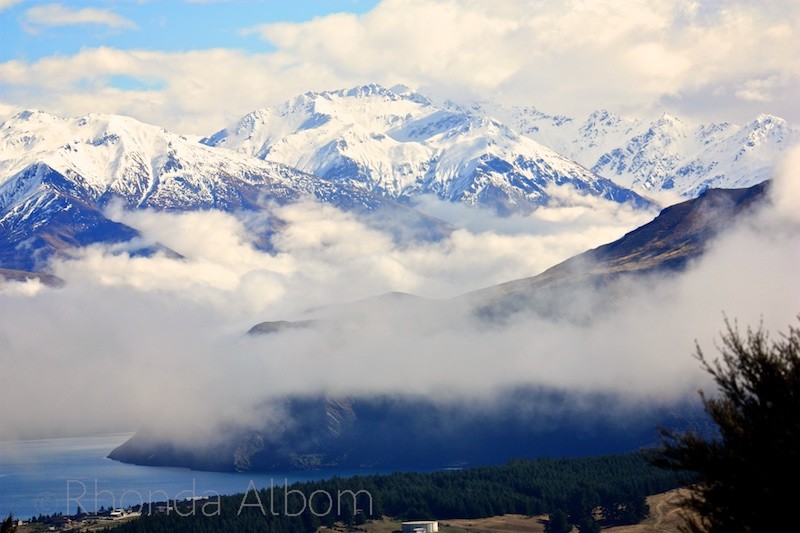 As you journey through the South Island, the striking ridges of the Southern Alps command your attention. Drive through Arthur's Pass, the highest and most breathtaking route across the Southern Alps. The experience is steeped in natural beauty, featuring snow-capped peaks, otherworldly waterfalls, and lush rainforests.
While exploring this region, seize the opportunity to traverse some renowned trails, such as the Bealey Valley Track or the Devil's Punchbowl Walking Track. Your efforts are rewarded with magnificent views and potentially even an encounter with the Kea, the world's only alpine parrot.
Geothermal wonders of Rotorua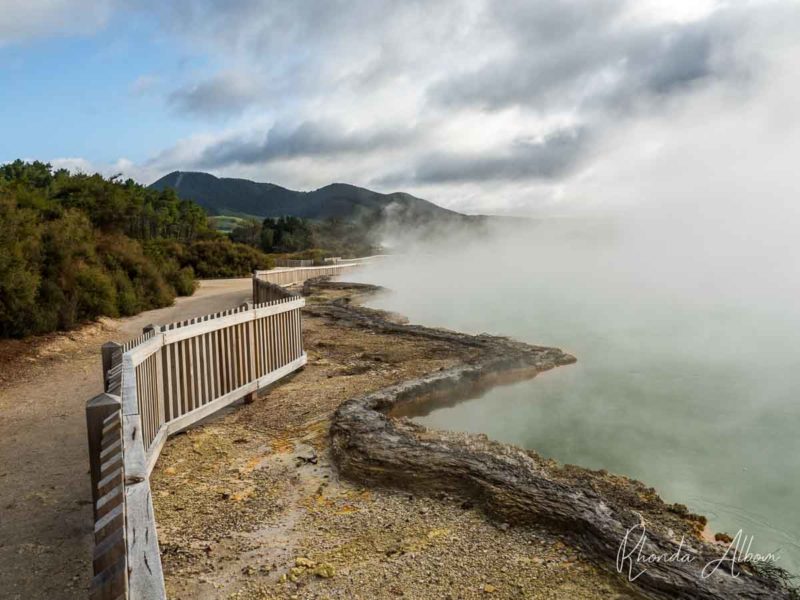 A North Island road trip is only complete with a visit to Rotorua, famous for its geothermal activity. Rotorua mesmerizes visitors with its amalgam of boiling mud pools, erupting geysers, and natural hot springs, all underscored by the distinctive scent of sulfur in the air.
Indulge in a soothing soak at one of the numerous geothermal spas, such as Hell's Gate. The mineral-rich waters offer rejuvenating properties. Make sure to immerse yourself in Māori culture by visiting a local village and relishing a traditional hāngī feast.
Wine tasting in Marlborough
Marlborough, New Zealand's leading wine-growing region, is globally renowned for its crisp Sauvignon Blanc. The freedom afforded by your motorhome allows leisurely exploration of these expansive vineyards. What could be more idyllic than enjoying a picnic amidst the vines, complemented by a glass of world-class wine?
Consider visiting iconic wineries such as Cloudy Bay and Yealands Estate, or discover some of the smaller boutique vineyards. Many offer guided tours, allowing you to delve into the intricacies of winemaking and the art of tasting and appreciating fine wine.
Tongariro alpine crossing
Often dubbed New Zealand's best day-hike, the Tongariro Alpine Crossing journeys across a lunar-like landscape dotted with craters, coloured lakes, and volcanic peaks. This world heritage site, rich in cultural significance and natural beauty, is an unforgettable adventure.
Though the trek can be challenging, it offers plentiful rewards. The Emerald Lakes, Blue Lake, and Red Crater are among the many marvels you'll encounter. Remember to dress appropriately for the changing weather conditions and always respect the sacred Māori land you traverse.
Hobbiton: a nostalgic journey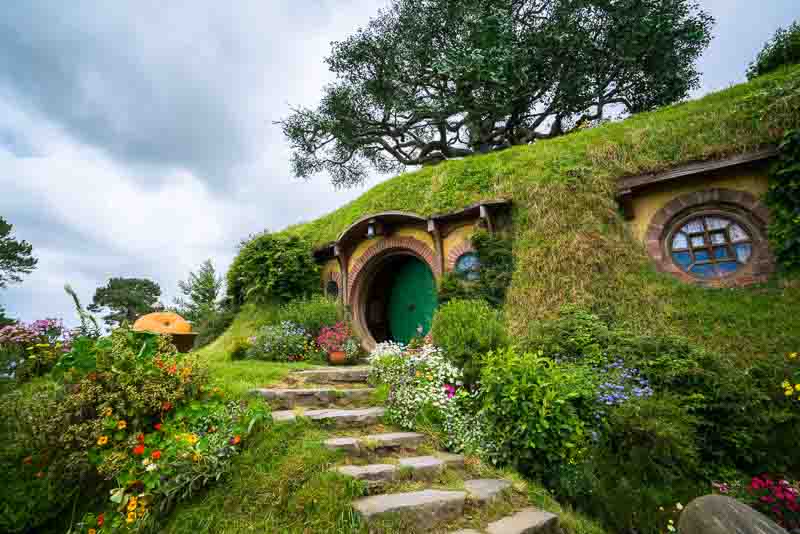 For 'Lord of the Rings' and 'Hobbit' fans, stopping at the Hobbiton movie set is an unforgettable experience. Meander through the charming paths of the Shire, peek into hobbit holes, and even enjoy a pint at the Green Dragon Inn. It's a nostalgic journey into the magical world of Tolkien.
The movie set, nestled amidst Matamata's lush farmlands, is meticulously detailed and well-preserved. Your visit not only stimulates a sense of adventure but also provides insights into the immense work of crafting a movie set of such magnitude and detail.
Final thoughts on exploring New Zealand by Motorhome
A motorhome adventure through New Zealand offers the chance to uncover the country's hidden gems at your leisure and in your own way. From the captivating wilderness of Milford Sound to the geothermal wonders of Rotorua, from the grandeur of the Southern Alps to the tranquil vineyards of Marlborough, this journey promises rewarding experiences and memories to cherish. Embrace the adventure, choose your path, and prepare to be enthralled by the astounding beauty of New Zealand.
Save on your trip with these resources
These are our go-to companies when we travel. We believe this list to be the best in each category. You can't go wrong using them on your trip too.
Flights: we use Expedia for the best and cheapest flight options.
Accommodations: we use Booking.com (hotels) or VRBO (self-contained).
Cars (gas or electric): we use RentalCars to search for deals and dealer ratings.
Campervans or Motorhomes: we use Campstar where Albom Adventures readers get a 3% discount
Private guides: we love the private guides at Tours by Locals
Travel Insurance: we start at InsureMyTrip as they are the best option to compare plans and find the right coverage for you.
Check out our travel resources page for more companies that we use when you travel.
Save for later
If you enjoyed this article on New Zealand by motorhome, please share it on social media and save it for later on Pinterest.
Where will you explore New Zealand by motorhome?
More articles to help you plan your New Zealand motorhome holiday
Photo Credits:
All photos on this page are either shot by our team and watermarked as such or stock images from Depositphotos.
About the author
David Carter is a seasoned travel writer and an avid explorer based in Auckland, New Zealand. In his work, he passionately shares his knowledge about his homeland and its many hidden wonders. Outside of his writing pursuits, David enjoys hiking, photography, and immersing himself in the vibrant cultures he encounters during his travels.