Getting out and exploring New Zealand is a favourite pastime of locals and visitors. One of the popular ways of doing this is renting a campervan in New Zealand and hitting the road.
Even if you have never done it before, NZ is an easy place to start. However, there are a few questions people regularly ask before hiring a campervan or motorhome. And a few rules to follow. We discuss both below.
We also added a section on relocation services for those who want to travel super cheap by returning campervans from South Island destinations to their popular North Island rental spots.
As the admins of Explore New Zealand, the country's largest photo and travel tips group on Facebook, we frequently see questions about renting a campervan in New Zealand.
This page is a conglomeration of our knowledge as locals and travel writers and the experience of group members.
Terms to know before renting a campervan in New Zealand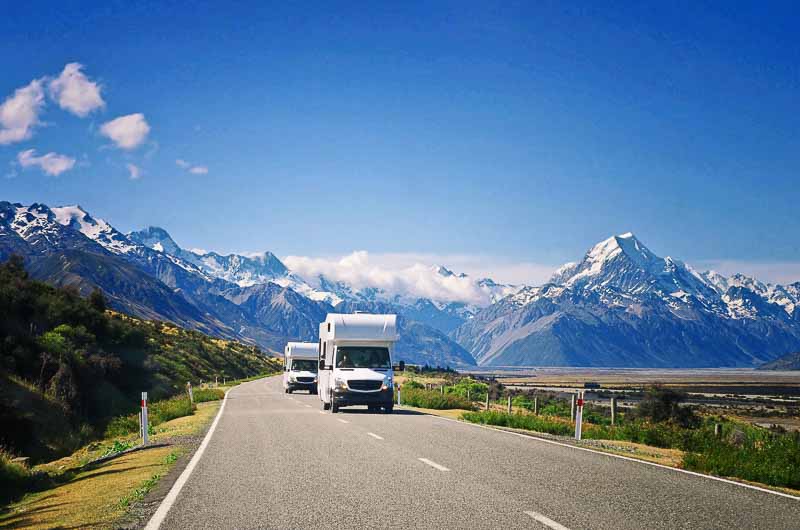 If you're born in New Zealand or anywhere in the commonwealth, skip this section. However, if you are visiting from anywhere else, here are four key terms you may already know.
Self-contained
A self-contained vehicle has everything you need for the duration of your stay, including fresh water, a toilet with waste storage, and a rubbish bin with a lid.
Freedom camping
Camping for free on public land is legal in New Zealand for certified self-contained vehicles, provided you follow the rules. There are significant fines for violating them. Here is everything you need to know.
Campervan
In New Zealand, "campervan" refers to smaller vehicles similar in size to commercial vans. In fact, in the private sector, old vans are often converted to campervans. They sleep two people and include a kitchenette. Some are self-contained and have a chemical toilet.
Motorhome
Motorhomes are larger, more spacious, fully self-contained vehicles that sleep 2 to 6 people. They have space to stand and walk, a kitchen, a private toilet and usually a shower. Providing everything you need, many have TVs, heating, air conditioning, etc.
A few other helpful NZ terms that visitors might not know
Hire simply means to rent.
Petrol is gasoline.
Caravans, called trailers or mobile homes, caravans are separate from the vehicle and pulled by your car. This page doesn't talk about caravans.
Some of the beautiful places a campervan can take you…
Campervan vs Motorhome: which is right for you?
Below we highlight the advantage and disadvantages of both campervans and motorhomes.
Who should hire a campervan in New Zealand?
Campervans are best for:
Singles, couples, close friends, or those with small kids who enjoy an outdoor, rugged lifestyle.
People on a tight budget.
Young drivers. Some campervan companies allow drivers as young as 18. In contrast, the minimum driving age for most motorhomes is 25.
Those not comfortable driving big vehicles.
People comfortable with limited privacy or those happy to use public toilets or rely on shared campsite facilities.
Ideal for short trips.
Advantages of renting a campervan over a motorhome:
Generally much lower in cost than a motorhome.
The smaller size is easier/more familiar to drive on the roads and to reverse.
Better acceleration than a motorhome (most noticeable when overtaking another vehicle).
Easier to find a car park.
More maneuverable, therefore fewer restrictions as to where it can travel.
Note: Self-contained campervans have a chemical toilet. These are not well-liked by most people as they are small, offer no privacy, and often don't smell too nice if used. While there are plenty of public toilets in New Zealand, many close overnight. Using the wilderness as a toilet is strictly illegal.
Who should hire a motorhome in New Zealand?
Motorhomes are best for:
Couples, close friends, and families of any size who enjoy an outdoor lifestyle intermixed with familiar comforts.
People who want more living space and those that value the option of privacy, separate spaces, and a toilet door.
Those who want to be able to stand or walk around in their indoor space.
People travelling for an extended period of time.
Adventure seekers who bring large items like bicycles, kayaks, etc.
Those whose budget will allow it.
Advantages of a motorhome over a campervan:
Motorhomes are larger and more spacious, therefore more like home.

A kitchen and bathroom travel with you.
More privacy, including a bathroom door.
Generally more comfortable sleeping berths.
More space to unpack without constantly having to rearrange things to find what you need.
A third option: advantages of renting a car
As we spend an equal amount of time in more densely populated cities as we do in the country, we often prefer to drive a car and stay in hotels. These would either be traditional hotels that we find at Booking.com or one of the self-contained units with kitchenettes from BookaBach.
Cars can go just about everywhere. Always confirm with your rental company before leaving paved roads.
They are in our comfort zone, with fewer new things to learn.
Driving and staying in motels means someone else does the bed-making, cleaning, and cooking.
We can leave our belongings in a hotel rather than in our vehicle at a trailhead marker, a common place where thieves lurk.
Lower driving costs for petrol, ferry crossings, and one-way drop-off fees.
One group member added, "there are many awesome places to visit where campers aren't allowed. There are skinny, windy, sometimes metal roads that travel over big hills, and visitors often find it takes them longer than they think to travel between stops. The price of fuel and the consumption of a camper is more than a car, and you'd be able to zip around easier. Finding places to park a camper in town can be a nightmare."
Renting a car in New Zealand
We always start our search for a rental car at RentalCars.com. As an aggregator, they provide us with a list of companies and cars that can be hired (rented) based on our pick-up and drop-off locations. With dealer ratings, pricing, and options provided, we can easily make the best choice for ourselves.
Plus, if anything goes wrong, we have one central point of contact that to date has provided us with outstanding service. Start your search or reserve your rental car here.
Questions to help you choose the rental vehicle that is right for you
Does my personal or travel insurance cover the vehicle?
Do I want to freedom camp, and if so, is the vehicle certified self-contained?
Are there restrictions on where I can drive?
What will I do if it rains? Will we ignore the rain, or do we need indoor space?
Do we need a powered fridge?
Does the company provide 24-hour phone and/or roadside assistance?
What type of service and support is provided?
What's included?
Are there added fees?
Where to rent a campervan in New Zealand
There are plenty of places to rent a campervan in New Zealand, ranging from well-known companies to one-off people who have done their own conversion. Remember, if budget is your top priority, you often get what you pay for.
As an Albom Adventures reader, you can get 3% off the rental of either campervans or motorhomes at Campstar. They feature all the brands we highlight below, often at a lower cost to begin with, made even lower with your discount. Check out Campstar here. No code is needed for the discount when you use our link.
This list is compiled from our experience and the recommendations of 200k+ Explore New Zealand group members.
Jucy
Jucy is the current number one pick amongst our group members looking for small, inexpensive campervans. Honestly, we see them everywhere. Jucy offers both certified self-contained vehicles and budget campervans. Book Jucy direct here or check them out on Campstar.
Spaceships
Converted Toyota people movers, Spaceship now also offers fully self-contained vans among their four van styles. Their vans and customer service reputations are excellent, with glowing reviews, plus they are one of the lower-priced options. Check out Spaceships here or book through Campstar.
Happy campers
Aimed at budget travellers, they were mentioned by a few group members are also available through Campstar.
Motorhome rental companies
We have never driven a motor home, so rely purely on the expertise of our group members. Their top three recommendations are both available through Campstar:
Maui
The clear top pick among our group members with comments like, "We had a good experience with Maui and would use them again." or "I hired from them at Christchurch Airport, and they were superb and very professional."
Britz
A close second, Maui and Britz are part of the same company, with Britz being slightly older vehicles (5 years) and consequently slightly cheaper. Their great reputation includes their customer service and no hidden fees.
Apollo
Another popular option, Apollo, offers quality campervans and motorhomes.
Three free apps to help you find campsites
Download at least one, but ideally all three of these apps.
Campermate provides maps as it helps you find campsites in New Zealand and Australia.
Camping NZ by Rankers: Provides camping locations.
WikiCamps features campgrounds, caravan parks and backpackers throughout New Zealand.
One-way costs or relocation deals
Hiring a vehicle in Auckland, driving south, and returning it on the South Island is the most popular tourist travel direction. As a result, you will often pay a quite high drop-off fee.
However, companies have a vehicle relocation solution. In fact, you can get a vehicle cheap (or sometimes free) if you can travel between specific cities on specific days. In essence, you are returning the vehicle from the South Island, usually to Auckland.
While not often advertised, these opportunities are most prevalent in peak season. Restrictions apply, so be sure to know the rules.
Relocation and other money-saving companies recommended by group members :
Imoova.com – often

great relocation deals here, specifically for campervans and cars being driven back to Auckland. Their inventory changes frequently, so it's often a good idea to check back as summer approaches.

Transfercar offers free one-way rental cars and campervans between specific cities and on specified dates.
Camplify is a peer-to-peer van-sharing community connecting holidaymakers with thousands of unique campervans, caravans, and motorhomes.
Take the Tiaki Promise
Taiki means to care for people and place. The Tiaki Promise is a commitment to care for New Zealand, now and for future generations.
By following the Tiaki Promise, you are committing to New Zealand to act as a guardian, protecting and preserving our home. It is all our responsibility.
A few final tips for driving and renting a campervan in New Zealand
Campervan and motorhome prices vary dramatically by season. December and January are the peak season, and prices are the highest. Whereas March, April, October, and November often have lovely weather and will cost significantly less for the same rental.
Don't forget to book your ferry crossing in advance, especially if you are travelling in peak season. The two ferries that can take vehicles are Interislander and Bluebridge.
Several mountain passes and low roads are prone to slips or flooding after wet weather. Always check with NZTA for road closures before you head out for the day.
Diesel-powered vehicles pay an NZ road usage fee based on every 1000km driven. This tax will most likely be passed on to you.
Self-contained vehicles require frequent fresh water refill, as well as waste and grey water disposal at designated dump sites. (found on CamperMate app).
Downloaded maps for areas that may not have Wifi coverage.
Read the fine print and know what is and isn't allowed in your rental deal.
Bringing your own portable solar generator will reduce your carbon footprint.
Save on your NZ trip with these resources
These are our go-to companies when we travel. We believe this list to be the best in each category. You can't go wrong using them on your trip too.
Check out our travel resources page for more companies that we use when you travel.
Save for later
If you enjoyed this article, please share it on social media and save it for later on Pinterest.
Will you be renting a campervan in New Zealand?
You might also like …
Photo Credits:
All photos on this page are either shot by our team and watermarked as such or stock images from Depositphotos.