The doors to the Auckland Food Show open promptly at 10am, and along with a few hundred other people we head in for some of the best the country has to offer. Food, drinks, kitchen equipment, and cooking demonstrations, it's all here under one roof.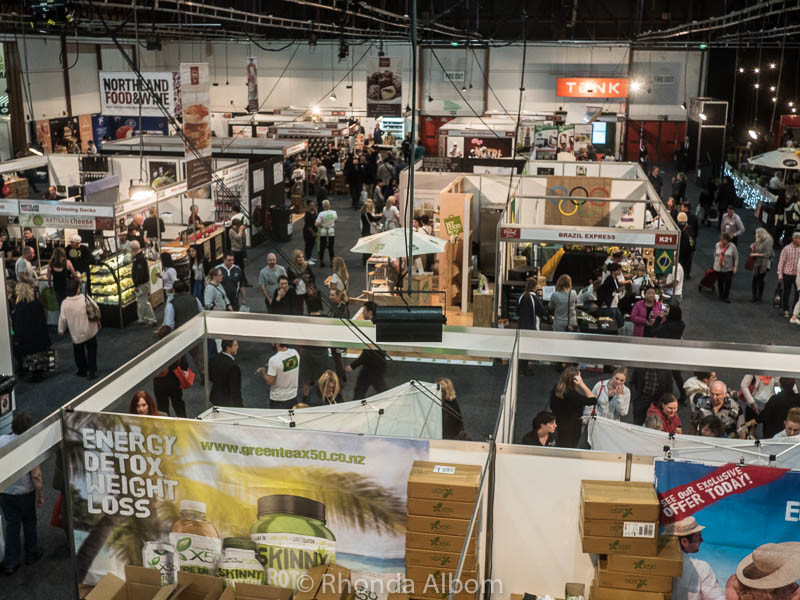 This is my second year attending the Auckland Food Show and the big surprise to me is just how many of the foods we currently eat were discovered at last year's food show. This year we added a slew of new tasty treats to our favorites list.
The show runs all weekend. Here is my top ten list of reasons why every Aucklander should attend this year's food show:
1) Sample foods and discover new favourites
2) Learn new cooking techniques from the experts
3) Listen to live entertainment
4) Enjoy international flavours made locally
5) Enjoy a coffee, tea or other hot beverage
Also at the show are:
Nespresso Discovery sessions allowing guests to create, sample, and review a few creations. If you want to do this, queue up early;
Other hot beverages including teas and hot chocolate;
A variety of other kitchen equipment like blenders, cookers, and knives.
6) See a giant centaur made out of margarine
7) Meet real New Zealanders
8) Sip a tropical taste sensation
9) Discover ancient secrets
10) Meet a few heroes
Tips for enjoying the Auckland Food Show 2016:
The Food Show runs from 28 to 31 July at ASB Showgrounds in Auckland, New Zealand.
Opening hours are from 10am to 6pm (Thursday-Saturday) and 10am to 5pm on Sunday. Click Here for the official webpage and ticket information.
Parking is $10 per vehicle. If you want to park in the lot, get there early.
If you want to see it all, allocate at least 4 hours.
Bring a wheeling cart (or at least a shopping bag) as many of the "food show deals" are irresistible.
Talk to the vendors, many of them are the owners, and happy to share fun and interesting information.
If you look young, and want to sample any of the alcoholic beverages, be sure to bring a proper ID.
Many of the recipes available at the show are also available on-line at: http://www.foodshow.co.nz/recipes/
Are you visiting to the Auckland Food Show this weekend?
This post is shared for:

Ready, set, link!
1. Link one of your inspirational travel photos or stories to this post by adding your info below.
2. Copy and paste our badge and a link to this page.
3. Please visit some of the other wonderful travel bloggers, read their posts, and leave a comment.
4. Please include the hashtag #wkendtravelinspiration if you share on Twitter.

Loading InLinkz ...
If you enjoyed this article, please share it on Pinterest.

This post also linked at
The Weekly Postcard, Weekend Wanderlust, Travel Photo Thursday, and Photo Friday.
Disclaimer: We were provided with media entry to the Auckland Food Show, however the opinions expressed here are strictly my own.
Seven ridiculously simple tips that WILL improve your photos
Whether you shoot with a phone or a DSLR, let me share my secrets.
Subscribe to Albom Adventure's newsletter and download our free ebook: Take Better Travel Photos By Rhonda Albom