Vivid colours, artistic lighting, and marine projections brought with it the challenge of photographing a light festival in Auckland at night. Bright Nights brought Viaduct Harbour alive with a light and sound spectacular curated by international award-winning light artist Angus Muir Design.
As always, New Zealand knows how to throw a party.
"The waterfront means a lot to Auckland City, and creating a light art experience that interacts with the water itself was always the goal. The opportunity to use Viaduct Harbour as a canvas to launch a full-scale lighting festival for everyone to enjoy is pretty much a dream come true," says Muir.
Light Festival Photographs (Photo tips below)
Auckland Bright Nights
Celebrating nothing in particular, this year's theme focuses on clean seas and sustainability. It followed a path of light beginning at KZ1, the 1998 America's Cup Challenger Yacht that sits on display outside the Auckland Maritime Museum. Here we discovered an ever-changing projection that showed geometric patterns when we first arrived and then a fabulous sea life creation.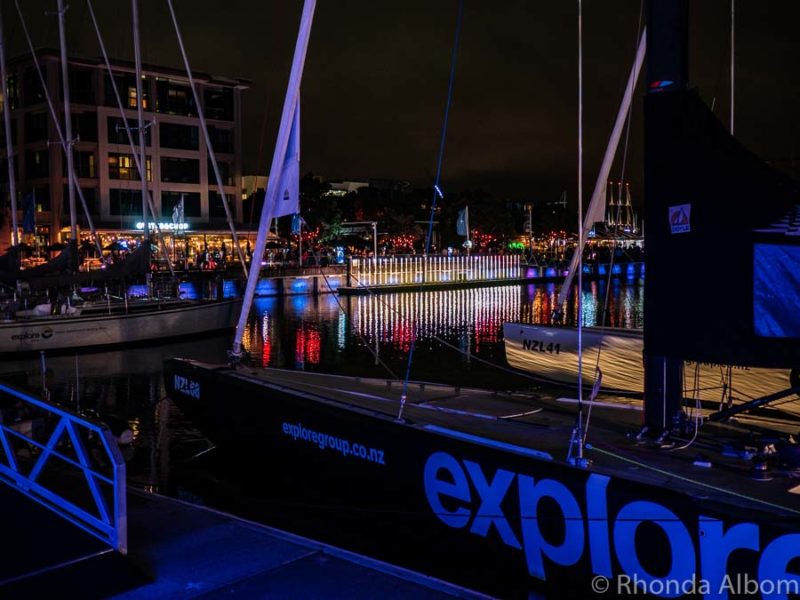 Next, it became an interactive light festival
The next exhibit, called Square Dance Discotheque was fascinating to watch. Coloured lights rotated on the ground while people danced to silence. The music played via Bluetooth headphones. We had to try it, and the queue moved quickly, possibly because the choice of music was loud and unpleasant (or maybe I am just getting old).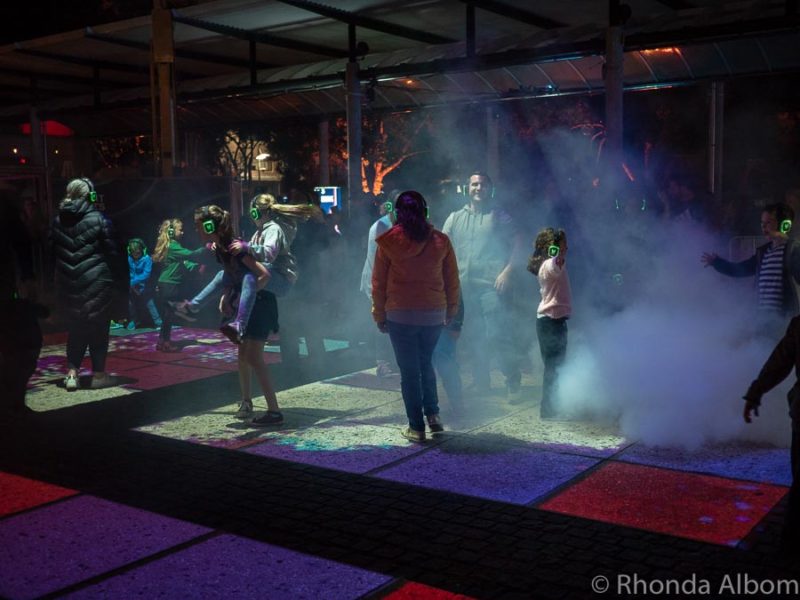 The Interactive Earth let visitors alter various things and see their effects on the planet. While we watched, a member of the Futuristic Vospertron performance team joined into the fun.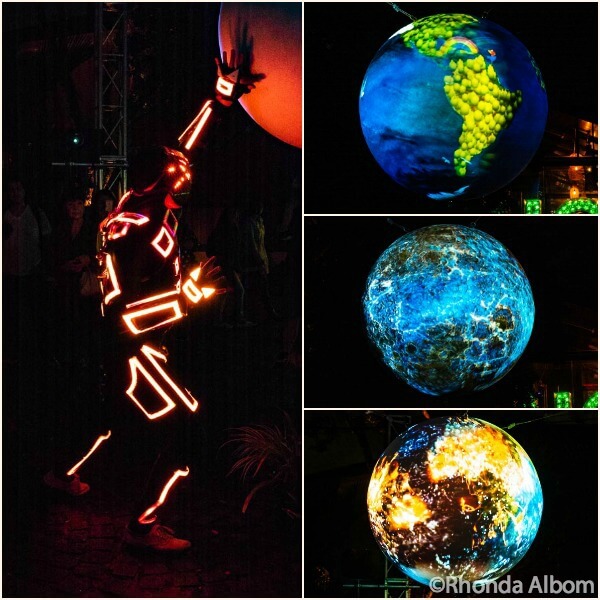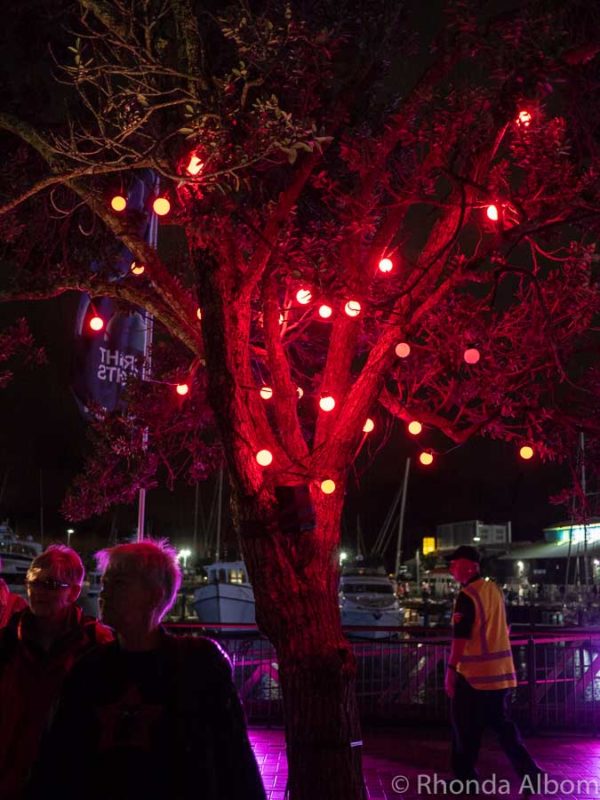 More Light Festival Fun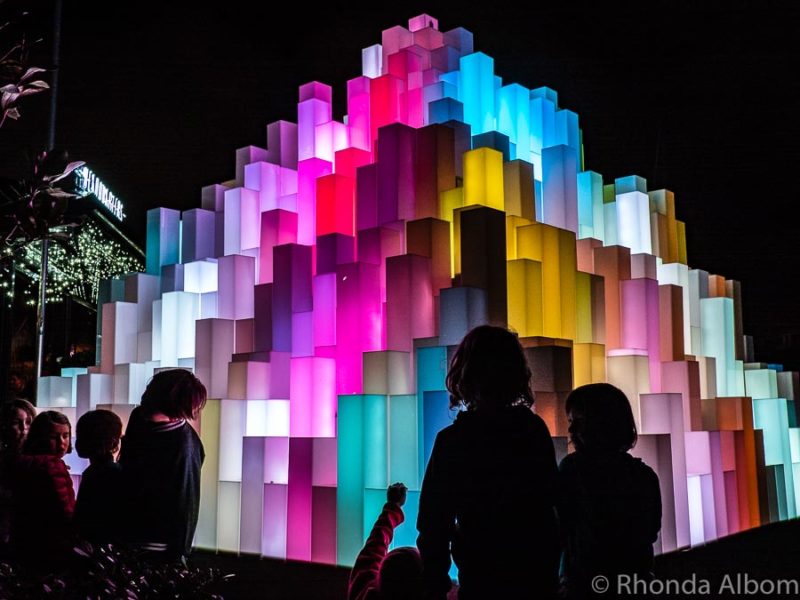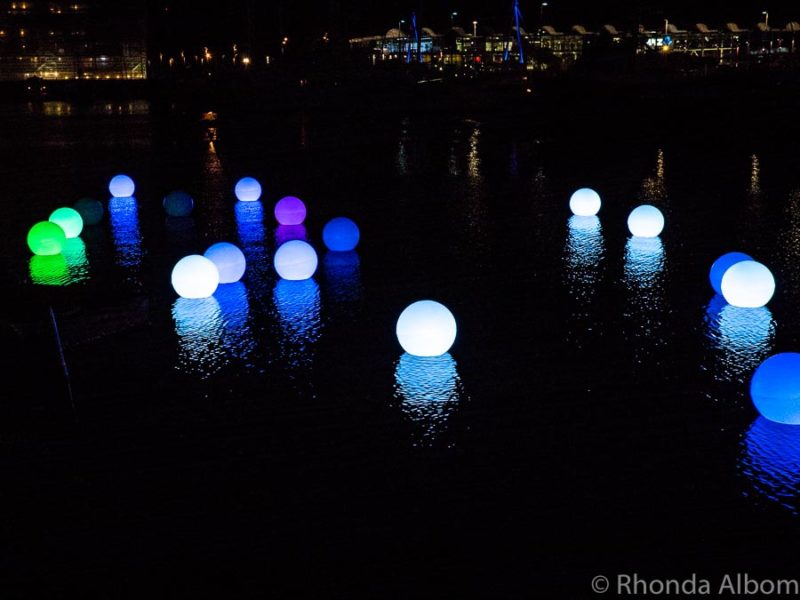 The ever-changing colours of most of the lights are captured in this promotional video from the city.
General Tips on Photographing a Light Festival
We earn from qualifying purchases through partnerships or affiliate programs.
Know your camera's limits. I shoot with an Olympus OMD em5 Mark II, a compact, mirrorless camera that is not only the ideal lightweight travel camera, it also offers very high ISO options and shoots beautifully in low light situations.
⇒ If you live in USA or Canada, check pricing of the OMD em5 Mark II at Olympus
⇒ Worldwide, check the pricing of the Olympus OMD em5 Mark II at Amazon
Set your camera to manual mode.
Use a high ISO for hand-held shots, the lowest for tripod shots.
Use a wide-angle lens.
Adjust your settings for the event, try to not overexpose the light.
Bracket your shots.
If possible, go on a preview or media only night.
If light installations are large, try to include silhouetted people or well-known objects for size perspective.
Want more tips, get a copy of my free ebook when you sign up for our email newsletter:
Practical Information on the Auckland Light Festival
The Bright Nights light festival photographed on this page took place over a weekend in May 2018 in Auckland at night.
The lights festival in Auckland is a free treat hosted by the city.
For information (not yet announced) on next year's event, keep an eye on this page, or their facebook page.
It is much smaller in scale than Sydney Australia's annual Vivid festival.
The two other major annual Auckland light festivals are the Chinese Lantern Festival and the Diwali Festival.
A few other examples of night photography on Albom Adventures include the Sonoran lights at the Desert Botanical Garden and Moscow at night.
What's your favourite light festival?
You might also like: