The excitement and energy level at the Auckland Diwali Festival was contagious. The music fostered movement both on-stage and in the crowd. It is a colourful, jubilant gathering of the sights and sounds of India.
We walked up from lower Queen Street, coming upon craft and clothing booths just past the Air New Zealand cockpit open for inspection at the corner of Wellesley Street. Cheering crowds and lively music drew us toward Aotea Square. We hadn't been to the Auckland Diwali Festival in prior years. The huge crowds surprised me, as did finding much of Queen Street closed off for the event.
What is Diwali
(Quoting from the event programme): It is also known as The Festival of Lights. Diwali signifies the triumph of light over darkness, good over evil and the renewal of life.
Diwali commemorates the return of Lord Rama, his wife and brother from their 14-year exile and their defeat of the demon-king Ravana. Villagers celebrated the return of Lord Rama and his family by setting off fireworks and lighting diyas (clay lamps) to guide their journey back to their kingdom.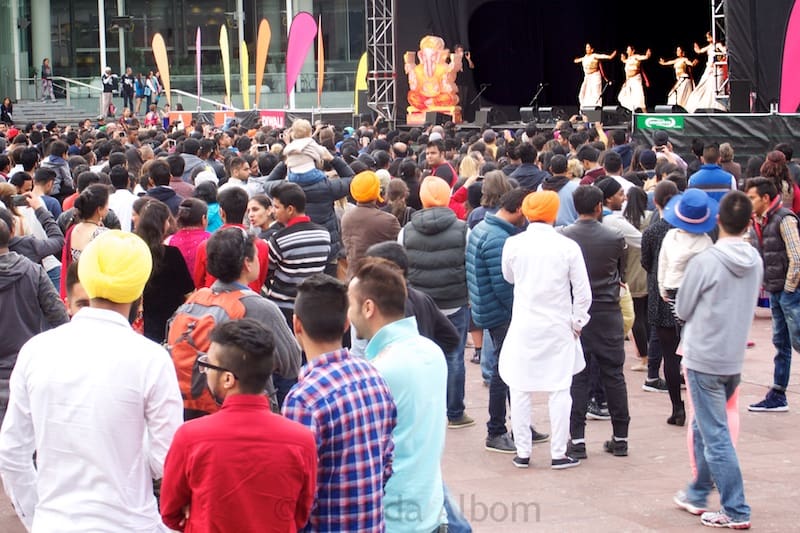 Dancing on the Main Stage
On stage was a mix of traditional and Bollywood dance and vocal entertainment, including an exciting Bollywood competition. The high-energy atmosphere near the stage had just enough personal space to prevent that feeling of claustrophobia I get at rock concerts.
Diwali is New Zealand's largest vegetarian festival
Eventually, we ventured to all-vegetarian Indian food booths. (Yes, the Auckland Diwali Festival is also the largest annual vegetarian food festival in New Zealand.)
Family fun crafts
In addition to the crafts, clothing, food, and entertainment, there was a sponsor area featuring opportunities to win a few cool prizes. I entered to win a domestic flight from Air New Zealand and $1000 from ASB, simply by taking specific selfies, adding hashtags and posting them on Facebook.
Dancing the night away
There is often an option for an Auckland festival on the weekends. Some of my other favourites are listed here.
Did you attend the Auckland Diwali Festival?