This list of Princess Cruise tips needed to be written. After two weeks on board the Island Princess, we were still discovering things that made our lives better. These tips for cruising are not mysterious secrets of cruise ships, nor are they true cruise ship hacks. But rather they are things we probably should have known from the beginning. And, we were not alone. We frequently heard "I should have known that before today." Therefore, we set out on a mission and asked officers, crew, and other passengers for their best Princess Cruise tips and tricks.
While many of these tips may feel like Prince Cruise secrets, in fact, all of this information is readily available on board a Princess Cruise.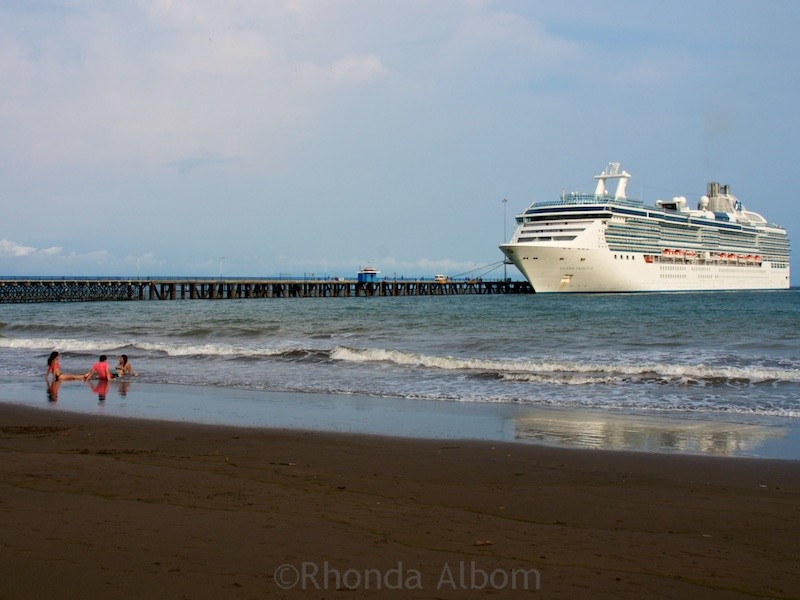 Tips for Cruising: Things to Do Before You Leave Home
1. Princess shore excursions, spa treatments, and speciality dinner reservations can be booked in advance of sailing. With no penalty for cancellation (within 48 hours), many popular time slots "sell out" before embarkation.
2. Read the pre-boarding options as not all of them are available after you board.
3. Fly to your embarkation port at least a day in advance to allow for delays. The ship will not wait for you. If you need a hotel, we often find the best prices on Agoda.
4. Verify that your medical insurance covers travel outside your home country. If not consider getting Travel Insurance before you leave home, although with World Nomads you can buy and claim online, even after you've left home.
5. Owners of stock in Carnival Cruise Lines (the parent company) receive benefits including onboard credits. Be sure to find out what you are entitled to before you go.
6. Pack a small first aid kit with over-the-counter medication for a headache, sore throat, fever, and diarrhoea. If you take Rx medication, bring a paper copy of the prescription.
Onboard Dining Tips
7. Passengers opt for either "traditional" or "anytime" dining when they book. The advantage of traditional dining is having a waiter and dining companions that know you. Princess Cruises Anytime Dining allows you to head to the dining room at your leisure. Regardless of your dining plan, there are plenty of dining options onboard. Included in your cruise fare is a casual buffet; pizza, burgers, pastry, or ice cream bars near the pools; afternoon tea service; room service; or, snacks at one of the bars. Or, for an extra fee, you can enjoy a speciality restaurant, coffee shops, or even balcony dining.
8. At meals, you can order more than one of anything, even extra vegetables, a second lobster tail, or one of each dessert. Although, you might want to check out these tips for eating onboard without gaining weight.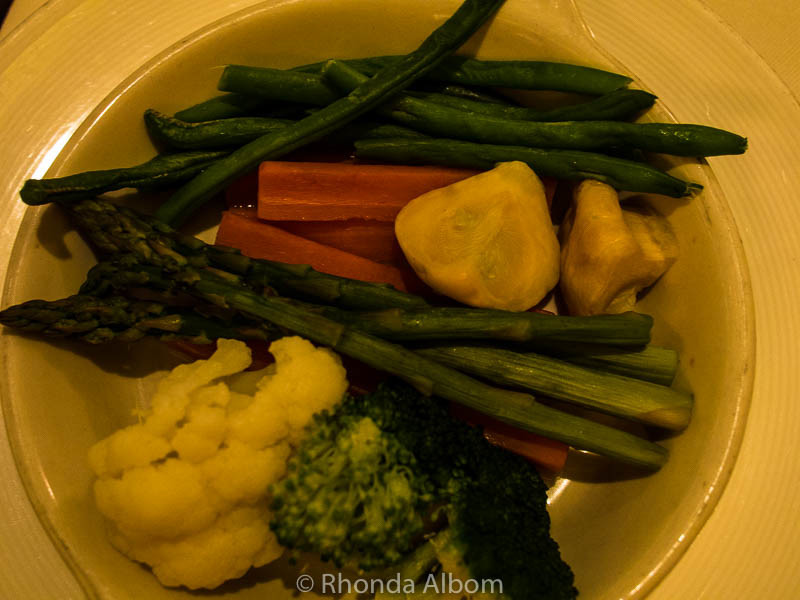 9. If you have opted for Anytime Dining, you can make daily dinner reservation thus allowing you to be seated first at your requested time, rather than waiting in the queue.
10. The speciality restaurants frequently serve lunch for no extra charge. On the Island Princess, this included Italian Pizza or a British Pub lunch.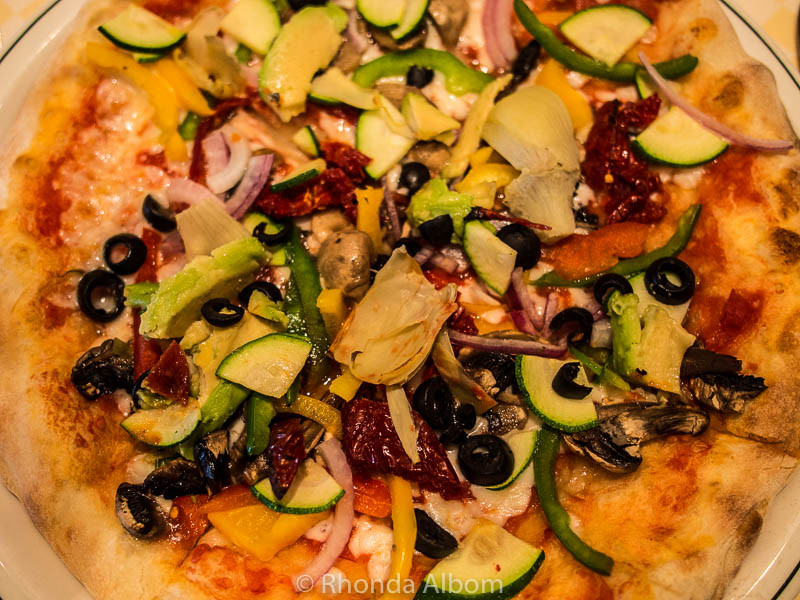 Onboard Drinking Tips
11. Most beverages on board have an additional fee. There are several Princess drink packages or discount cards available:
Coffee Card: 15 speciality coffees, plus unlimited filter coffee and hot chocolate. Hubby and I shared our card.
Soda and More Card: Unlimited soft drinks, mocktails, juices, and hot chocolate.
Wine Card: Saves money on bottled wines.
All-Inclusive Beverage Package:  Any Soda, bottled water, cocktails, spirits, wines, beers, speciality coffee, and tea up to $10 each. Although this is against the rules we saw families purchase only one and share the waters, sodas, and coffee.
Bottled Water Card: Available only before embarkation.
12. You cannot bring wine to the ship. However, if you purchase a bottle at mealtime, the unfinished bottle of wine can be saved for you in the restaurant or brought back to your cabin. If you ask your cabin steward, he will provide wine glasses.
More Cruise Hints and Tips
13. Beach towels are available at the pools and can be taken ashore at ports.
14. The rules state that unattended poolside lounge chairs will have towels removed after 30 minutes. In practice, we never saw this happen.  While it seems rude to set up and leave a lounger, on sunny sea days it may be the only way to have an afternoon seat around the pool.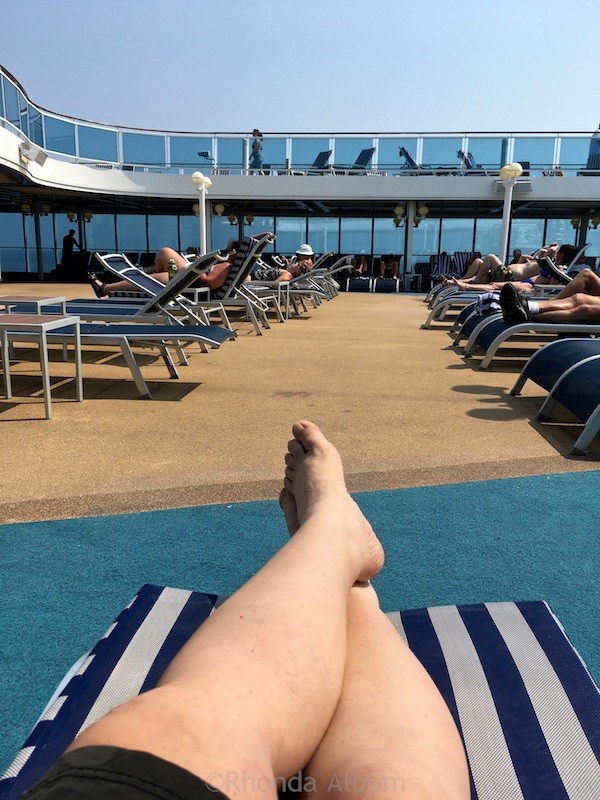 15. The dry sauna and large showers at the Spa are available to all passengers, at no extra charge.
16. The limited spots in the "Sanctuary," a posh, adults-only lounge (extra fee) book up early for the entire cruise.
17. Some Princess Cruise ships offer Movies Under the Stars each night on a huge screen. Padding, removable pillows, and blankets convert the lounge chairs. They even provide popcorn.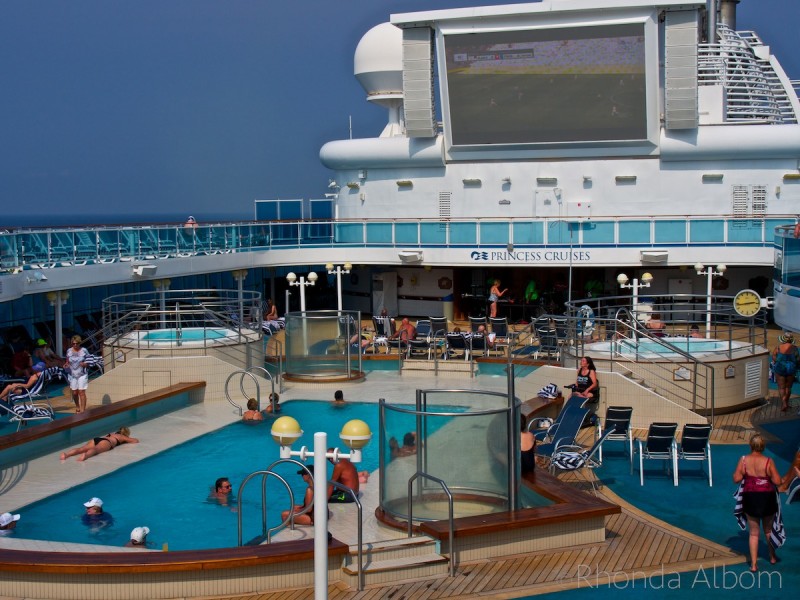 18. Each ship has decks offering outdoor access to the bow and stern. On the Island Princess, decks 10 and 11 were optimal for watching the ship enter the Panama Canal, while deck 8 at the stern was the perfect spot as we left Cabo San Lucas. To access these outdoor decks, we passed through an unlabelled door at the end of the hallway.
19. Onboard laundry uses tokens obtained by swiping your passenger card. There is no need to bring small change.
Princess Cruise's wifi
20. Charges for the onboard internet are on a per-minute basis. Princess Cruises wifi speed is affected by the number of users. Early in the morning or late at night will give the fastest speeds.
21. On-board text messages to other passengers are free using the free Princess Onboard at Sea site.  Bring your mobile device and also access daily schedules, your account, and the ship's itinerary.
More Cruise Ship Hacks
22. Read the daily Princess Patter. It is contains everything you need to know. (It is the four-page magazine left in your cabin nightly).
23. The ship bartenders are like hidden concierges. They are an excellent source of additional cruise excursion tips or advice on ports. They learn the best and the worst while talking to passengers every day. Also, many crew members have been to the ports multiple times.
24. Princess Cruises gratuities are automatically added to your daily invoice. It is possible to alter the amount – simply ask at the main desk. Even prepaid gratuities can be altered if you desire.
25. I think the best deal on board is the future cruise deposit. There is no risk as Princess will refund unused deposits after two years. Importantly, the deposit must be in the currency of the country of your residency, and you must enrol while on board.
Did we miss anything? Do you have any tips for cruising to add to the list?
Please share these tips on social media, including Pinterest.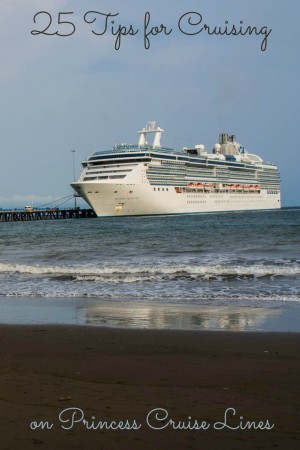 Disclaimer: In addition to VIP treatment onboard the Island Princess, the ship provided us with many complimentary extras. The opinions and observations expressed here are strictly my own. The tips and benefits listed above are all subject to change. Be sure to read the current rules before you sail.