I gained very little weight after 19 days eating onboard the Island Princess. It's an impressive accomplishment. Every meal on a Princess Cruise includes expertly prepared, appetising, and flavorful food. Whether or not you have been on a Princess ship before, prepare to leave this page hungry, and with the tools to enjoy eating onboard without gaining weight.
Gluttonous, continuous eating onboard is possible, and sadly, I think it was the goal of a few of the passengers. We, however, opted to stick to three meals a day (plus morning coffee and an occasional afternoon tea). With few exceptions, all food is included in the cost of the cruise. The Island Princess had three themed restaurants that had a cover charge, plus passengers pay additional for espresso coffee drinks, soft drinks, bottled water, and alcohol.
Experience Culinary Delight and Amazing Itineraries When You Set Sail with Princess Cruises! Book Princess Cruises Today, Only at CruiseDirect.com!
My best tips for eating healthy on a cruise ship are below, but first, let me tempt you with a bit of food porn: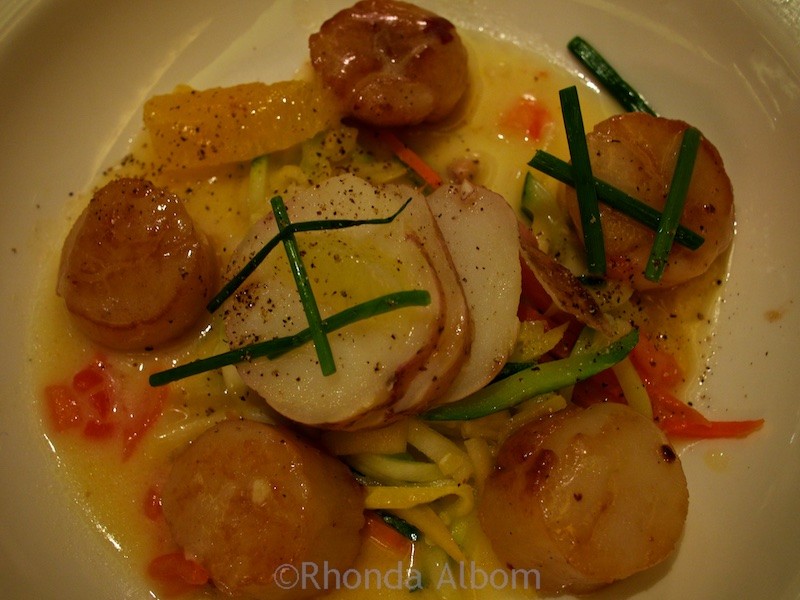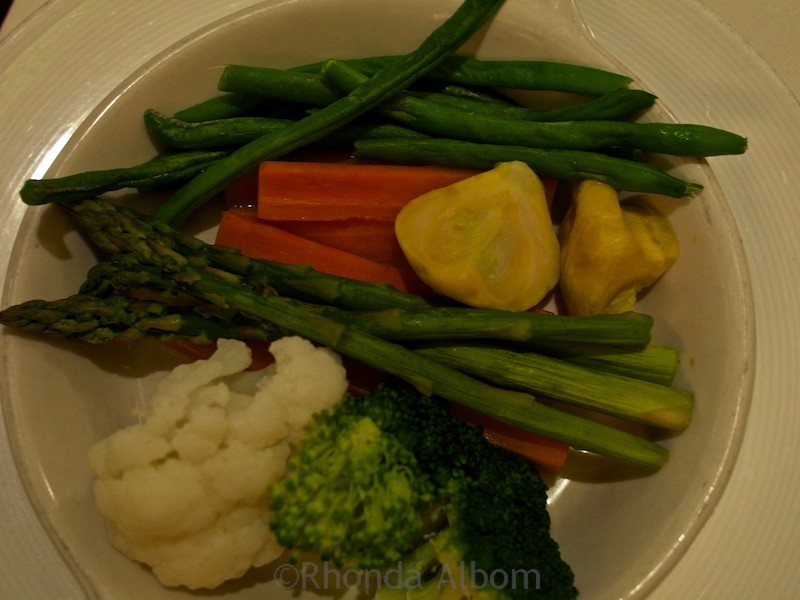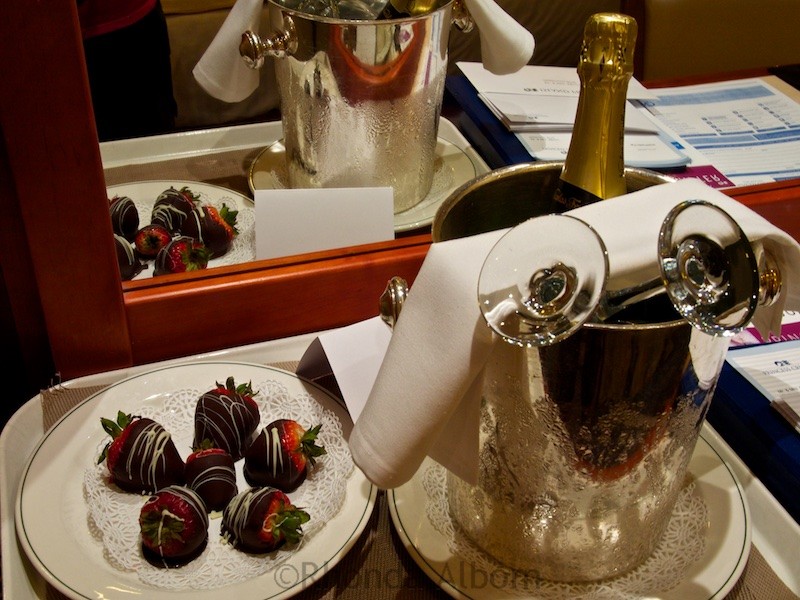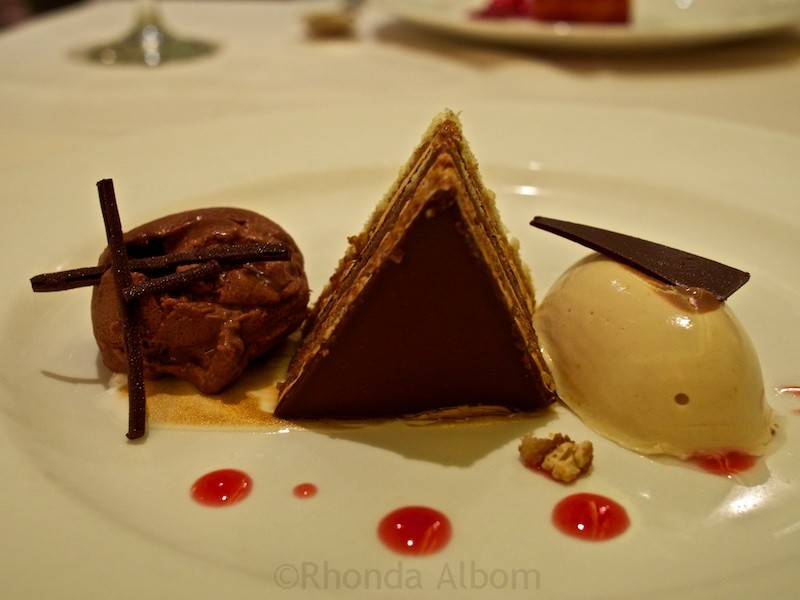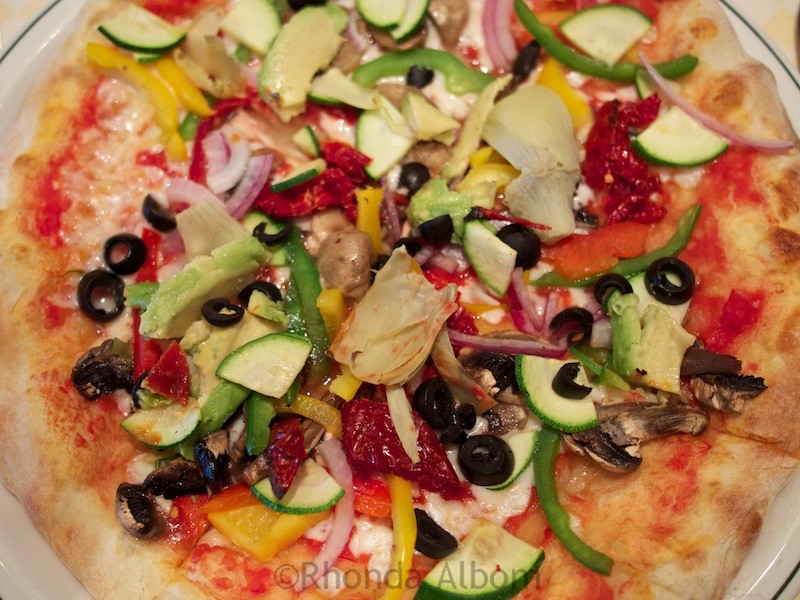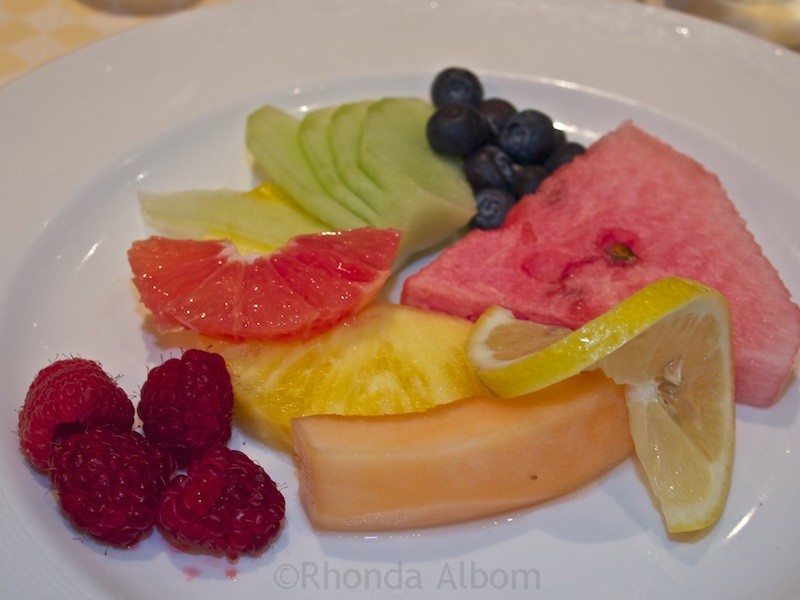 (Or click here for Amazon Canada)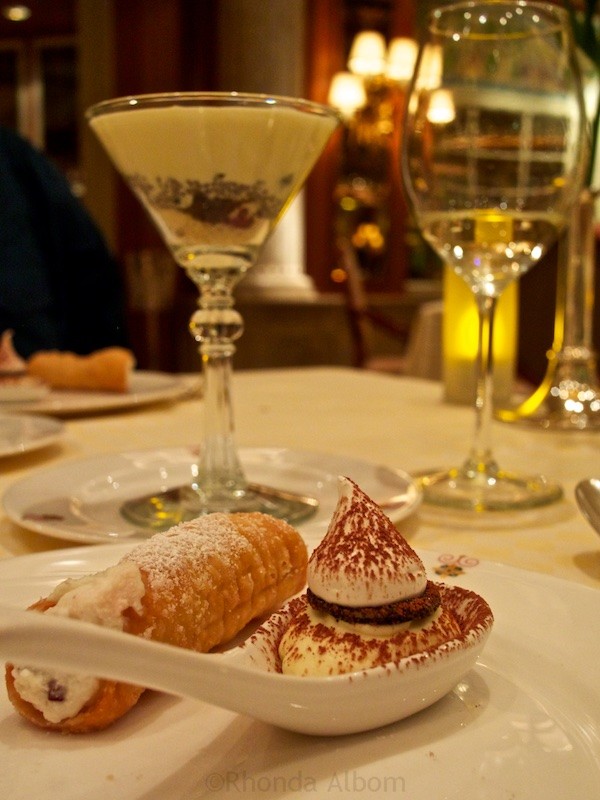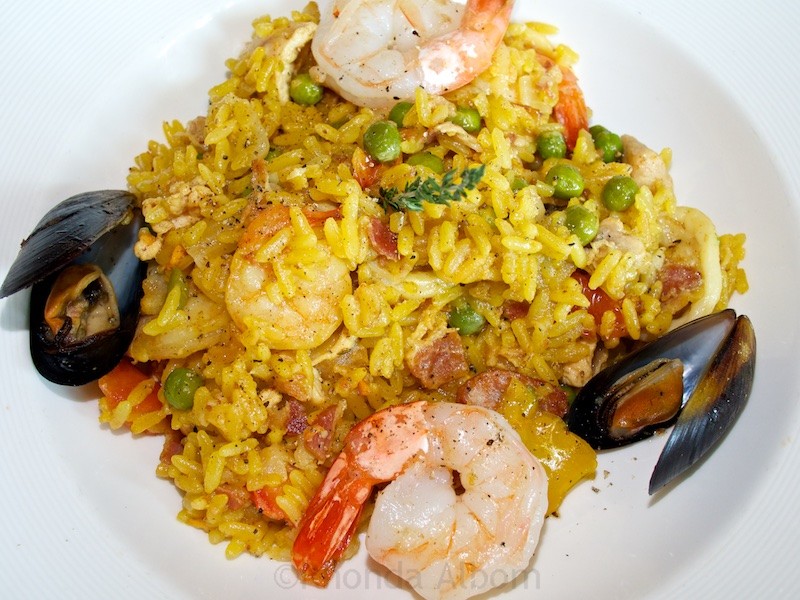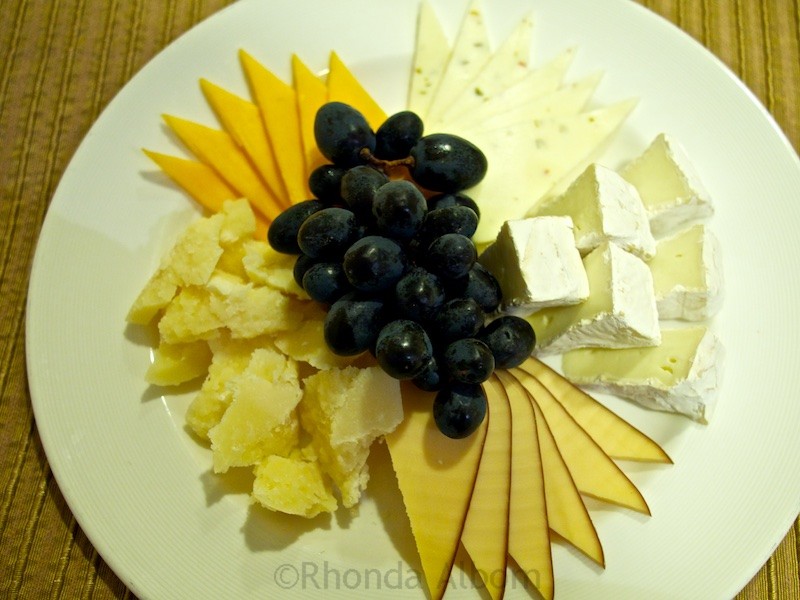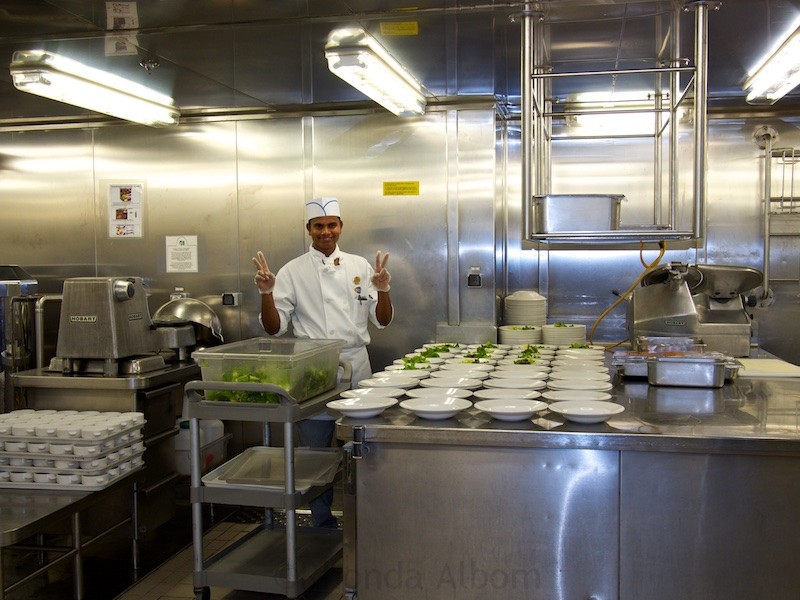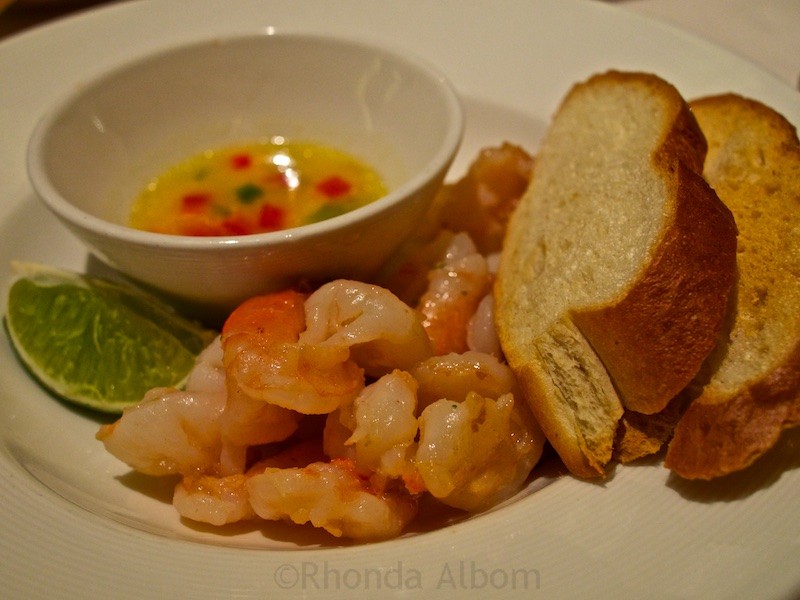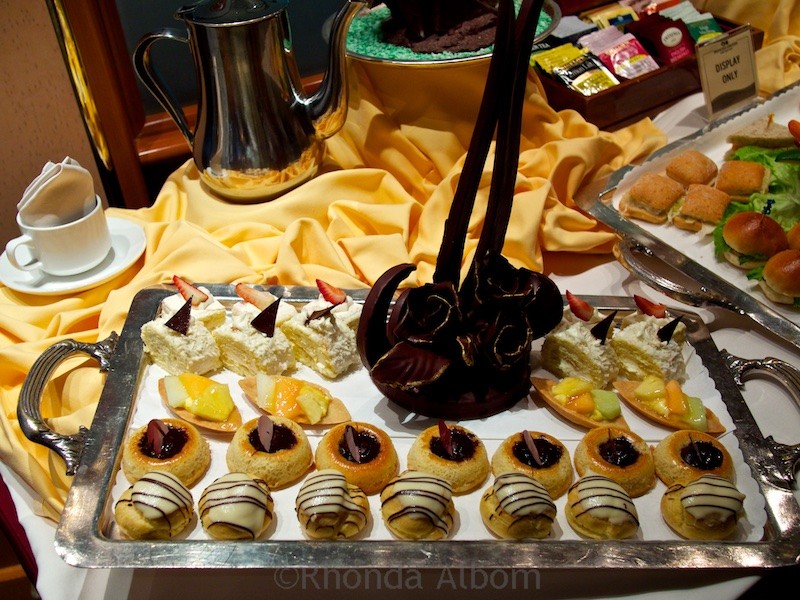 Are you wondering, how I cruised for 19 days, without gaining too much weight?
Sorry to say it, there is no secret, it's the same as everyday life. Calories in versus calories out.
It was 19 days from Florida through the Panama Canal and up to Vancouver.
Best tips for eating healthy on a cruise
Order a side of steamed vegetables with your dinner, even if it is not on listed on the cruise ship menu, they will make it for you.
Similarly, order a plate of fresh fruit with your breakfast.
Drink water, rather than soda throughout the day.
If you don't want to gain weight on the ship, you need to make healthy choices and get some exercise. The latter is easier, as there is both a gym and a walking track.
Join some of the active onboard options like Zumba, line dancing, ballroom dancing, swimming pools, basketball court, and a 5K breast cancer walk.
Personally, I upped my daily walking goal. Using my Fitbit Alta HR I strived for 15,000 steps per day before I allowed myself dessert. There is an outdoor walking track, so breathing the sea air, it is easy to get in the extra steps.
Find more tips for cruising on princess here.
I actually lost weight on a 15-night cruise on the Azamara Quest, but I don't recommend the method used. Unfortunately, Azamara served me foods I was allergic to on five of fifteen days, leaving me chained to my toilet, and losing weight.
Experience Culinary Delight and Amazing Itineraries When You Set Sail with Princess Cruises! Book Princess Cruises Today, Only at CruiseDirect.com!
Please Share
If you enjoy eating on board, of just liked these image, please share this article on social, starting with Pinterest: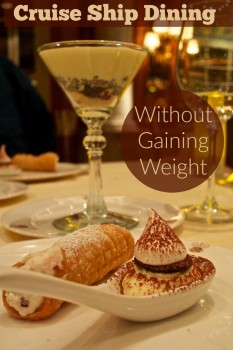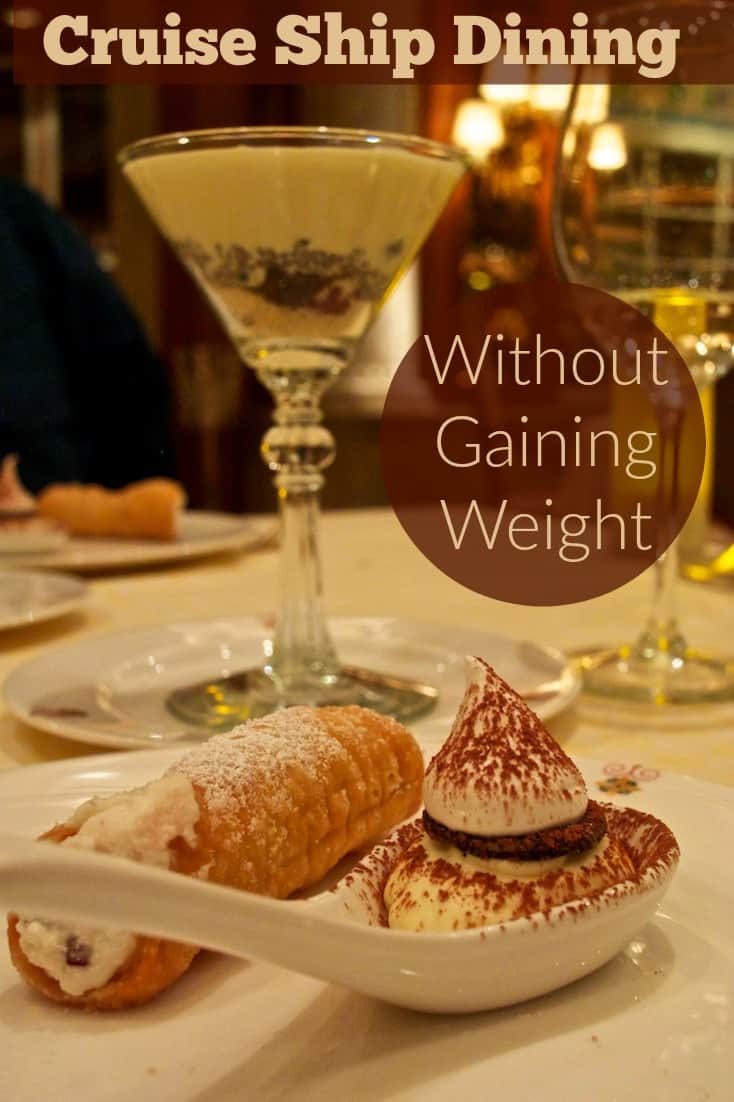 Adventurous Eater in Port? Think About Travel Insurance
If you are also an adventurous eater in ports, be sure to carry Travel Insurance. We like World Nomads as they are one of the few (if not the only) travel insurance company that will let you purchase insurance even after your trip has begun.
Tempted? Could enjoy 19 days eating onboard without gaining weight? Will you eat less, exercise more, or just worry about it when you get home?
Disclaimer: In addition to VIP treatment onboard the Island Princess we were provided with many complimentary extras, including speciality dining. The opinions expressed here are strictly my own.