As soon as I stepped onboard the Holland America Oosterdam, I was reminded that all mid-sized cruise ships are not the same.
The Oosterdam is tasteful decorated, bright and vivid, but with an impressive, understated beauty, a refined elegance.
This five-star ship carries up to 1,964 passengers and 817 crew. It features several restaurants, lounges, and entertainment options, as well as both relaxing and active alternatives.
To date, we have spent over 160 days on a variety of cruise ships, the majority of which are mid-sized (1,500-2,499 passengers) across seven cruise lines. Too bad we are not cruising at this time.
We won a tour and a decadent lunch. It's a prize earned simply from having my name randomly pulled from the hat.
Holland America's ms Oosterdam was christened in July 2003 by her royal highness Princess Margriet of the Netherlands.
Note: Based on world conditions, we advise checking official channels including cancellation policies prior to booking. Also, with often reduced capacity, booking ahead becomes more important.
Our first view of the Oosterdam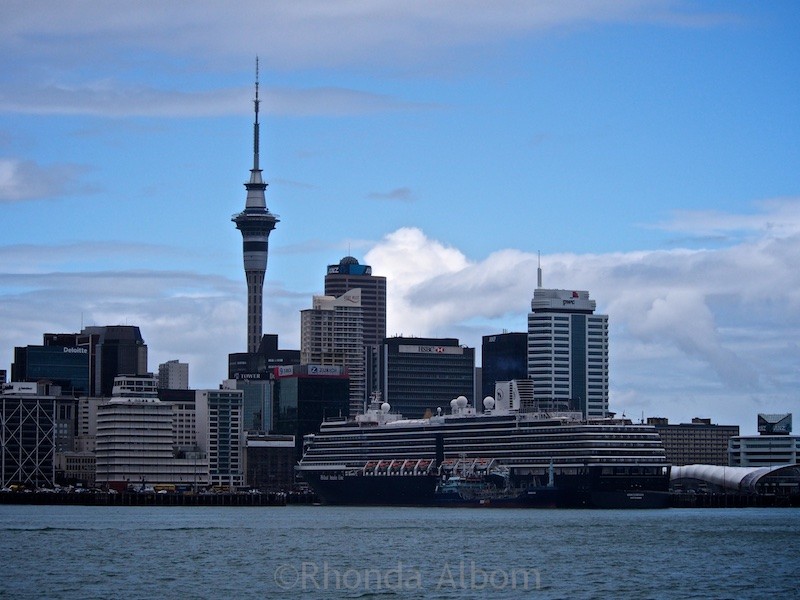 We arrived in Auckland for our afternoon onboard the Oosterdam via ferry.
Our first glimpse of the HAL Oosterdam came as we approached the city. She sat prominently in front of the Auckland skyline, her black and white exterior almost blending into the background rather than being a huge eyesore.
Let's get into the cruising mood …
First impression onboard the ms Oosterdam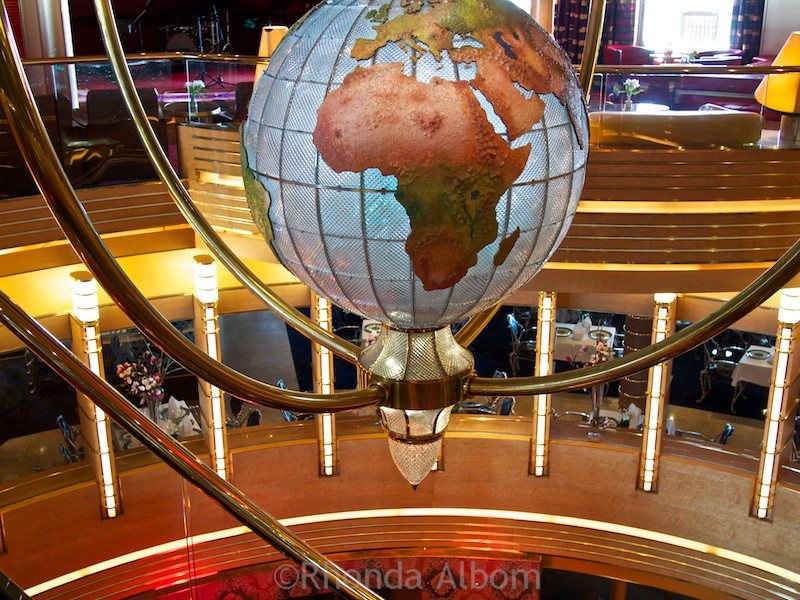 Greeted by the beautiful atrium, it was the giant globe hanging over the entrance that first caught my eye. It instantly took me to places all around the world, reminding me of the romance of long-term travel and of faraway places that can be reached via ship.
Lounges and dining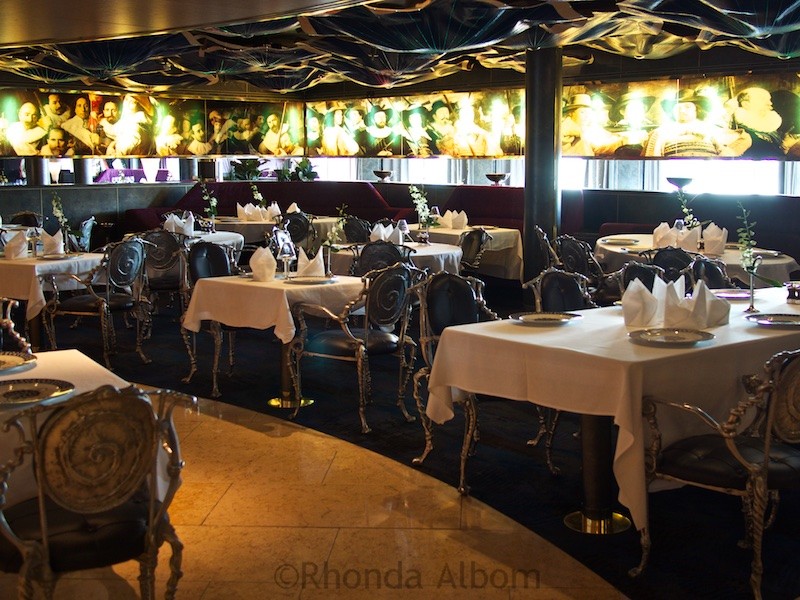 With six places to eat onboard, plus 24-hour room service (included), you will not leave this ship hungry. In fact, it is the opposite, and you might want to check out a few of our tips for eating onboard without gaining weight.
The dining options range from casual to formal that are included, although both the steak house and the Italian cuisine restaurant have an additional cost.
The food was fabulous, and our lunch was so good that I am almost embarrassed to admit that I ate it before I remembered to take photos. That is until dessert, a light, fluffy strawberry perfection.
Artwork on the Oosterdam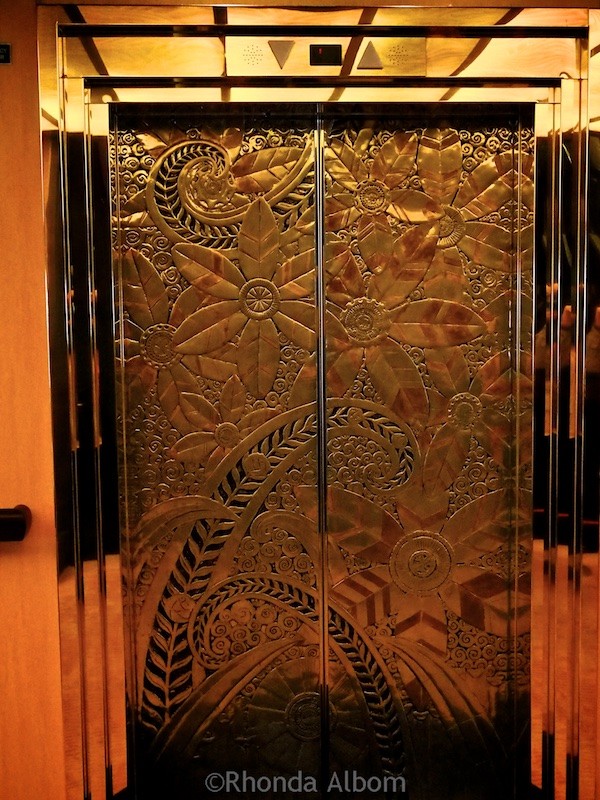 In this case, a picture is worth 1,000 words. The artwork around the ship was eclectic, interesting, striking, and seemingly every where. Even the elevator doors were intricately decorated.
Cabins on the Oosterdam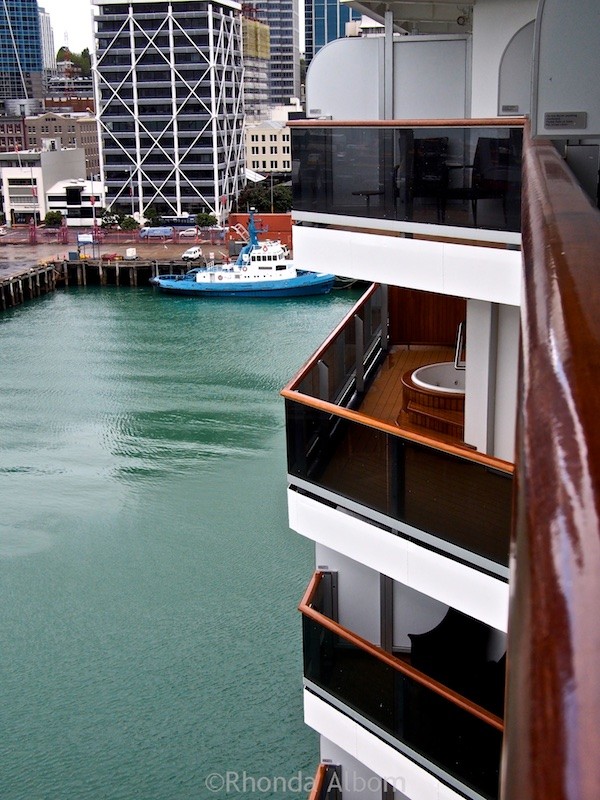 The carpet in the long hallways did match the decor in the rooms, although I share here a blue hallway and a red room.
We saw two different cabins, this was the larger suite. Attention is paid to every detail.
It was the view from the balcony of the suite in the photo just above that let me really see how the other half live. We can clearly see a spa tub on the balcony of one of the largest suites.
I can only imagine how magical it would be to sit in that tub whilst cruising on a moonlit evening. Although, the lack of total privacy might be a disappointment.
Entertainment
We got a chance to see World Stage, the main entertainment stage, although we were not treated to a performance (nor did we expect one, as all we thought we won was lunch, even the tour was a big bonus).
I can only imagine it is impressive. After all, it's a five-star ship, and all of the entertainment we have seen on other ships (ranging from 3-6 stars) has been excellent.
Plus, HAL has an exclusive partnership with the Lincoln Center, one of the world's leading centers for performing arts. This is a real treat for fans of classical cruise ship music.
Swimming pools and spa tubs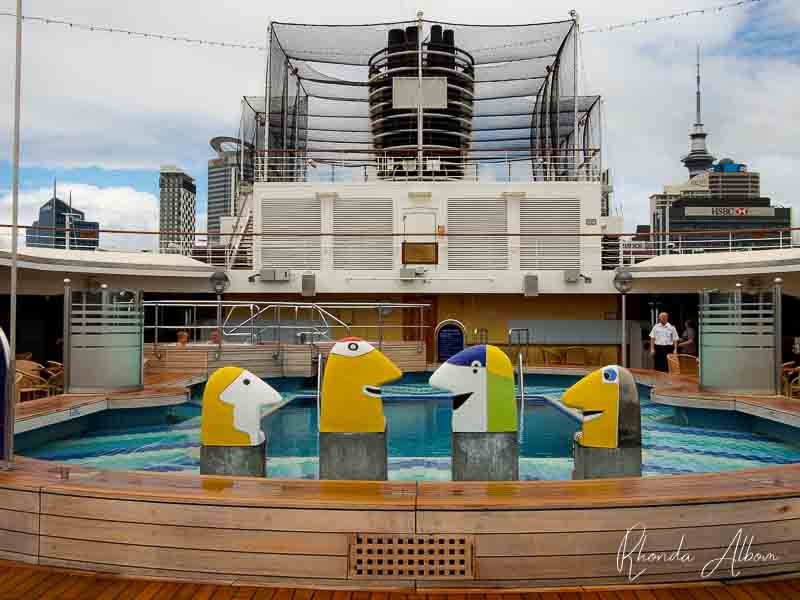 There are two pools, and the main/lido pool has a retractable roof so that you can swim regardless of the weather.
Each pool has spa tubs, and the outdoor sea view pool has four adorable chairs that keep your body dry, but your feet in the water.
More onboard the Oosterdam
We didn't see it all, there is also…
Observation deck
Two pianos
Trivia games
Sing-alongs
Bars
A family game room
Lectures
Shops
Two-story LED screen
Full spa services, including massage
Casino
Fitness center
Art Gallery
Kids clubs (for ages 3-17)
I could easily enjoy a few weeks aboard this ship. A few hours was not long enough.
Cruising into New Zealand
Cruise and port planning tips
Spending 160+ days at sea, we discovered a few cruising secrets. In addition to our list of cruise tips, here are our best planning tools:
Cruise: We find great deals on Cruise Direct.

Flights: We like to arrive at least one day prior to disembarkation and use Expedia to discover flight options.

Accommodations before and after: We use Booking.com to find accommodations.

Private tour guides: Looking to maximize our limited time at a port, we often hire private guides from Tours by Locals.

Rental Car: When we need a car, we always use RentalCars.com, a rental car search engine with no hidden costs.

Travel Insurance: We purchase insurance that covers medical and travel emergencies when we head overseas. We use a travel insurance aggregator that gives us a free and easy-to-read comparison of the inclusions of each policy.

Packing Tips: Get a copy of our free packing light for cruise travel checklist when you sign up for our mailing list. (We pack light, yet have everything we need.)

**Find more money-saving resources on our Travel Resources page.
Save for later
If you enjoyed this article, please share it on social media and save it for later on Pinterest.
Will you cruise on the ms Oosterdam?