At Cape Reinga, the top of  New Zealand's North Island is the meeting of the seas.  The Pacific flows down from the northeast, while the Tasman sea flows in from the northwest.  It's New Zealand's most northern point and a stunning place to stand.
Cape Reinga is considered to be the most spiritual place for all Maori (New Zealand's indigenous people).
For us, it was a destination long overdue.
One of the best things about having my niece visiting is that she does the dishes we are once again touring New Zealand.
We have lived in New Zealand for nearly 10 years and this is our first visit to the cape.  Technically it's our second attempt, heavy rains preventing us from traveling there years ago when my dad visited.
It's a short hike from the car park and this is our first view:
The Meeting of the Seas
A Maori Legend
Cape Reinga marks the separation of the Tasman Sea from the pacific Ocean. For Maori, these turbulent waters are where the male sea Te Moana Tapokopoko a Tawhaki meets the female sea Te Tai o Whitireia.
The Whirlpools where the currents clash are like those that dance in the wake of a waka (canoe). They represent the coming together of male and female, and the creation of life.
A closer view of the meeting of the seas:
I am pretty sure there is a sign like this at the farthest point in some direction of every country.  Here is New Zealand's version, from the northern most point in the country, at the lighthouse at Cape Reinga.
We chose to climb to the top of the hill on our way back.  I put my camera aside for a moment and tried the panorama feature of my iphone.  What do you think?  I am not sure why it came out so short, but the color and quality seem acceptable.  Personally, I prefer the power of my DSLR.
If you can see the lighthouse in the background, and notice that the top looks a bit thicker than the prior shot, that is a person.  Probably not a very bright one, as it is neither safe nor legal, but he climbed up there anyway.  In the foreground, my smiling niece.  You can easily see why I am so flattered by all who have said they see the family resemblance.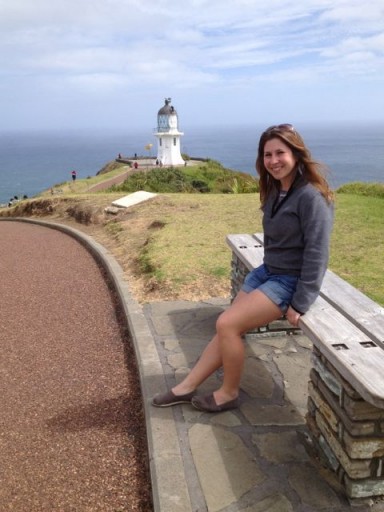 Have you seen the meeting of the seas?
Don't Miss These Related Adventures: