E is for endangered.
Practical Information: 
Now classified as critically endangered, the takahe were once thought of as extinct until they were rediscovered in the Murchison Mountains (Fiordland) on the South Island in 1948.
Takahe are flightless birds found only in New Zealand. They display their wings during courtship or as a show of aggression.
Takahe are similar in size to large hen.
They have an interesting song, which you can hear here.
Which endangered animals have you seen? Have you seen a takahe before today?
Please share this on social media, including Pinterest: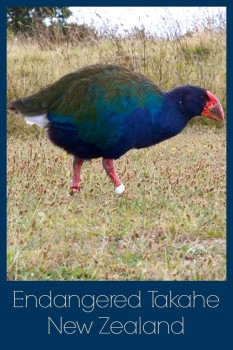 Save
Seven ridiculously simple tips that WILL improve your photos
Whether you shoot with a phone or a DSLR, let me share my secrets.
Subscribe to Albom Adventure's Travel Tips newsletter and download our free ebook: Take Better Travel Photos By Rhonda Albom