La Mezquita (Mosque – Cathedral of Córdoba) is captivating.  It brings hordes of tourists to this Andalusian town annually. It is one of many interesting things to do in Cordoba Spain. If you only have one day in Cordoba, you will be busy.
Like Toledo, Cordoba is a city where Jews, Muslims, and Christians coexisted peacefully for hundreds of years.
La Mezquita (Mosque – Cathedral of Córdoba)
Images of the red and white archways drew me here, and I was captivated from the moment we entered. The contrast between the Moorish architecture and Catholic artefacts somehow blend seamlessly. The structure felt endless, with a visual treat around every corner. It remains the largest structure of its kind in the western Muslim world.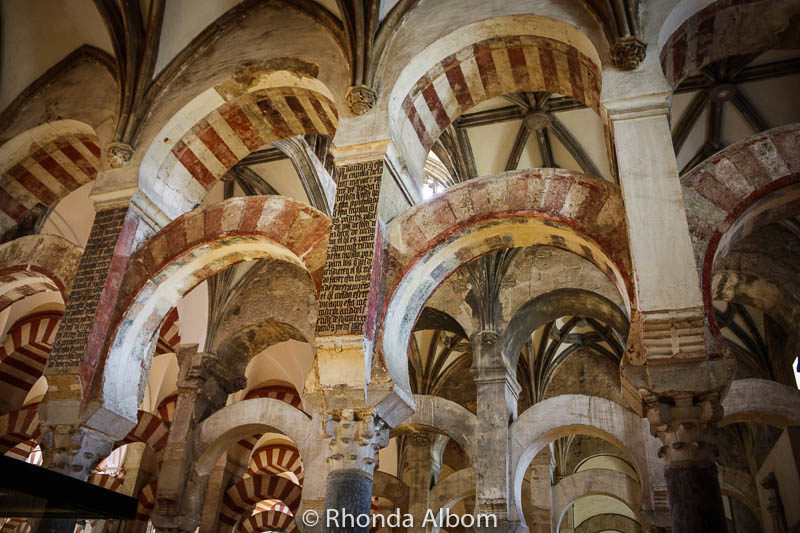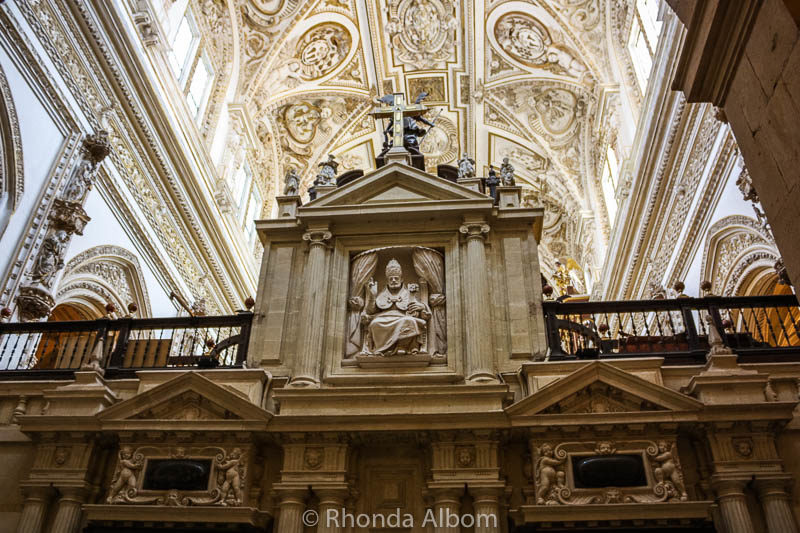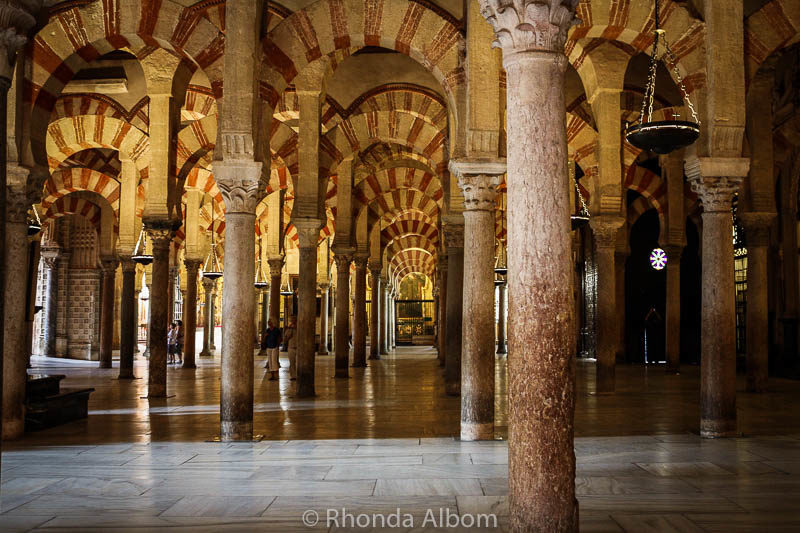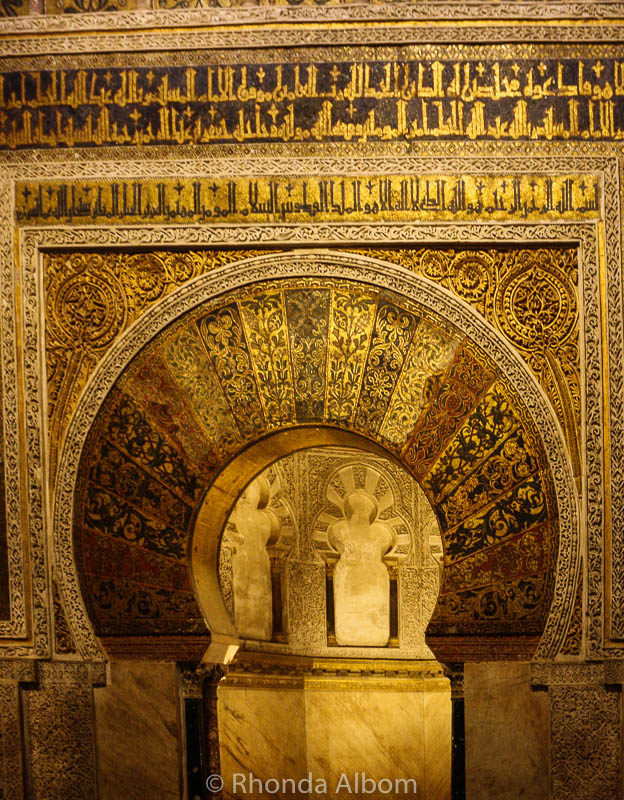 Jewish Quarter Cordoba
At the centre of the maze of narrow streets that make up the Juderia, the medieval Jewish ghetto, is one of only three original synagogues remaining in Spain. Built in 1315 in the Mudéjar-style it was transformed into a church in the 16th century and rediscovered in the 19th century.
Roman Bridge and Torre de la Calahorra
The Puente Romano (Roman Bridge) is a 16-arched bridge spanning the Río Guadalquivir. It was originally built after Caesar's victory over Pompey the Great. With renovations and reconstructions over time, it barely resembles its Roman roots. If it looks familiar, perhaps you recognise it as the Long Bridge of Volantis from Game of  Thrones: Season 5.
The tower at the south end is a fortified gate built during the late 12th century to protect the bridge. Today the tower is Museo Vivo de Al-Andalus, a museum highlighting the cultural achievements of Al-Andalus.
Walk Around at Night
Lit up and golden, La Mesquita looks beautiful at night.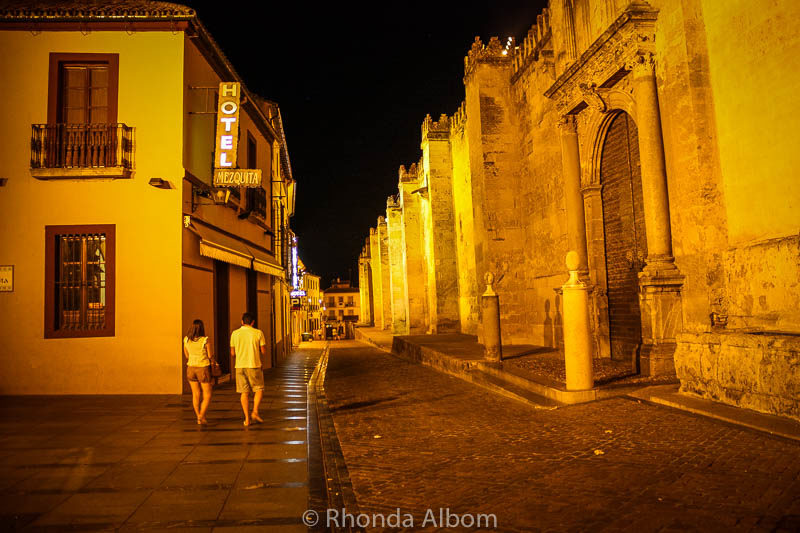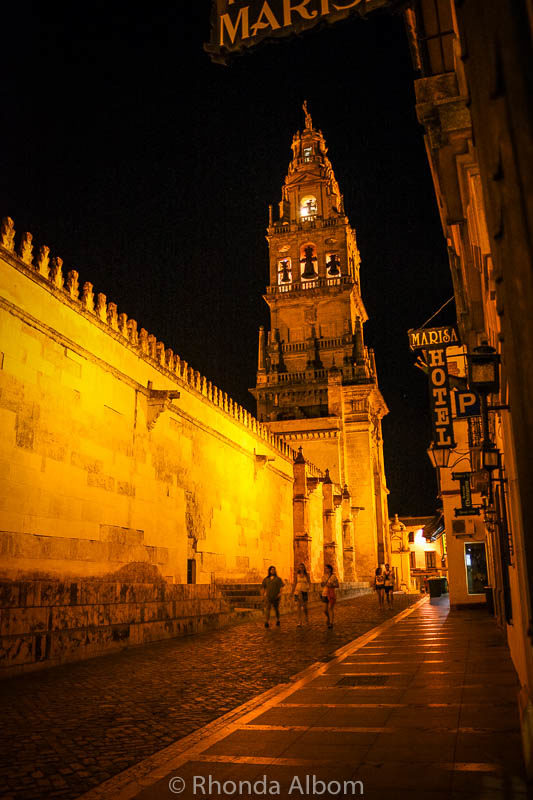 More Things to Do in Cordoba
Be mesmerised by the speed of the dancer's feet at a Flamenco show.
Visit the Alcázar de los Reyes Cristianos (The Alcázar of the Christian Monarchs), a former Caliphal Palace. It later became the residence of Queen Isabella I of Castile and King Ferdinand II of Aragon and the location where they met Christopher Columbus as he prepared to take his first voyage to the Americas.
Let the lush nature and fountains relax you at Jardín Botánico de Córdoba (Cordoba's Botanical Garden).
Unwind with a hammam bath (a different experience than the hammam bath we had in Morocco).
Increase your understanding of Spain's controversial sport at the Bullfighting Museum.
Explore the 12 patios and fountains of Palacio de los Marqueses de Viana.
A brief history of La Mesquita (Mosque – Cathedral of Córdoba):
Initially built as the Catholic Basilica of Saint Vincent of Lérins.
In 711 AD the Muslims conquered Spain. The Christians and Muslims shared the church, each occupying half of the building.
Construction of the Grand Mosque of Córdoba began in 784 after the Christian half was purchased and demolished.
Córdoba returned to Christian rule in 1236 during the Reconquista, and the church converted to Roman Catholic.
Now it is a UNESCO World Heritage Site.
Cordoba Travel Tips:
Cordoba is in southern Spain about 150 km north-east of Seville.
La Mezquita's published opening time is 10 am, but if you arrive between 8.30 and 10 am entry is free. Other early birders have mentioned that they had to be out by 9.30. However, we had free entrance at arriving at 9.55 am, and we stayed until we were done.
We stayed at Hotel Mezquita, an affordable Andalusian house style accommodation directly across the street from La Mezquita. It was clean, colourful, and had a larger than average room for our family. Check prices and availability at Booking.com.
Parking for La Mezquita and the nearby hotels is several blocks away from the entrance.
We did our sightseeing on our own and found Lonely Planet Western Europe Travel Guide to be quite useful. If you prefer a tour, Viator offers several in Cordoba ranging from two hours to day trips from Seville.
If you don't have a car, Eurail is one of the easiest ways to get around Europe. Check Prices and find the Eurail Pass that is right for you.
This article is an update with additional photographs and information. We drove through Spain in 2012. Our overnight travel stops included Saragosa, Madrid, Segovia, Toledo, Cordoba, Granada, and Vigo. In Portugal, we will visit Evora, Sintra, Obidos, and Alcobaca.
If you had only one day in Cordoba, which of these would you visit?
If you enjoyed this article, please share it on social media, including adding this pin to Pinterest:
Grammarly proofread this article. (Try Grammarly for free)
Here's the secret to packing light:
Download our free packing light checklist when you sign up for our newsletter.