I think the train from Denali to Anchorage is the best way to travel.  It may not be the cheapest way to get from the national park to Anchorage, but it is stunning. It's part of the Alaska railway system.
Around every bend was a new surprise.  Along the river banks we frequently saw animals like moose or caribou but I didn't always have a camrea nearby.
Even from the train the weather never cleared quite enough for us to see Mt. McKinley.  Oh well.
At least we got to travel through Wasilla, although we were disappointed as we couldn't see Russia from there.
Did I mention that we had upgraded our seats to the Denali Star – the cars with the full views, glass all the way up the sides and onto the roof.  The viewing in these dome cars was amazing.
In addition to the amazing views from our seats, we also had an outdoor section of the car, so we could enjoy the cold and rain the opportunity for fresh air and better photos.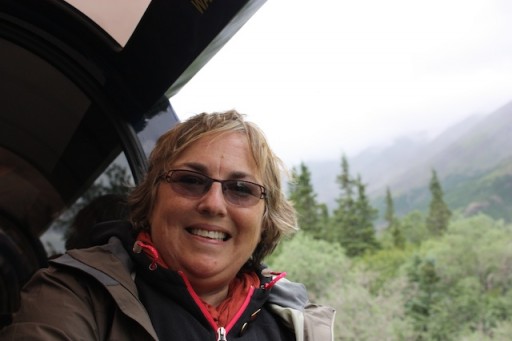 We didn't explore any other travel options, as our awesome travel agent recommended the train, and we have learned a long tie ago that she knows what we like and listening to her is always the best option.  (If you are local, we always use Manly United Travel).
However, we did meet people who took the bus (most said it was too long) and others who rented a car and enjoyed this option as it was cheaper (especially for four people) and gave them the flexibility to stop at some of the smaller towns along the way.
Do you travel by train?  Do you like scenic train trips?  Would you have purchased an upgrade on the train from Denali?
All photos on this page ©Rhonda Albom 2013. All Rights Reserved.
Follow Our Overseas Adventures
We are currently touring in the US including Alaska.  We took the train from Denali to Anchorage on July 7, 2013.