Really, we saw goats in trees.
We are really enjoying Morocco and ready to explore some of the lesser known areas.
We left the beach this morning and headed first south along the coast, enjoying hours of stunning beach views, intermixed with a few mud brick buildings.
Driving here didn't seem as frightening to hubby as it had in the towns.  Fewer drivers on the roads cutting him off, donkey carts staying on the shoulder, and almost no pedestrians running randomly in front of the car.
Eventually we turned West away from the coast heading to Taroudant.
We knew we were on the right road when we saw the goats in the trees.
Goats in Trees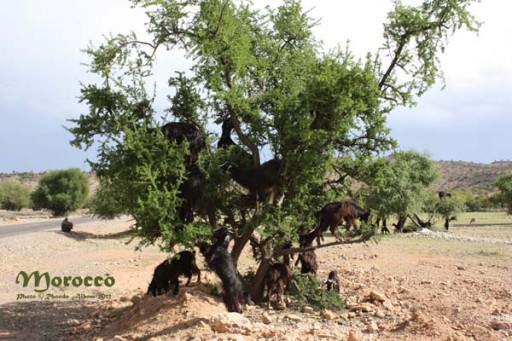 The goats in the trees eat the husk off the argan seed.
The seeds are then hulled and ground – some for food, others for cosmetics. (Argan Oil, made from these seeds is something really special only found in this part of the world.)
We were invited into a home where they process the argan seeds, and like nearly everything we encountered in Morocco it was hand labor.  With permission, I was able to take this photo, although the ladies requested no faces.
We did get to try the argan oil on bread –  despite it's heath benefits, we all thought, "yuck, I am not eating this stuff."
We headed to the Riad we had chosen and it was quite a ways out of town.  As we drove on the dirt roads, we passed this:
I wasn't sure if I should laugh or begin to worry a bit.
But it turned out to be a piece of paradise.  We had some tea, dates and nuts and then the girls had a swim.
The grounds were beautiful with a swimming pool, a hammam and even a pen filled with chickens and bunnies.
This all seemed great until our host asked us what we wanted for dinner,
"Do you want chicken or rabbit for dinner?"
Check out the look on the girl's faces and you know we went out and had pizza.
(In case you have been following along on a map and are confused – you are correct, this post should have published just after the beach, before the desert.  Sorry about that little scheduling error. And if you live in NZ and have seen me lately wandering the streets looking a bit confused, don't worry, the blog is just a bit behind – but each post was actually written on the day it talks about. )
Except where noted photos on this page ©Rhonda Albom 2012
Related Links: