Sintra is magical. It's only a 40-minute drive from the hustle and bustle of Portugal's capital city, yet entering Sintra was like turning a page in a childhood fantasy and stepping into an enchanted village. This tiny town boasting three palaces and a castle is an unexpected delight.
The highlight, Palácio Nacional da Pena (National Palace of Pena), is not the only place to visit, but clearly the most popular. One glance at the striking mix of colourful terraces, ornamental battlements, and mythological statues and this castle will pull you in like a magnet.
Other travellers that we met along the way recommended Sintra. Like so many of our best adventures, it was unplanned. Our time constraint was a pre-booked apartment an hours drive north. We had only enough time to visit two of the town's three palaces.
Additional Infomation and Sintra Travel Tips:
Sintra is home to 10 national monuments, ancient ruins, hours of hiking trails, and impressive architecture.
It's easy to get to Sintra from Lisbon. Private guides, public buses, and trains offer frequent transit.
Pena Palace gets crowded, especially in summer. Parking is difficult but possible. There is a shuttle bus that runs from the entrance of Pena Park either up or back down the hill for only 2 Euros per person. Otherwise, it's a 20-minute walk.
The cultural landscape of Sintra is a UNESCO World Heritage Site, as it is the first centre of European Romantic architecture.
We had a car as part of a home exchange. Sintra was one of a handful of cities we visited in Portugal. We entered from Spain to the east, travelling across the country and then up the coast returning to Spain in the North. In Portugal, our other primary destinations included Evora, Obidos, and Alcobaca.
This is another post in my throwback series encouraged by moving all my photos to Lightroom. This post has been republished with different images. We visited Portugal in 2012.
Have you been to Sintra?
If you enjoyed this post please pin it and share it on social media: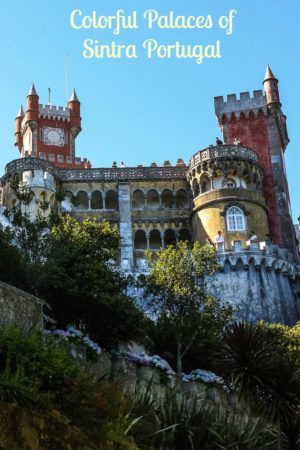 Grammarly proofread this article. (Try it for free)