Ready to swap cityscapes for coastal bliss? Dive into our list of the nine best seaside towns in Europe and get inspired for your next sun-soaked adventure! This list was created for Albom Adventures by expert, Kayla Gollacher.
The seaside towns along Europe's coastline are a veritable treasure trove, each with its own distinct charm and cultural tapestry.
Everything from beautiful vistas to insightful, historical lessons await.
Here are the nine best seaside towns in Europe, each of which offers a fascinating fusion of past, present, and coastal allure.
The best seaside towns in Europe
Hvar, Croatia
Saint-Laurent-Sur-Mer, France
Algarve, Portugal
Cinque Terre, Italy
Rovinj, Croatia
Biarritz, France
Ebeltoft, Denmark
Bay of Kotor, Montenegro
Sintra, Portugal
Hvar, Croatia
The island of Hvar offers plenty of fun in the sun. Many tourists have named this island one of the brightest places in Europe. Hvar is blessed with 3,000 hours of sunlight a year, and beaches with cliffs plunging into azure seas are the perfect places to take up all the rays.
Hvar is also known as the "lavender island" because of the fields of fragrant flowers that grow there. If wine is more your style, consider travelling in the late summer or early fall when the harvest is in full swing from August to October.
Saint-Laurent-Sur-Mer, France
Literally means Saint-Laurent On Sea. The coast of Saint Laurent-Sur-Mer is known for its beautiful beaches and seafood restaurants. The town also has a picturesque harbor and is a popular destination for boat tours. Visitors can also explore the nearby vineyards and sample the local wines.
If you're a fan of history, you'll be thrilled to discover that Saint-Laurent-Sur-Mer, a charming town, is conveniently near the site of the Allied Forces' D-Day landing on Omaha Beach during World War II. Enhance your visit by booking the ultimate historical experience with Band of Brothers Tours.
Immerse yourself in the rich history of the area while enjoying the stunning surroundings of Saint-Laurent-Sur-Mer.
Algarve, Portugal
Although a region, rather than a town, the Algarve in Portugal is truly a paradise on earth. The golden sands extend beneath the blue sky, while the turquoise waves kiss the sun-drenched shoreline. The coastal cliffs stand tall like sentinels, guarding the beauty and majesty of this breathtaking destination.
It's truly a must-visit location for anyone seeking a peaceful and serene getaway.
Here you become immersed in a world of unrestricted freedom and simple pleasures. Exploring marine life and plunging into its colourful depths to learn about its residents' secrets fills the days. Enjoy the rich aromas of seaside food as night falls, as each bite will take you more into a world of pure happiness.
Allow the Algarve's welcoming embrace to wrap your senses and stir your spirit to the freeing beauty that lies ahead.
Cinque Terre, Italy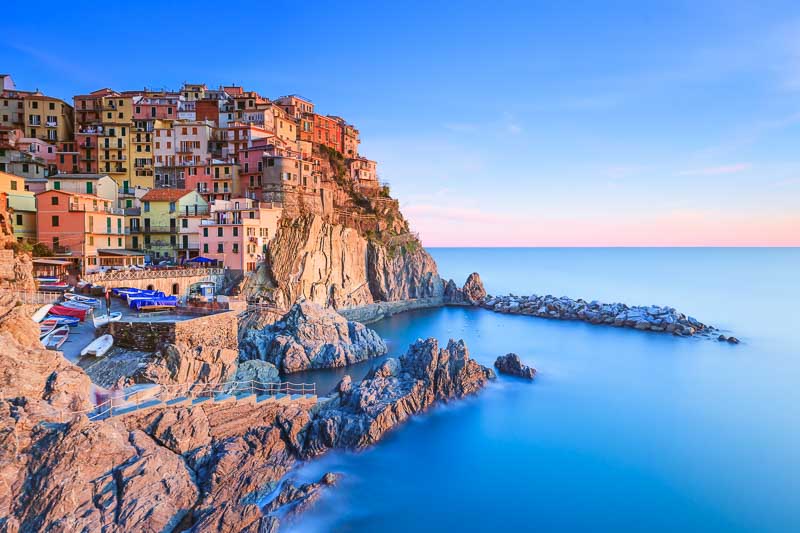 Cinque Terre is a group of five quaint villages on the Italian Riviera that are all surrounded by precipitous cliffs and have views of the Ligurian Sea. It is a UNESCO World Heritage Site.
The collective name of the five villages of Monterosso, Vernazza, Corniglia, Manarola, and Riomaggiore each have their special attractions and networks of well-kept hiking paths.
Every community has its personality and provides a glimpse into daily life there. Fresh seafood and area wines all contribute to the distinctive gastronomic experiences offered in Cinque Terre.
Travellers are invited to take in the simple joys of life and the peace of nature in Cinque Terre, where time seems to move more slowly.
Rovinj, Croatia
The allure of Rovinj is found in its maze-like cobblestone lanes and pastel-coloured structures that seem to have grown out of the same rocks they are built.
Rovinj provides guests with an amazing experience of freedom and adventure while embracing both Croatian food and desserts, as well as Croatian culture.
Try out the delicious seafood delicacies that have been freshly caught from clean seas. And while you're at it, don't miss the street performers who are so skilled in their craft that their stories completely captivate you. It's truly a wonderful experience.
Spend your days in this enchanted town relaxing in the warm sun on pebble beaches or kayaking through secret coves.
Biarritz, France
Biarritz, a Basque region on the French South Coast, is known for its stunning beaches, Michelin-starred restaurants, and Art déco-style casino. It is the hub of European surfing, hosting events like Surf de Nuit.
Some popular spots to check out are La Grande Plage Beach, Hôtel du Palais, and Côte des Basques. The beach is definitely a must-visit, and if you're a fan of surfing, the surf schools available at Côte des Basques are definitely worth a try.
Biarritz's unique dining scene includes Olatua Biarritz, Caroe, and L'Atelier Alexandre Bousquet, each offering unique dining experiences. The town's beaches, restaurants, and dining scene make it an ideal summer getaway.
Ebeltoft, Denmark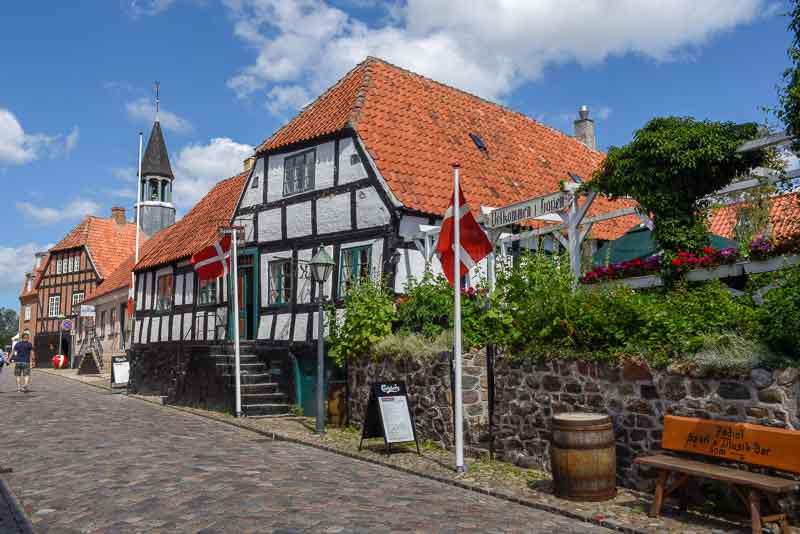 The village of Ebeltoft is on the Bay of Aarhus, a body of water steeped in Viking legend, in the province of Jutland.
Although the town's population increases during the summer, you may still stay in the lovely Molskroen, a historic inn with a fine-dining restaurant that serves vegetarian cuisine meals cooked with vegetables produced in the restaurant's greenhouse and gardens.
You may also stay at the Molskroen if you do not wish to rent a property.
Bay of Kotor, Montenegro
This area in southwest Montenegro is indeed a one-of-a-kind location. Along the Adriatic Coast, with limestone cliffs that plunge into the ocean, UNESCO World Heritage monuments, and a mythological floating church that took 200 years to construct.
Visit the historically significant medieval villages of Kotor and Perast, go swimming in the Blue Grotto, and sample Balkan wines in family-run vineyards.
To tour the bay, reserve a speedboat, sailing expedition, or yacht hire. If this is your first yacht experience, the Bay of Kotor is magnificent.
The five-star resort provides tours that let you explore the coast in a vintage vehicle or visit Mount Orjen. A mythological peak with fairy and dragon tales, along with groomed gardens, a private beach, and access to calm seas.
Sintra, Portugal
Sintra, Portugal's charming town, is renowned for its fairytale architecture, lush gardens, and enchantment. Located just inland, the surrounding Sintra region is seaside.
The Palácio Nacional de Sintra, a blend of Moorish and Gothic styles, showcases Portugal's rich history and royal legacy. The Palácio Nacional da Pena, a Romanticism palace, is located deeper into the hills.
The Quinta da Regaleira, a mysterious estate with tunnels, grottoes, and hidden wells, is a must-see. Coastal influences influence Sintra's cuisine, with local restaurants serving fresh seafood and bacalhau.
Immerse yourself in the town's lively arts and cultural scene, which showcases creativity through venues like the Museu de Arte Moderna and Centro Cultural Olga Cadaval.
Save on your trip with these resources
These are our go-to companies when we travel. We believe this list to be the best in each category. You can't go wrong using them on your trip too.
Flights: we use Expedia for the best and cheapest flight options.
Accommodations: we use Booking.com (hotels), VRBO (self-contained), or Hostelworld (budget).
Cars (gas or electric): we use RentalCars to search for deals and dealer ratings.
Campervans or Motorhomes: we use Campstar where Albom Adventures readers get a 3% discount.
Motorcycles: we have heard good things about BikesBooking.
Private guides: we love the private guides at Tours by Locals.
Travel Insurance: while not required, we always opt for travel insurance and start at InsureMyTrip to compare coverage plans.
Check out our travel resources page for more companies that we use when you travel.
Save our best seaside towns in Europe for later
If you enjoyed this article on the best seaside towns in Europe, please share it on social media and save it for later on Pinterest.
Which of these seaside towns in Europe do you want to visit?
You might also like …
About the author

Kayla is a Content Marketing and SEO Manager with a passion for helping clients achieve their marketing goals. She manages a team of marketers who are pros at both on-screen and off-screen SEO. As they're a fully-remote team, they can work from anywhere in the world. Kayla recently visited Europe, where she got to explore many of the best seaside towns in Europe.
Photo Credits:
All photos on this page are either shot by our team and watermarked as such or stock images from Depositphotos.