Finding hotel alternatives is one way we afford long-term family travel. We haven't won the lottery yet, so we are always looking for ways to save money. Accommodation used to be a huge chunk of our budget. As we travelled around the world, we learned a few tricks and discovered many hotel alternatives.
Whether you are headed out for long-term travel, or just going for the weekend, I am sure you can find something here to keep a few more dollars in your pocket. Which are your favourite hotel alternatives?
#1 Home Exchange
We swapped our home in New Zealand for one on this street in Spain:

Home Exchange is probably the number one way we afforded our travels. It's simple, we swap house and sometimes a car with someone else. Aside from saving money, there is a hidden bonus to this hotel alternative: When we live in a home, and in a community, we get to participate in local culture and become a part of our own adventure, rather than just looking on as a tourist. Don't miss our best tips for successful home exchange.
#2 Couchsurfing
The name sounds funny, but the concept is great. People offer a no strings attached spot in their home, sometimes in a spare room, sometimes a spare apartment, sometimes on a couch.
#3 House Sitting
House Sitting is exactly what is sounds like; you live in someone's home while they are away generally to care for their animals or plants. As far as hotel alternatives go, we are pretty excited about trying house sitting. We only recently learned about it from other travellers.
→ Get more information or join Trusted HouseSitters today.
#4 Backpackers and Hostels
This castle was our view from our room window in a backpackers in Luxembourg, not bad for what I have always thought of as a poor student accommodation: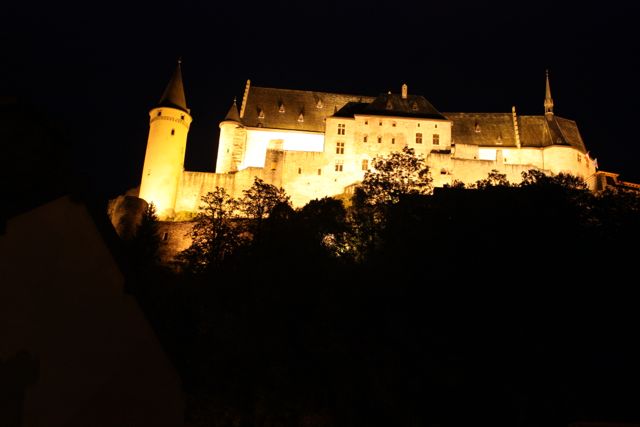 While the traditional backpackers have bunk/dorm rooms and shared bathrooms, we found many offer family rooms with private baths. There is nearly always a shared kitchen and lounge, so they are great for meeting other travellers. Most of the Backpackers we have encountered were friendly and welcoming. The exception, I asked a question in Munich and was told I was probably too old to be staying there (they had family rooms, so who were they expecting?)
#5 Cabins at Campsites
We woke up to find this pony outside our cabin in New Zealand:
Here was a fun discovery, many campsites worldwide offer cabins or rooms with shared bathrooms. Like the backpackers, we get the advantage of a shared kitchen and camaraderie of other family travellers.
#6 Take a Cruise
The ship we were sailing on is in the background:

The trick here: book really last minute. We took a Mediterranean cruise booked six days before embarkation for 74% off. They don't like to sail with empty cabins, so this is when you get your best deals. For less than the daily price of a hotel, we had accommodation, transportation, food and entertainment. Last minute works best if you are already in the city of embarkation.
⇒ Check availability and prices on last-minute cruise deals
#7 B&Bs

To me, the best thing about a B&B is meeting and talking with the owners, who so far we have always found to be friendly, interesting and full of local knowledge.
Photo Credit: The photo is of Royalton B&B in Vermont ©Evelyn Saenz 2012. Used with permission. All Right Reserved.
#8 Religious Accommodations
Many convents, monasteries, churches and temples open their doors for guests. Sometimes for free, often for a small to a moderate fee. Sometimes there is a prayer requirement, but not always. Jerusalem has many, and they appear to be found throughout the world. Accommodation will be clean, yet plain. There may be rules and curfews. You can learn more about this at Monastery Stays.com. (we haven't tried this yet)
#9 Farmstays and WWOOF
Farmstays and WWOOF (World Wide Opportunities on Organic Farms) are working holidays. In exchange for either free or more affordable accommodation, we help out with certain chores. However, many farm stays are becoming more tourist focused, so the rates will be more in line with other local options, but activities like horse riding might be included.
#10 Pitch A Tent
While it is a great way to save money, it's not for me (I make exceptions in the desert). I have inherited my mother's definition of roughing it: "any motels on the main strip."
One More Thought:
Unless otherwise noted all photos on this page ©Rhonda Albom 2012-2019. All Right Reserved.

What are your favourite hotel alternatives? Have you tried any of these? Which ones worked well, which ones didn't?
This page is part of our travel planning resources series.