As the tide goes out, this sunken ship becomes visible at the opening of Okoromai Bay into the Hauraki Gulf. Most days I can only see a small fraction of the bow and the boiler, both covered by mussels and other sea life that have made this sunken ship their home. Twice each year, at the king tides, we can see much more.
The easiest way to get to the wreckage is via kayak from Te Haruhi Bay, the main beach in Shakespear Park. However, at low tide we can hike through the Park to Okoromai Bay, and then follow the water's edge along the East. It's never boring living here.
Sunken Ship At King Low Tide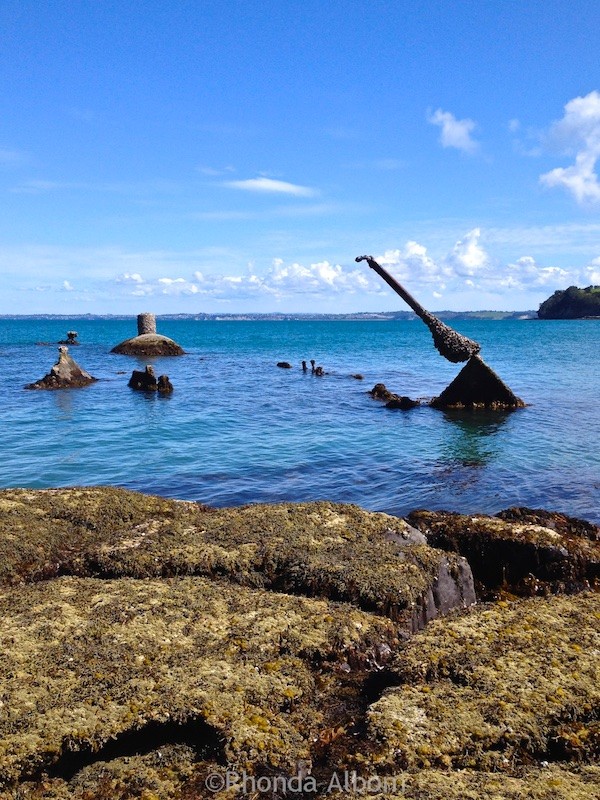 It was strategically sunk here by the Shakespear family many years ago to create a shelter and protect their family boat from the weather.  History buffs can read the entire story, recalled in one of our local newspapers: The hulks of Shakespear Regional Park.
(Note: New Zealand's Shakespear family name is spelled correctly.)
NaNoWriMo Update
Just a quick reminder that both myself and my 13 year old are participating in NaNoWriMo this month, therefore this blog will be predominately photos. Our goals are the same, to complete a first draft of our novel during the month of November. We both got off to a great start on Nov. 1.  We are encouraging each other and having fun. Our progress to date:
Me: Cruising along and proud to check in at 10,374 words
Teen: She is over 20,000 words. I don't want to talk about it. (Actually, I am quite proud of her.)
What do you think of our local sunken ship? If you're doing NaNo, how's it going?